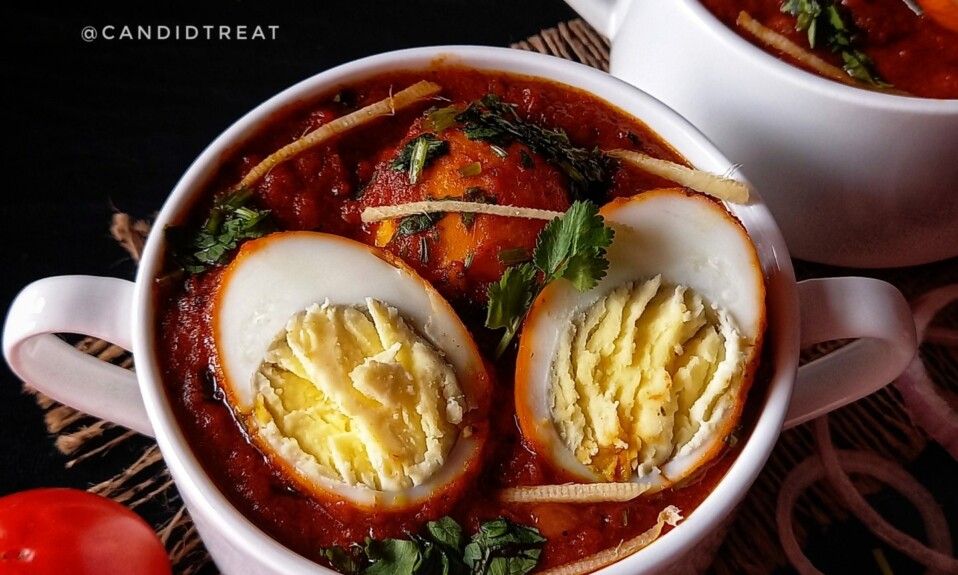 Egg curry recipe | Spicy anda curry recipe | Learn how to make egg curry with step-by-step photos and video. This egg curry is spicy and full of flavors. For this recipe, you need some staple ingredients and it is very easy to make. For the gravy, you need some whole spices, onions, tomato, garlic, salt, powdered spices. And of course a good quality, fresh eggs. So for this, you need some hard-boiled eggs. First, boil some eggs with water. It takes 8 to 10 minutes on high flame to medium flame. After that fry them and add these fried eggs to the boiling gravy. That's it, it is as simple as you read these lines. You can serve this egg curry with plain rice, jeera rice, biryani, naan, paratha, butter naan, etc.
Curry is one of the most famous recipes in Indian cuisines. you can find a lot of different types of curries in Indian cuisine. some of them are vegetarian curry and some of them are non-vegetarian. But both of them are super delicious. You can easily make them for lunch or dinner. Finally, here are some of my favorite curry recipes that you just have to try.
INGREDIENTS
6 hard boiled eggs
7 to 8 tbsp mustard oil
2 tsp cumin seeds
Whole spices(2 to 3 cinnamon sticks, 3 green cardamom, 1 black cardamom, 3 to 4 cloves, 5 to 6 black pepper)
1 bay leaf
4 to5 medium sized onions
6 to 7 garlic cloves
1 to 2 inch ginger
5 to 6 dry red chilies
1 tbsp salt(as required)
½ tbsp turmeric powder
2 tomatoes
½ tbsp garam masala powder
1 tbsp cumin powder
1 tbsp coriander powder
1 tbsp red chili powder
1 tbsp sugar
1 tbsp dry fenugreek leaves
250 to 300 ml water
Some fresh coriander leaves
Preparation for egg curry
First, take some fresh eggs. Boil some water and add eggs. Boil the eggs for 8 to 10 minutes on medium to high flame. Then peel the outer skin of the eggs. Now take a pan, add 2 tbsp oil. Heat it for 20 to 40 seconds on a high flame. Then add a pinch of turmeric powder. now fry the boiled eggs on medium flame until it turns light golden.
Then remove it from the oil. In the same oil, add 1 tsp cumin seeds. Add whole spices. Then add chopped garlic and ginger. Sauté it for 10 to 15 seconds. Add roughly chopped onions.
Cook it for 4 to 5 minutes on high flame. Then add salt. Mix well. Add dry red chilies. Cook them for 5 to 6 minutes on high flame. After that turn off the heat and leave it to cool down.
Now take a grinder jar, add onions, add 5 to 6 tbsp water. Grind them into a fine paste. Then grind the tomatoes into a fine puree. set them aside.
Now take the same pan. Add leftover oil. Heat it for 20 to 30 seconds on a high flame. Then add bay leaf, cumin seeds. Add onion puree. cook them for 4 to 5 minutes on high flame.
Then add powdered spices and sugar. Mix well.
Cook them until the puree turns dry. Then add tomato puree.
Adjust the salt as per your taste. Mix well and cook them for 3 to 4 minutes on high flame. Then cover the pan and cook them for 10 to 15 minutes on medium flame.
When it turns dry, add fenugreek leaves and some sliced ginger. Mix well. Now add water.
Add fried eggs. Mix well and again cover the pan. Cook them for 10 to 12 minutes on medium flame. After that turn off the heat. Garnish it with some coriander leaves.
Egg curry is ready.