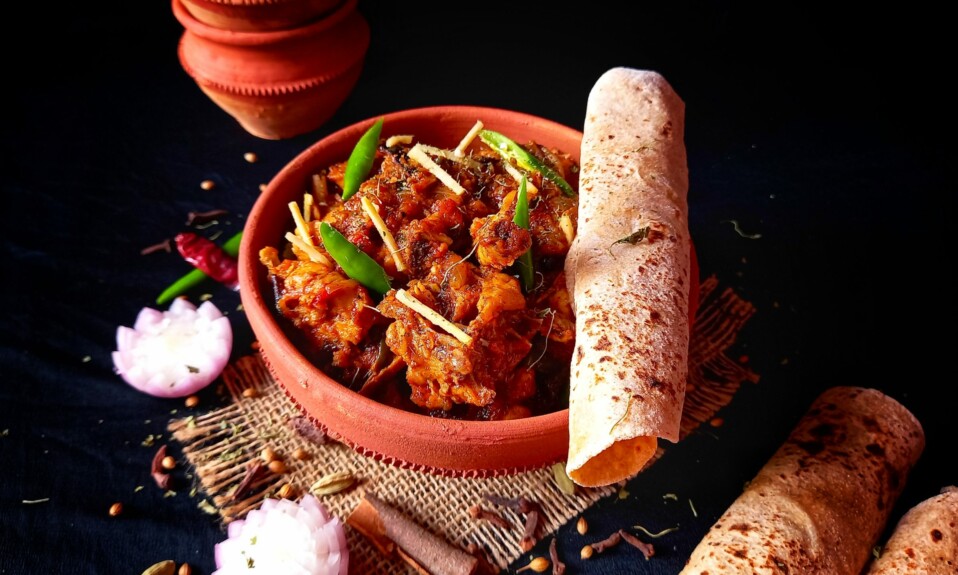 Shinwari chicken kadhai | Easy Chicken Kadhai For beginners | Learn how to make shinwari chicken kadhai with step-by-step photos and video. Shinwari chicken kadhai is a very famous chicken recipe from Peshawar. And it is very similar to Peshawari mutton kadhai. You can also check this recipe. if you are looking for a super delicious and easy-to-make chicken recipe. you have to give a try to this shinwari chicken. And I am sure you will love this recipe and make this again and again. You can make this recipe on weekends or for house parties. Serve this shinwari chicken kadhai with tandoori naan, butter naan, paratha, laccha paratha, biryani, rice, etc.
Shinwari Chicken Kadhai
Shinwari karahi is a very popular dish that comes from Northern Pakistan and Afghanistan. It gets its name from the Shinwari tribe of Pashtuns who live there. This kadhai is prepared with deliciously tender chicken, mutton, beef, lamb, etc. The cuisine of the Pashtun people is covered under Afghan cuisine and Pakistani cuisine. These recipes are traditionally made with meat products with some tomatoes, nuts, spices, fats, and vegetables. Cities such as Kandahar, Jalalabad, Kabul, and especially Peshawar are known for being the centers of Pashtun cuisine.
For this recipe, you need some chicken, tomato, onion, ginger garlic paste, salt, ghee, and some spices. In this recipe, we have to use ghee and fry the chicken pieces on high flame. Then add ginger garlic paste, onion, tomatoes. Do not use a lot of onion in this recipe. and we also use a few spices for this curry. That's why it is a very simple recipe and even a beginner can make this chicken kadhai very easily.
SOME OTHER RECIPES FROM THIS BLOG…
INGREDIENTS
1 kg chicken(curry cut)
5 to 6 big tbsp ghee
Whole spices( 2 bay leaves, 2 to 3 cinnemon sticks, 10 to 12 black pepper, 7 to 8 cloves, 1 tsp cumin seeds, 2 black cardamom, 3 green cardamom)
2 tbsp ginger garlic paste
1 medium size onion
4 large size tomatoes
1 and a half tbsp slat
½ tbsp turmeric powder
½ tbsp cumin powder
1 tbsp coriander powder
2 ttbsp red chili powder
½ tsp grama masla powder
1 tbsp chicken masala powder(optional)
1 tbsp dry fenugreek leaves
3 to 4 green chilies sliced
Some sliced ginger
100 to 150 ml water
How to make shinwari chicken kadhai?
Take a kadhai or pan. Add ghee and heat it for a minute on medium flame.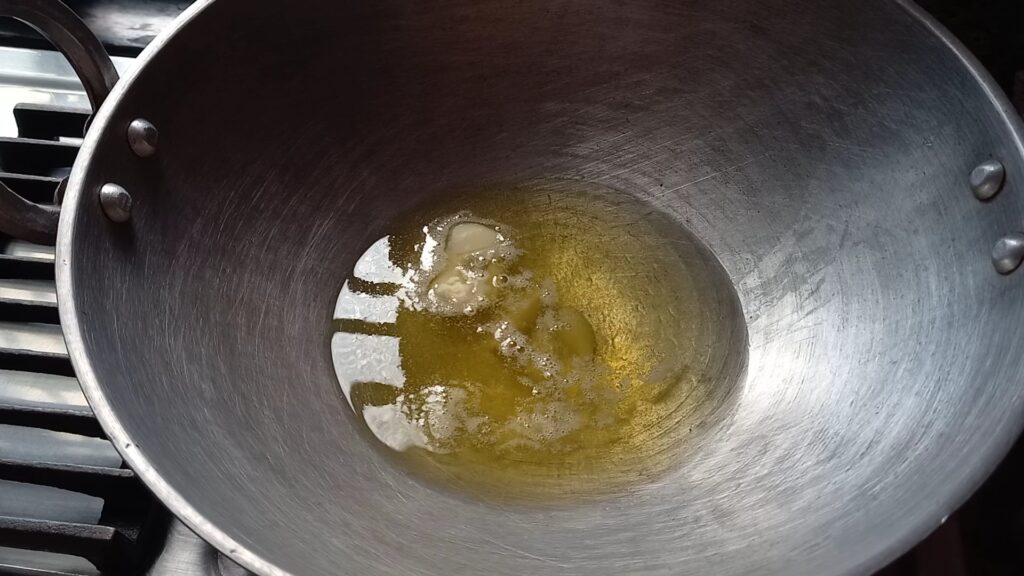 Then add whole spices. Sauté it for 10 to 15 seconds.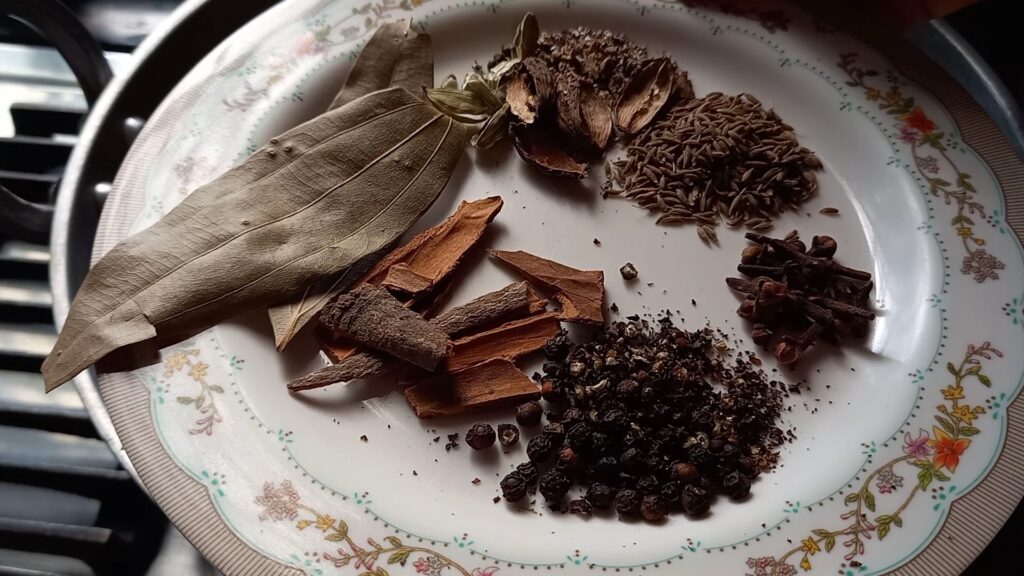 Take 1 kg of chicken. Wash them well then use them. Sauté them for 10 minutes on high flame.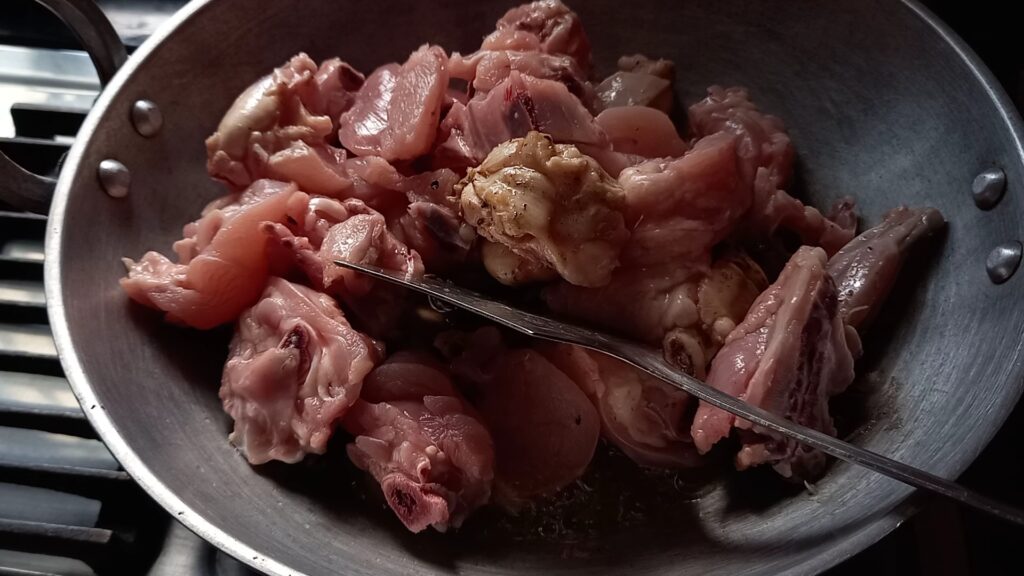 Then add ginger garlic paste. Cook for 3 to 4 minutes on high flame.
Then add onion, tomatoes.
Cover it and cook for 15 to 20 minutes on low to medium flame.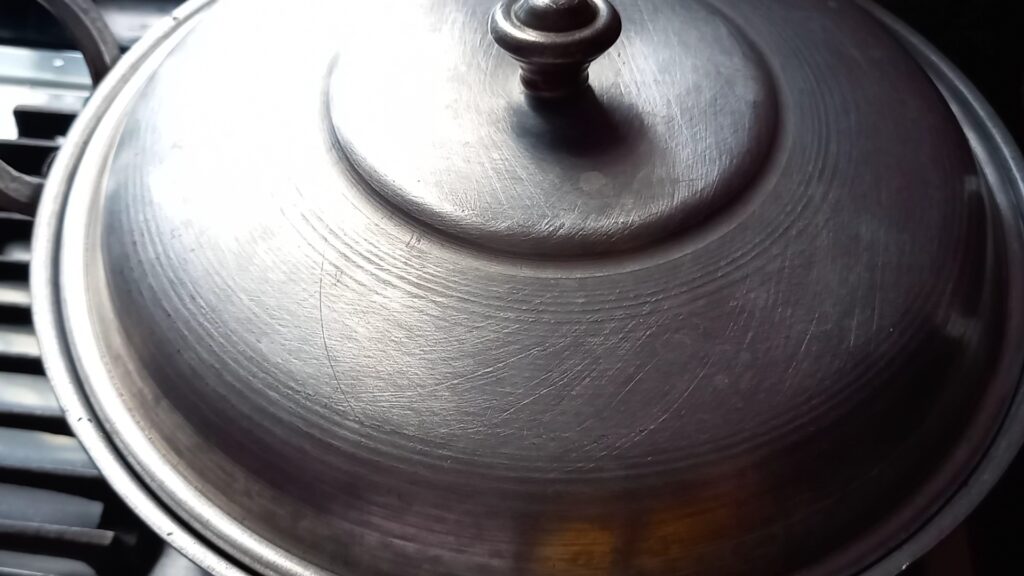 After that remove the lead and remove the skin of the tomatoes with the help of a tong. Now mashes the tomatoes well.
After that add salt and turmeric. Add all powdered spices.
Mix well and cook for 15 minutes on high flame.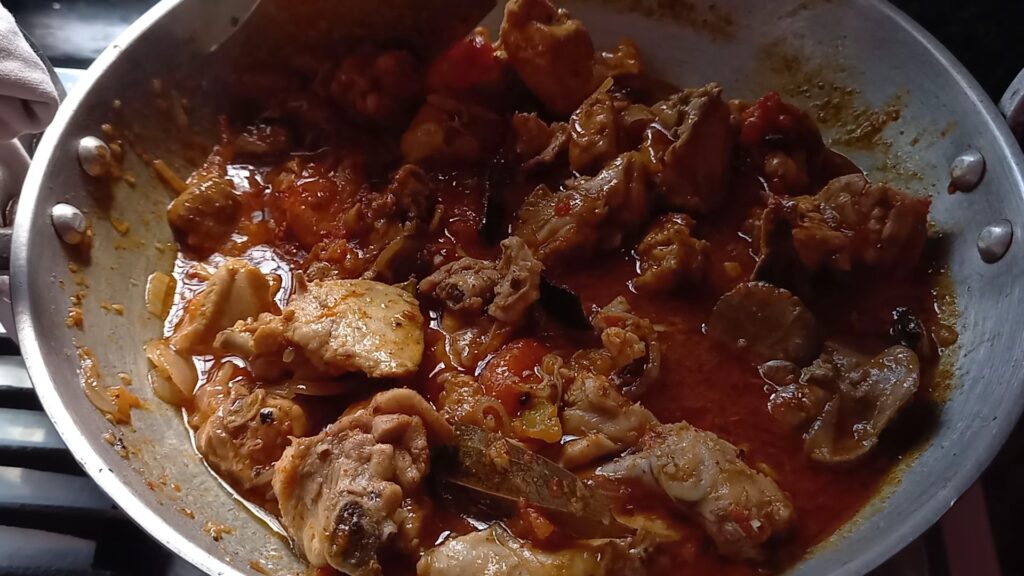 when the gravy is almost dry like this.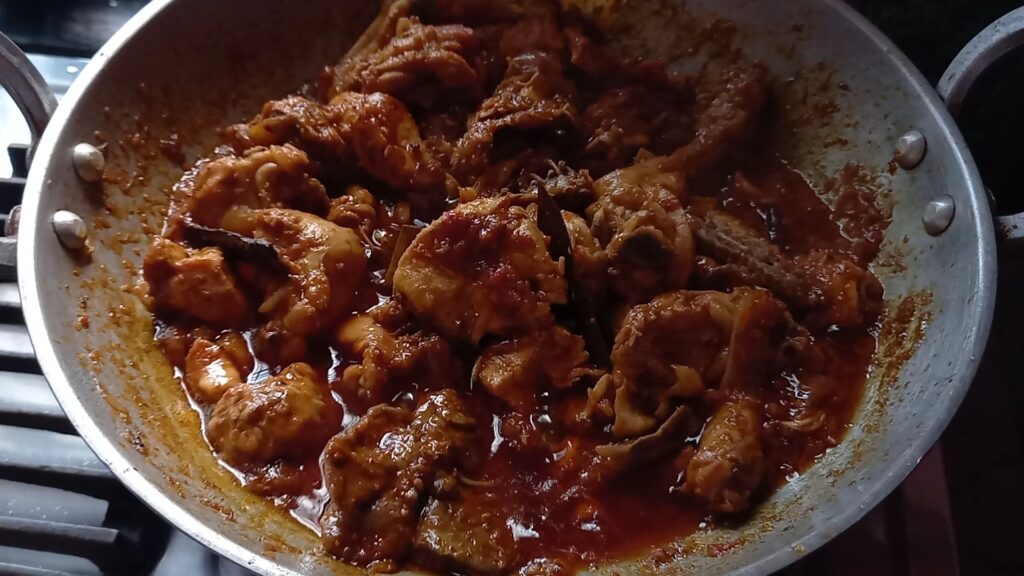 Then add ginger slices, green chilies, fenugreek leaves. Mix well.
And add water. Again cover it and cook for 15 to 20 minutes on medium flame. After that, cook them on high flame for 4 to 5 minutes. Then turn off the heat.
And it's done. Shinwari chicken kadhai is ready to serve.