Laccha paratha is also the most popular Indian flatbread which has multi-layers and made with refined flour. This laccha paratha gets its place on top of any restaurant's menu card. This paratha is so yummy that you can pair this with any curry or dal. But I like to eat with Kadai Paneer or with Egg Curry, chicken curry. Laccha paratha mostly served in restaurants or in dhabs. But now, you can make this at home very easily by following the steps.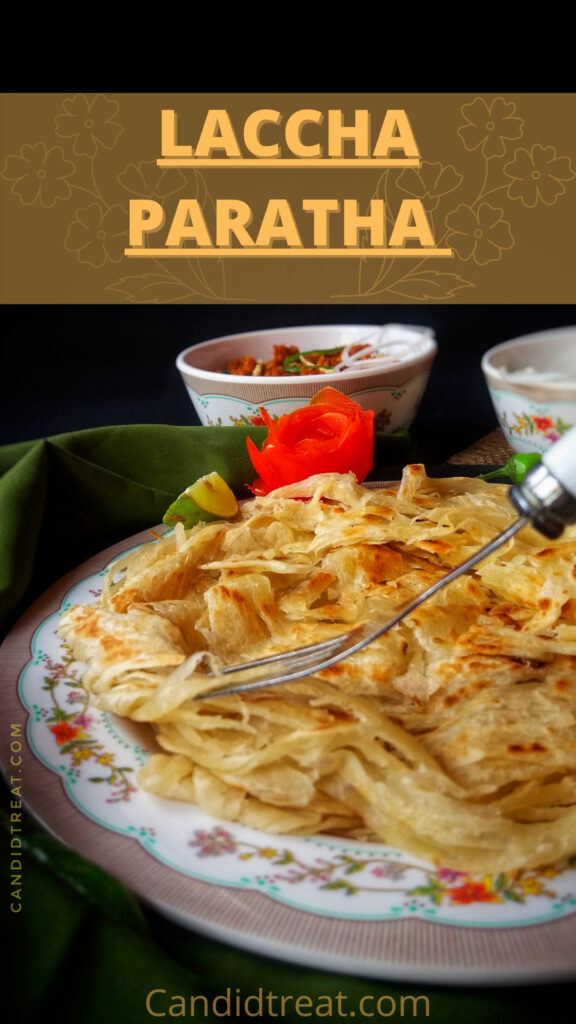 Laccha paratha
Laccha paratha has a lot of flaky layers and these flaky layers are made with flour dough. And only with 4 to 5 regular-based ingredients. Firstly you need to knead a semi-hard dough with refined flour, salt, sugar, and some water. Then the layers are made by creating pleats on the roti and fold them just like a pinwheel. When you rolled again, you get a lot of layers. But my favorite trick is to cut them into fine slices and fold the paratha into a pinwheel.
If you have any occasion or just a simple get-together with your friends and family or you are looking for something creative with your regular naan or roti then try this laccha paratha. I am sure you hit the party with this recipe. It goes well with rich, creamy, and spicy Indian curries or with dal makhani. Some similar recipes you can try also with these parathas…
INGREDIENTS
300-gram refined flour
A pinch of sugar
A pinch of salt
Water as required for the dough
| | |
| --- | --- |
| Cooking time | 30 minutes |
| Servings | 6 to 7 parathas |
Preparation for dough
Take a large bowl. Sieve the flour. Here used refined flour because it gives a stretchable texture to the dough.
Then add salt.
Add sugar and mix it well.
Then with the help of water knead the semi-hard dough. Not very soft and not very hard. Use a little amount of water at a time. Then leave it for 20 minutes to rest.
How To Make Laccha Paratha
Now, after resting the dough. Divide the dough into pieces. Make small lemon size balls.
Grease your rolling pin and surface with oil. And roll it as thin as possible. Don't worry about tearing it while rolling.
Apply ghee generously over the rolled dough.
Then with the help of knife, cut it into long pieces.
Fold it like it gathered all together.
Then make a pinwheel. Take a portion of dough and roll it around your finger and lastly make a knot.
Like this. We need like pinwheel with the piece of dough.
Again, roll it.
Heat the griddle and cook the paratha from both sides.
Then with some ghee toast it from both sides. When it is golden in color. Remove it from griddle.
After that with the help of hands crush them a little bit. So You can see the layers clearly. This step is important to unpack the layers.
Like this. We are looking for this flaky and crispy layers.
Laccha paratha is ready to serve. Serve it with curry or dal.