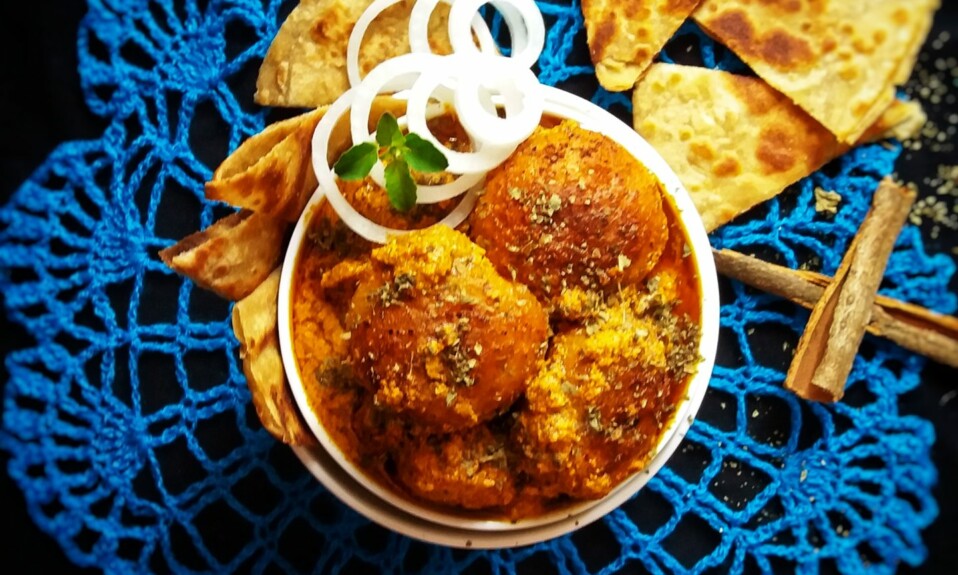 Kashmiri dum aloo is easy and delicious restaurant-style dum aloo recipe made with baby potatoes in a yogurt gravy. It is also a classic Indian dish served in wedding parties' meals or any kind of celebration. Now, you can make this easily at home. This is basically a slow-cooked dish. Because dum means slow cooking. You can make Kashmiri dum aloo recipe with either boiled potatoes or simply deep-fried potatoes.
Kashmiri dum aloo ?
Kashmiri dum aloo is a very famous Kashmiri recipe in which we are using baby potatoes simmered in a yogurt-based gravy with some ginger or fennel powder. It tastes tangy and a little bit sweetness that balances the tangy flavor of curd. It would taste finger licking when you serve this with Naan recipe, butter naan, or with flatbread, steamed rice. You can try other delicious recipes too…
INGREDIENTS
10 baby/small potatoes
1 cup/40 gram of yogurt
1 tablespoon fennel powder
1 tablespoon coriander powder
1/2 tablespoon cumin powder
1/2 tablespoon red chili powder
1 tablespoon salt
1/4 tablespoon turmeric
1/2 tablespoon sugar
7 to 8 Kashmiri red chili paste
5 tablespoon cashew paste
Mustered oil for frying
Whole spices (1 cinnamon stick, 2 green cardamoms, 4 cloves, 1 bay leaf)
1 tablespoon dry fenugreek leaves
15 ml of milk
20 ml water(as required)
Preparation of Kashmiri dum aloo
Take some small sized potatoes. Wash them with water.
Take a presser cooker and add potatoes with some water and close the lead. On high flame cook the potatoes for 3 to 4 whistles. Turn off the flame then remove it from the cooker and after that peel the potatoes skin. Keep aside.
Now take a bowl and pour some curd and whisk it.
Then add fennel powder into it.
Add coriander, cumin and red chili powder and whisk it smoothly.
Then add Kashmiri red chilli paste into curd. You can make this paste at home. For this take some Kashmiri red chilli, remove its seeds and pour some hot water. Soak it for 15 minutes then in a grinder make a fine puree. Or you can buy this paste from any shop.
Mix it all together to make smooth paste.
Take a pan add some mustered oil and heat it. Now add peeled potatoes and fry until it's color changed into golden brown.
It take 6 to 7 minutes. Then remove it from oil.
In the same pan remove extra oil and leave just 5 to 6 tablespoon oil then add whole spices and fry for 30 seconds on medium flame.
Then add some turmeric and 1/4 tablespoon coriander powder. Saute for 20 seconds.
Now add the yogurt mixture and saute them continuously otherwise curd separated from the water. That's why mix it continuously for 2 minutes on low flame. Then cook for 5 minutes.
Add cashew paste and mix it.
Add salt, sugar in it and cook for 10 minutes on low flame.
Then add water and fried potatoes and do more 10 to 15 minutes on low flame.
Now add fenugreek leaves and some garam masala powder for garnish. Turn off the flame. It is ready to serve.
You can adjust the thickness of the gravy as per your taste. If your gravy is too tangy then add milk and a little bit more sugar into it and cook for more 5 minutes. Make sure that do not leave it for more than 6 to 7 hours because after hours it's gravy turns sourer in taste. So that serve it within 2 hours. Or if you like tangy flavor then you can keep this for later meals.
If your curd breaks then don't worry cashew paste combines your gravy well.