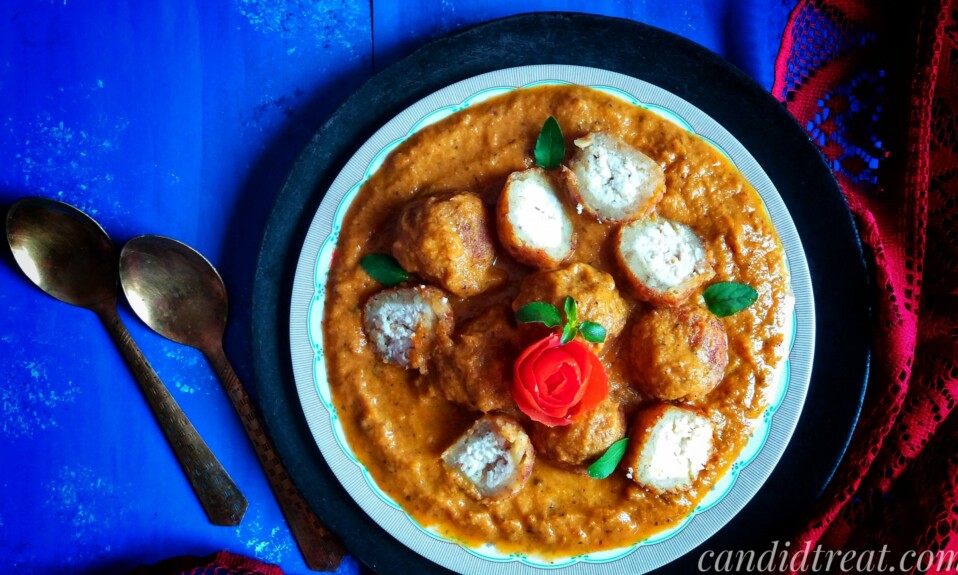 Malai kofta recipe- This malai kofta recipe is made with paneer(cottage cheese). There kofta are served with a creamy red curry. Kofta refers to meatballs but this is a vegetarian version of kofta which is very popular in Indian cuisine. These koftas are made with potatoes, paneer and some spices, herbs. And it is served with red or white sauce. In this recipe we are making red sauce for koftas. Malai kofta is served with naan, Roti, butter naan(Naan recipe), and with any flavoured rice.
Malai Kofta
It is popular Indian vegetarian dish and mostly popular in restaurant's menu. In this malai kofta recipe potato paneer balls are deep fried and served with smooth, rich and creamy gravy which is made with onions,ginger,garlic, cashews, and some tomatoes. I tried to make my koftas little bit different because most of the time koftas are made with mixing all things together and fried it. But here I'll show you something different method to make koftas with surprising element. You can check other delicious and mouthwatering recipes too….
INGREDIENTS
For kofta –
50 grams paneer(cottage cheese)
3 to 4 medium sized bpiled potatoes
6 black pepper crushed/ powder
1/2 tablespoon salt
1/2 tablespoon of cumin powder
1/2 of coriander powder
1/2 tablespoon of garam masala powder
1/2 tablespoon of red chilli powder
A pinch of turmeric powder
2 green chilies
1 tablespoon chopped coriander leaves (optional)
4 to 5 chopped cashew
2 tablespoon Corn starch
Vegetable oil for frying
For gravy –
3 tomatoes chopped
2 onions chopped
5 garlic chopped
4 tablespoon cashew paste
Powdered spices (1 tablespoon of cumin powder, 1 tablespoon of coriander powder, 1 tablespoon of garam masala powder, 1/2 tablespoon of red chili powder )
whole spices crushed(2 green cardamom, 1 black cardamom, 2 cinnamon stick, 1 tablespoon cumin, 5 cloves)
1/2 tablespoon of turmeric powder
1 and half tablespoon of salt
1/2 tablespoon of sugar
1 tablespoon dry fenugreek leaves
30 ml milk for gravy
3 tablespoon fresh cream
7 tablespoon butter
Making procedure
Step by step photos with complete details. For kofta –
Boil the potatoes and peel the outer skin and shred the potatoes.
After that add turmeric, salt, all powdered spices(mentioned above), crushed black pepper half in potato and rest half in paneer balls. Add chopped green chili, coriander leaves.
Then add corn starch into it. Mix it well with the help of hand or spoon like a well combined dough. Leave aside.
Now shred the paneer(cottage cheese).
Then add left half black pepper, a little bit salt, chopped cashew. Again mix it we'll until it combine to form a smooth ball.
After that take some potato mixture and flat them like this.
Then take paneer ball and place it in the centre of potato rounds.
Then make a round and smooth balls.
Coat with corn starch.
Make other balls like this.
Then take a frying pan add oil on high flame. Fry all koftas on medium flame.
It takes 2 to 3 minutes. You can see the golden color of the koftas. Turn off the heat and keep aside the koftas for serving.
For gravy –
Take a pan add 4 tablespoon butter. Then add all whole spices. Saute for 30 seconds on low flame.
Then add chopped garlic, onions, and green chili. Cook for 4 minutes on medium flame.
Then add chopped tomatoes and salt, turmeric. Cook for 5 more minutes on medium flame. Turn of the heat and leave it for 20 minutes to cool down.
Then make smooth puree of this mixture.
Take same pan add 5 tablespoon butter. You can add more butter if you want because Indian loves buttey food. Then pour the puree and cook for 10 minutes on low flame.
Add cashew paste and stir it.
Then taste the salt or if needed add more. Add powdered spices, sugar, dry fenugreek leaves and milk. Stir it well and Cook for 10 to15 minutes . After that turn off the heat.
Do not mix koftas into the gravy because it gets soggy. When you are ready for serving then take serving plates or bowl add the pieces of koftas and then pour the gravy over it and serve. You can serve this with naan, flat bread or with rice.