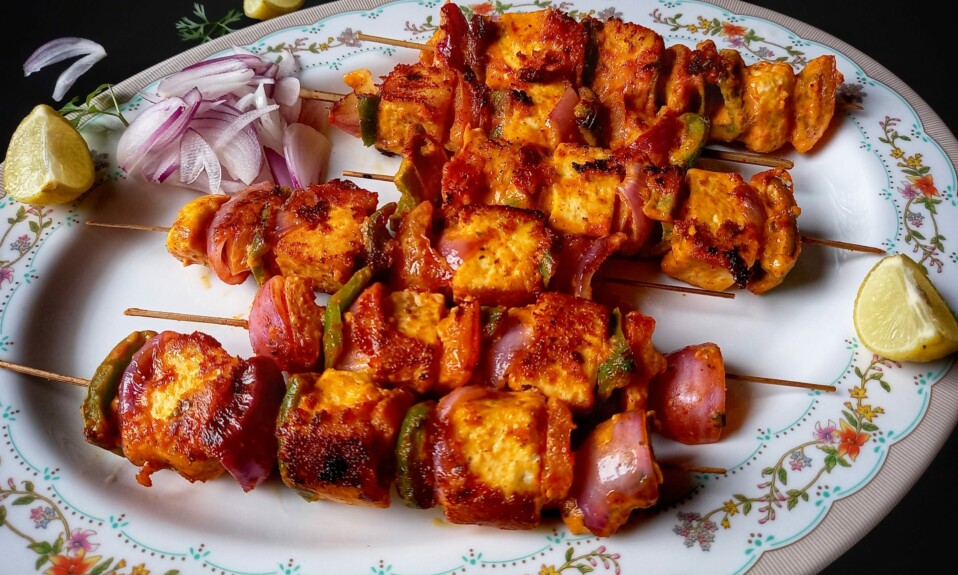 Paneer tikka recipe | Tandoori paneer tikka | Learn how to make paneer tikka with step by step phtos and video. In this recipe, we make this tandoori tikka on tawa. It is one of the easiest recipes that you can make on the stovetop. Paneer is an Indian cheese which is also known as cottage cheese. These cottage cheese cubes are marinated in a spicy and super delicious tandoori tikka masala and it is grilled in tandoor. Generally, we don't have the tandoor in our house that's why we need to grill them on tawa or on the oven. You can make this paneer as a side dish or appetizer.
Tandoori dishes are always one of the most popular restaurants or Dhaba dishes. And it is loved by everyone because of its smoky flavor and aroma.
Paneer Tikka
Paneer tikka is one of the most popular north Indian dishes. In this dish, paneer chunks and some other veggies like capsicum, tomatoes, onions are marinated in yogurt and spices. Traditionally it is grilled in a tandoor or in a clay oven. With this method, we get the smoky and tandoori flavor. but now we can also make them on tawa as well. So here is the recipe…
INGREDIENTS
For marination
3 to 4 tbsp curd
½ tbsp salt
A pinch of turmeric powder
½ tbsp cumin powder
½ tbsp coriander powder
1 tbsp red chili powder
1 tbsp dry fenugreek leaves
½ tbsp sugar
1 tbsp ginger garlic paste
2 tbsp mustard oil
2 tbsp besan/roasted gram flour
1 tbsp lemon juice
1 tsp black salt
Veggies
250 grams paneer
1 bowl capsicum(in cubes)
1 bowl tomato(in cubes without pulp)
1 bowl onions(in cubes)
Some sliced onions
Lemon juice
some ghee/butter
Some other recipes from this blog…
How to make paneer tikka on tawa?
First, we have to make the tikka masala. For this, take a bowl, add curd. Use fresh curd.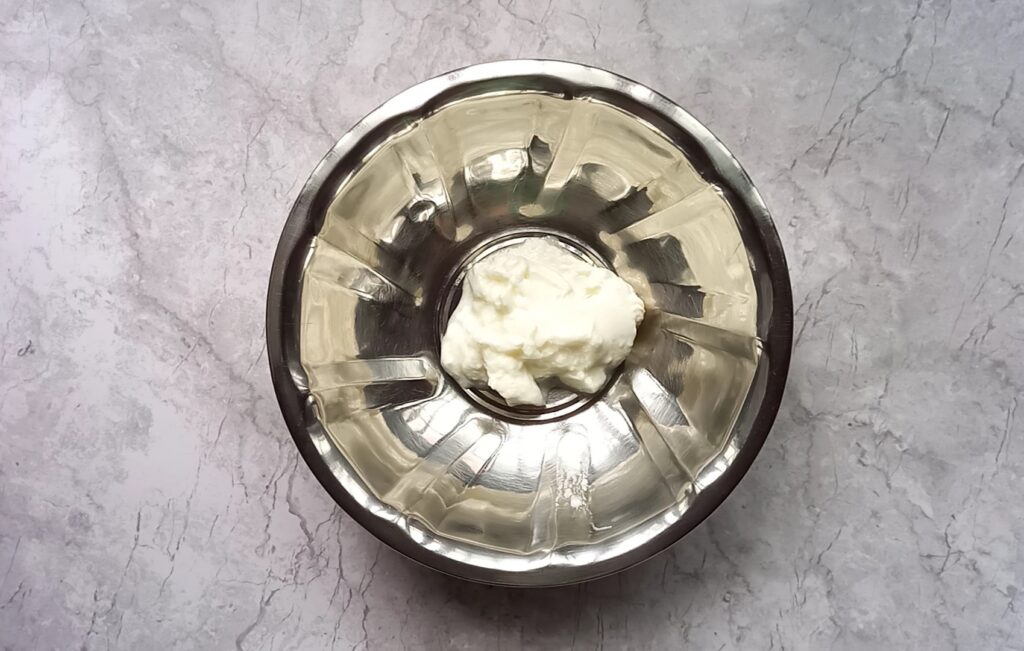 Add salt and turmeric powder.
Add cumin powder, coriander powder, red chili powder. Add dry fenugreek leaves. Add sugar.
Add besan. Add mustard oil. Mix well.
Then add lemon juice and black salt.
Mix well.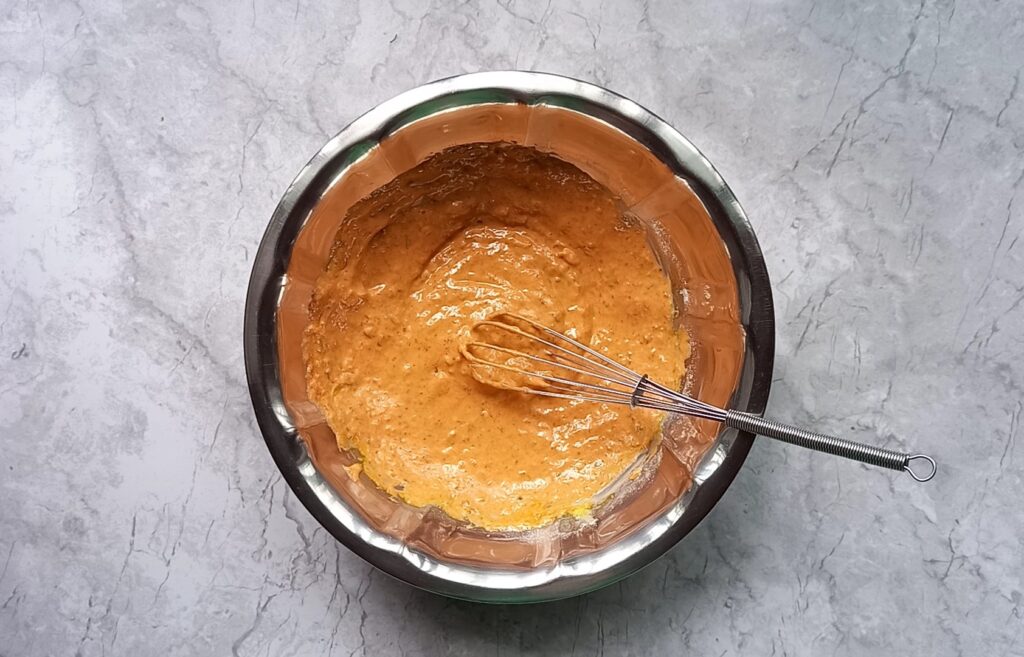 Now add paneer.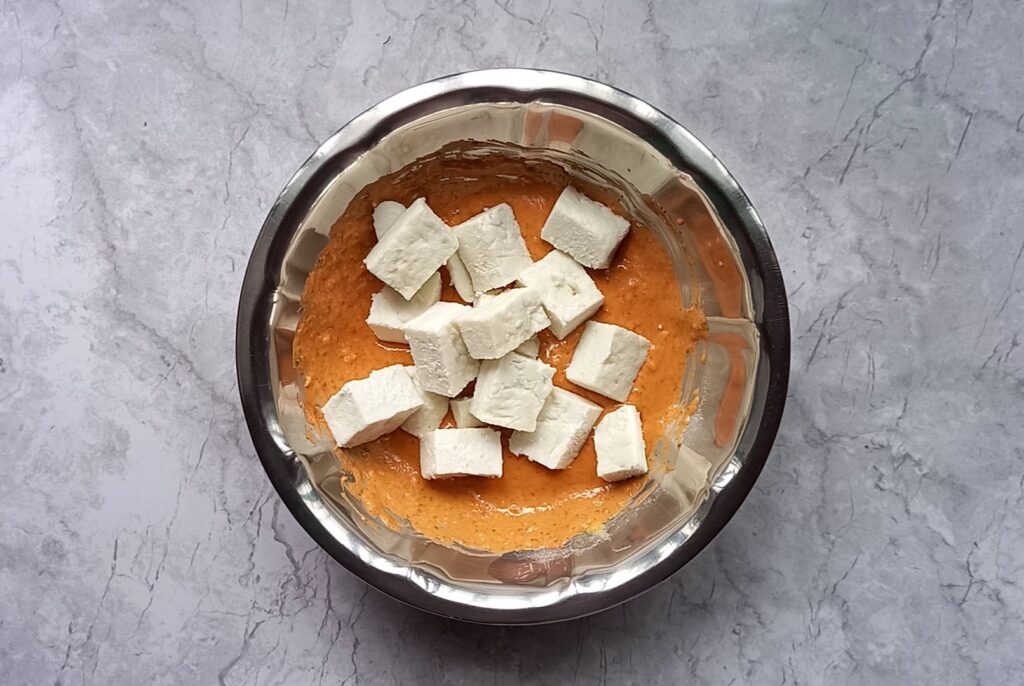 Add all veggies. Chop them in cubes.
Mix well. It is ready to grill.
Now take a skewer. Insert everything in this skewer.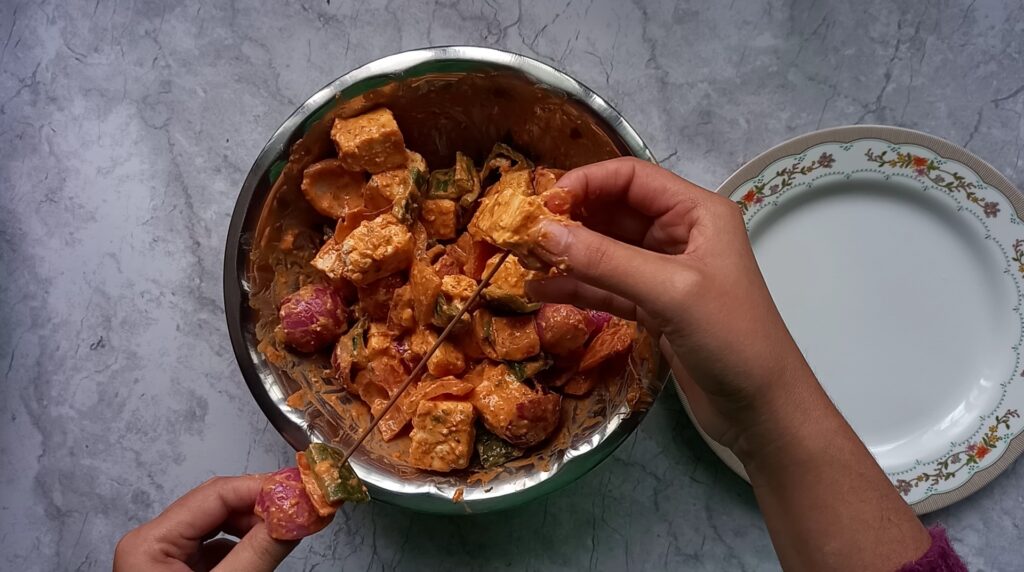 Prepare all of them like this.
Now heat the tawa on high flame. Add some ghee. And place the skewers.
Cook them for 5 to 6 minutes on medium flame.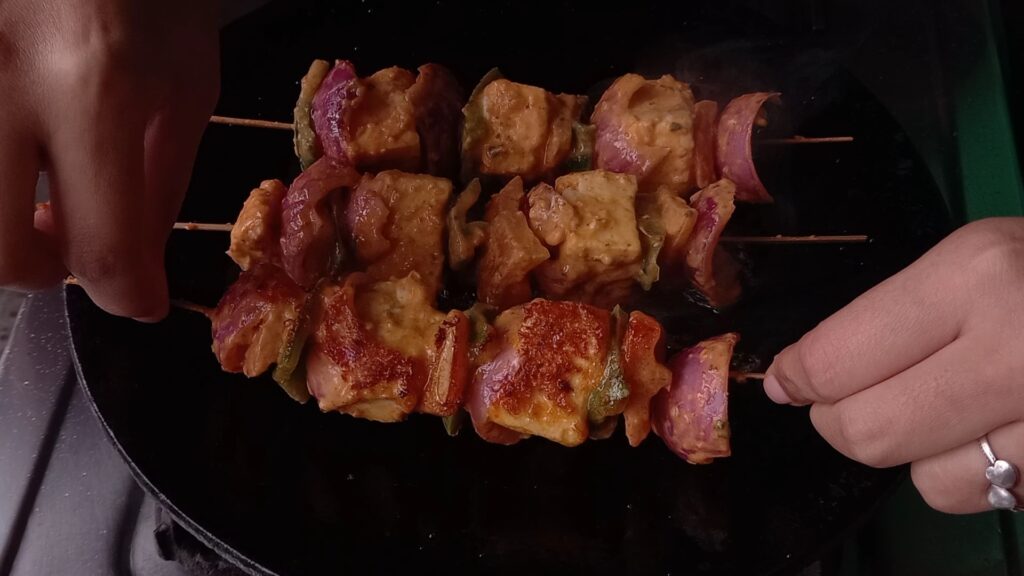 Drizzle some ghee and toast them. After that toast them for 2 to 4 minutes on high flame. When it turns golden in color, remove it from the heat.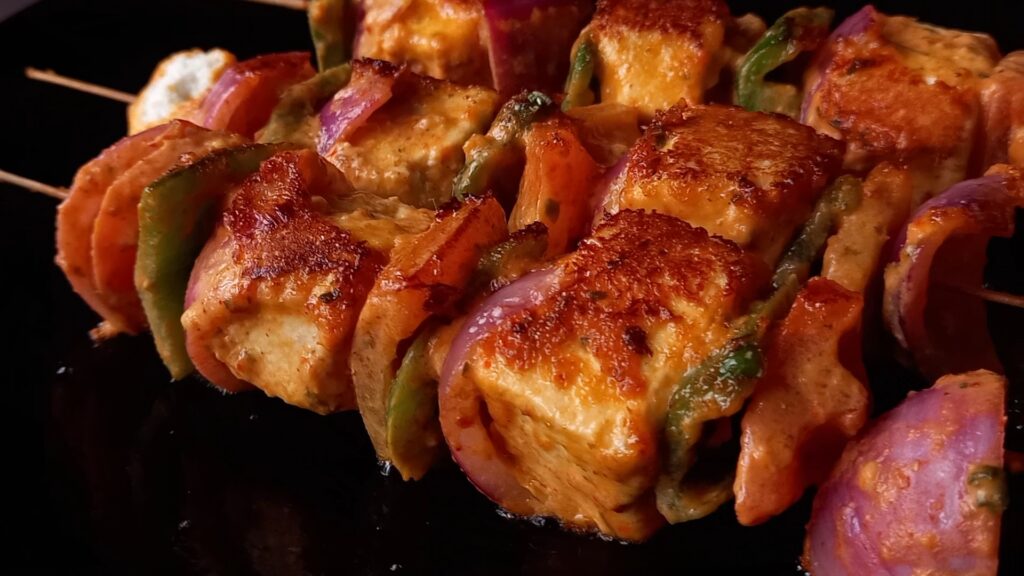 Grill all of them like this. Paneer tikka is ready to serve. Serve it with some onion slices and lemon. Now, if you want to make the paneer tikka roll, check out the same video.