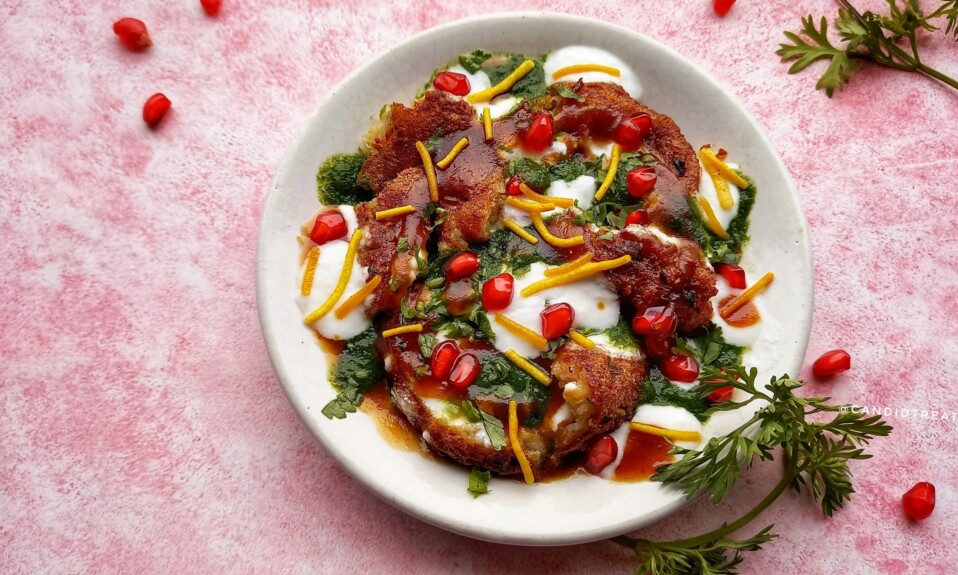 Aloo tikki chaat recipe | Tikki chaat | Learn how to make aloo tikki chaat with step by step phtos and video. Aloo tikki chaat is one of the most popular indin street snack recipe. Aloo Tikki is a fried potato pattie that is called Tikki in Hindi. These fried patties are topped with chutney and some curd. You can also add pomegranate, coriander leaves, sev, chopped onions, etc.
Want to make a super crisp and chatpata aloo Tikki chaat, this recipe is for you. This chaat recipe is the simplest one and it takes only 5 to 10 minutes. But you do need to have some sweet chutney and green chutney for the plating. You can also store the boiled potato mixture in the fridge for a day. So that it is easier to make and grab. You can serve this Tikki as an evening snack or after-school snack. Or you can also make these aloo tiki chaats for a house party or get-together.
Some Other popular street food recipe
Ingredients
For aloo Tikki
10 to 12 medium sized boiled potatoes
1 tbsp salt
4 to 5 green chilies
2 tbsp coriander leaves
½ tbsp cumin powder
1/3rd tbsp coriander powder
1 tbsp red chili powder
3 to 4 tbsp rice flour
2 to 3 tbsp corn starch/arrowroot
Oil for frying
Some curd for garnishing
Some red chutney
Pomegranate seeds
Chopped coriander leaves
Sev(optional)
For hari (green) chutney
Some coriander leaves
2 green chilies
1 tsp black salt
1 tsp salt
½ tsp cumin powder
2 ice cubes
1 tbsp water
1 to 2 tsp lemon juice
How to make green chutney?
Take a mixture jar. First, wash the leaves then use. Add coriander leaves. Add green chilies. Add black salt. Add regular salt.
Add cumin powder. add ice cubes. Then add water.
Grind it. Transfer it to a glass or plastic bowl. Green chutney is ready.
For RED CHUTNEY watch this recipe( RED CHUTNEY).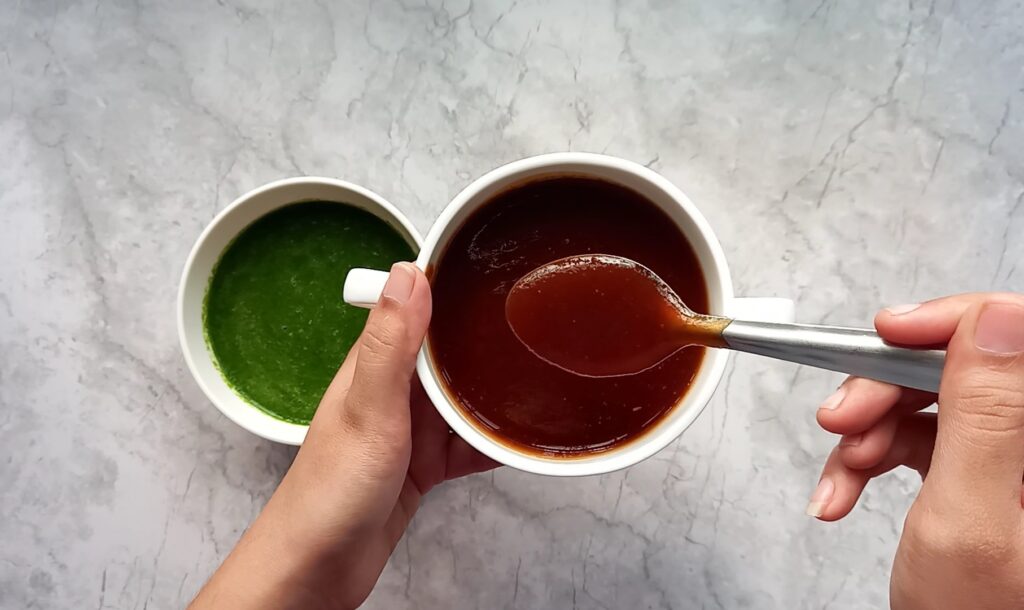 How to make aloo tikki?
First, boil some potatoes and remove the skin of potatoes. Then leave it to cool down. After cooling, grate the potatoes. Do not use warm potatoes for this recipe.
now add chopped green chilies and coriander leaves. Add salt.
Add cumin, coriander, red chili powder. add rice flour and corn starch/arrowroot. It provides crispness to the Tikki.
Mix well.
Then grease your hands with some oil. Take some mixture and give it the shape of patties. Frist roll them than flat them in a disc. Make all of them like this.
Now take some oil. Heat the oil on high flame for 1 to 2 minutes. Then place the patties and turn the flame on medium.
On medium flame cook the patties until it turns golden in color from both sides.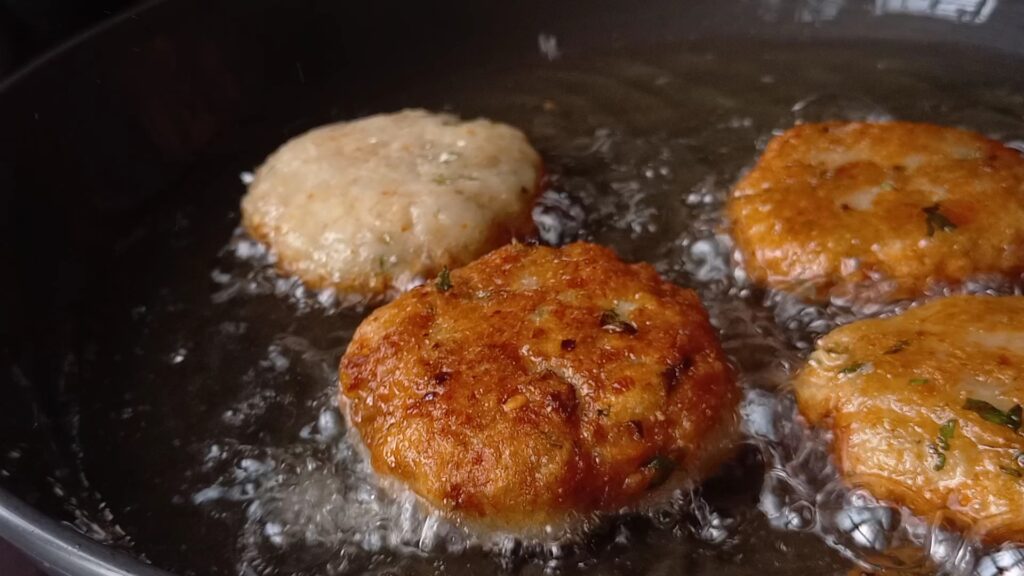 After that turn the flame on high and cook the patties from both sides for about 30 to 50 seconds. Then remove it from the oil. Fry all of these patties like this.
Now take some curd and whisk well.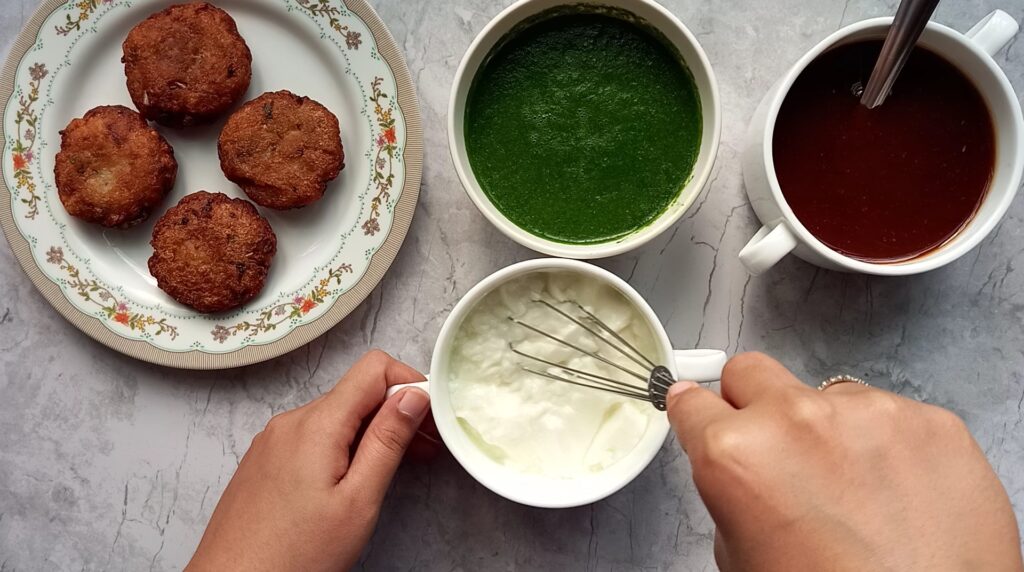 Take a plate. Add two or 3 hot Tikki. Add 2 to 3 tbsp curd.
Add red chutney(2 tbsp). Add green chutney(2 tbsp).
Garnish it with some pomegranates seeds and coriander leaves. Make sure to serve it as warm as possible.