Japani samosa | Punjabi samosa | Amritsrai Satpura samosa | Layered samosa | Learn how to make japani samosa/Satpura with step-by-step photos and video. Hello, foodies…welcome to Candid Treat. So you love samosa. If yes, you are in the right place. But why always trying that same samosa. Today, Try this exotic and lip-smacking japani samosa or Satpura.
Satpura is popular street food from Amritsar or Manohar Dhaba(Chandni chowk)old Delhi. Japani samosa is a deep-fried pastry filled with spicy potato filling. It is similar to a samosa but the main difference is that you get a lot of flaky layers in this Satpura. And it is mostly served with launji. Launji is a curry made with yellow peas and potatoes. This launji compliments the flaky pastry. And it tastes amazing. If you are new to this recipe and never tried it before. Then you have to try this once. Pair up this with a cup of tea or coffee, and you are done.
Japani Samosa | Amritsari Satpura
Japani samosa is also known as Satpura or lacche wale samose. It is made with filo pastry. It has a multilayered samosa with 60 flaky layers, 30 on each side. And it is stuffed with a filling of spicy potato. Japani samosa is served with launji and sweet chutney. Japani samosa is different from other samosas, because of its flaky layers. When you fry them on low flame, it keeps their crunchiness for a longer time.
SOME OTHER RECIPES FROM THIS BLOG…
INGREDIENTS
For pastry dough
3 cups of refined flour(350 to 400 grams)
1/2 teaspoon salt
½ teaspoon baking soda
3 to 4 tbsp warm ghee
Water(as required)
Ghee/butter(as required)
For filling
5 to 6 boiled potatos
2 to 3 tbsp garlic and green chillies(crushed)
3 to 4 tbsp mustard oil
1 tsp cumin seeds
1 tsp fenugreek seeds
1 tsp nigella seeds
1 tsp fennal seeds
1 tsp black mustard seed
½ tsp hing
2 bay leaves
5 to 6 dry red chilies
1 and a half tbsp salt
1 tbsp turmeric powder
½ tbsp garam masala powder
1 tbsp cumin powder
2 tbsp coriander powder
1 tbsp red chili powder
1 tbsp dry fenugreek leaves
30 to 40 ml water
oil for frying
How to make pastry for japani samosa/satpura?
Take some flour. Add salt and baking powder.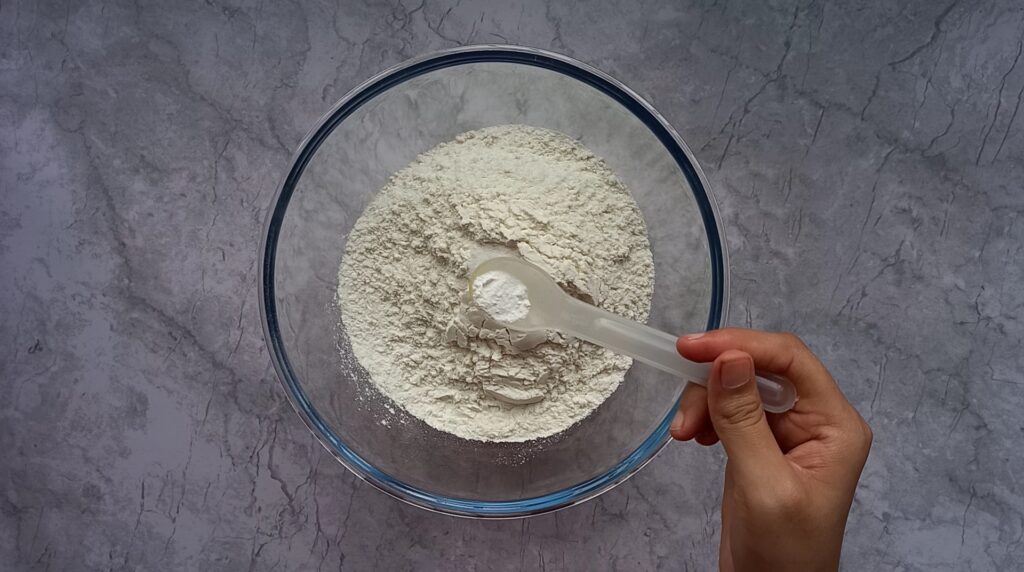 Add some luck warm ghee.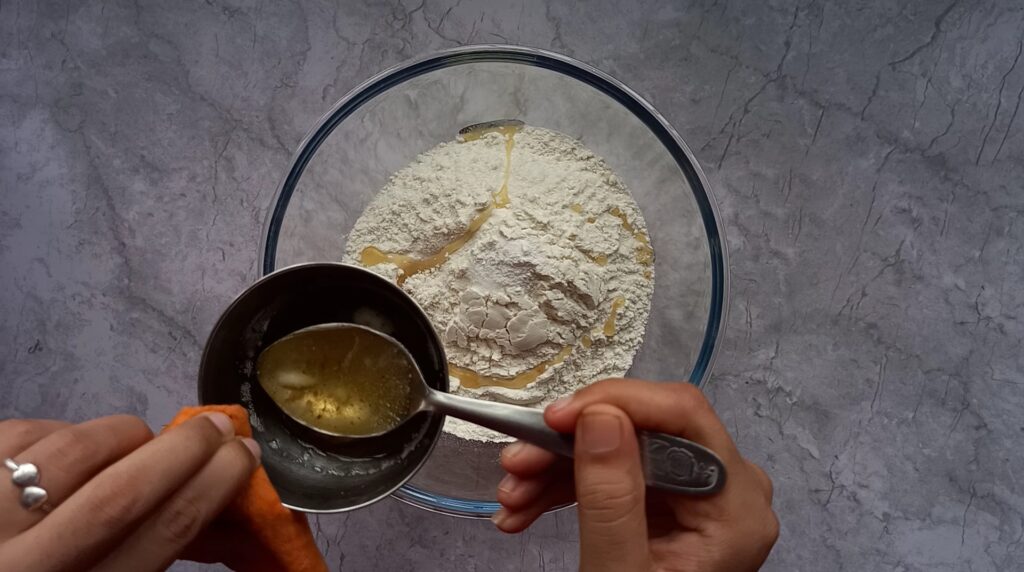 First dry mix them.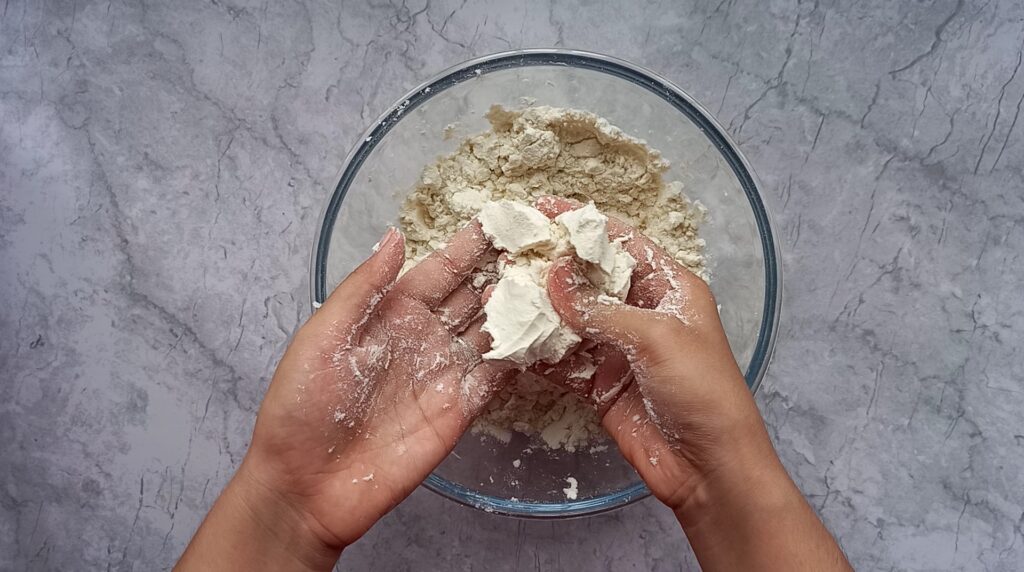 Then add water in batches and knead a semi-hard dough. Do not knead a soft dough for this recipe.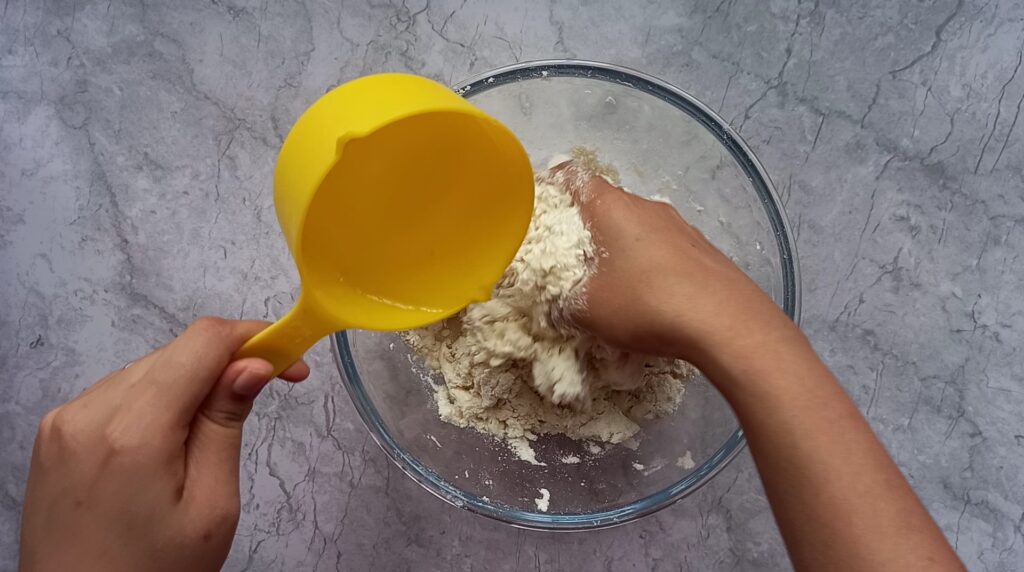 After that leave it for 15 minutes.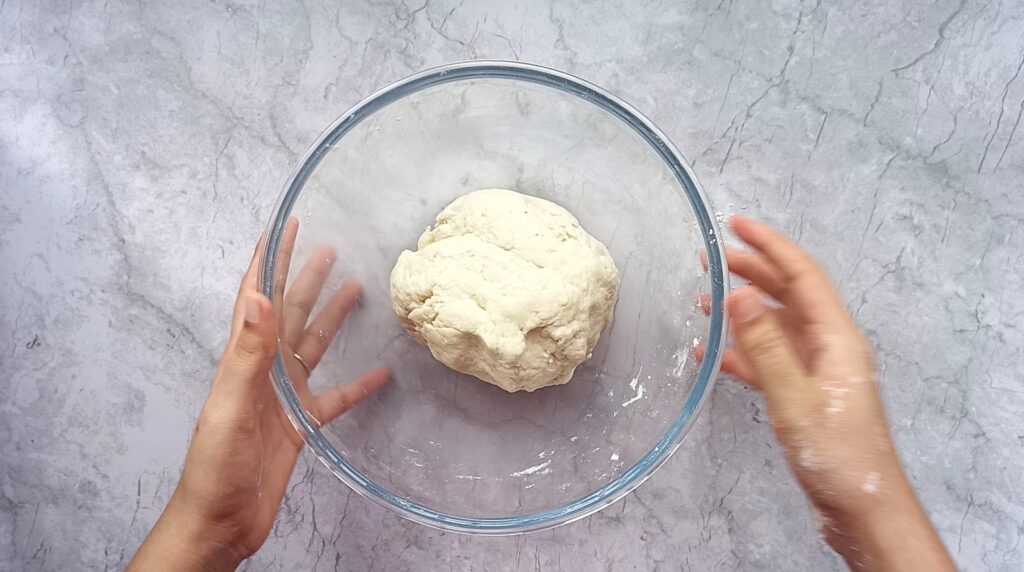 Then knead it again for 30 seconds.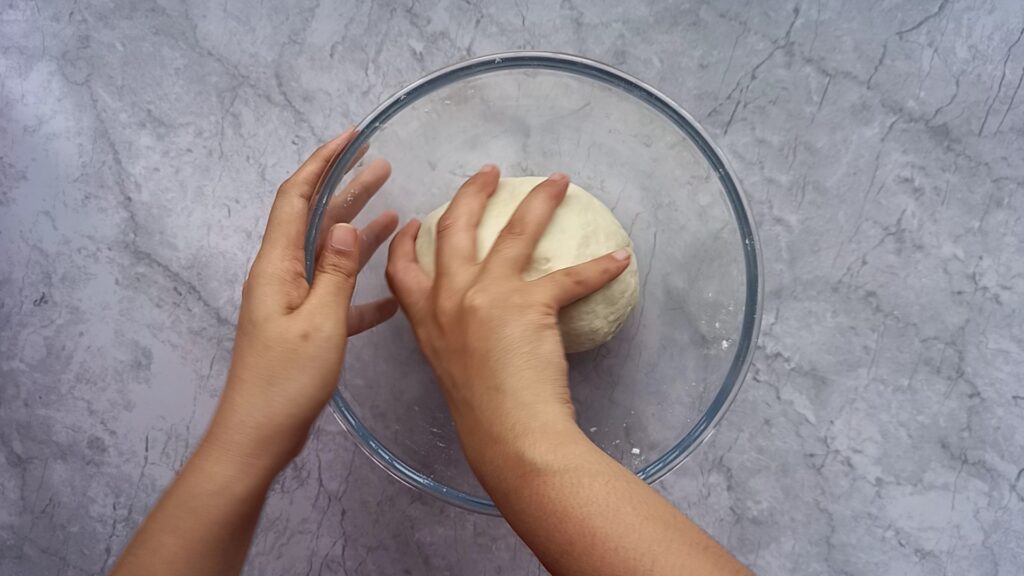 Now divide them into medium size balls.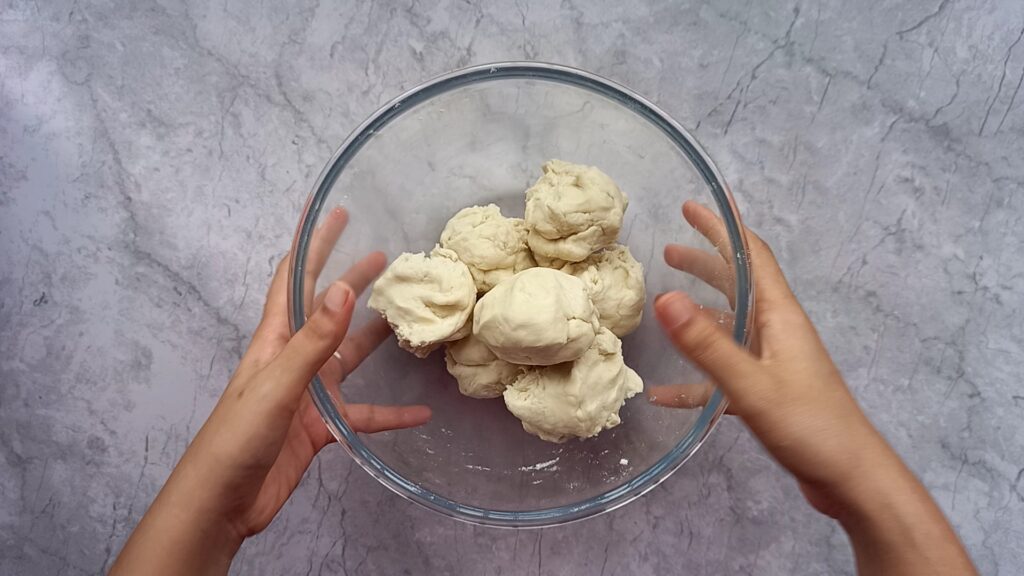 Take a piece of dough. dust it with some flour and roll them into as thin as possible. And roll out all of them like this. Here, make sure to roll them as thin as possible because this is important for this recipe. Thin layers create a fine and crisp layer.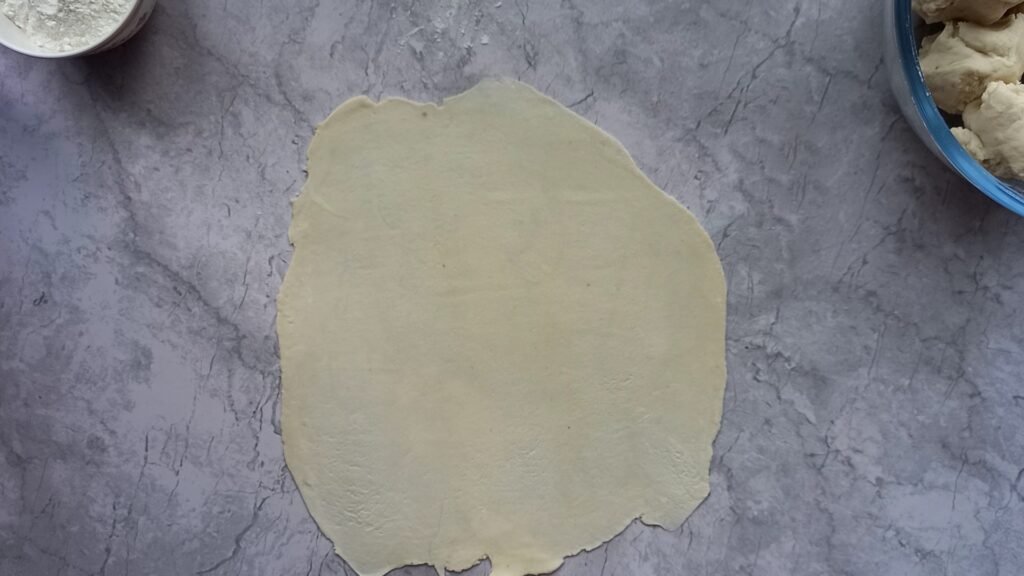 Now take a rolled dough. Add 1 to 2 tbsp ghee or butter. Spread it out evenly.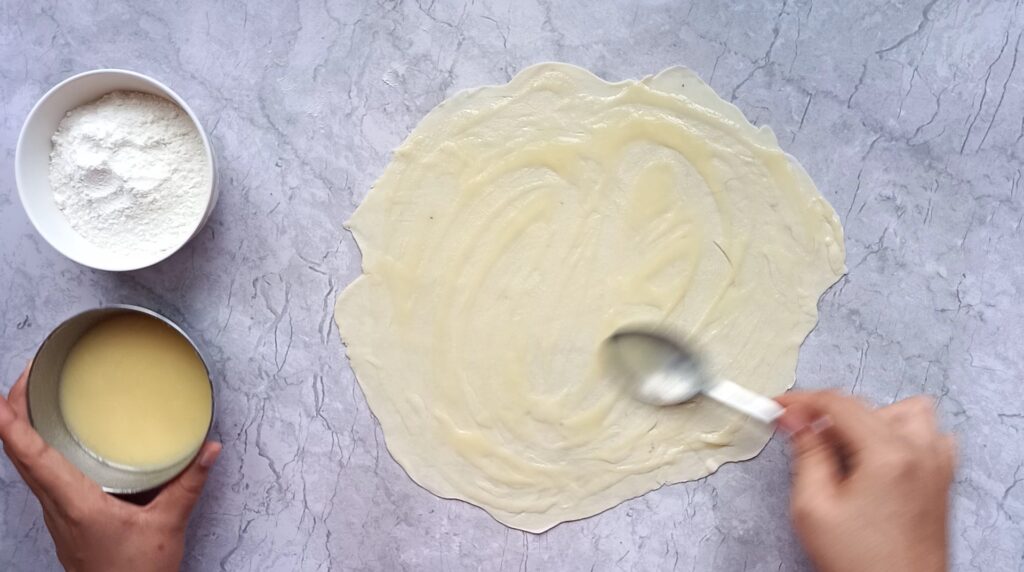 Sprinkle some flour and cover it with another rolled dough.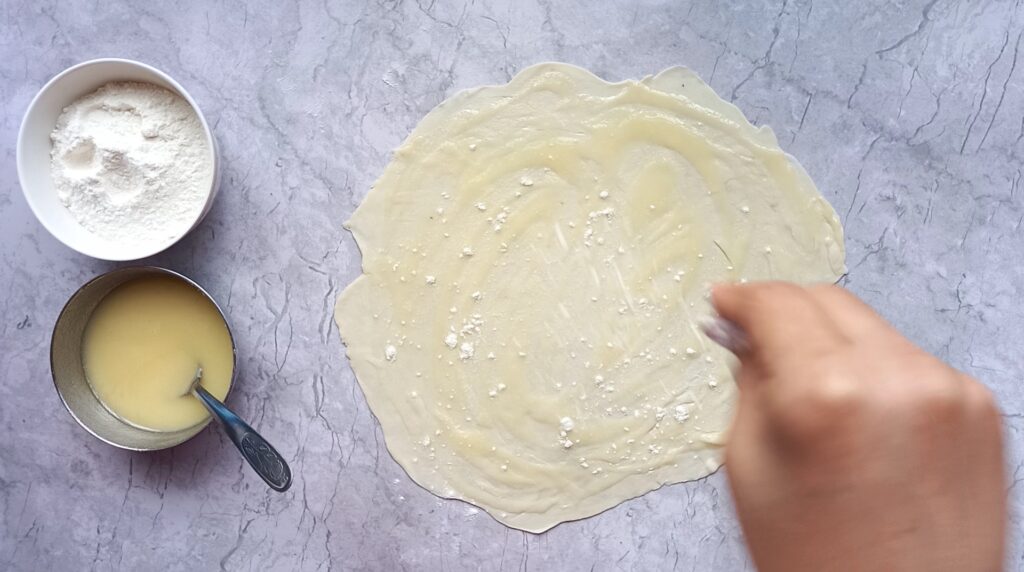 Repeat this process till the end.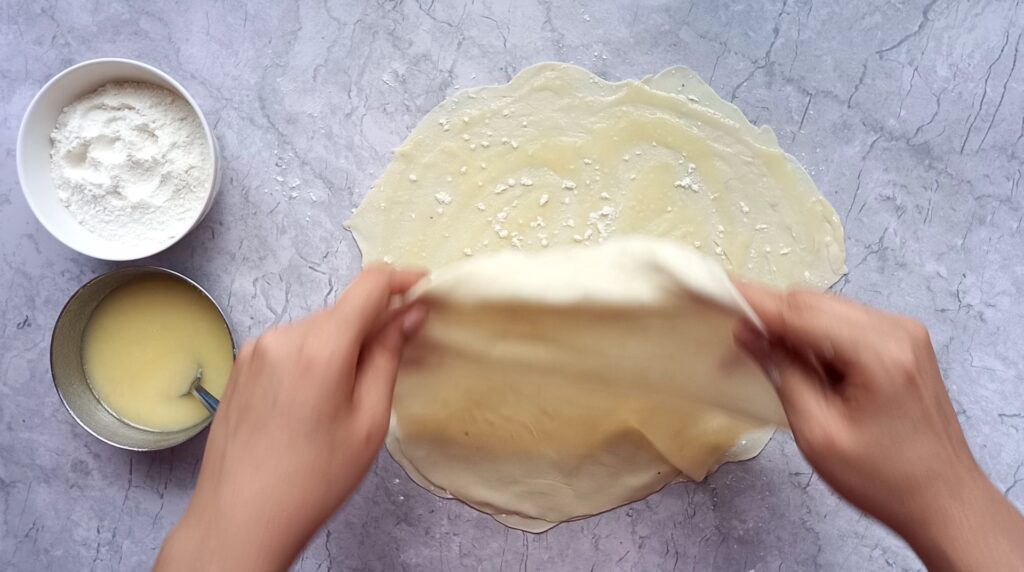 After that cut them into small size squares.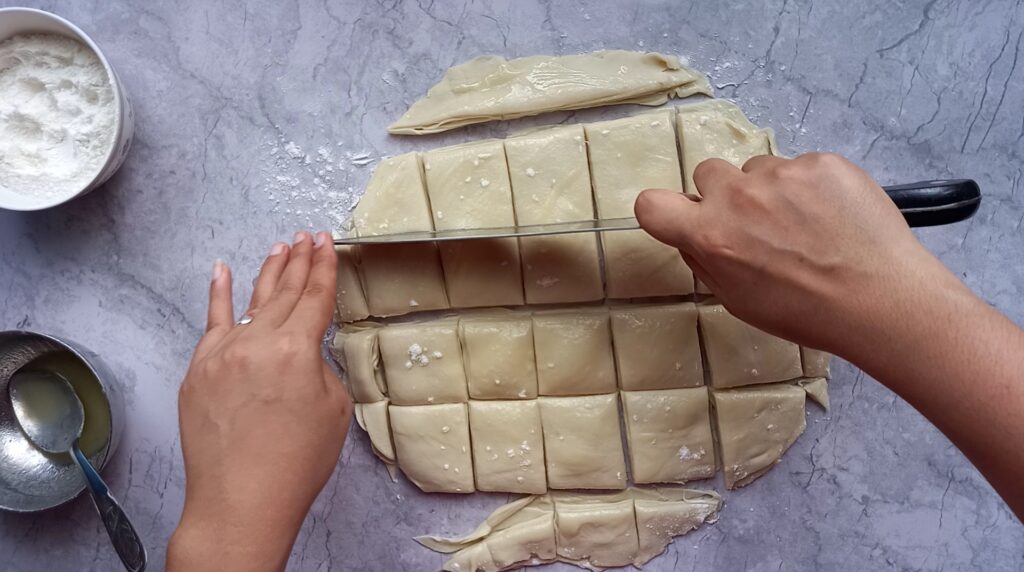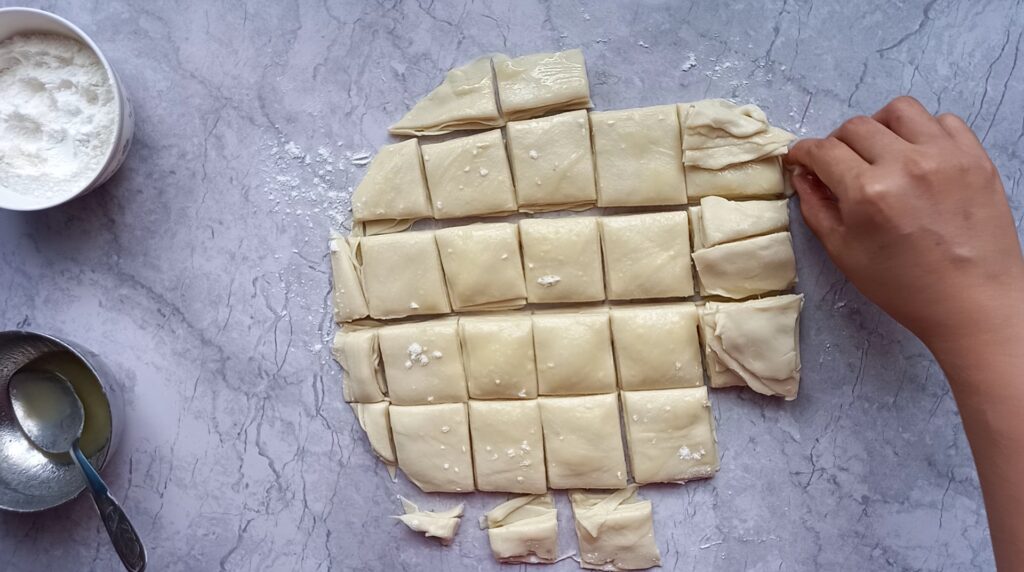 Keep this pastry in the fridge for 30 to 40 minutes.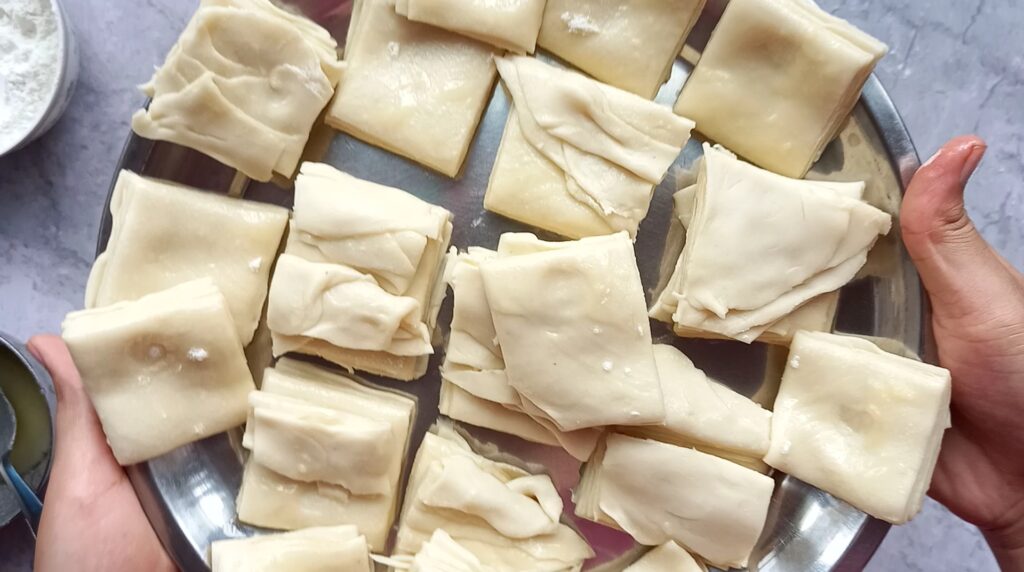 Meanwhile, prepare the filling. Take a pan, add oil. Heat it for 30 to 40 seconds on medium flame. Add cumin seeds, nigella seed, fenugreek seed, mustard seed, hing, fennel, red chilies. Saute it for 15 seconds on a low flame.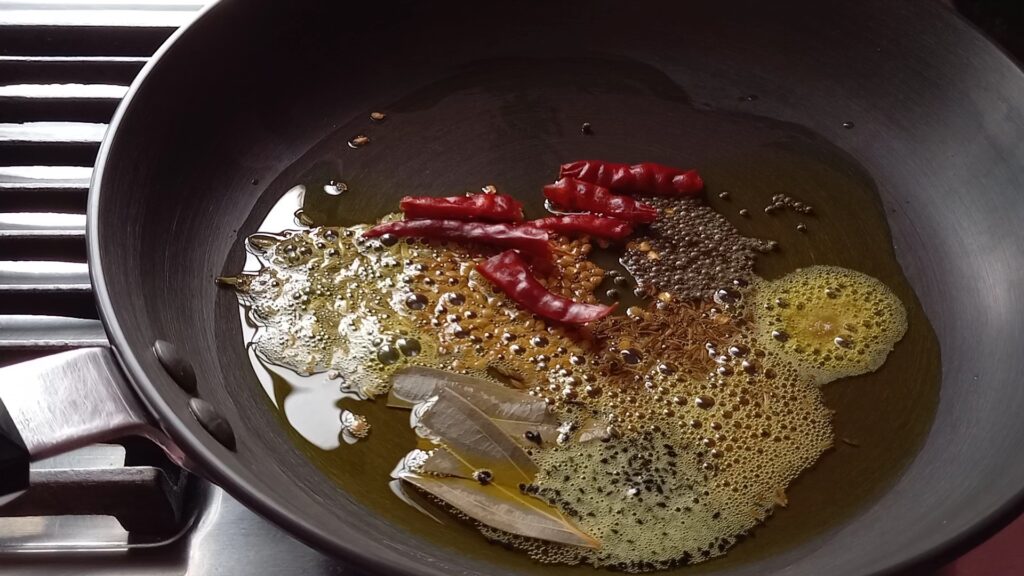 Add crushed garlic and green chilies. Sauté it for 10 seconds.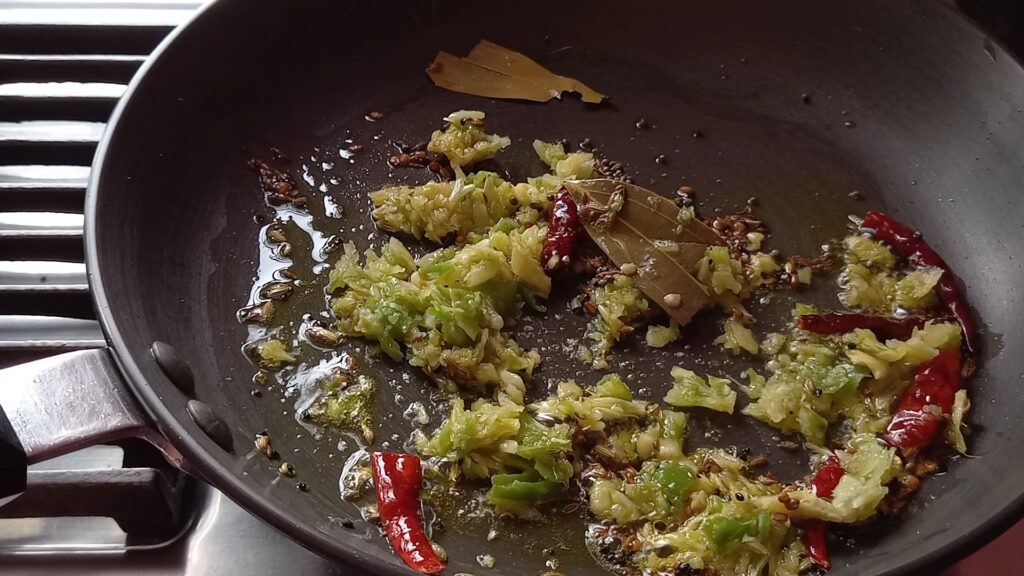 Add boiled and mashed potato. Mix well.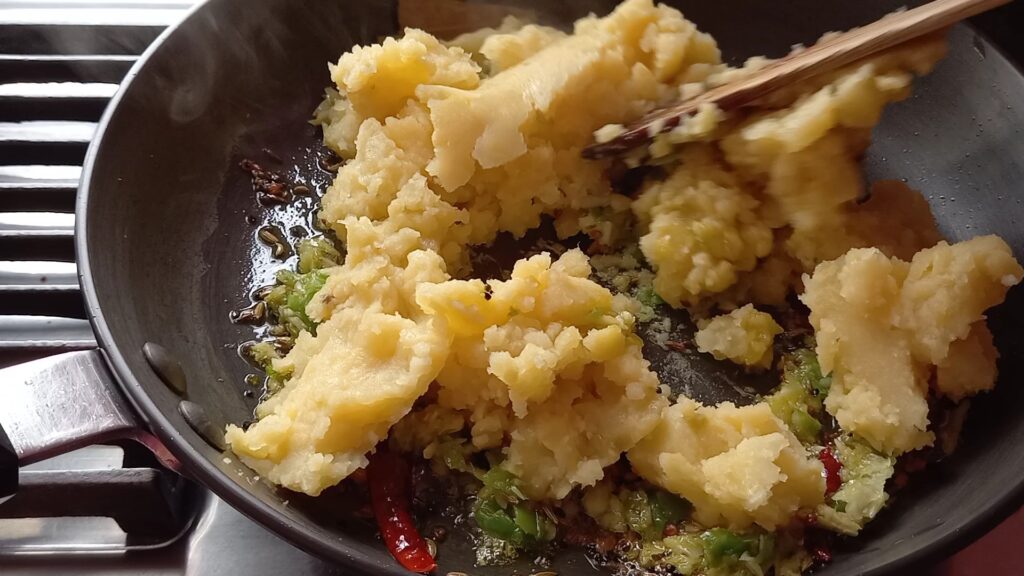 Add salt, turmeric, and other powdered spices. Add dry fenugreek leaves. Mix well and cook it for 5 to 6 minutes on high flame.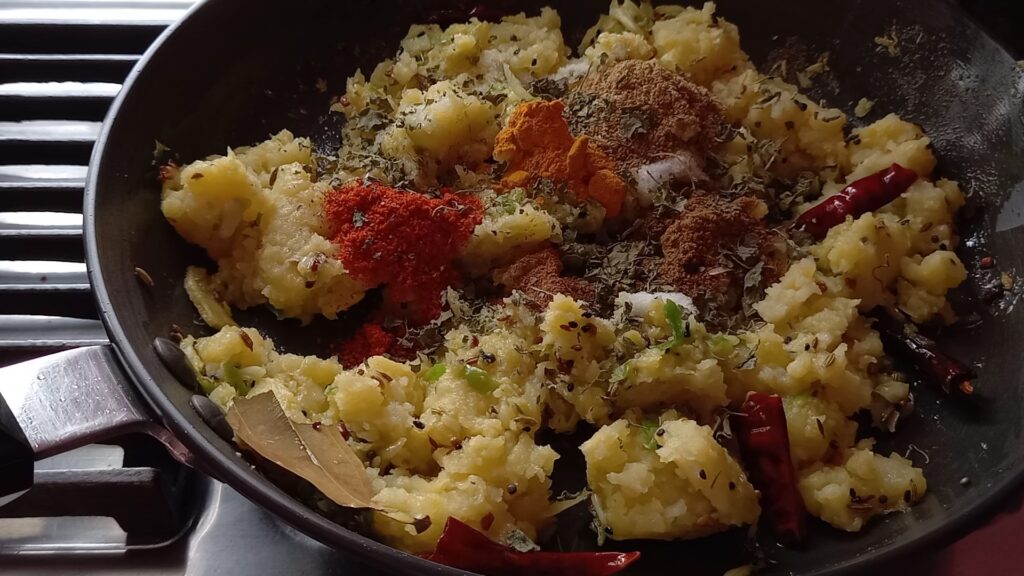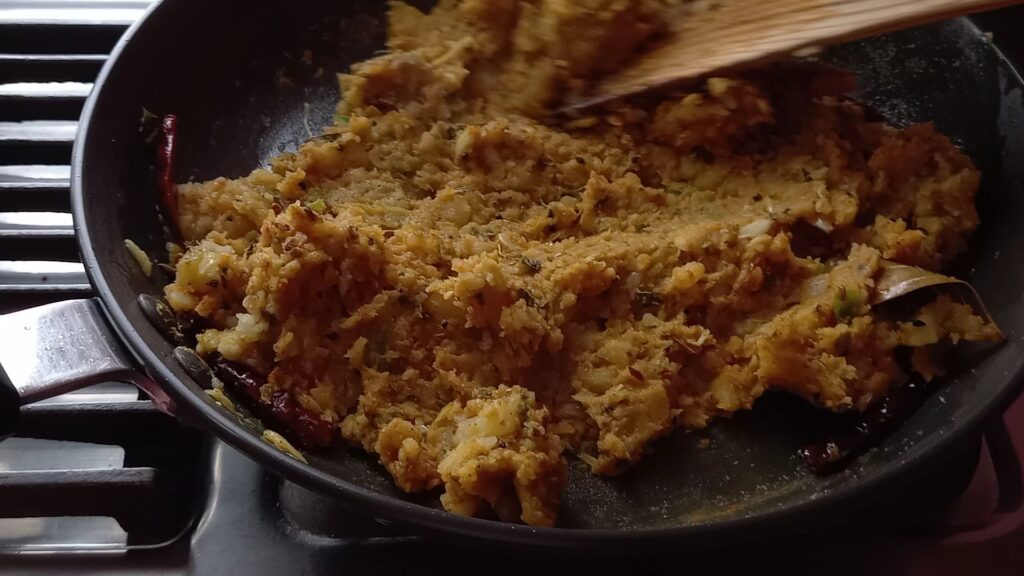 Then add some water and mix well. Again cook it for 10 minutes on medium flame.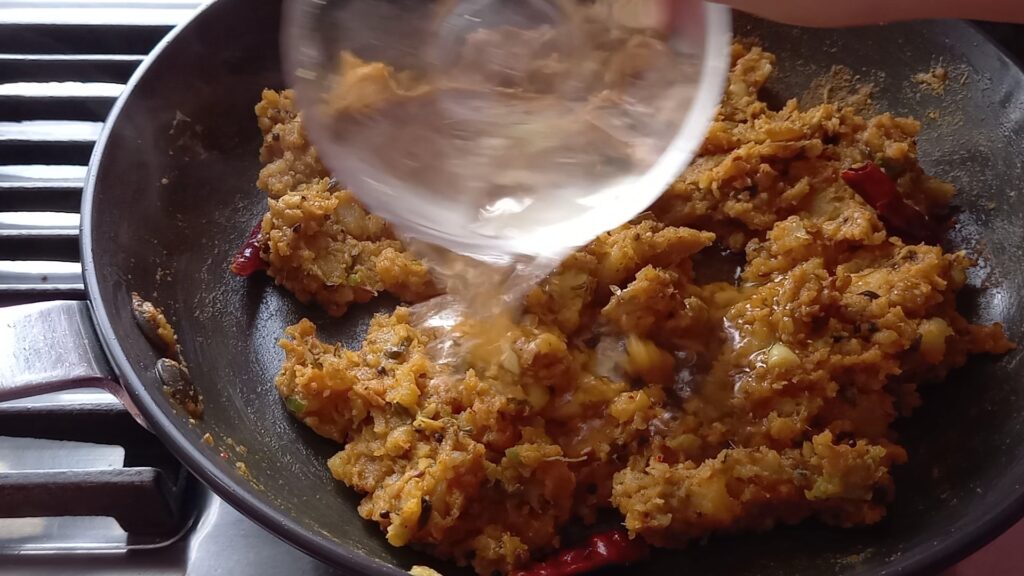 Turn off the heat and leave it to cool down.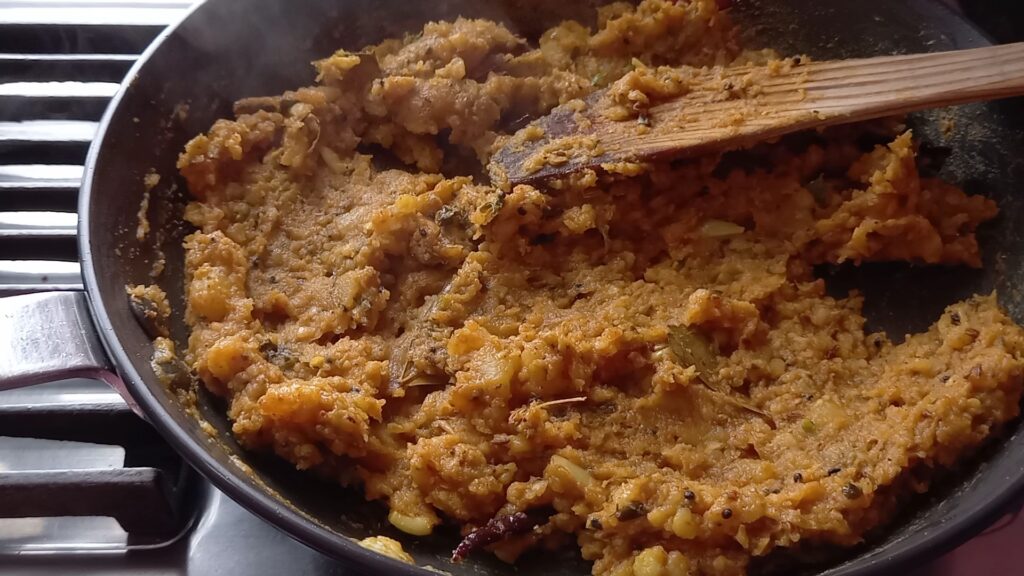 Now, take a piece of pastry. Sprinkle some flour.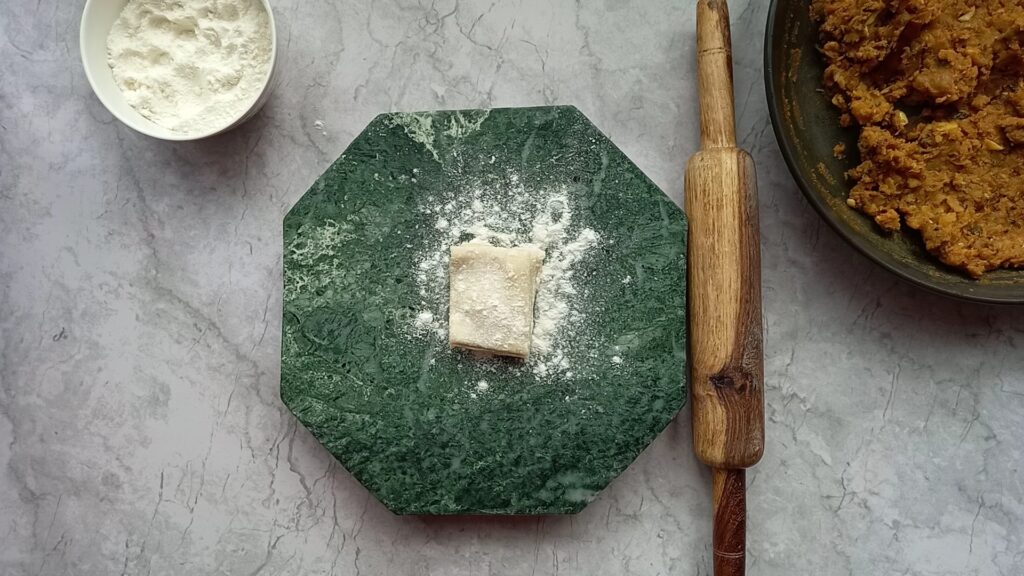 And roll out into a square.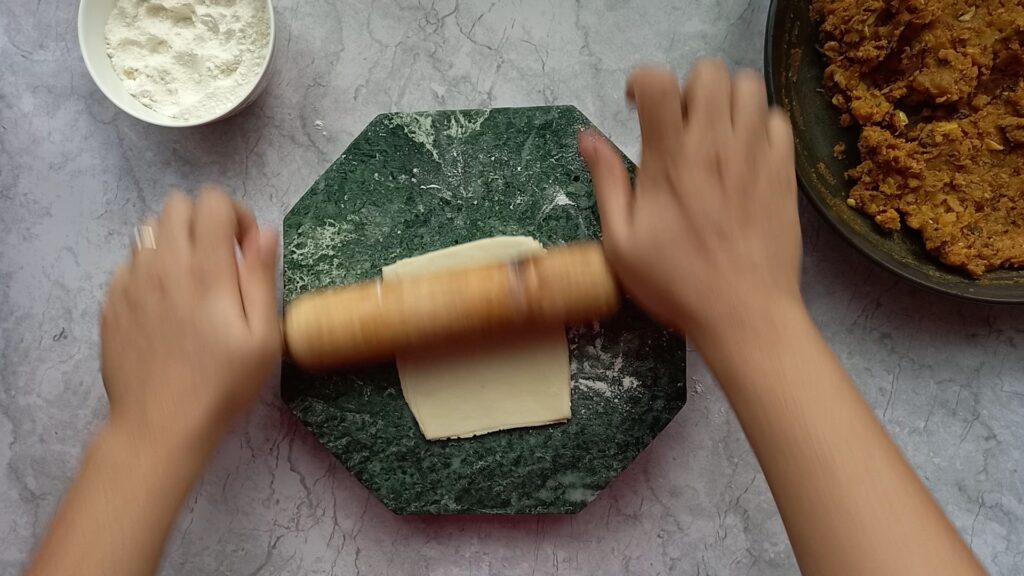 Add 1 to 2 tbsp filling.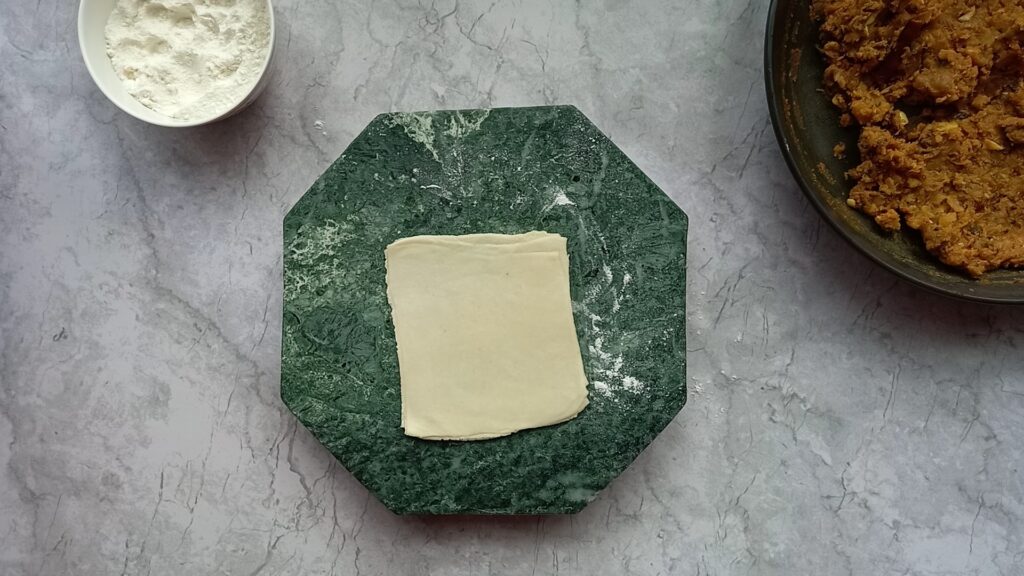 Apply some water to the edges.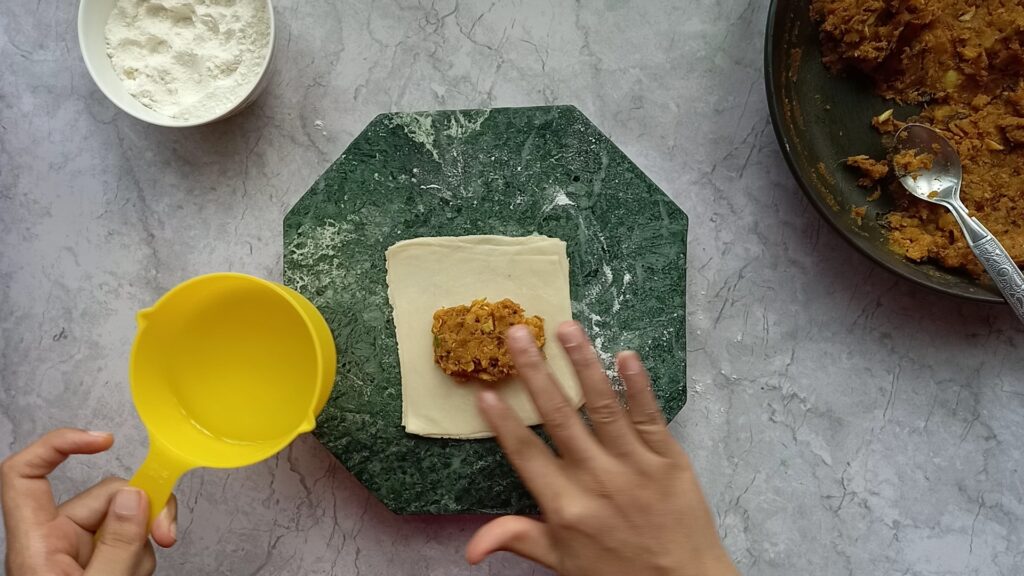 And seal the edges carefully. Do not add too much filling. Make all of them like this.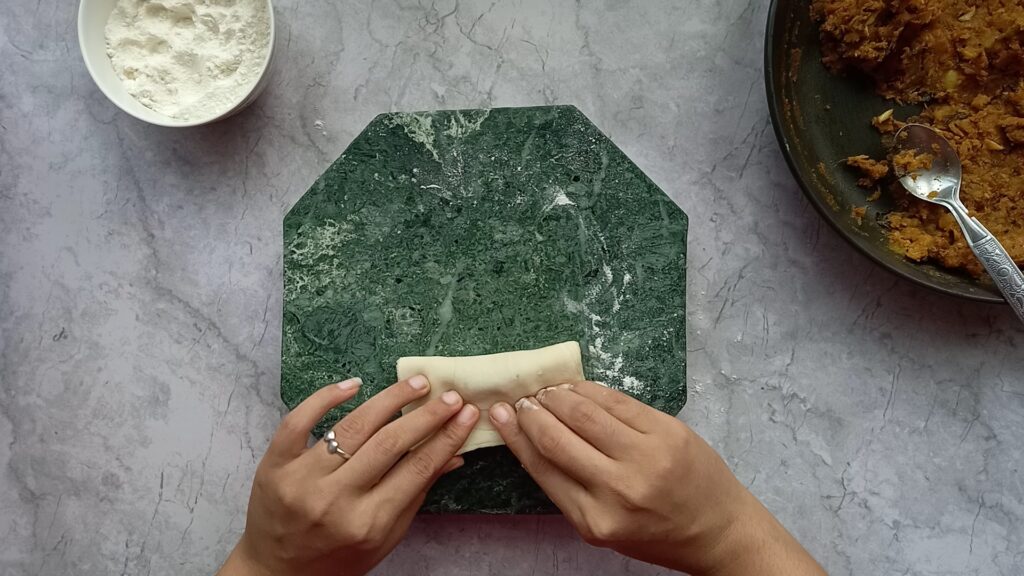 Now, take a kadhai, heat some oil for 30 to 40 seconds.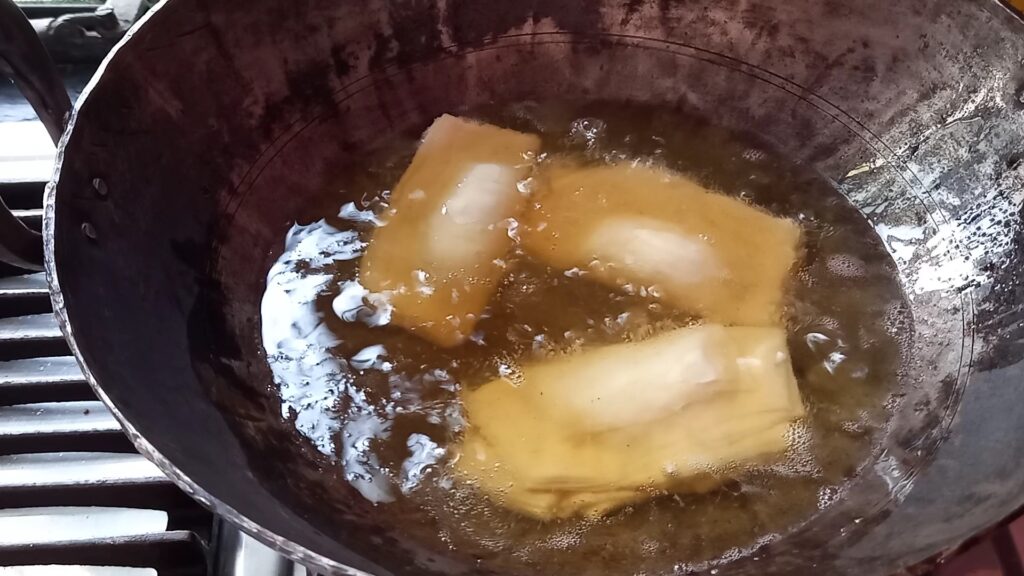 Add japani samosas to the oil and fry them on low flame. Do not hurry while frying them. It takes 20 to 25 minutes. So fry them on low flame.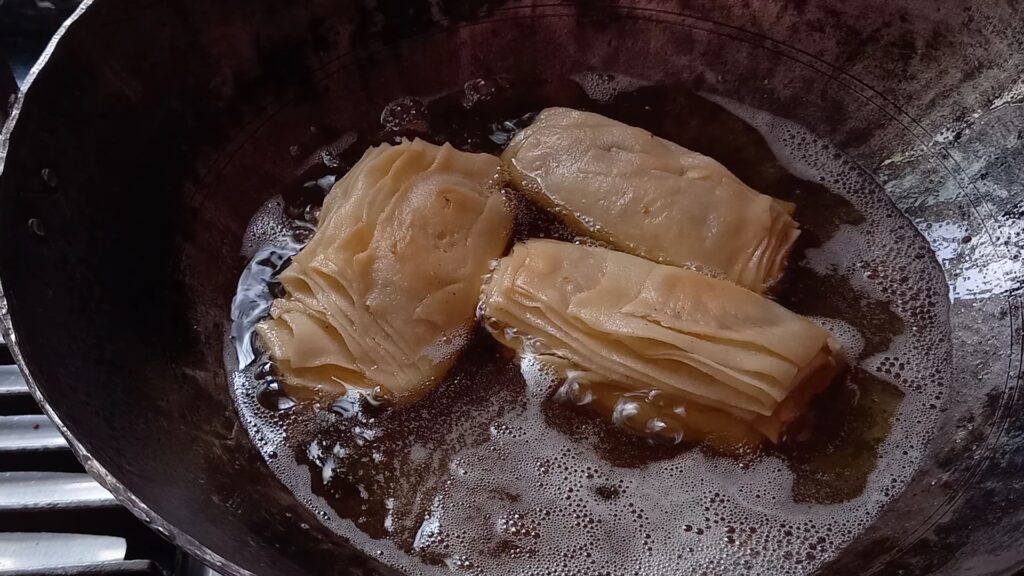 When it turns golden in color. Remove it from oil.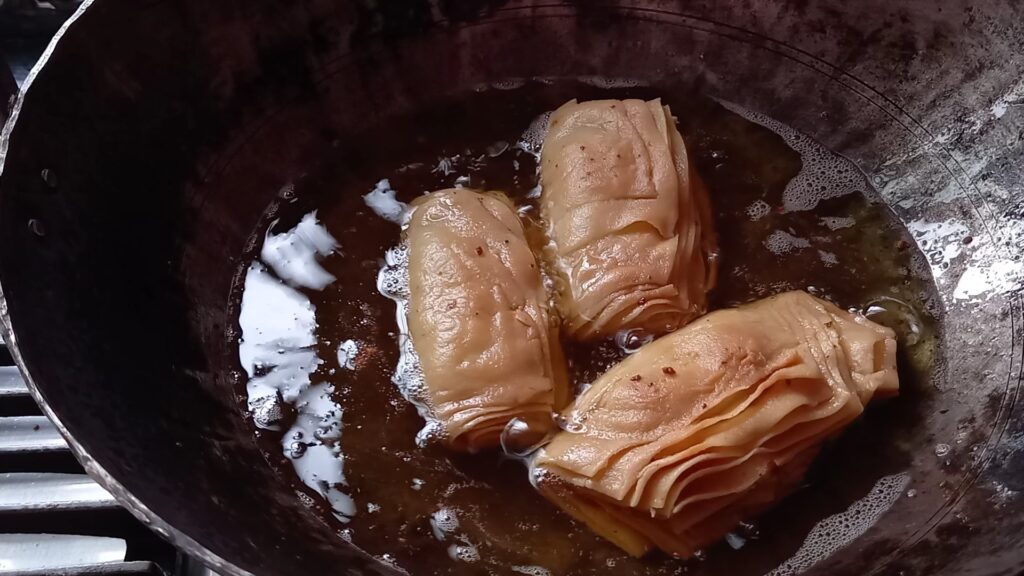 Fry all of them like this. Japani samosa/satpura is ready to serve.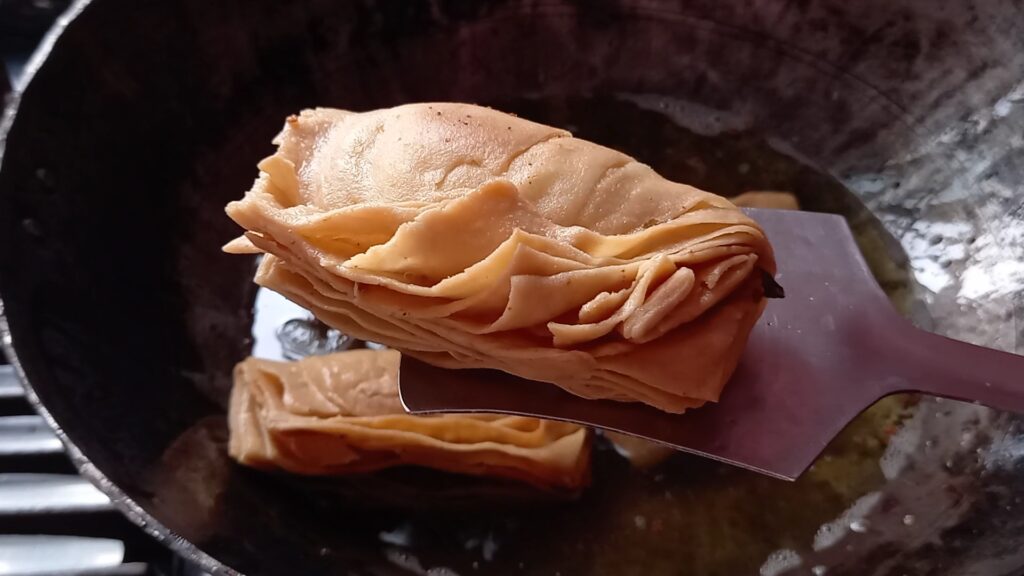 Serve it hot with any chutney or ketchup.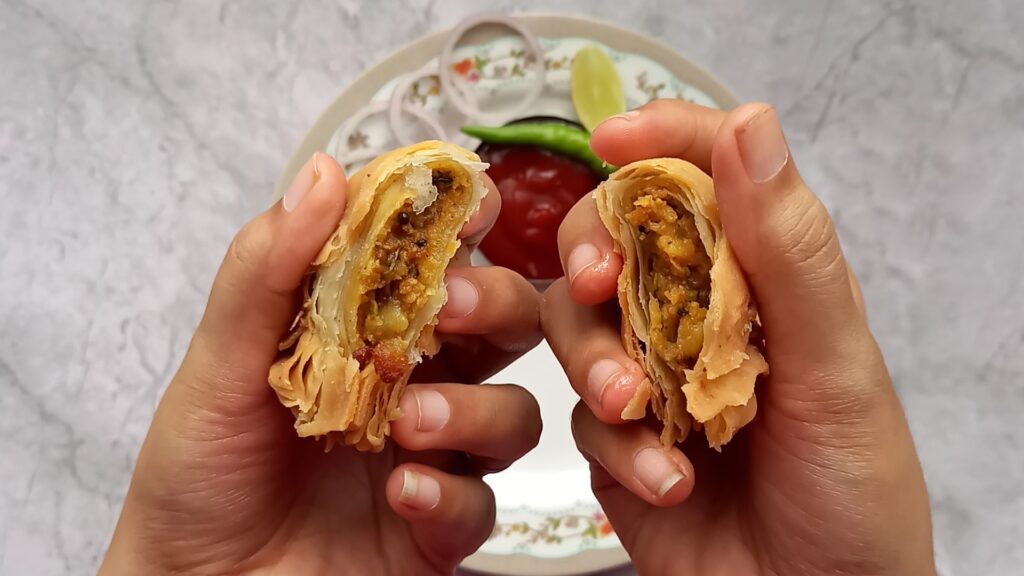 Storing suggestions
If you want to keep this for more. You can make the pastry squares and store this in the fridge for 3 to 4 days. or the making is the same as written above.