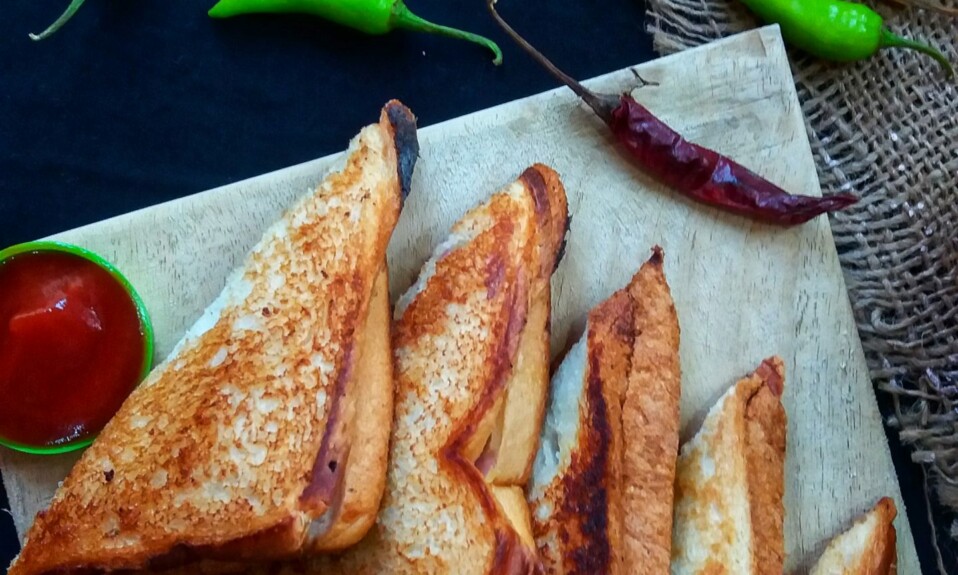 Potato sandwich is made with two slices of bread in which the spicy potato filling is toasted on the griddle. This potato sandwich is a simple sandwich recipe that is very quick and best for lunch box, or for an evening snack.
If you are in hurry and want something quick and delicious recipe for breakfast or for lunch box then make this spicy potato sandwich. It can be served with tomato sauce or green chutney. Mostly sandwich has some type of spread or cheese stuffing but this is just made with potatoes.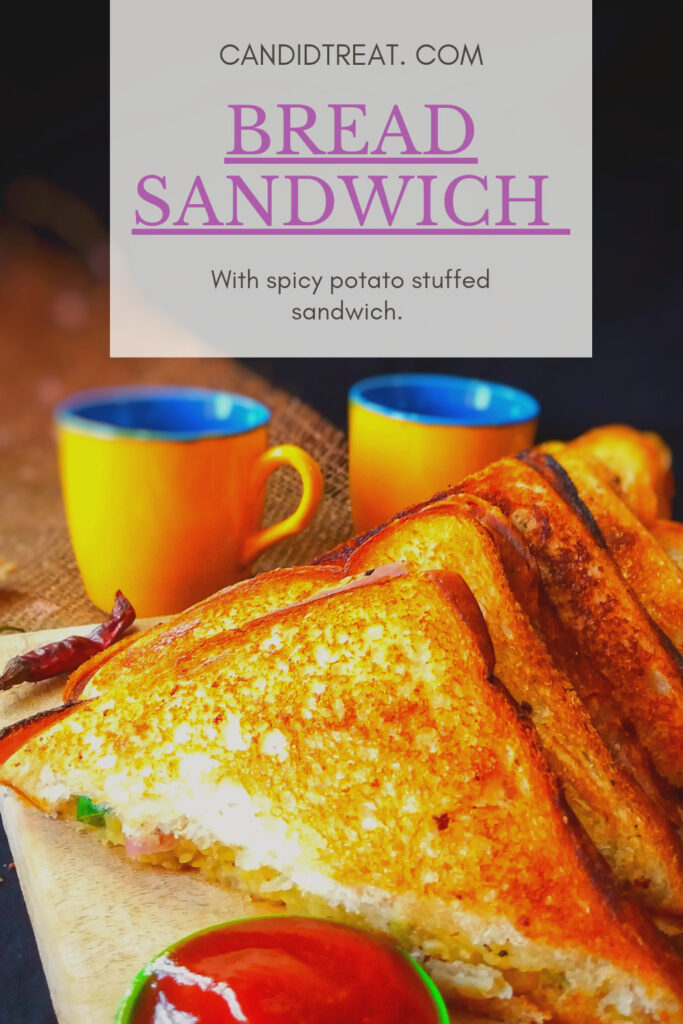 Ingredients and substitutes
Bread: Use fresh and good quality bread. In this recipe, I used white bread but you can use brown bread or any type of bread. This sandwich is made without a toaster or oven. Simply use any griddle or cast iron sandwich maker. If you have then used otherwise just go with griddle.
Potatoes: Use good quality potatoes because it is a potato-based sandwich. You can also use pre-boiled potatoes. It is also the best option to use your leftover boiled potatoes with this recipe and your children gonna love this sandwich.
Vegetable: You can use different veggies here. Like carrots, corn, bell peppers, peas, etc.
Spices: In this recipe, I used some carom seeds, green chilies, vinegar, black salt. Vinegar gives the tarty flavor. You can replace this with lemon juice. Add some crushed ginger.
Some other snacks recipe….
INGREDIENTS
White bread slices
7 boiled potatoes
1 onion chopped
6 green chilies
1 tablespoon ginger
1/2(5 ml) tablespoon vinegar
1 tablespoon salt
1/4 tablespoon red chili powder
1/4 tablespoon black salt
1 teaspoon carom seeds
Oil for toasting
Coriander leaves chopped
| | |
| --- | --- |
| Total time | 25 minutes |
| servings | 12 to 14 pieces |
Preparation for sandwich stuffing
Take some potatoes and wash them. Boil them in a pressure cooker for 6 to 7 whistles. After that leave it for cool down then peel the outer layer of potato and smash them.
Choop onions and mix it with smashed potatoes.
Add green chilies and crushed ginger. You can adjust spicy flavor as per your taste.
Add salt.
Add carom seeds. It is very healthy and helps indigestion. That's why use these seeds in this recipe. It also enhances the flavor. Add black salt and you can add coriander leaves.
Add red chilli powder.
Add vinegar into it.
Then mix it well. Leave it for further cooking. You can store it in the refrigerator for 2 days.
How to make sandwich
Take a griddle or any sandwich maker. Smear some butter or oil. Heat it on a medium flame for 1 minute.
Take a slice of bread add the potato filling and cover this with one more slice of bread.
Now toast them on griddle for 2 to 3 minutes from both sides. Brush some oil on both sides.
Here i used sandwich maker, so if you are using any griddle then toast them by flipping. Or if you are using sandwich maker then toast them from both sides for 3 minutes on medium flame.
when it turns golden and crispy then remove from the heat and cut into half.
Serve this hot and spicy sandwich with any sauce of your choice.