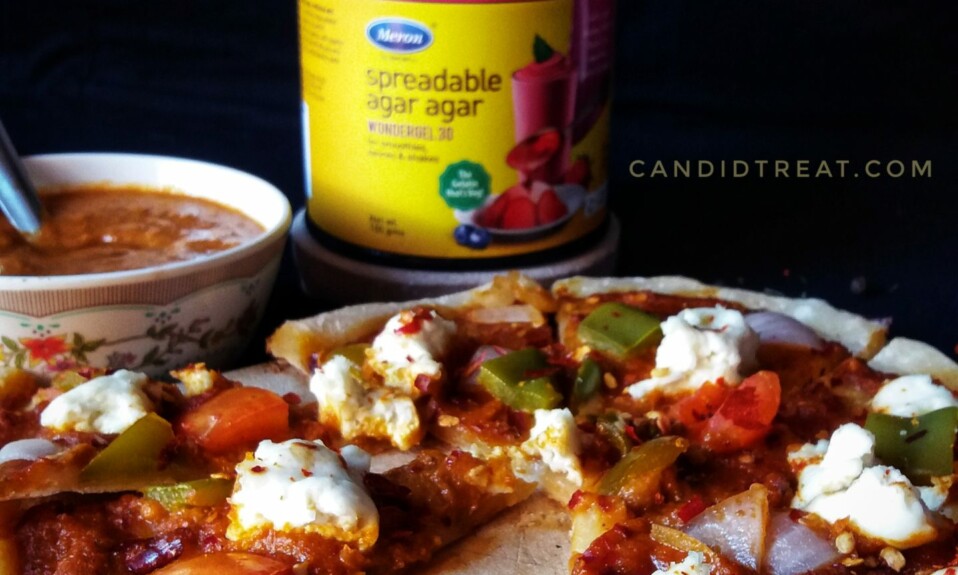 Ricotta pizza recipe with step by step photos and detailed instructions. This ricotta pizza is so simple that you can make this at home with just a few staple ingredients. We all love pizza and with this recipe, you can also make your pizza like a pro. This pizza recipe is made without an oven. You can also bake this in the oven or in the microwave. In this ricotta pizza, you get a crisp layer from the bottom and smooth and spicy sauce with some veggies and ricotta cheese. This is a pure vegetarian pizza. Scroll down for the full recipe…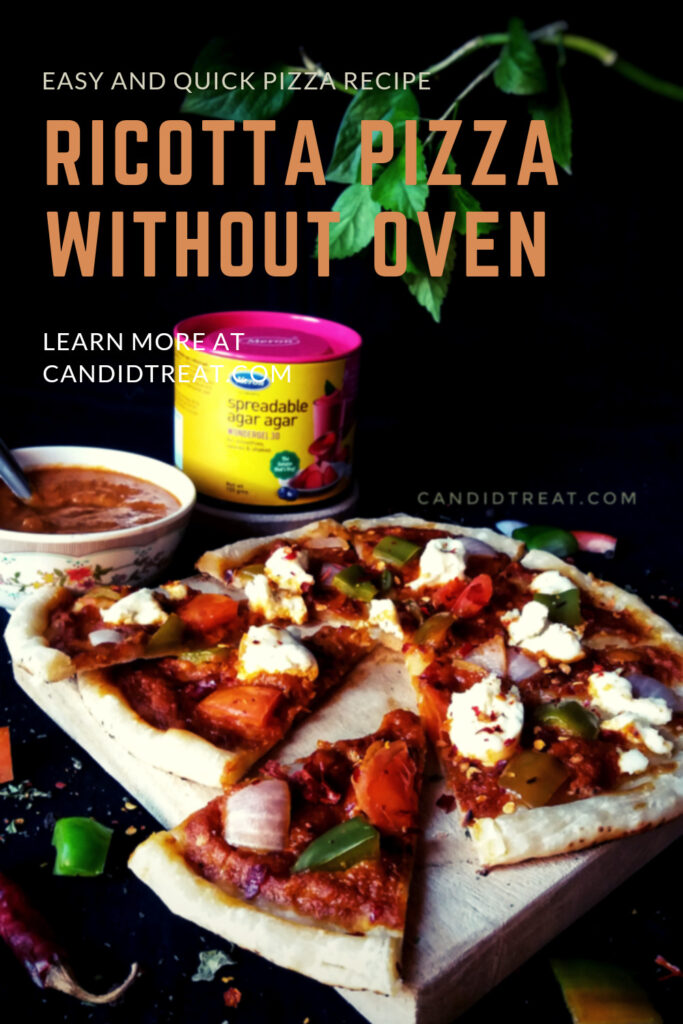 Ricotta Pizza
Ricotta pizza is basically an Italian pizza in which we put some sauce over a crispy layer of bread and topped with some veggies or ricotta cheese with some fresh basil leaves. Ricotta is nothing fancy. It is made with cluttered milk and we know this cheese. Ricotta is most similar to cottage cheese which is widely used in Indian cuisine.
If you do not have ricotta then just go with cottage cheese. Use fresh Homemade Paneer because it gives more flavor and soft texture. Making pizza is much simpler than any simple dish on a regular basis. You can adjust the flavor combo as per your choice. In this ricotta pizza you do not need any other cheese like processed cheese or mozzarella. But if you like then you can add these.
In this pizza recipe, you also do not need of an oven. Go with any cast iron griddle or Tawa. You can also make your own pizza sauce.
Some other recipes on this blog….
INGREDIENTS
For pizza dough
200 gram all purpose flour/ refined flour
1/2 tablespoon salt
1/2 tablespoon sugar
2 tablespoon oil
1/2 tablespoon baking powder
5 tablespoon curd
10 ml milk
Water as required
4 tablespoon butter
For pizza toppings
200 grams ricotta/cottage cheese in cubes
1 green capsicum cubes
1 onion cubes
1 tomato cubes
3 tablespoon oregano seasoning
3 tablespoon chili flacks
Some olive oil (optional)
pizza sauce
How to make pizza dough
Take a bowl add some refined flour into it. This dough is made without yeast.
Add salt.
Add sugar.
Add curd. Do not use sour curd. Use fresh curd.
add oil.
Add baking powder into it.
Add milk and mix well.
If required then add water a little at a time and mix with a light hand. If your dough is a little bit sticky then don't worry.
Grease the dough with some oil and leave it for 20 to 25 minutes. After that knead it again. Now you can feel the smooth and fluffy texture of dough. Leave it for further process.
Making and assembling pizza
Take a medium piece of dough. It's size is like a medium sized Orange.
Dust some flour on the surface and roll the pizza dough with a roller. Then pinch the sides of the pizza bread that it can hold the sauce.
Meanwhile turn on the heat and heat the tawa for 2 minutes.
After that place the pizza dough and low the heat. first, cook the upper layer of bread for 40 seconds then flip it.
Now on upper layer add pizza sauce generously. Click here for Pizza Sauce | Homemade Pizza Sauce Recipe.
Then put all the toppings on it.
Add oregano and chili flacks on it. Then put some butter on bottom layer.
Cover it with any lead for at least 4 minutes on low flame. Then remove it from the heat. You can bake this in the oven for 8 to 10 minutes.
Cut into pieces with the help of a knife. See how crisp and golden the bottom is? Try this luscious Ricotta pizza at home and enjoy it. This is best for this lockdown period. Because it is made with staple ingredients. You do not need any fancy ingredients for this pizza.
Tips and substitutes for pizza
Pizza dough: always use fresh pizza bread. Make the pizza dough at home. You can make this with yeast or without yeast. Both are delicious.
Cheese: In this pizza, we are using only ricotta. You can use any cheese of your choice. Ricotta has a rich and creamy texture but a little bit firm. If you want to avoid cheese then this ricotta pizza is best for you.
Toppings: The most interesting part of pizza is its toppings. There is no hard and fast rule. You can avoid anything or add anything you like.
Baking: Here we bake this pizza on Tawa for 4 to 5 minutes which is the fast and easy way. You can also use the oven for baking.
Seasoning: Oregano is always best for pizza seasonings and red chili flacks give the extra spicy punch. You can drizzle some olive oil on it. If you don't like then leave it.