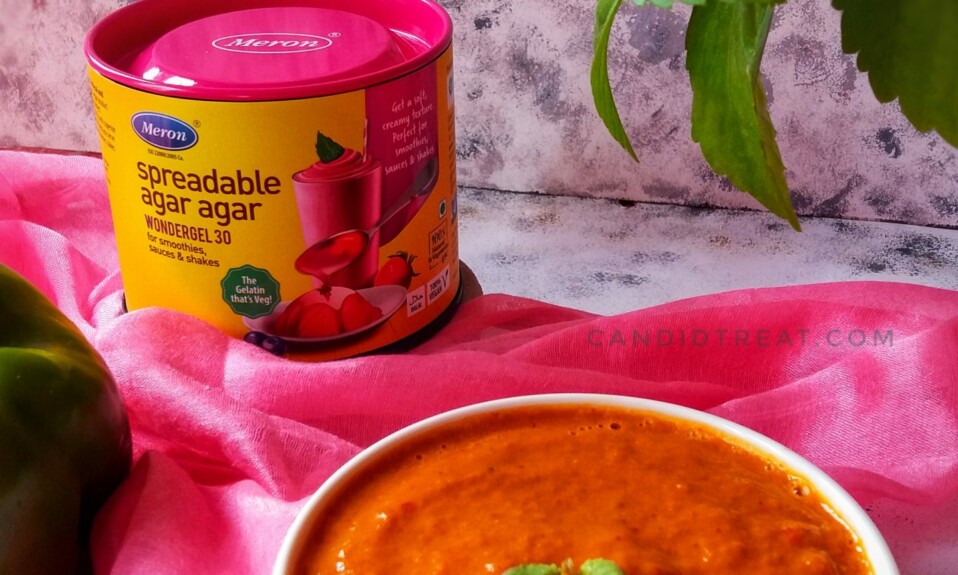 Pizza sauce is the basic ingredient for pizzas. Pizza sauce is a rich and thick tomato-based sauce that you can make easily at home. Make your own pizza sauce at home with some finest and fresh ingredients. And store it for a week in the refrigerator. You can use this sauce on pizzas like ricotta Pizza, cheese Pizza, margarita pizza, chicken pizza, etc. Scroll down for detailed instruction…..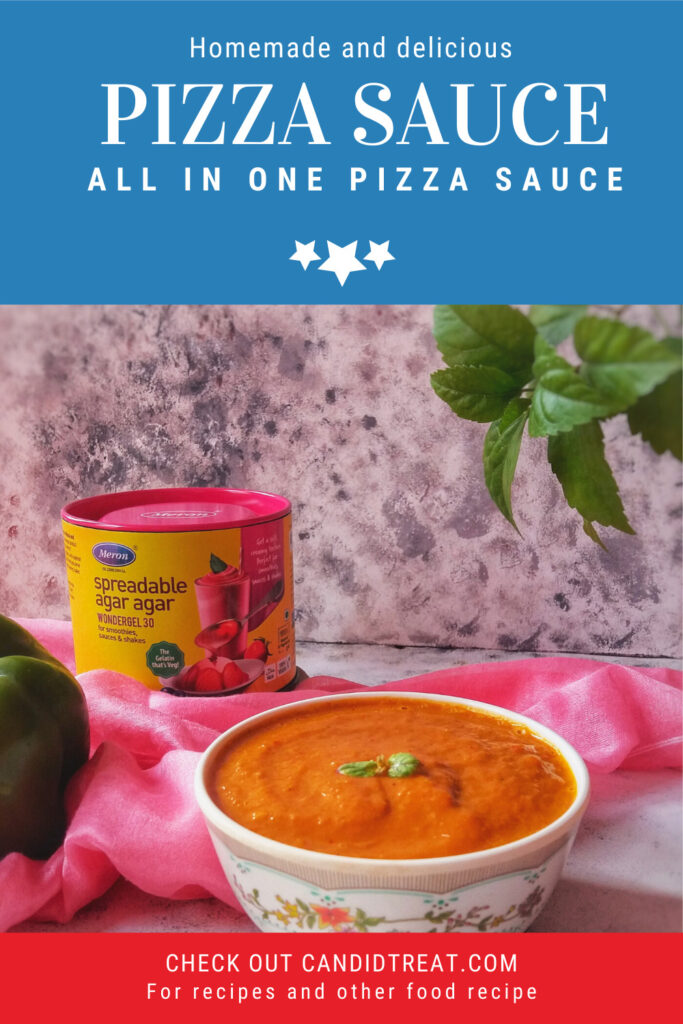 Here I used meron agar wondergel 30. It gives a smooth and thick consistency to the sauce. But it is totally optional, if you don't have this then skip the step and further proceed with the recipe. You can also get the same consistency.
Ingridents used for this sauce
Tomato: In this pizza sauce we are using fresh ripe tomatoes. The main ingredient of this sauce. Here we used two types of Tomato, peeled tomatoes, and tomato sauce. You can also use canned tomatoes and store-bought tomato paste for this.
But I want this recipe to be simple and quick. That's why I used chopped tomatoes and sauce, nothing else. Seriously it tastes delicious.
Basil leaves: Basil is very important for any pizza sauce. It gives the aroma and authentic Italian taste to the sauce. The Italian basil is a little bit bigger in size but you can use Indian basil leaves in the place of the Italian one. I used this and it gives the same flavor.
Oil : Use olive oil for this recipe but you can also use vegetable oil or butter.
Garlic: Garlic is also the most important ingredient of pizza sauce. Do not forget to add fresh garlic. You can add more garlic into the sauce if you like garlic flavor.
Oregano and red chili flacks: Orengo is also an Italian herb that gives the butter and pungent flavor to the sauce and chili flacks give the spicy touch.
Some other ingredients: I use a small chopped onion because I love the onion flavor. And a bit of vinegar or soya sauce. It provides the tarty flavor. Use a bit of sugar for sweetness.
Agar agar wonder gel : This is the new and wonderful product from meron agaragar. It gives a nice spreadable consistency to the sauce.
Some other homemade recipes….
INGREDIENTS
3 tomatoes
6 garlic chopped
1 small onion chopped
1/2 tablespoon oregano leaves
1 tablespoon red chili flacks
1/2 tablespoon salt
1/4 tablespoon sugar
1/2 tablespoon red chilli powder
1/4 tablespoon vinegar
1/4 tablespoon soya sauce
4 tablespoon tomato ketchup
5 to 6 basil leaves
4 tablespoon oil (olive oil/vegetable oil/butter)
3/4 teaspoon agaragar wondergel 30 (optional)
| | |
| --- | --- |
| Total time | 25 minutes |
| Servings | 4 pizza top |
How to make pizza sauce?
Take some fresh red and ripe tomatoes and wash them with water. Take a saucepan add water and boil it. Add tomatoes and boil for 5 minutes on medium flame.
After that remove the outer skin of tomatoes and chop the tomatoes.
Chop onions and garlic. Take a pan add oil heat it for 1 minute.
Add onions and garlic. Saute for 4 minutes on medium flame.
Then add salt and a bit of turmeric. Adjust the salt as per your taste. I used regular spoon.
Add chopped tomatoes and basil leaves. Cook for 3 minutes.
Add sugar. It gives the balance of flavor.
Add red chilies powder and oregano.
Add vinegar.
Add soya sauce.
Add ketchup into it.
Add chili flacks.
Then take another saucepan to add 5 ml water and agaragar. Mix well and cook on low flame for 3 minutes. Then add in the sauce. You can skip this if you don't have it.
Add into sauce.
Cook the sauce for 10 minutes. Turn off the flame and set aside to cool down.
After cooling makes a smooth puree of the sauce and store it in any clean and dry place. Use this sauce on the pizza top. Or for other recipes.
Storing suggestions
Store it in an airtight container for a week in the refrigerator. Make a batch of this sauce and store it for sudden hunger pangs and whenever your kids want something delicious then take a slice of bread spread some sauce and top it with some veggies and cheese. Grill it and enjoy it. It is so simple and that's why to make this delicious all in one sauce.