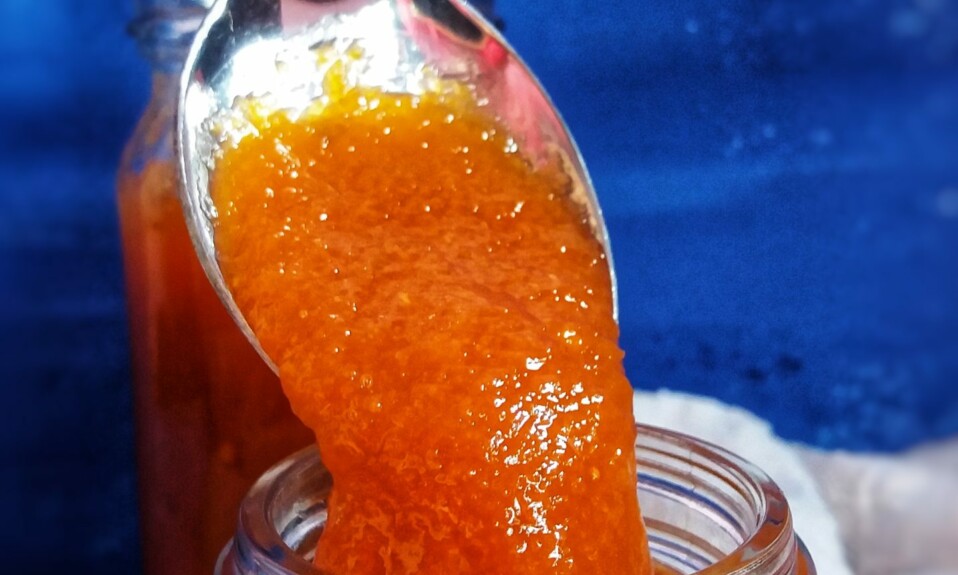 If you are looking for a guava recipe or you want to try something new and interesting then this homemade Guava jam is a perfect thing to start. Whenever I am overrun with ripe guavas then I go for this easy homemade jam which is tasty and delicious. If you have fussy eaters or your kids love to eat jam with their everyday toast them try making this jam recipe once. I am definitely sure that you loved it.
Guava jam
This recipe is made with three ingredients guavas, sugar and lemon juice. You can use any kind of guavas for this recipe like pink guavas and any other too. This is perfect for spread on bread or you can take Roti, spread it, and roll it. The most important thing is that this is made without any preservative. So, yes this is a pure and healthy way to make jam. You can preserve this in an airtight container for 1 to 2 months. It is fresh and enriches with a lot of nutrients and fresh flavor of guavas. If you liked this recipe then you can check other delicious recipes too…
Making of Guava jam
Here I am giving you the idea in a nutshell. Be sure to scroll down to the brief recipe with detailed photos and information. Take some guavas and wash them with water. Chop them into small pieces then boil it with water. After boiling it mash guavas with the help of any masher and serve it through strainer. Then cook the Guava puree and add sugar, lemon juice and a pinch of salt. Cook for 30 to 35 minutes untill it reduced and little bit sticky. Turn of the heat and leave for cooling then keep it in any container. Keep this jam in refrigerator.
INGREDIENTS
7 to 8 guavas
1 and half medium bowl sugar
1/2 lemon juice
A pinch of salt
30 ml water (approx)
| | |
| --- | --- |
| Prep time | 15 minutes |
| Total time | 40 minutes |
Process of making jam
Take some ripe guavas. Wash the guavas thoroughly with water.
Chop them into small pieces then take a deep bottomed pan and add the guava pieces.
After that add water that guavas are covered with water. Then turn on the flame and boil it for 20 minutes until guavas get mushy.
Turn off the heat and mash them using the same water in which you boiled your guavas. With the help of any potato masher.
Then strain it through the strainer. It looks like this.
Turn on the heat take a pan add Guava puree then cook for 5 minutes on high flame. Add lemon juice and salt.
Now add sugar into this and cook for more 30 to 35 minutes on low and medium flame. Keep stir it occasionally unless it sticks to the bottom.
When it looks like sticky and jam like consistency just like this.
You can add any food color to make it pop. Then turn off the heat and leave it to cool down.
You can preserve it in any air tight container in refrigerator for 1 to 2 months. Enjoy this with bread toast.