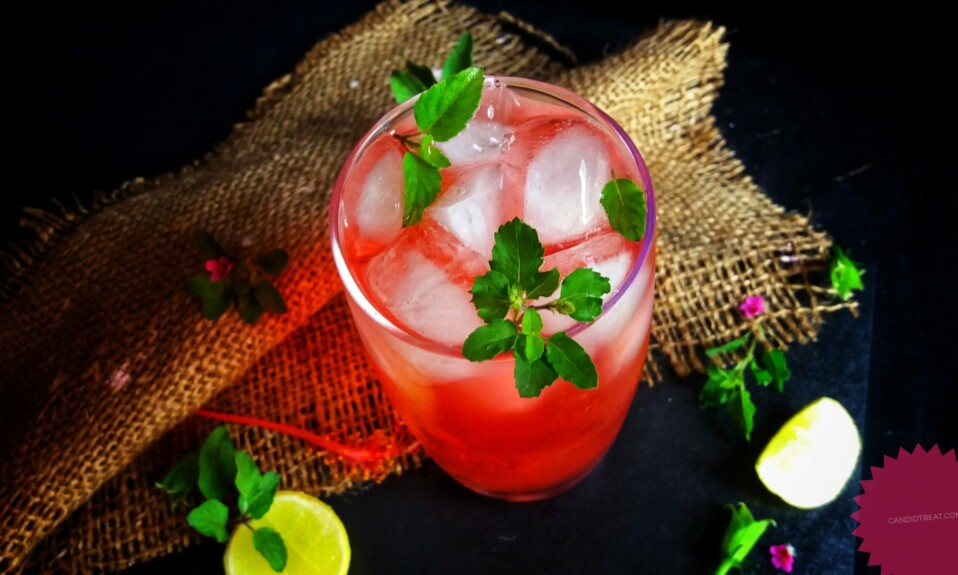 In this post i'll show you how to make this easy and yummy hibiscus tea. With either fresh or dried flowers. Hibiscus tea has some benefits and tastes amazing. I have some pretty red hibiscus flower in my little garden from where I get a few hibiscus flowers. And from a long time i thought about making this Tea, finally i made that and also love to share with you. I love there gorgeous deep red hue and that looks stunning.
Hibiscus Tea
Hibiscus tea made from either fresh or dried petals of hibiscus plant which is a deep red hue. It has sweet and tart flavour and may be served hot or iced. It is also known as herbal tea. We can use either sugar or honey. If you don't have the fresh hibiscus then go for the dried one which are easily available in any online store. You can check out these too…
Benefits Of Hibiscus Tea
Hibiscus has a lot of benefits. Hibiscus tea prevents hypertension, lower blood pressure, reduce blood sugar level, good for liver, helps in digestion and weight management. It also control high cholesterol. It is rich in vitamin C.
Side Effects Of Hibiscus Tea
It also has some side effects. Make sure that if you are pregnant or want to conceive then just avoid this tea. Breastfeeding women should not drink this tea. This tea is not safe for people who take chloroquine a medication for malaria. Avoid the high doses of hibiscus extract could cause liver damage.
INGREDIENTS
1 glass of water(approx 300 ml)
3 Hibiscus flowers
1/2 lemon juice
3 to 4 tablespoon sugar/ honey
| | |
| --- | --- |
| Total time | 15 minutes |
| Servings | 2 |
Method
Take the hibiscus flower and remove the calyx or green part at the base of the flower. Remove the pistil which has pollens attached to it. Wash with clean water. Here just use petals for this tea.
Take a pot add water into it. Turn on the flame and on high flame boil the water.
When it is boiling then turn off the flame and add hibiscus petals into it. Cover the pot for 7 to 9 minutes.
You can see that petals released there colour in water and petals are completely white.
Then add sugar into it and mix with spoon. You can add honey in this stage. When sugar dissolved then strain it with the help of tea strainer.
Now, add lemon juice into it and the magic begins. You can see that the dark purple color colour is changing into deep red color.
You can enjoy this hot or leave it for 15 minutes in refrigerator then take some ice cubes and pour the tea into the glass and enjoy.
Follow me or tag on my Instagram candidtreatofficial and on my Facebook page Candid Treat.