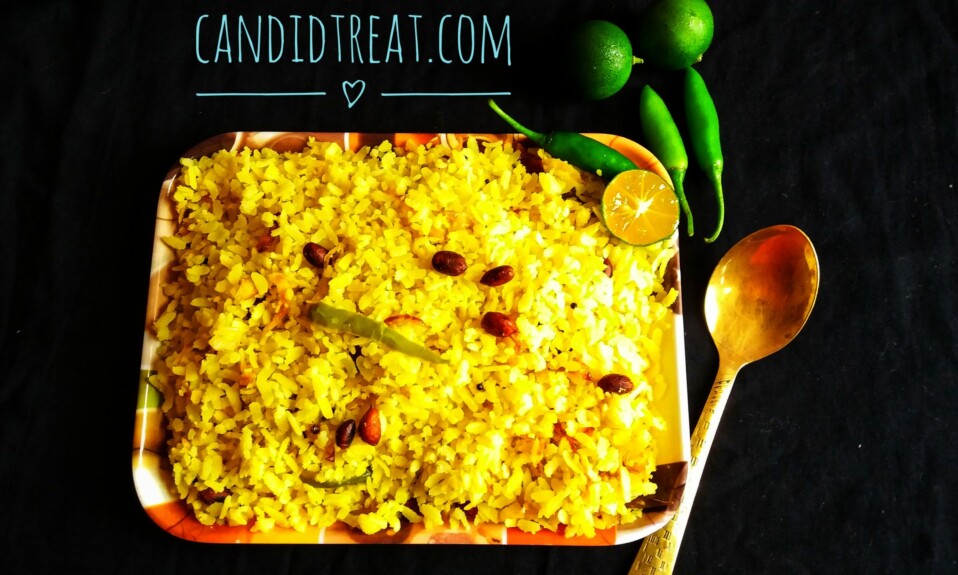 Poha is the most authentic breakfast recipe eaten in India, which is made with flattened rice, peanuts, onions, and green chili. This recipe is also known as Kanda poha and it is mostly eaten in Maharastraian cuisines but poha is also getting popularity in other regions of India because of its simplicity and flavor. In Marathi language Kanda is onions and poha means flattened rice.
What Is Poha?
Kanda poha is flavoured with onions, peanuts, chillies, salt, and some freshly squished lemon juice. There are many varieties of poha, like you can add veggies potatoes, tomatoes, peas, cauliflower etc. It can be eaten as a breakfast or also be taken to the work place because it is light and healthy. It is very quick and take only 20 minutes to cook. You just need 3 to 4 basic ingredients.
I make Kanda poha very often for my breakfast because it is very quick and healthy. You can also make this whenever you are in hurry or want something healthy, fresh and tasty then give a try to this. This is perfect for you. You can also check other easy and tasty recipes.
Some Tips For Poha Recipe
Always use right kind of flattened rice. I use medium to thick flattened rice for poha because it gives good texture, if you use thin poha then it gets mushy after draining from water.
when you rinse your poha then do not over rinse or soak the poha otherwise they may turn mushy. When the tempering is almost ready then rinse the poha and leave for 30 seconds.
you can adjust oil as per your requirement. If you need healthy poha then add less oil.
Ingredients
2 onions
3 to 4 green chillies
1/2 tablespoon of salt
A pinch of sugar
A pinch of turmeric
1/2 tablespoon of lemon juice
5 curry leaves
1/2 tablespoon of mustered seeds
4 tablespoon oil
200 grams of flattened rice( poha)
| | |
| --- | --- |
| Total time | 20 minutes |
| Servings | 5 |
Time for this recipe
Prepration
Take a bowl or strainer add flattened rice in it. Make sure you use medium flakes of poha. Avoid thin flacks because it will turn mushy and we don't want mushy poha.
Rinse them one or two water and set aside for 30 seconds, I usually make this step when my tempering is almost ready because this step take only 1 minute.
Chop onions, green chili. Take some mustered seeds, curry leaves and some oil.
Method
Take a pan. Put some oil and heat it on medium flame then dry some peanuts. It takes 1 minutes then keep aside.
On the same pan add mustered seeds and curry leaves to crackle.
Then add onions, green chilli and saute for 4 to 5 minutes on mediumedium flame.
Add turmeric, sugar, little bit of salt and saute till onions turns into light golden color. Don not over cook otherwise onions turn brown and we don't want brown onions. We just want caramelized onions with sweet flavor.
Then rinse flattened rice and add into the pan. Add leftover salt, peanuts and lemon juice and give a nice stir for 2 minutes. Check the salt if you need add more salt.
Now your poha is ready to serve. You can enjoy this with your evening or morning tea.