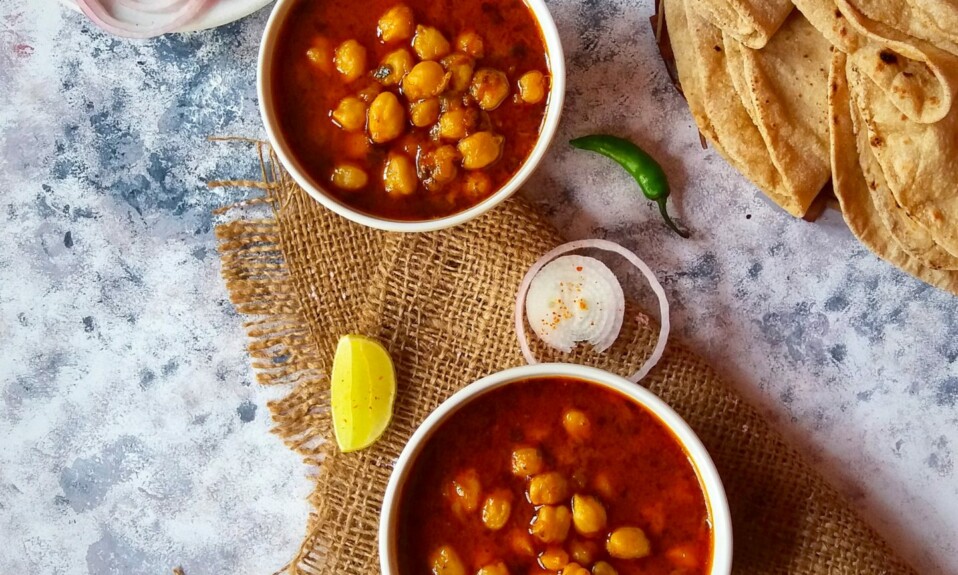 Chana masala is the most popular curry in Punjab and also popular in restaurants. India has a wide variety of curry recipes. Chana masala is one of them made by cooking white chickpeas in onion and tomato-based gravy. White chickpeas are also known as Kabuli chana. It can be served with Naan, Jeera Rice, bhaturas, Or with poori. It is mostly served with bhaturas which is made with refined flour and deep-fried.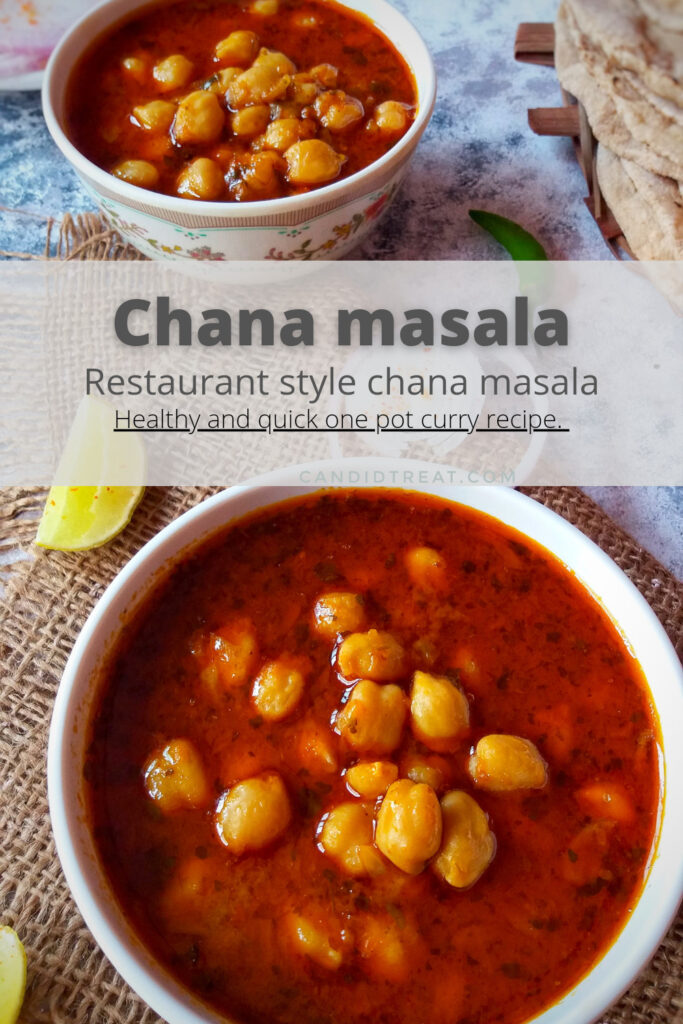 What is chana masala?
Chana masala is a chickpea curry that is very popular in restaurants and dhabas. Chana masala is made with white chickpeas with spicy onion, tomato gravy. You can make this recipe easily at home. Chickpeas are so healthy and nutritious, we have to eat this at least once in a week. It is very healthy for toddlers.
There are many ways of making chana curry. Some are dry and some are cooked with gravy. I love faster cooking for lunch or dinner and this chana masala is a one-pot meal that you can cook easily.
Some similar curry recipe…..
Used ingredients for this recipe
White chickpeas(Kabuli chana): Here we are using fresh soaked white chickpeas. It contains more flavor and cooks faster. You can also use canned chickpeas. But there may be the texture and flavor that differ from the fresh one. That's why to use fresh chickpeas if possible.
If you do not have time or forget the soaking step of chickpeas then boil some water and soak it for an hour. It also works but you have to cook it longer than an overnight soaked one.
Onion and tomato gravy: Chana masala is cooked with the roasted and pureed gravy which brings a unique flavor and restaurant style texture to the gravy. You can add food color or red Kashmiri chili powder. Roasting is very important because it releases the aroma of spices.
Spices for chana masala: Use good quality powdered spices. Here we need some cumin, coriander, red chili powder. Some crushed ginger and garlic. And the most important is the garam masala powder. You can use either homemade or store-bought.
Kasuri methi/ dry fenugreek leaves: Do not forget to use dry fenugreek leaves. These little leaves work as tastemakers for the curry.
Curd: Add fresh yogurt for extra flavor and tanginess. You can avoid it if you don't like the curd flavor.
INGREDIENTS
250 grams white chickpeas soaked
4 onions
1 tomato
3 tablespoon ginger and garlic paste
5 tablespoon curd
1 tablespoon all powdered spices (cumin powder, coriander powder, red chili powder, garam masala powder)
2 tablespoon salt
1/2 teaspoon cumin seeds
1 bay leaf
1 tablespoon turmeric powder
1/2 tablespoon sugar
1 tablespoon dry fenugreek leaves
Mustered oil 7 to 8 tablespoon
Water 500 ml/as required
| | |
| --- | --- |
| Total time | 1 hour |
| Servings | 5 to 6 |
Preparation for chana masala
First soak the white chickpeas overnight.
Then chop the onions, two onions finely chopped and 2 onions chopped in slices. Chop the tomatoes and make some ginger garlic paste.
How to make chana masala
After soaking, wash the chickpeas with fresh water.
Take a pan add 4 tablespoon oil and heat it.
Then add sliced onions and ginger garlic paste. Saute for 4 minute on medium flame.
Add tomatoes and cook for 10 minutes. Then remove it from heat and cool down.
After cooking grind the mixture into fine paste.
Then take a pressure cooker, Add leftover oil and some cumin seeds,bay leaf.
Add chopped onions and saute for 3 minutes.
Add salt And turmeric into the gravy.
Then add all powdered spices. Cook on low flame for 5 minutes.
Add curd and whisk continuously for 2 minutes.
When onions are golden then add pureed mixture.
cook until oil seperates from spices. It takes 20 minutes.
Then add white chickpeas, cook for 3 minutes on high flame. Add dry fenugreek leaves and garam masala powder.
Now add water. You can adjust the water quantity.
Close the lead and cook on low flame for 4 minutes then on medium flame for 6 to 7 whistles. After that turn off the heat.
Then check the chickpea if it is soft and tender then it is ready to serve. Or if it is little bit hard then cook for more 3 to 4 whistles.
Serving and storing suggestions
Serve this chana masala warm with Rice, Roti, naan, or with bhaturas. It goes well with anything so choose your favorite bread or rice to eat with this delicious restaurant-style chana masala. You can also store this in the refrigerator for 2 days.