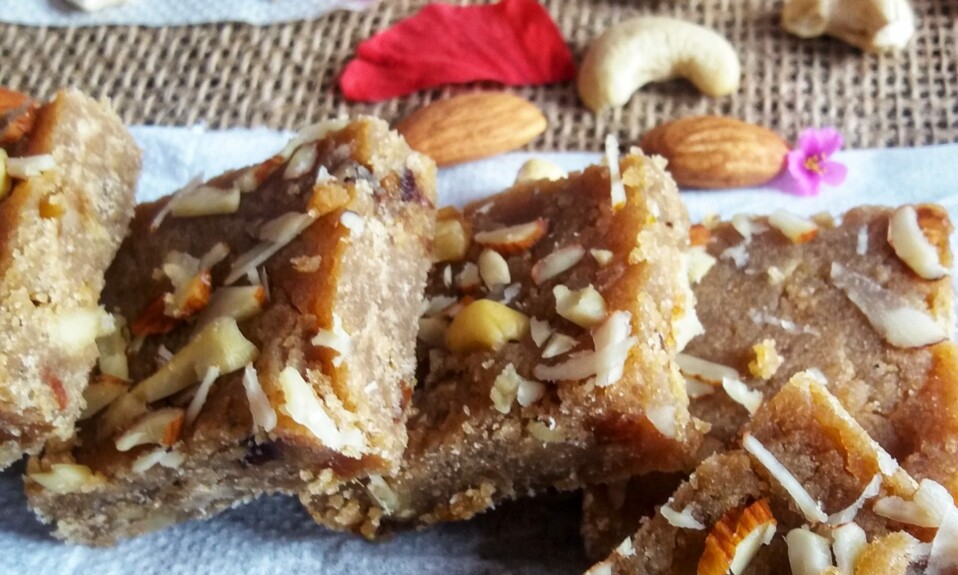 Aate ki barfi is so simple to make and melt in your mouth. Aate ki barfi is great for any festival or occasion. Wheat flour barfi is the best option for your sweet cravings because it is simple sweet dessert with a lot of nutrients. This barfi will loved by toddlers and adults. Just one to two pieces are enough for small and anytime hunger, especially children's hunger like they always said "bhukh lagi hai kuch khane ko do na." And for this "kuch" we need something for them, so this is perfect.
What Is Aata Barfi (Wheat Flour Barfi)?
Aate Ki barfi known as whole wheat flour barfi is a simple Indian dessert made with wheat flour, sugar, ghee (clarified butter), and cardamom powder for nice aroma. It is tasty, aromatic and melt in your mouth. This aata barfi is the easiest barfi that anyone can made this without any hassle. You can make this in any occasion and make a batch or store in an air tight container.
I usually made this when I don't have anything in my kitchen like any kind of chocolates, dessert or i want something to balance my sweet cravings. So I just made this because it is too easy to make. It just take 20 minutes. You can check more recipes…
How To Make This Wheat Flour Barfi
Roasting the flour is the main part of this process because roasting remove the raw smell of flour and give a nice aroma which we looking for our barfi. If you don't roast the flour then it gets sticky and not looks good.
Use ghee (clarified butter) because none of the Indian dessert complete without ghee. It give the extra flavour to your barfi. And a puch of cardamom enhance the flavor of the barfi.
To make this we have dry roasted wheat flour then add ghee into it and cook for 3 minutes then add milk, cook for 3 to 4 minutes. Add sugar into it then add cardamom powder or nuts. Cook for 5 to 7 minutes when it combines then turn off the heat. Grease a pan and pour the mixture. Spread evenly and allow them to cool. Now, cut it into pieces. Store in an air tight container and keep it into refrigerator.
Ingredients
2 cup wheat flour( from any measuring cup)
1 cup sugar
1 cup milk
1 cup ghee
2 crushed cardamom
50 grams of mixed nuts chopped
| | |
| --- | --- |
| Total time | 20 minutes |
| Servings | 14 pieces of barfi |
Method
Add the wheat flour in a pan and saute on medium low flame until it slightly changes colour to light brown. It takes almost 5 to 6 minutes.
You can check this when a nice aroma comes from the flour then it is ready for next step.
Then add ghee in flour and saute for 3 minutes on low flame.
It looks like this when you cook ghee.
Gradually add milk on the mixture then cook for 2 more minutes.
Add cardamom powder and sugar. You can adjust sugar quantity. Use icing sugar for this. Take sugar in a grinder and grind them into fine powder. Icing sugar is ready. Cook for 4 to 5 minutes on low flame.
Add chopped nuts into it. Mix well and turn off the heat. You can use almonds, cashews, walnuts, raisins, dates, coconut flacks in this.
Grease a plate or any pan, tray. Spread the mixture evenly and sprinkle some nuts over this. Keep the tray aside for 30 minutes then cut into pieces with the help of knife. Or, store it into refrigerator.