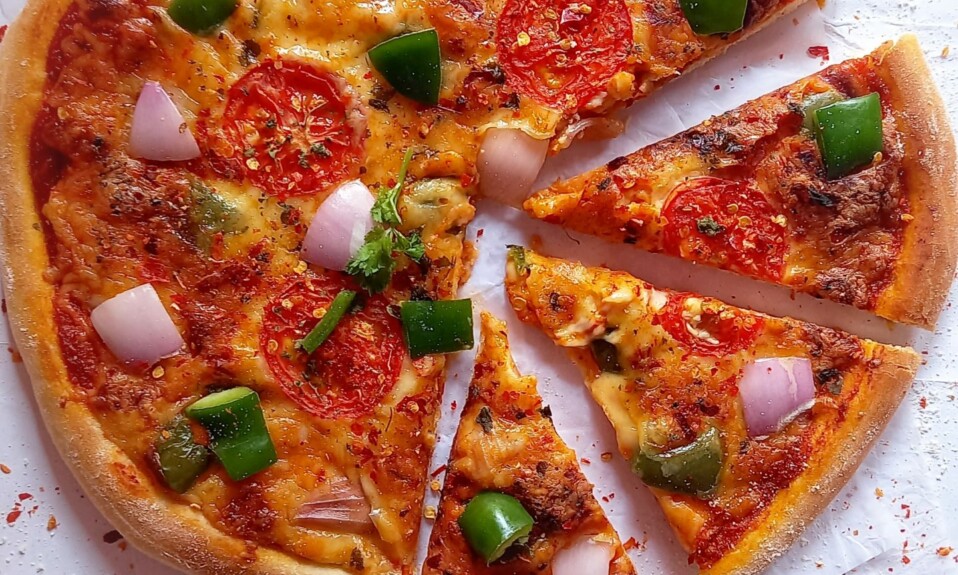 Homemade pizza dough recipe | pizza crust for beginners | learn how to make pizza base with step by step photos and video. Hey guys, want to make a super soft and crunchy pizza base at home. Then you are in the right place. This pizza dough recipe is the easiest. and a beginner can also make this very easily at home. While using yeast, if you got any problem you can check out the video tutorial or scroll down to read. The base is the foundation of any great pizza. Some of them like thin crust and some of them like thick crust.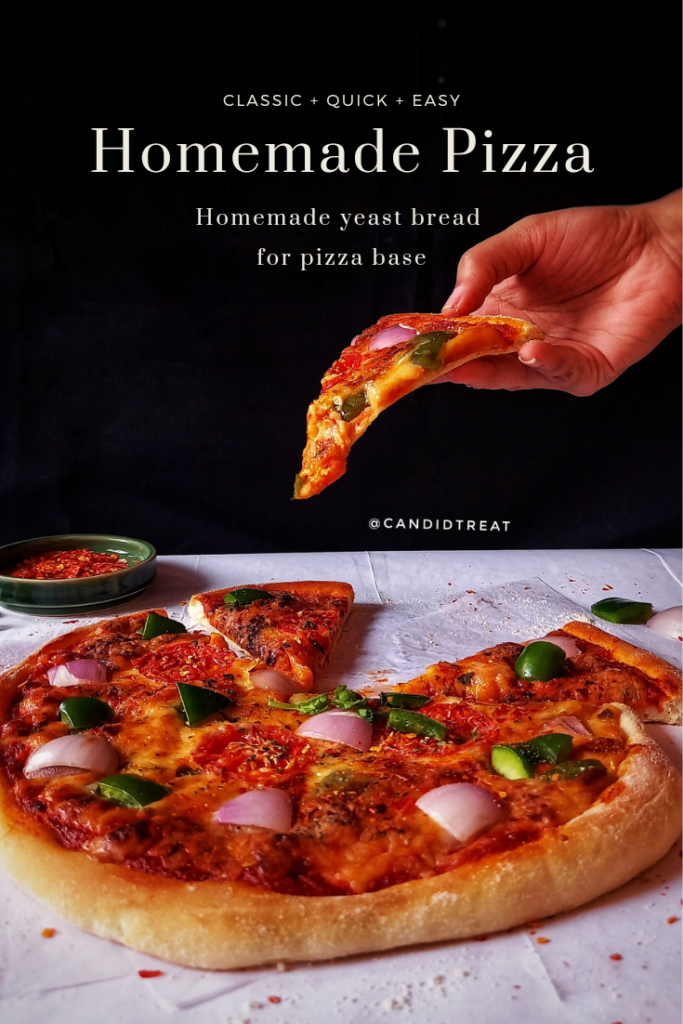 Some other recipes to try…
Ingredients for a perfect pizza dough
60 to 70 ml luck warm water- be carefull with this step. Do not take warm milk or too cold milk.
1 tbsp powdered sugar
1 and a half tbsp dry activated yeast- use best qualtity yeast. You can use any yeast brand.
2 and a half cups o all purpose flour
2 tbsp powdered sugar
1/3rd tbsp salt
2 to 3 tbsp oil
Some water/milk for kneading
For pizza
Pizza sauce
Cheese
Toppings
Red chili flacks
Oregano
How to make pizza dough?
Take a bowl. Add some lukewarm milk. Add sugar. Add yeast.
Mix well and leave it for 15 minutes. When the yeast is activated, set it aside.
Now take another bowl. Add flour. Add sugar, salt. Then add activated yeast, oil. Mix well.
After that add some milk/water and knead a soft dough. After combining the dough knead it for 10 minutes.
Then grease it with some oil and cover the dough. Leave it for 1 and a half hours or until it gets double in size.
After that, punch the dough to release the air.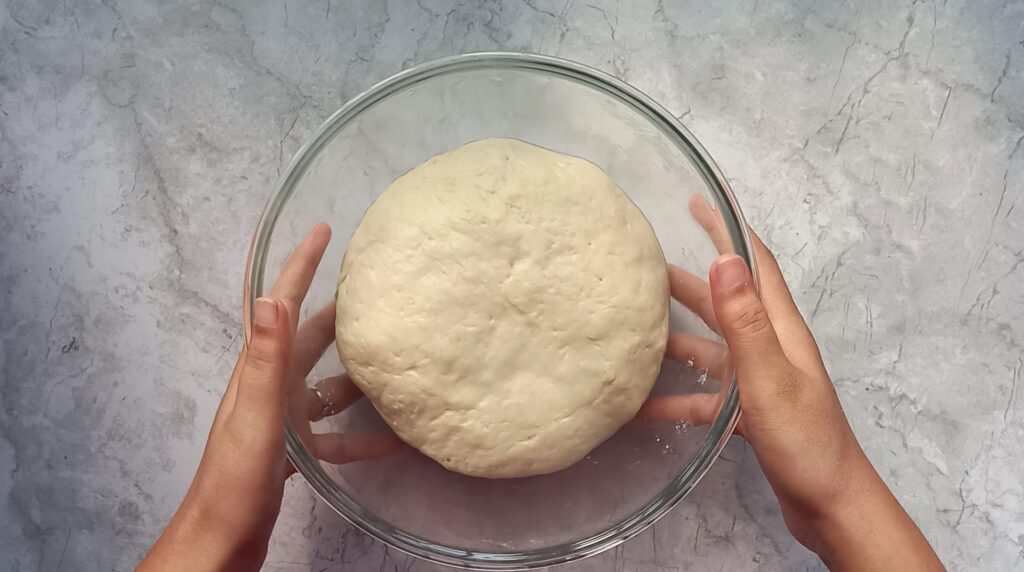 Then sprinkle some flour on the surface. Divide the dough into 2 to 3 parts. Spread the dough with the help of hands or a rolling pin.
After that pinch the dough like this from the edges, because we want a thick edge
Then spread it from the center. The pizza base is ready.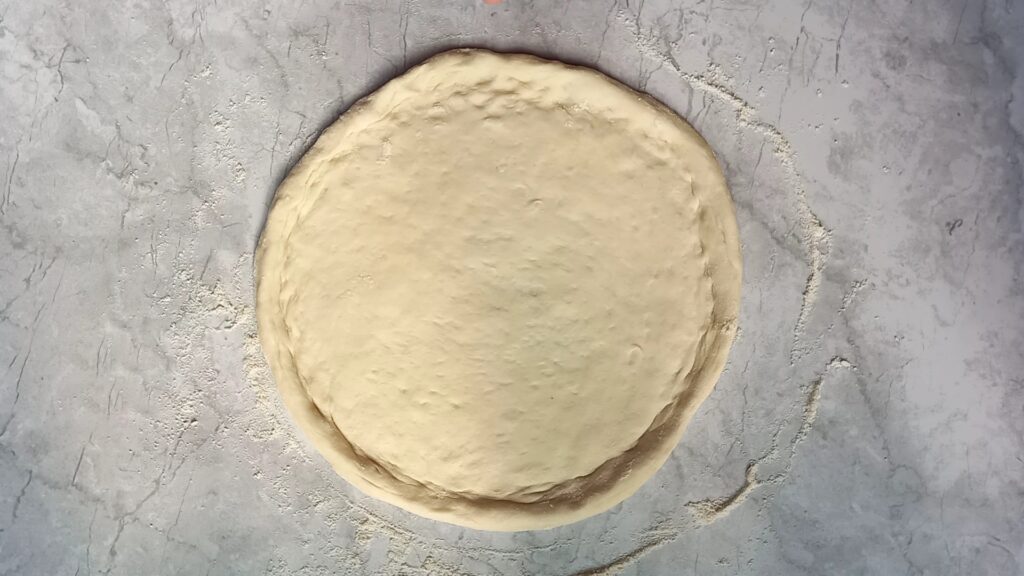 After that add pizza sauce.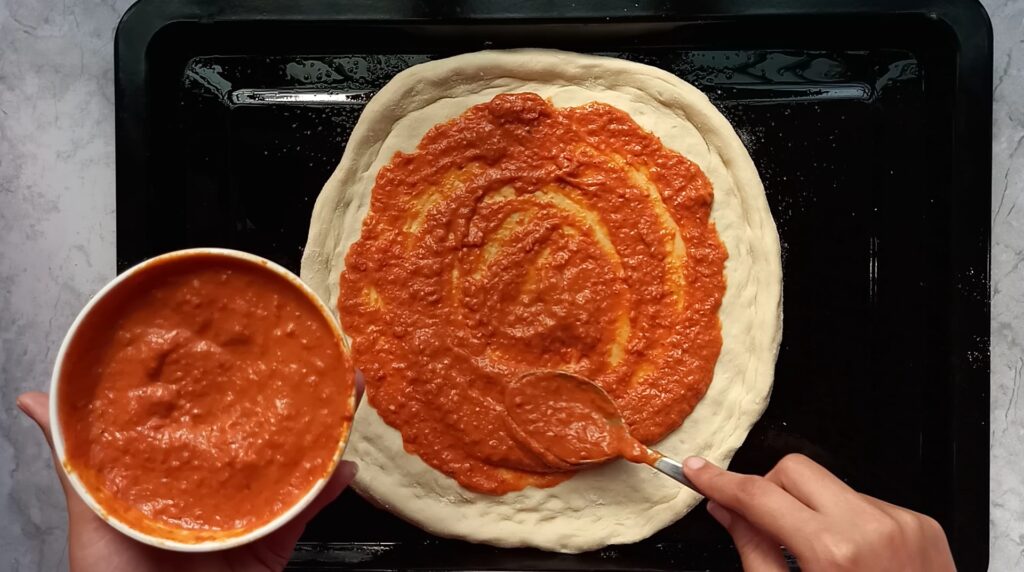 Add grated cheese.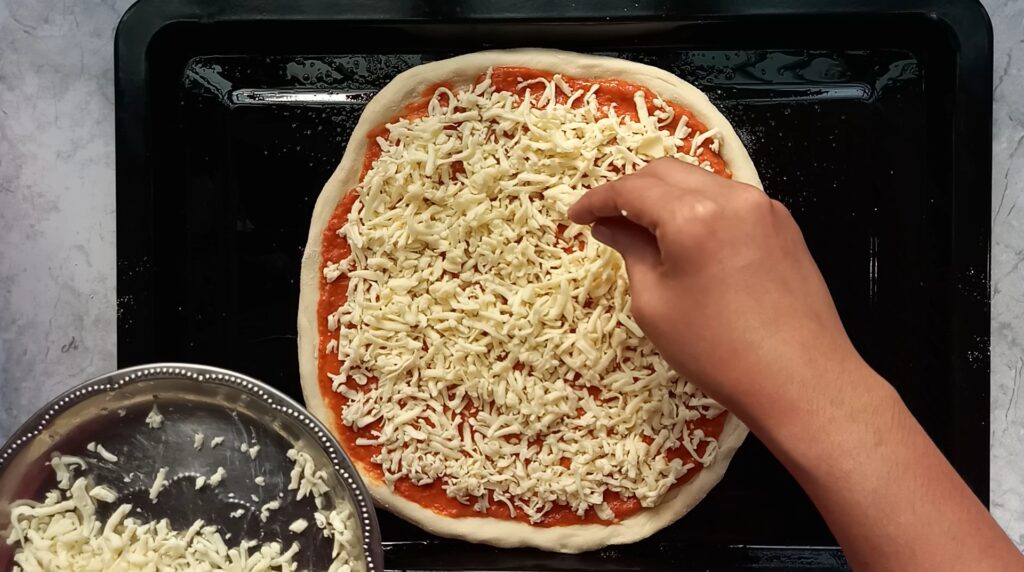 Add your favorite toppings. Add some red chili flacks, oregano.
Leave it fr 10 minutes to prove.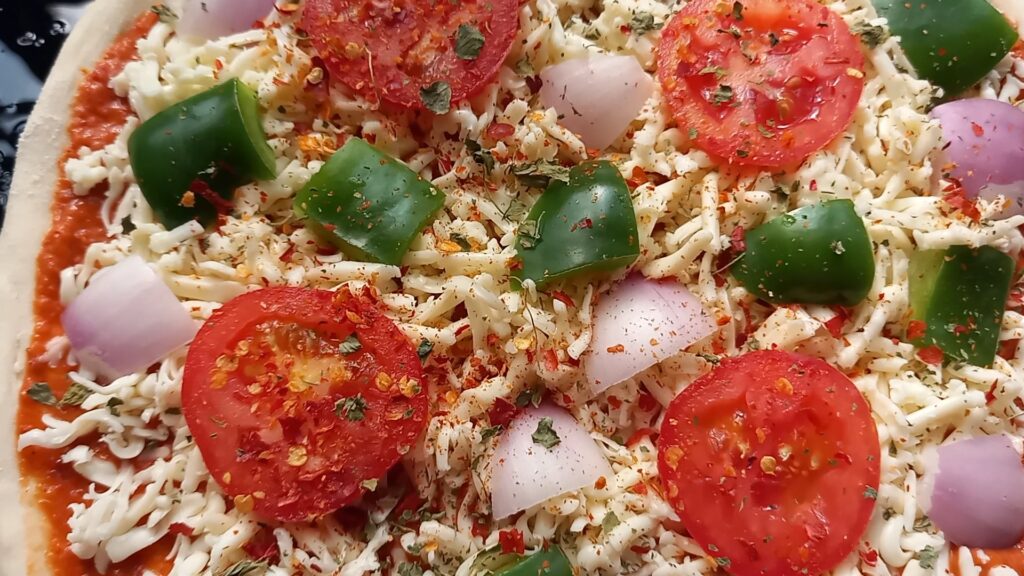 After that, bake it in the preheated oven for 10 to 12 minutes at 180 degrees Celcius.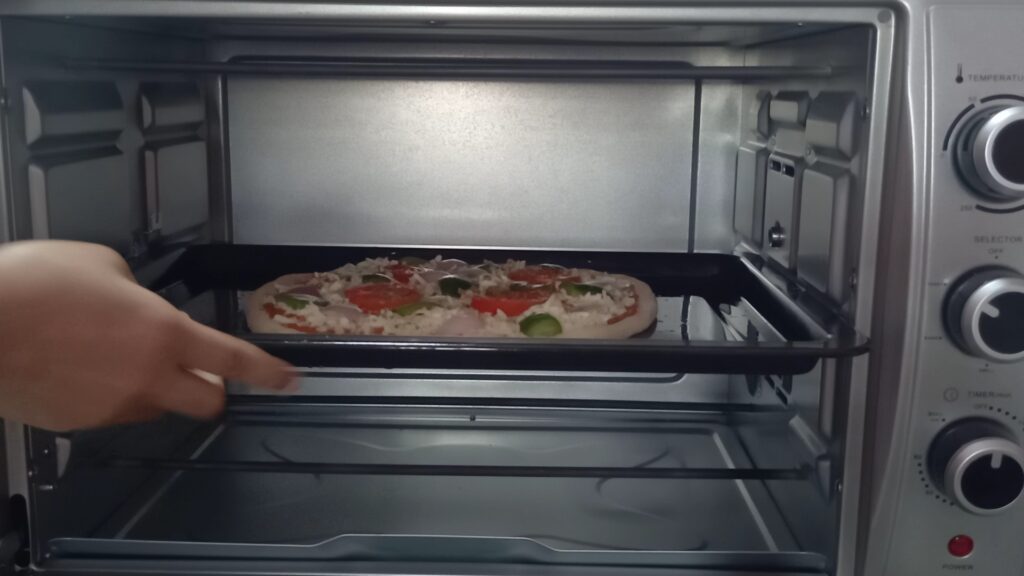 it is ready to serve. So you can any toppings on the pizza like chicken, paneer, corn, olives, sauces, etc. and you can use this base for any pizza recipe. you can also store this base for a whole day in the fridge.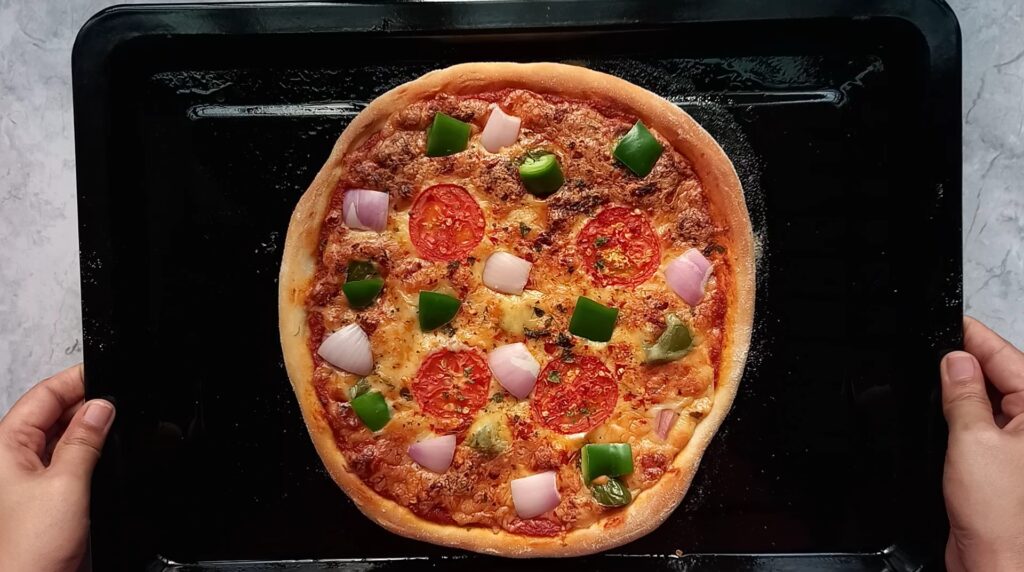 Now cut them into slices.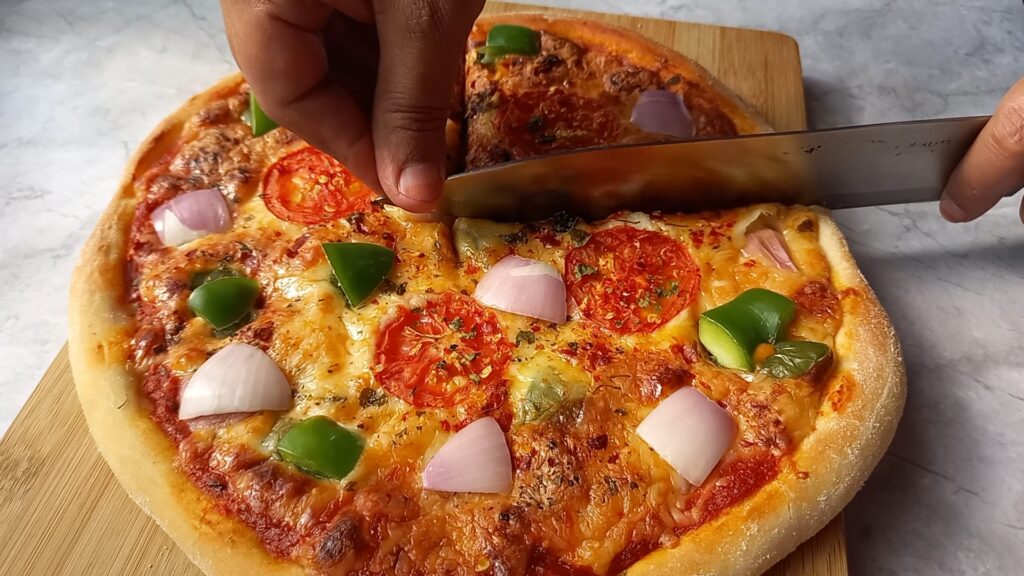 And Enjoy your cheese homemade pizza.