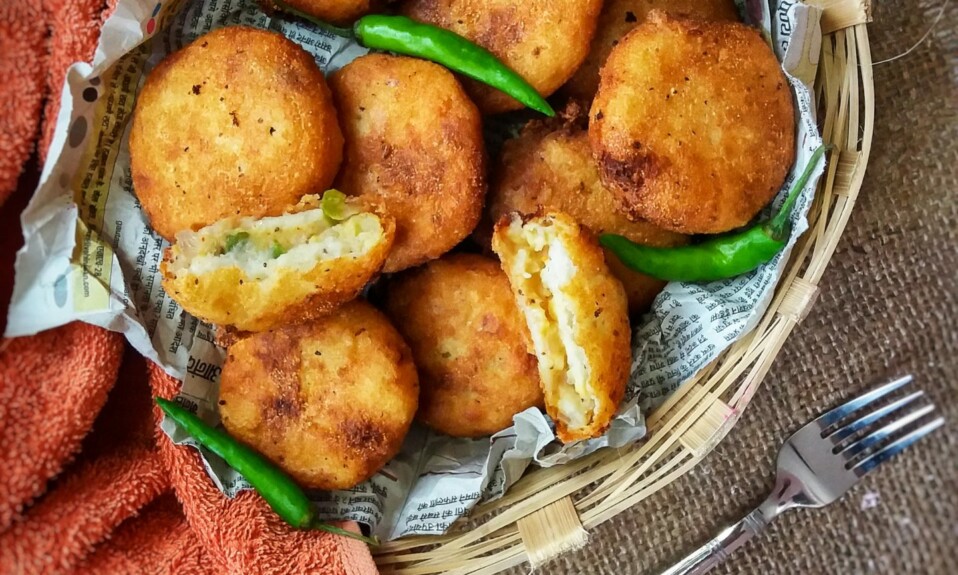 Potato cutlet recipe with step by step photos. Potato cutlet curry is basically made with mashed potatoes and for the crispy edge, I use semolina dough which is a healthy option. This is a very popular snack or street food. Or this potato cutlet is homemade and even better from market one. You can make this cutlet for breakfast or for tea time snack.
Potato Cutlet
Simple yet delicious evening snack recipe. These potato cutlets are popular snack and made by every Indian household especially for tea time or for their gustes. Potato cutlet made with mashed potatoes. Mix some chopped onions and ginger in mashed potatoes. Then add salt, red chili powder, green chili, carom seeds and some vinegar. After that these potato Pettis coated with the rava dough which turns crispy after frying.
Similar brunch recipe
Best snack for any sudden arrival of guests
Yes, this is the best snack for your guest. Usually, I made this potato cutlet for my friends get together because whenever your close ones come to meet you then you want to spend more time with your friend or family. You don't want to be busy cooking for them.
That's why I prefer this at that time. You can prepare this earlier or place it in the refrigerator till for the snack time. After that, you just need to fry them and it is ready to serve. So you can save your time too. Potato cutlet goes well with tomato sauce or with green chutney.
INGREDIENTS
200 grams/2 medium size bowl semolina
650 ml water
2 tablespoon carom seeds
2 tablespoon oil
1/2 tablespoon salt
6 to 7 boiled mashed potatoes
5 green chillies chopped
1 onion chopped
1 teaspoon ginger crushed
1 teaspoon red chili powder
1 tablespoon salt
8 ml vinegar
Oil for frying
| | |
| --- | --- |
| Total time | 35 to 40 minutes |
| Servings | 18 to 19 cutlets |
Preparation for semolina dough
Take a saucepan add water into it and heat it on medium flame.
Add salt.
Add 1 tablespoon carom seeds here.
Add oil into water. Wait for boiling.
When water starts boiling add semolina on low flame. Keep stirring it , to prevent it from lumps.
When semolina absorbs the water and little bit sticky to form a dough-like texture. Turn off the heat. Set aside to cool down.
After that with the help of oil knead the dough. For 4 minutes. Kneading is important for crack-free and smooth dough.
Divide it into lemon size balls.
Preparation for potato filling
Mash the boiled potatoes. Use good quality potatoes.
Add chopped green chili and crushed ginger.
Add chopped onions.
Add salt.
Add carom seeds.
Add red chili powder. You can adjust chili as per your taste.
Add vinegar. Mix it well.
Then divide into small pieces.
Now take a piece of semolina dough.
First grease your hand with oil then flatten the dough like this.
Place a piece of filling in the middle.
Then cover the filling with dough. Repeate this process again and again.
Make all the cutlets by using same process.
Now you can cover this or refrigerator this for 1 day. Or if you want to fry then follow the next step. Take a pan to add vegetable oil. Heat it on high flame. And fry them on high to medium flame.
When cutlets turn golden brown then remove it from oil and fry all of them like this.
The potato cutlet is ready to serve. You can serve this with tomato sauce or with green chutney.
For green chutney you need
Take a blender add 1 cup fresh coriander leaves and 1/4 cup mint leaves. Add a small piece of ginger and 2 cloves of garlic. Add two green chili. Add some salt and a little bit of water. Grind it into a fine puree and mix it with some curd. Your green chutney is ready. You can add a bit of chat masala.
Some points to know
Use medium semolina for dough. Do not add a lot of water to make dough unless it gets sticky. Semolina contains fiber and it is healthy.
Carom seed is helpful in digestion and also gives the earthy flavor.
You can use any type of oil for frying.
If you are health conscious then do not Fry them. Just with a little bit of oil toast them.
Vinegar gives a sour taste to cutlet which tastes amazing. You can use lemon juice in place of vinegar.
always fry cutlets on high flame but do not burn them.