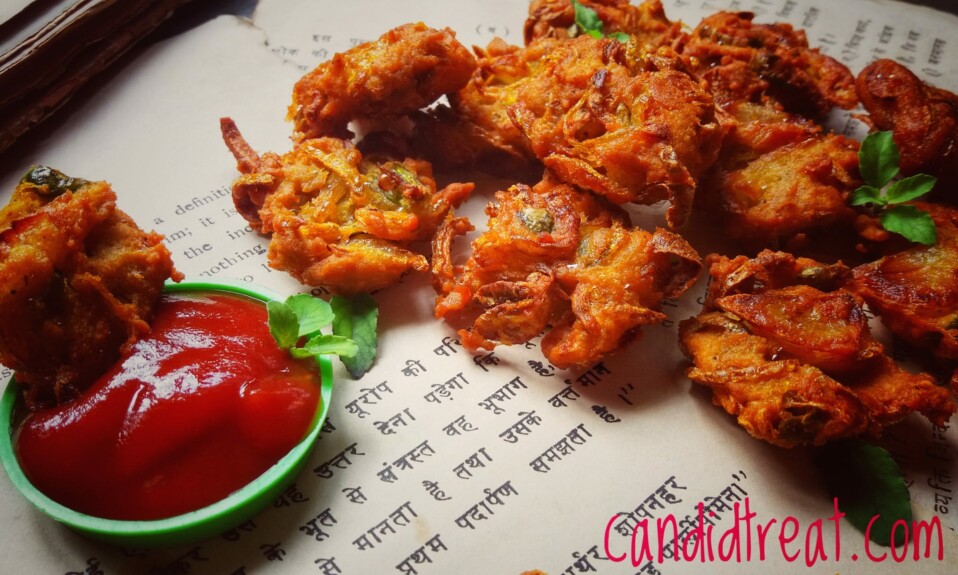 Onion pakora is the famous Indian street and household food which is made with gram flour (besan) and with some spices. These onion pakora have crispy and crunchy texture. Onion pakora are known by many different names like some call it kanda bhaji, pyaz ka pakora, onion fritters. For frying these pakora use mustered oil because it gives the strong and earthy flavour to pakora.
What Is Onion Pakora?
Onion pakora or pakoda are made with chickpea flour (besan), Salt, onions, green chili, red chili powder, carom seeds, and onion seeds. Pakora are deep fried snack. This is made during monsoon and winters. Onion is the main hero ingredient of this pakora. This is served with tea or coffee.
This is also sold in Indian street stalls served with green chutney or tomato sauce. I usually eat these pakora with tomato sauce or just with a cup of tea. This is the one dish on my menu or you can make this too, whenever you have anysudden guest or friend come in your home. It takes only 15 to 20 minutes. Check these recipes too..
Ingredients
3 onions
4 to 5 green chillies
1/2 tablespoon of salt
A pinch of turmeric
Red chilli powder as per your taste (optional)
4 to 5 tablespoon besan( chickpea flour)
A pinch of carom or onion seeds
Mustered oil for frying
| | |
| --- | --- |
| Total time | 25 minutes |
| Servings | 4 to 5 |
Preparation
cut onions into slices and take a bowl add sliced onions, chopped green chillies.
Sprinkle salt evenly on onions, add turmeric and mix well.
Add carom seeds because it helps in digestion. It has good digestive properties. Add onion seeds and mix.
Then add besan (gram flour). Mix everything well. Before mixing flour check and taste the flour because most of the time gram flour easily ruined in taste because of moisture. So never keep this flour for longer time in your kitchen. Or you can keep it on air tight container.
Now you get a little bit dry mixture. Set them aside for 10 minutes for releasing moisture.
You can see that onions and salt released the moisture then mix it well. It starts combining, if not then add 1 to 2 tablespoon of water and mix well.
Take a pan heat some oil for frying. Make small balls of the mixture.
Check the oil by adding small mixture into oil. If mixture is floating then oil is ready for frying. On low flame add small balls and dry it. It takes 4 to 5 minutes. Cook on low flame for crispy texture.
Payaz ka pakora is ready for serving. Served hot with green chutney or tomato sauce. You can enjoy this with tea or coffee.
Follow for new updates on my Insta handle candidtreatofficial and on my Facebook page Candid Treat.