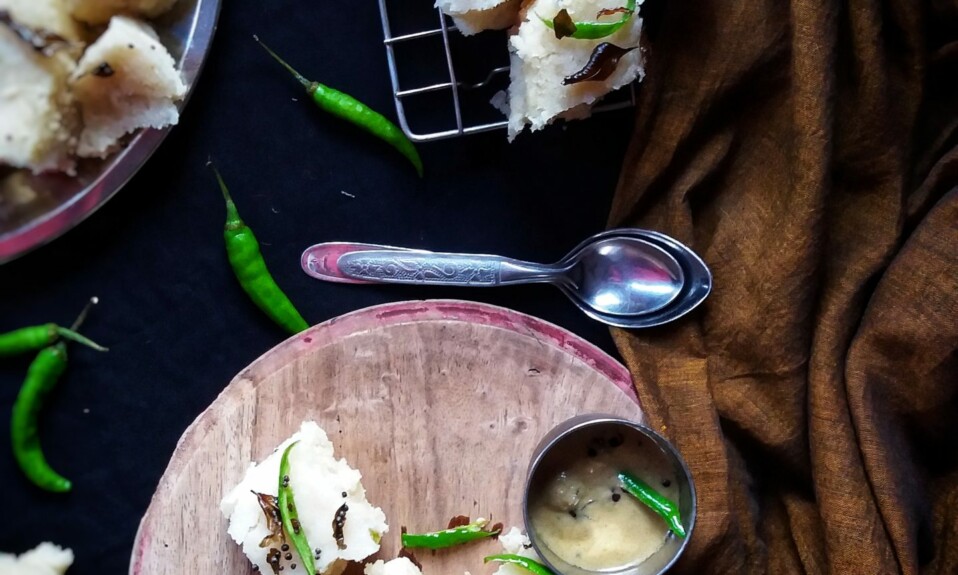 Rava dhokla recipe with step by step photos and detailed information. You can make this Rava (semolina) dhokla easily at home. Rava dhokla is one of the popular snack recipes from Gujarat. This is made with steamed Rava or semolina. This steamed, soft, and fluffy dhokla is a healthy vegan snack. You can make this for breakfast or for lunch boxes.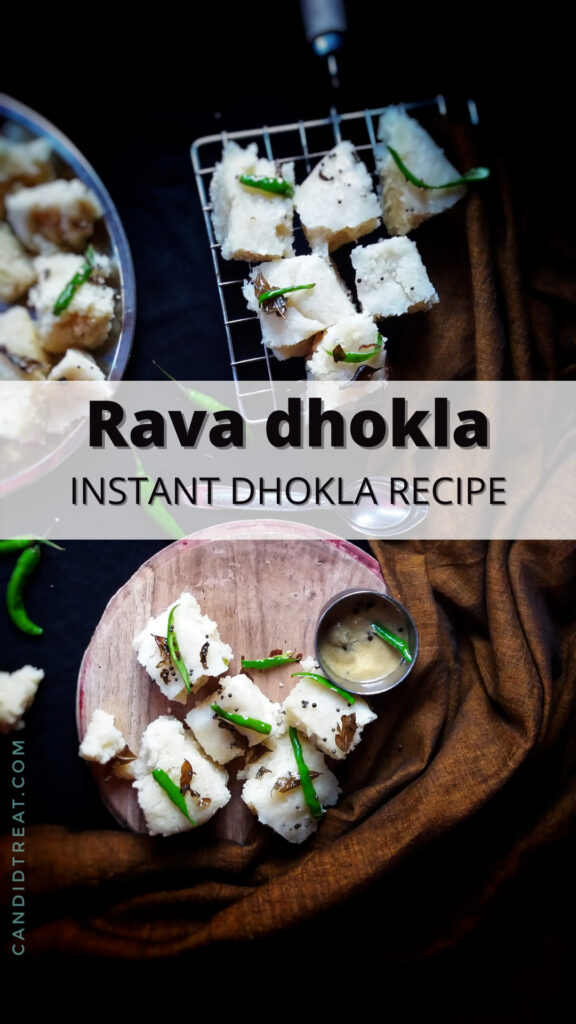 Rava Dhokla
Rava is also known as semolina. This is made with curd, Rava batter. This dhokla does not require any fermentation. That's why this is an easy and quick recipe. If you don't have any dhokla making mold then You can use a pressure cooker or any heavy bottom pan for steaming. You can enjoy this with coriander chutney or any which you like. You can also fry this dhokla with some oil and enjoy it. I like my dhokla fried. But if you want a healthy version then do not fry.
Some similar snack recipe to check out….
Tips To Make Best Rava Dhokla
Use Eno or fruit salt to make the batter light and airy. This gives the fluffy texture to the dhokla. Without eno you can not get that texture. Use unflavoured eno.
Soak the rava It is important to soak the rava with some curd and water. It helps semolina to absorb the moister and get a little bit fluffy. Do not use a very thick rava. You can use medium or fine rava.
Do not overfill the mold if you overfill the mold then it takes time and also find some difficulty in cooking the middle part of the dhokla. That's why whatever your mold size just fill the half with batter.
Curd Do not use sour curd. Use fresh curd. Use some sugar.
INGREDIENTS
150 grams or 1 cup semolina
1 cup curd
1 tablespoon salt
1 tablespoon sugar
One small packet fruit salt (eno) approx 8 gram
Water as required
1 tablespoon chopped ginger and chilli
FOR TEMPERING
2 tablespoon refined oil
Some black mustered seeds
7 to 8 curry leaves
3 green chillies
| | |
| --- | --- |
| Cooking time | 20 to 25 minutes |
| Servings | 6 to 7 pieces |
How To Make Rava Dhokla ?
First start with rava. Take a cup of rava in a bowl.
Add curd and some water. Add little amount of water at a time. Because we want a thick batter.
Mix it well and set aside for 15 minutes.
Then add salt. Taste it and add more if required.
Add sugar.
Add chopped green chili and ginger. Mix it.
Add more water in this time if required. We want pouring consistency like this just little bit thick. Set aside.
Now take a pan add some water and heat it on high flame. When water starts boiling then keep the flame low.
Now add eno. Here you have to make it fast because we want airy dhokla. So firstly grease the mould.
Then add eno and pour 1 tablespoon water. Mix it well.
Transfer into the mould. Only fill half of the mould.
Then place it into the water pan for steaming. Before placing the mould place any small bowl or any ring. On that place your mould. Close the lead and cook for 20 to 25 minutes.
Then check it with the help of a toothpick. If it comes out clean or checks the upper part of dhokla if it feels hard then it is ready. If you feel some sogginess then cook for more than 10 minutes. Close the heat and keep aside to cool down.
Meanwhile prepare the tempering for dhokla.
Take any small pan and add oil. Heat it for 30 seconds on medium flame then add mustard seeds, curry leaves and green chili cook for more 10 seconds then remove the dhokla from the mold and pour the tempering on it.
Cut into pieces and serve with chutney.