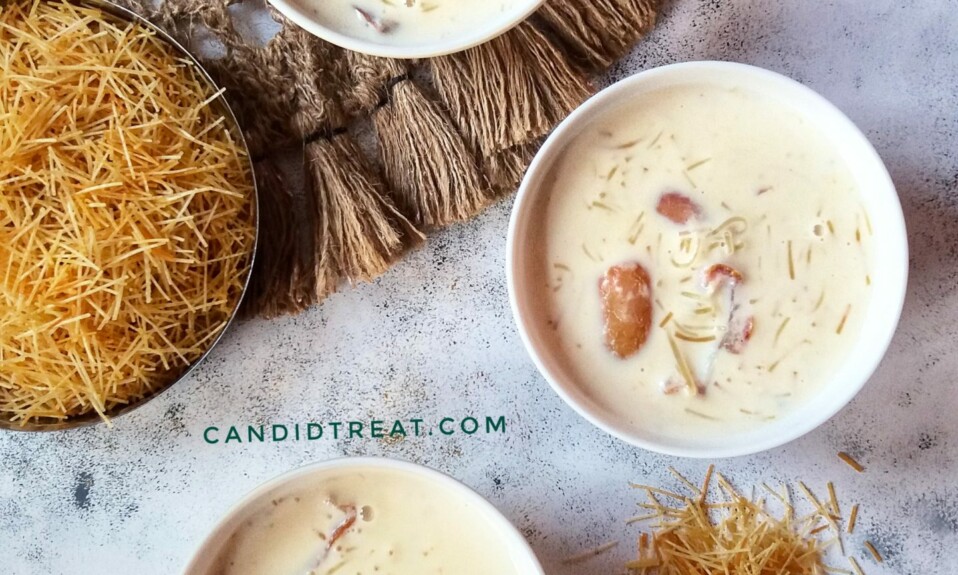 Sheer khurma is a popular dessert made during the Eid festival. It is a rich and creamy dessert. Sheer is a Persian word which means milk and khurma means dates. So basically sheer khurma is a milk and date pudding that is very popular in India, Pakistan, Afghanistan, and in Bangladesh. Sheer khurma is a Mughlai delicacy. The making process is different and varies from country to country.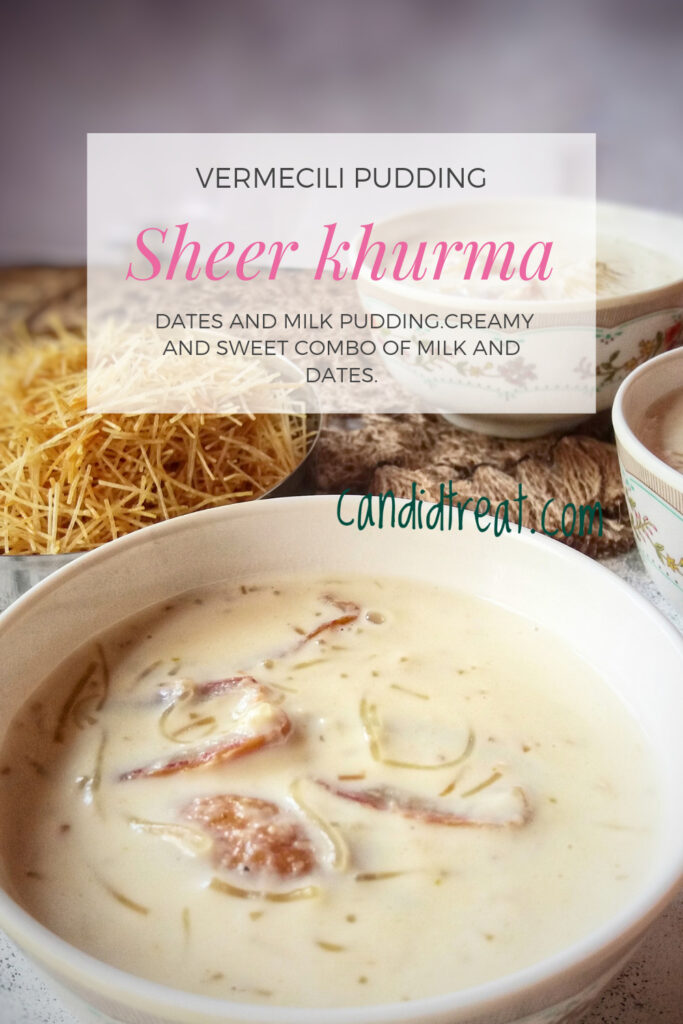 What Is Sheer Khurma?
Sheer khurma is a creamy and sweet dessert that is made during Eid Ul-Fitr, Ramadan. It is one of the popular desserts from Mughal cuisine. In this recipe, we need some staple ingredients like Milk, vermicelli, sugar, dates, and some clarified butter or ghee. Use full-fat milk for extra creaminess. Sheer khurma is milk and dates pudding that is made by simmering fine vermicelli with Milk, dates, and nuts.
First time I ate this when I was 10 years old. And I love this so much that I frequently told my mom to make this. Today I tried this first time by self and it comes out perfect. If you want something new then try this dessert and sure you will love this. Some similar dessert you should try…
How to make Sheer khurma?
This is also a one-pot recipe and very easy to make at home. Take a saucepan and boil full-fat milk and cook until milk comes to half then add soaked dates. Use fried fine vermicelli then add into milk. Add some sugar and cardamom powder. You can add kewra essence if you like. You can add saffron for a more royal touch.
Substitutes and some tips for making sheer khurma
Vermecili: In this recipe, we are using fine vermicelli. You can use roasted packed vermicelli but make sure that Seviyan has to be fine. Or if you are using unroasted vermecili then first roast them with some clarified butter.
Milk: Use full-fat milk for any kheer or pudding recipe because it gives more flavor and creamy texture. Most people use Mava for this recipe. But here I give you the straight and traditional recipe which I learn from my friend's mom.
But you can use mava or condensed milk in this recipe.
Dry dates: Use a good quality of dates. First, soak them into milk overnight then use them. Quality is important because this dessert is totally based on dates.
Clarified butter: Roast the vermecili with ghee because ghee has a unique aroma which enhances the flavor of sheer khurma. I always use homemade Ghee. You can use any type of ghee that is available.
Essence: For the extra flavor we are using green cardamom powder. You can also use kewra essence, rose water, etc.
Nuts : All of them have their own recipe for making this sheer khurma. Many of them use a lot of nuts like (almonds,pistachio, cashews, raisins). You can also use all these nuts in this recipe. But here i used only dates. Here, step by step recipe of sheer khurma…..
INGREDIENTS
1 liter full fat milk
7 dry dates
1 handful of vermecili
3 tablespoon ghee
2 tablespoon sugar
1 green cardamom
Kewra essence 1 drop (optional)
Kesar (optional)
| | |
| --- | --- |
| Total time | 1 hour |
| Servings | 4 to 5 |
Preparation for making sheer khurma
First, take some dry dates and remove the seeds and cut them into small pieces. Wash them properly then in a bowl pour some milk and soak them overnight in the refrigerator.
After soaking the dates, it expand double in size.
Take a pan add ghee.
Break the vermecili into small pieces. Roast them on medium flame. Occasionally stir them.
Turn off the heat when vermecili turns into golden in color. It takes 15 minutes. Set aside to cool down.
Making procedure
Meanwhile, take a saucepan boil the milk on medium flame.
Reduce the milk for about 35 minutes on low flame. Then add soaked dates into it. Cook for more than 15minutes.
Add cradamom powder.
Add sugar as per your taste. I liked less sweet that's why I am using only 2 tablespoon sugar. Here you can add nuts and kewra essence.
Cook for more than 5 minutes. Then add roasted vermicelli. Do not add too much vermicelli just add half a handful. Actually, my hand is a little bit smaller than regular one that's why I write 1 handful. Cook for 4 minutes on medium flame. Then turn off the heat.
If your kheer is too thick then add more milk. Store the sheer khurma in the refrigerator and serve it chilled.