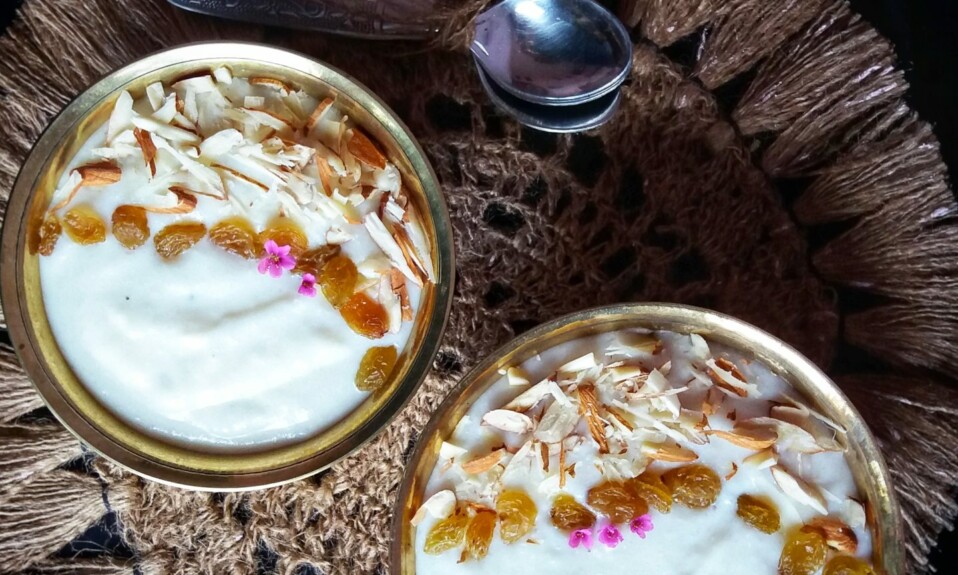 Almond phirni is a rich and creamy rice pudding not only appetizing but quick and easy dessert recipe. Phirni is traditional rice pudding and popular in Indian cuisine. Almond phirni is made with rice and milk and of course almonds. This flavorful pudding only takes 20 to 25 minutes.
Phirni or kheer is the most popular dish in Indian cuisine which is made basically in every festival. However, I tend to make it around the weekends because my papa loves sweets.
Phirni or kheer
Phirni or kheer are two different desserts. The main difference is in the texture. Kheer involves whole rice grains with milk, sugar, and a lot of dry fruits. On the other hand, phirni is all about smooth, silky, and creamy texture which comes from rice paste. When You taste it, it melts in your mouth. I am sure you love this too…
Almond phirni
If you are looking for a new and easy dessert recipe then you should definitely give a try to this phirni. I have no doubt you'll love it. This almond phirni will give your taste buds a twist of taste and health. Packed with the goodness of almonds. This recipe is usually prepared on festivals and on a special occasions. Hère I'll give you step by step method to prepare this delicious dessert.
INGREDIENTS
7 to 8 tablespoon of rice (1/2 small bowl)
600 ml milk
6 to 7 tablespoon of sugar
A pinch of cardamom powder
17 almonds puree
6 chopped almonds
| | |
| --- | --- |
| Total time | 25 minutes |
| Servings | 5 to 6 medium bowl |
Preparation For Almond Phirni
Soak the almonds with water overnight.
And peel the skin and make a puree of almonds.
Soak the rice for 20 minutes. You can use any type of fragrant rice.
After that drain extra water then make a fine puree with the help of little water.
In a heavy bottom pan, boil the milk for about 10 minutes. Use full fat milk for extra creamy texture.
Then add rice puree on low flame and whisk continuously for 30 seconds to prevent lumps. You can see that instantly milk starts to thick.
Then cook for 3 minutes add almond puree into it and whisk it.
Add sugar into the phirni. You can adjust sugar as per your preference.
Then add cardamom powder. And cook for 5 minutes on low flame. After that turn off the heat. If your phirni is too thick then at this time add more milk and cook for 30 seconds and turn off the heat.
It has the pouring consistency like this.
Allow to cool down then add chopped almonds and some raisins. And keep it into refrigerator. Serve it chilled.