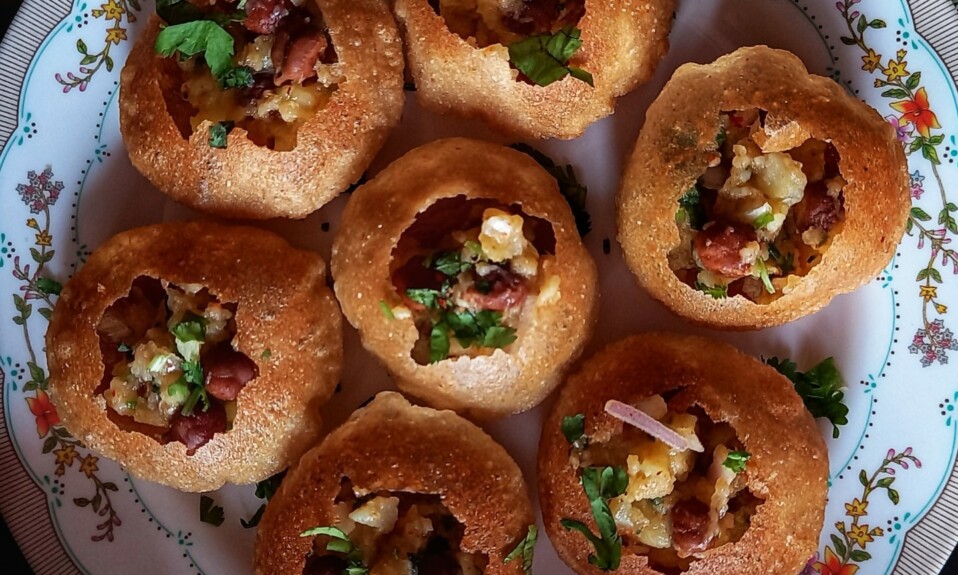 Pani puri recipe | Golgappa recipe | How to make crispy puri, aloo masala, tangy water for pani puri | If you want to make a perfect crispy puri for your pani puri just like street one. Here is the recipe that gives you a super crispy and crunchy puri. And you can store this puri for 2 to 3 days in an air-tight container and I assure you that it will keep the same crisp texture for 2 to 3 days. For detailed or visual guidelines you can check the video tutorial as well. And in this post, I am also sharing the aloo masala and tangy tamarind water recipe for the pani puri.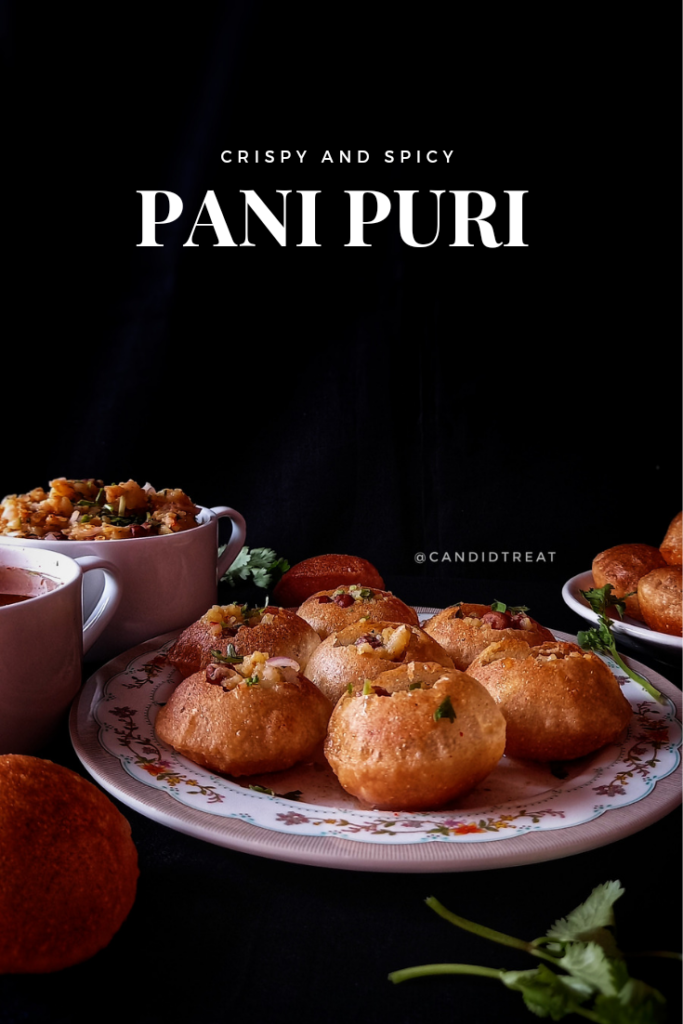 Pani Puri/Golgappa
Pani puri is also known as Gol Gappa, Gupchup, puchka. It is a very popular Indian street snack recipe. panipuri is crispy and hollow fried balls stuffed with some boiled potato masala together with tangy, spicy tamarind water. Panipuri is a favorite street snack of almost everyone. When you take a pani puri, it bursts with tangy, crunchy, spicy flavors in your mouth.
Pani means water and puri means a fried puffed small ball. In which you have to add some potato masala and some water. Puri is made with wheat flour and semolina. Semolina gives the crunch to the puri. For stuffing, you need some boiled potatoes, horse gram, onions, chilies, salt, black slat, chili powder, and roasted cumin powder. last but the most important thing is pani, for this you need some soaked tamarind, salt, water, red chili powder. now let's start the recipe…
SOME MORE DELICIOUS AND INTERESTING SNACKS RECIPE
INGREDIENTS
For puri
2 cups of wheat flour
½ cup of semolina
1/3rd tsp baking powder
1 tsp salt
Water for kneading
Refined oil for frying
For stuffing
6 to 7 boiled potatoes
2 to 3 tbsp of boiled horse gram
3 to 4 tbsp chopped onion
2 to 3 chopped green chilies
2 tbsp chopped coriander leaves
½ tbsp salt
1 to 2 tsp black salt
1 to 2 tbsp cumin powder
1 tbsp red chili powder
For pani
6 to 7 tamarind soaked
300 to 400 ml water
½ tbsp salt
1 to 2 tsp black salt
½ tbsp cumin powder
1/3rd tbsp red chili powder
How to make pani puri?
Take a bowl. Add wheat flour. Add semolina.
Add salt and baking powder. mix well.
Then add some water and knead a semi-hard dough. So add a small amount of water at a time. And do not knead a soft dough for puri.
After mixing the dough, knead it for 2 to 4 minutes. Then cover it with any cloth and leave it for 20 to 25 minutes. (pro tips: For making a super crisp puri, knead a semi-hard dough and use semolina).
Meanwhile, prepare the aloo masala. Take some boiled potatoes. Mash them well.
Add boiled horse gram. Add onions, green chilies. Add coriander leaves. Then add salt, black salt.
Add cumin powder and red chili powder. mix well. Then taste the stuffing, if you want anything more add-in and adjust the flavor. If you like more salt and chili, add them. Aloo masala is ready.
Now for pani. Take some tamarind and soak them for 5 to 6 hours with some water. Here you can also use tamarind puree. after that mash them well with some water and squeeze the pulp of tamarind. Then strain out the tamarind pulp.
Add salt, black salt, cumin powder, red chili powder.
add water. mix well. Then add chopped coriander leaves. Agan tastes it and adjusts the flavor. Pani is ready for golgappa.
Again, knead the dough for a minute. Divide them into 4 to 5 equal parts. Take a piece of dough.
Roll them into a thin circle. Here do not use oil for dry flour for rolling the roti. do not roll them too thick or too thin.
After that, cut them into small circles. Make all of them like this.
Now take some oil. Heat the oil on high flame for 2 to 3 minutes. Then add one puri at a time.
Press the puri a bit. When you press it, it puffs out evenly. Make all of them like this. Add 5 to 6 puris in on batch. When you add all the puris in the oil. Turn the flame on medium and fry them on medium flame until it turns light golden in color and crisp from outside. You have to repeat the same process for frying the puris.
So make sure to fry them on high flame first then on medium flame. So our puri is ready.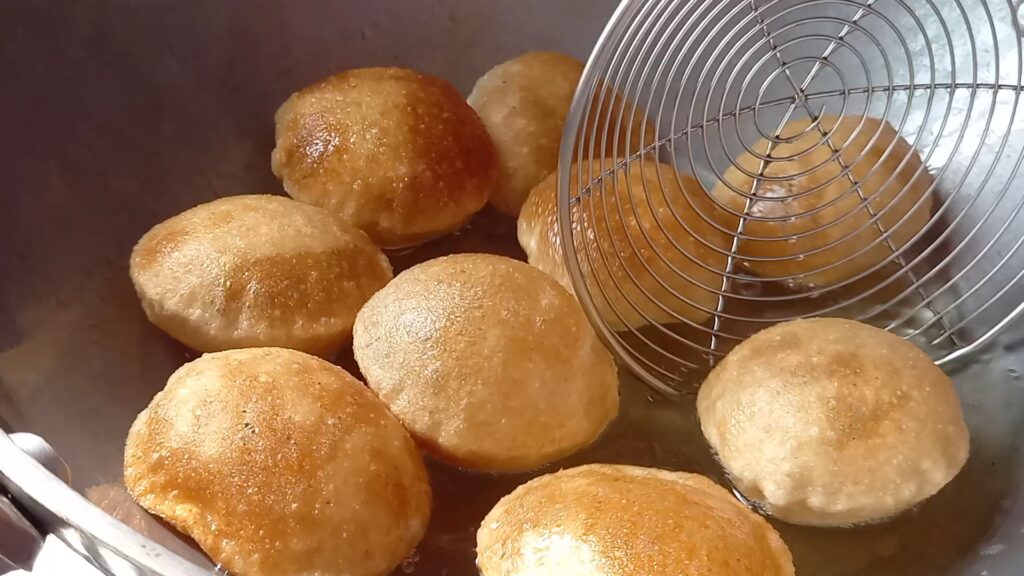 After cooling, you can store these puris for 2 to 3 days in an air-tight container. Here you can see the crisp texture of the puri.
Now it's time to grab the pani puri. For this take a puri, crush them from the center like this.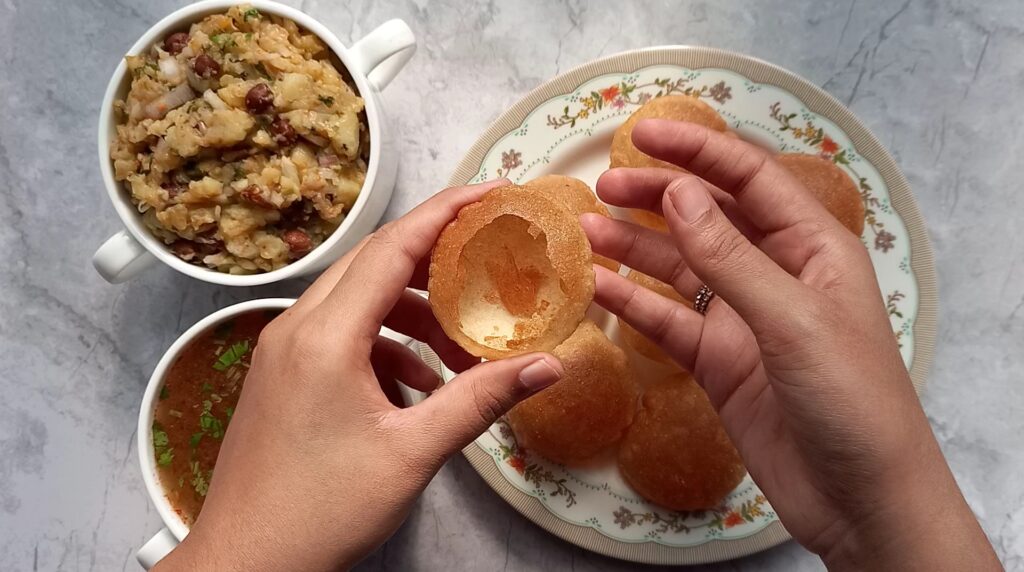 Stuff some aalo masala.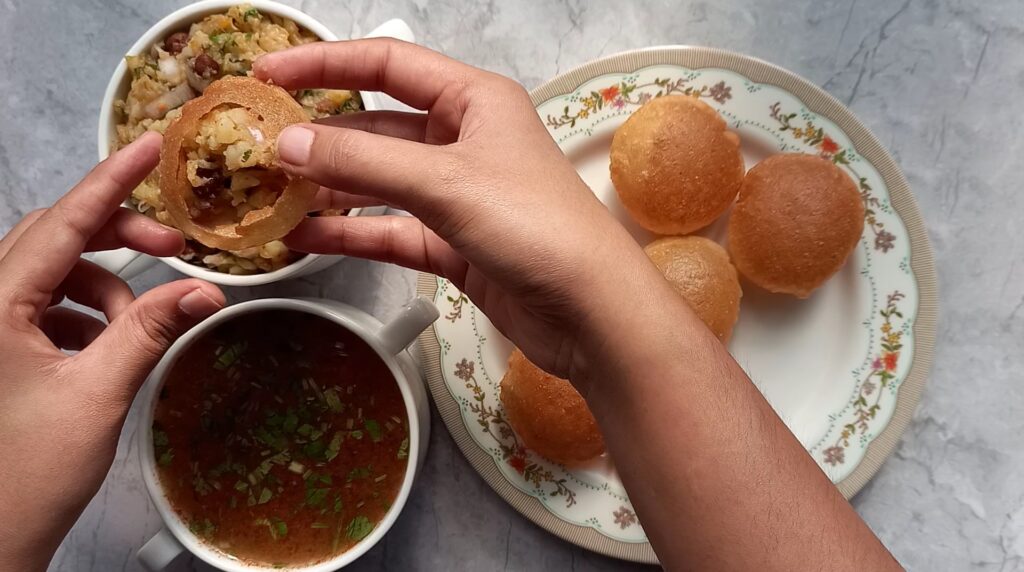 Pour 1 tbsp pani. And garb it. Pani puri or golgappa is ready.