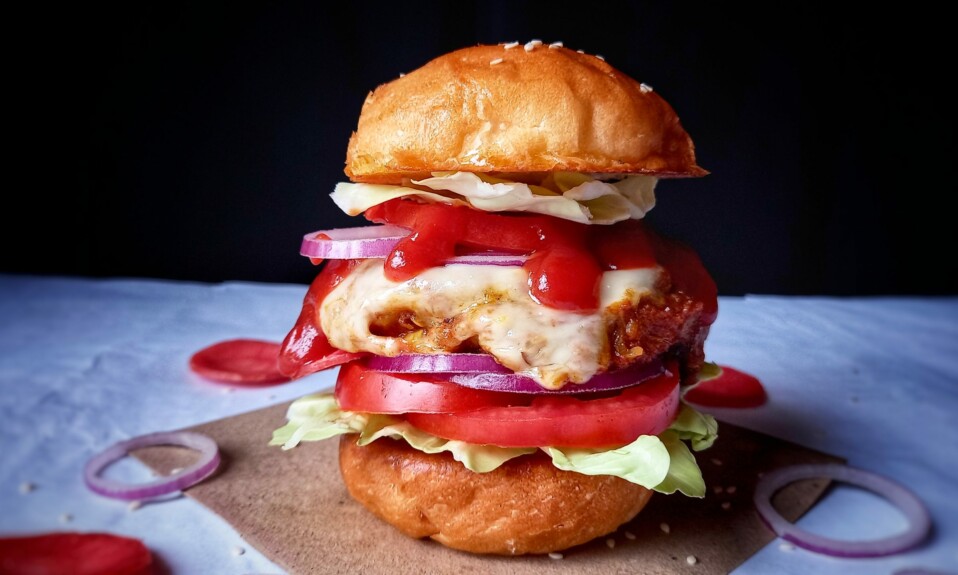 Burger recipe | Tawa veggie burger | Learn how to make street style tawa veggie burger with step by step photos and video. This tawa veg burger is the most famous Indian street style burger recipe. I know it is not the exact burger recipe with crispy patty. What I think is that we do not need to follow any specific recipe or patty for making a good burger. What matters the most is taste, so you can make any type of patty for your burger. And this recipe is very simple but the taste of the veg patty is so delicious that you will make this again.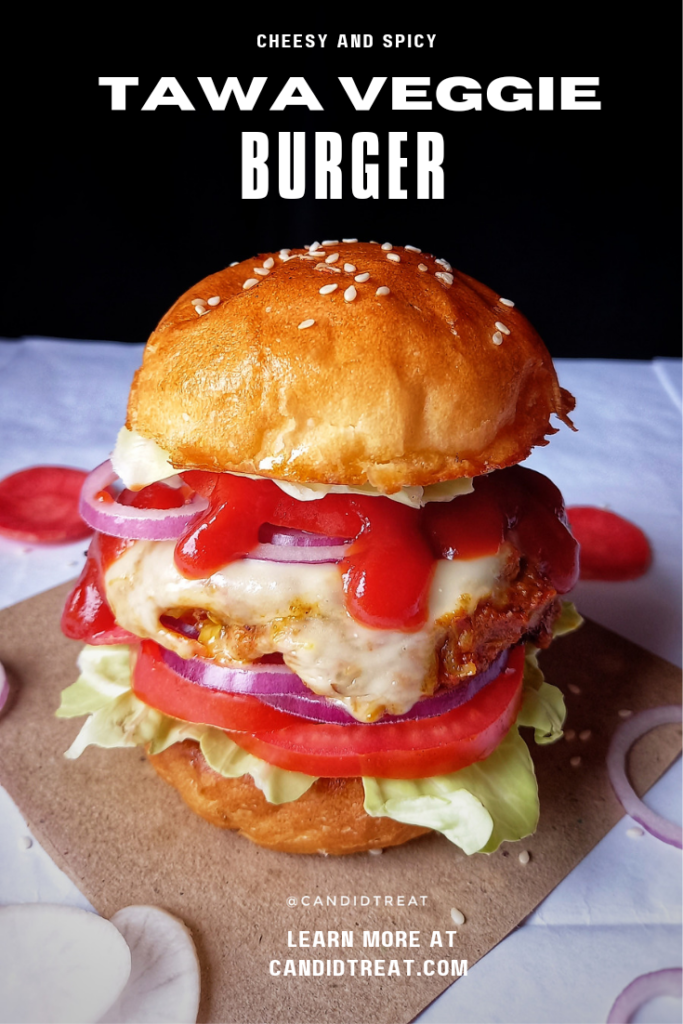 For this recipe, you need some potatoes, cabbage, carrots, onions, chilies, and some spices. So this is the pure Indian-style burger recipe. and I love this recipe and always prefer to make this patty because it has more intense flavors.
SOME OTHER RECIPES FROM THIS BLOG…
INGREDIENTS
Some fresh and sliced veggies for salad(cabbage, carrot, radish, tomato, onions)
Tomato sauce
Mayonnaise
Burger buns
Butter
Some cheese slices
For patty
1 cabbage
3 carrots
5 to 6 potatoes
2 onions
7 to 8 green chilies
2 to 3 tbsp ginger, garlic (crushed)
2 tomatoes
2 tbsp salt
½ tbsp turmeric powder
2 tbsp cumin powder
3 tbsp coriander powder
1 tbsp garam masala powder
2 tbsp red chili powder
2 to 3 tbsp red chili sauce
5 to6 tbsp tomato ketchup
60 to 70 ml oil
1/3rd tbsp cumin seeds
How ot make street style veg patty?
First, take a pressure cooker. Add chopped cabbage. Add carrots. Add potatoes(peeled and washed).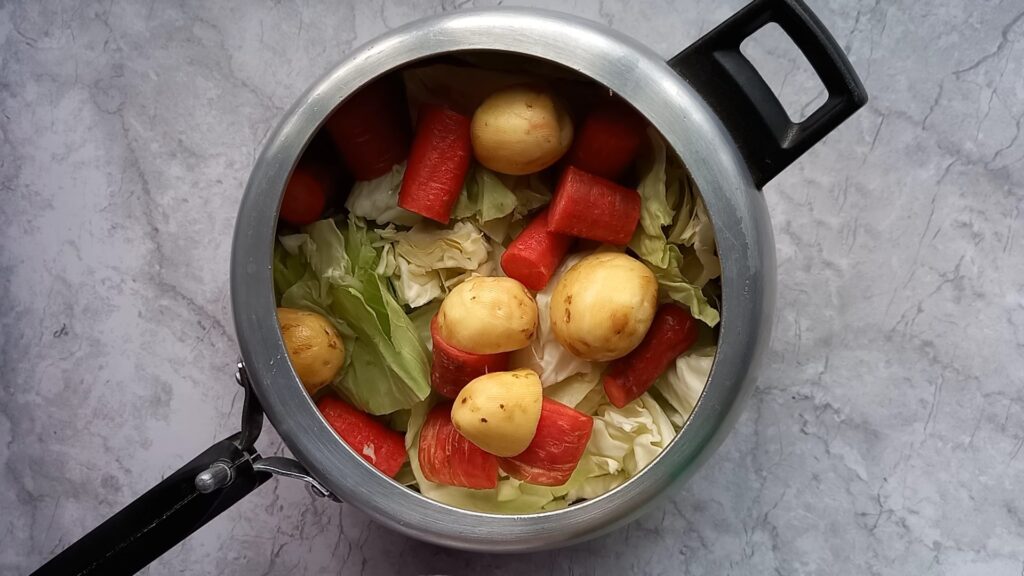 Add 400 to 500 ml water. Close the lead and pressure it for 5 to 6 whistles on a high flame. After that turn off the heat leave it to release the pressure.
Then wash the boiled vegetables. Now squeeze the excess water from the cabbage. Mash the carrots and potatoes. Set them aside.
Take a kadhai. Add some oil and heat it for 40 to 50 seconds on a high flame. Then add cumin seed. Add chopped onions and green chilies, crushed ginger-garlic.
Sauté it for 7 t 8 minutes on high flame. Then add tomato. Cook them on high flame.
Then add salt and turmeric powder. add all powdered spices. Mix well and cook them for 5 to 6 minutes on medium flame.
Then add mashed potato. Cook them for 3 to 4 minutes on high flame. Then add carrots, cabbage. Mix well.
Add sauces. Mix them well and cook them for 20 to 25 minutes on high flame.
When it turns dry, turn off the heat. The veg patty for the burger is ready.
Here I take some fresh vegetables.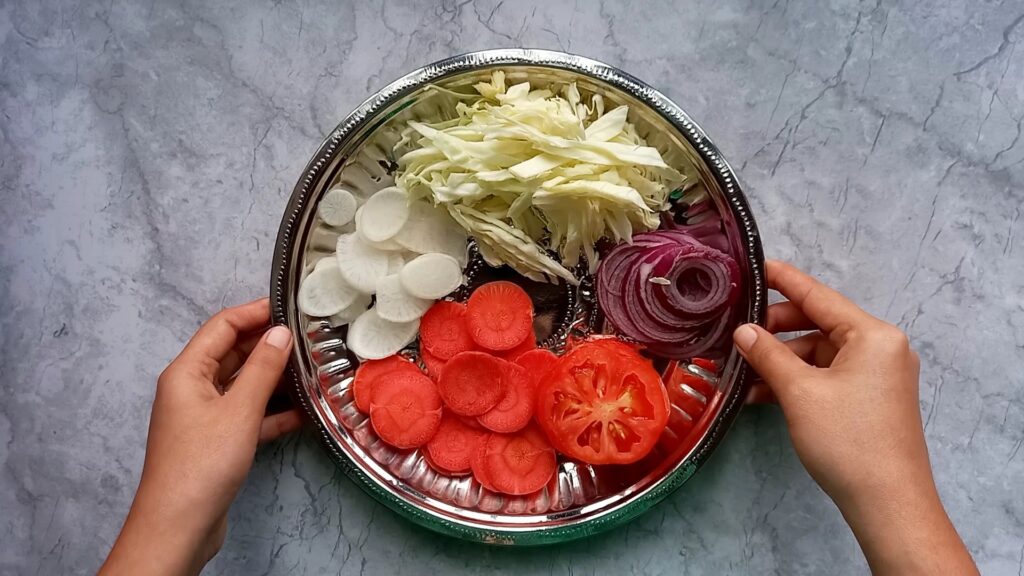 How to assemble the burger?
Now take a bun. Slice them. Heat the tawa on a high flame. Then add some butter and toast the bun from both sides. When it turns golden. Remove it from the heat.
Add some more butter. Add 2 tbsp veg mix. Press them a bit to make a patty. Turn the flame on low. Add cheese slice.
Cover it and cook it until the cheese melts.
Now place this cheesy patty on the toasted bun. Place some fresh vegetables. Add some tomato ketchup and mayonnaise.
Tawa veg burger is ready to grab. Make all of them like this.