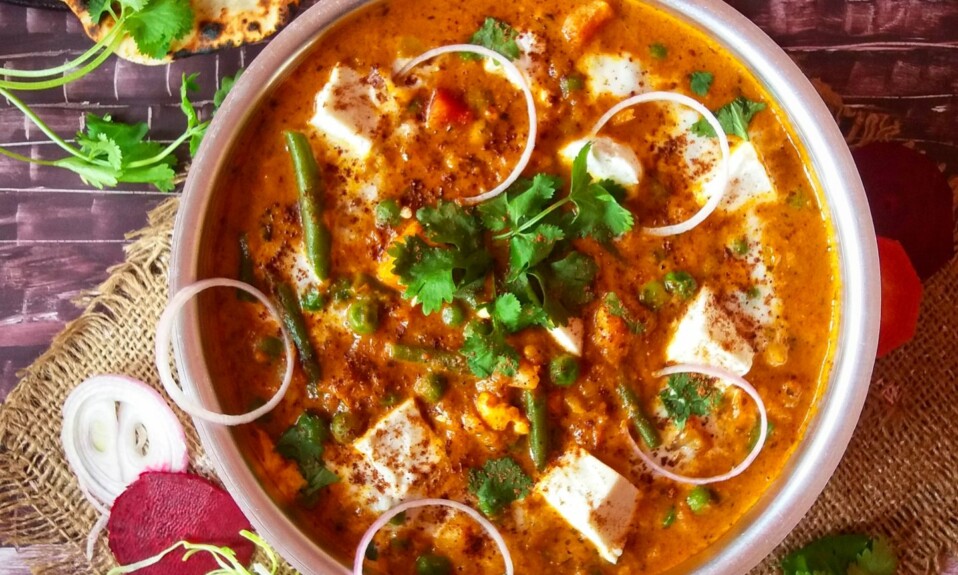 Hydrabadi veg Nizami handi recipe with step by step photos and method. This veg Nizami handi contains a lot of veggies and enriches with creamy curry. A perfect recipe for weekends. Make this restaurant style veg Nizami handi at home and enjoy it with your family. It goes well with naan, biryani, jeera rice, or laccha paratha.
What is hydrabadi nizami handi?
Nizami handi is of two types, veg or non-veg. In this post, we are making veg Nizami handi in which we used a lot of veggies like, carrots, French beans, green peas, cauliflower. And the base of its gravy is made with makhani puree, onions, tomatoes, and some spices. Here we also add some pane cubes and cream for extra richness. This is the most popular recipe from Hyderabad. it is cooked in a clay pot which Is called handi in Hindi. But now, you can make this curry in regular cookware at home.
Must try weekend recipes…
Ingredients
vegetables
1 cup carrots (cubed)
1 cup green peas
1 cup beans
1 cup cauliflower
250 grams paneer/cottage cheese
For makhani puree
2 tomatoes
4 to 6 garlic
1-inch ginger
6 to7 cashews
½ teaspoon cumin seeds
1cinnemon stick
4 cloves
2 green cardamom
1 bay leaf
1 black cardamom
½ teaspoon turmeric powder
1 tablespoon ghee/refined oil
40 to 50 ml of water
For handi gravy
3 onions
2 tomatoes
3 to 4 tablespoon ghee/butter
1 cinnamon stick,2 cloves, 1 green cardamom
1 tablespoon salt
1 teaspoon turmeric powder
1 tablespoon red chili powder
1 tablespoon fenugreek leaves
3 tablespoon fresh cream
½ tablespoon cumin powder
1 tablespoon coriander powder
½ tablespoon garam masala powder
Water as required
½ tablespoon sugar
1 tablespoon cashew paste(optional)
| | |
| --- | --- |
| Total time | 60 minutes |
| Servings | 5 to 6 |
Yes, it is quite a long recipe but the taste is amazing, and once you try this you gonna love this.
STEP BY STEP PHOTOS
Blanching the vegetables
First, chop all the vegetables into small pieces. Chop the carrots into cubes. Then take some water for blenching. Add turmeric powder and ½ tablespoon salt. Boil the water on a high flame.
When water starts boiling, put all the vegetables into it.
And blanch them for 4 to 6 minutes or until the vegetables are soft, firm in texture. Do not over blench the veggies. After that remove it from the water and leave it for further use.
Makhani gravy prepration
Take a pan, add oil or ghee. Then add all makhani spices mentioned above. Add garlic and ginger.
Add tomatoes and cashews. Sauté for 2 minutes.
Add water and cover it on low flame for 5 to 8 minutes. Then leave it for cool down.
After that make a smooth puree of it.
Final gravy preparation for Nizami handi
Take a kadai/pan /handi. You can use any of them. Add ghee and heat it for a minute on high flame.
Add ginger slices.
Add cumin seeds and onions, ginger garlic paste. Sauté on high flame for 3 to 4 minutes.
Then add salt and turmeric powder.
Add all powdered spices and mix well. Cook for 4 minutes on low flame.
Then add tomatos and cook well.
When the onion gravy releases the oil. Add makhani gravy into it. And mix well.
Add sugar into it. It balance the flavor. Add dry fenugreek leaves.
Cook the gravy for 12 to 14 minutes. Then add water into it and cook on low to medium flame for about 10 to 14 minutes.
Add blanched veggies and paneer cubes. Mix well. Cook on high flame for 2 minutes. Turn off the heat.
Add fresh cream into it and mix well. Sprinkle some garam masala over it.
Veg Nizami handi is ready to serve. Serve it with naan, butter naan, roti, or rice. You can also store it in the fridge for 2 days.