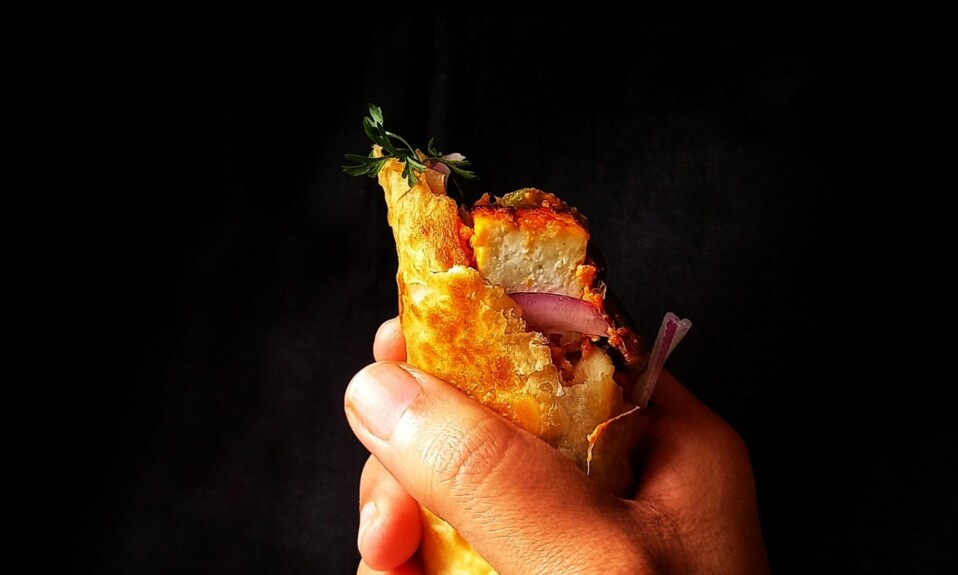 Paneer Kathi roll | Paneer tikka roll | Learn how to make paneer Kathi roll with step-by-step photos. I divided this recipe into two parts. In the first part, you can get the tandoori paneer tikka recipe which is very simple. And you can easily make them on tawa or in the oven. So here you can check out the PANEER TIKKA RECIPE FOR paneer tikka roll.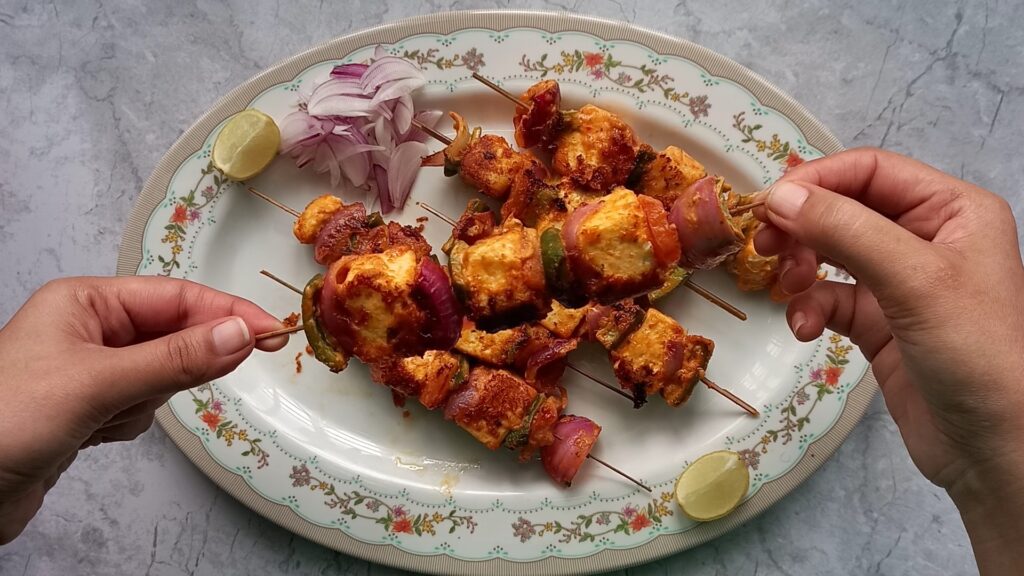 Now in this part(the second one), I will show you, how to make street-style paneer tikka rolls at home. This is one of my favorite Kathi roll recipes because you know how much I love paneer. Ya, you can say them Kathi roll or tikka roll or paneer Frankie. The stuffing of this roll is tandoori paneer tikka which I made on tawa. So it gonna be very easy for you to make them at home. Then we have to add some raw onions. You can also add some green chutney to your roll. Serve this paneer Kathi roll as a brunch or evening snack.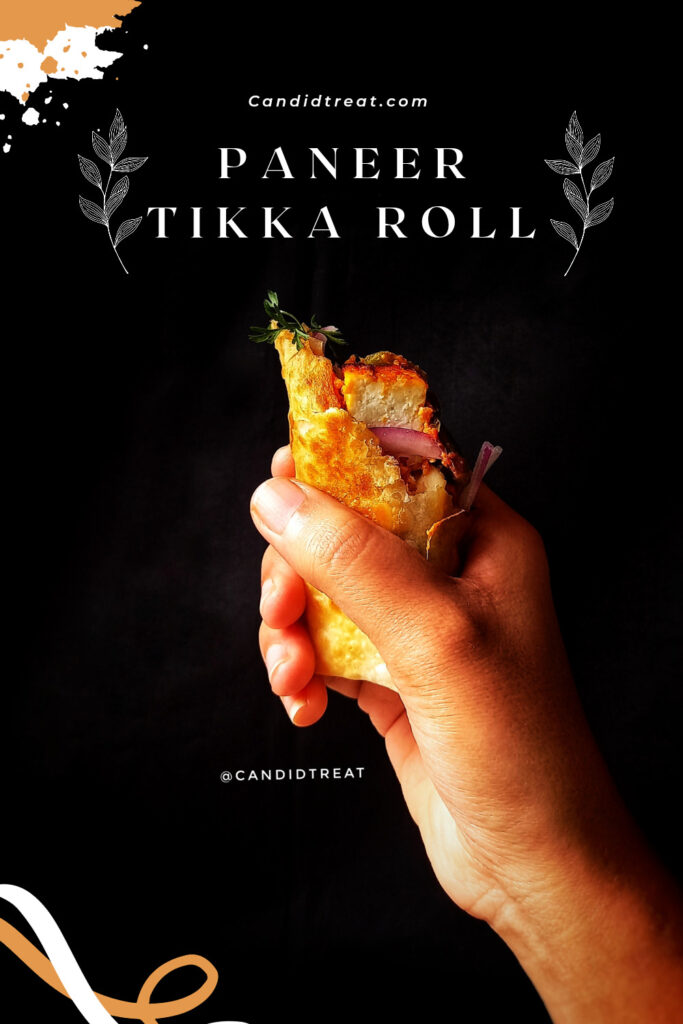 Some other delicious recipes from this blog…
INGREDIENTS
2 to 3 tbsp paneer tikka stuffing(for each roll)
Some sliced onions
Some sliced cabbage(optional)
Some sliced carrots(optional)
1 to 2 tsp black salt
For dough
1 cup of refined flour
1 tsp salt
Water for kneading
Oil for toasting
Here you can check out the paneer tikka recipe for making this delicious roll.
How to make paneer tikka roll?
Take a bowl. Add flour. With this, you can make 6 rolls.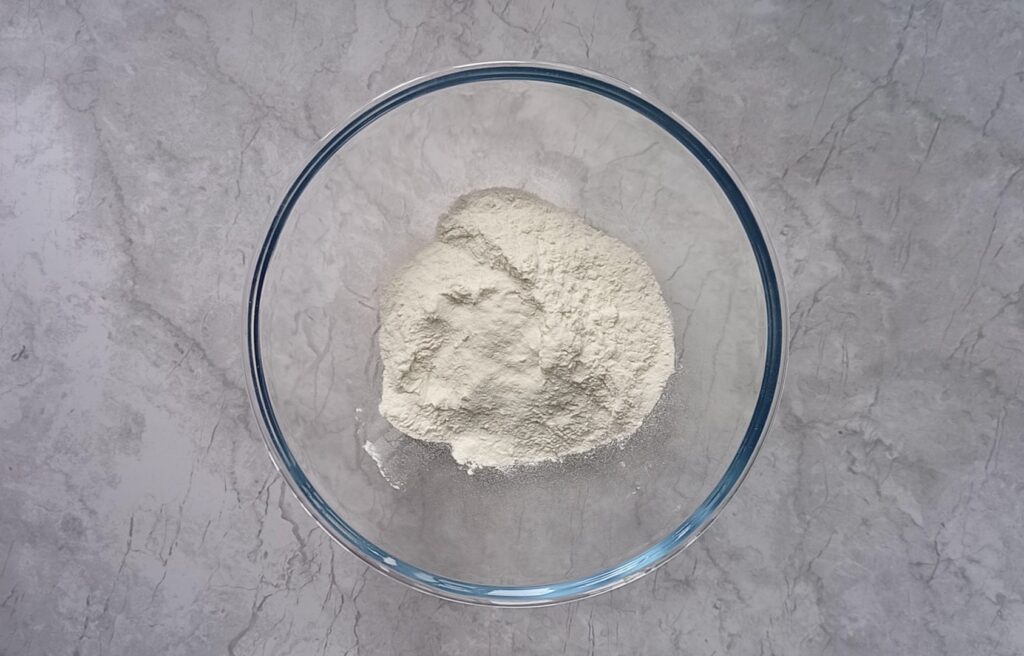 Add salt. Mix well. Then add water and knead a semi-soft dough.
Now leave it for 15 to 20 minutes.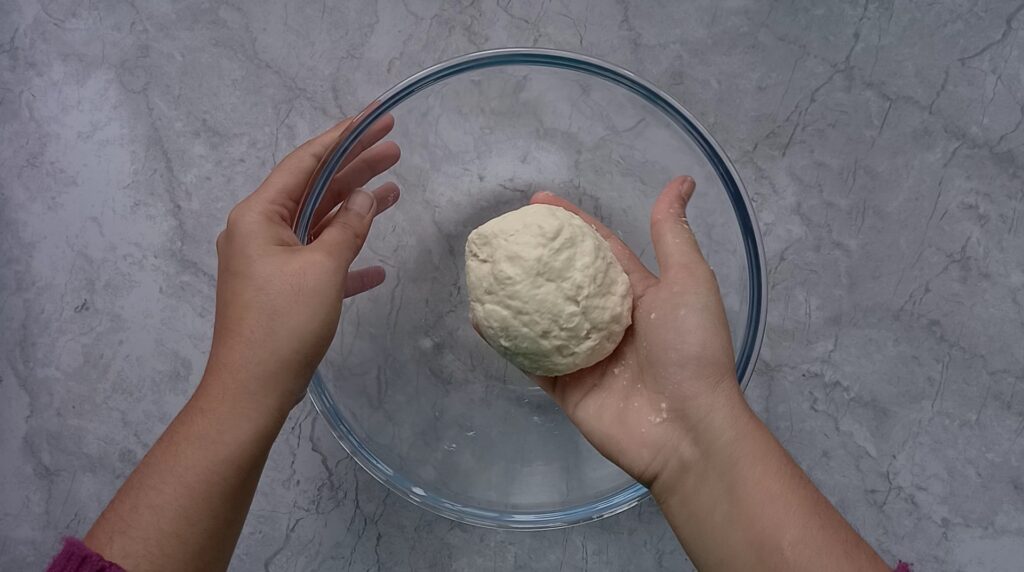 After that divide it into a medium-sized ball. Now take a ball.
Roll it into a small circle like this.
Again roll out the other dough ball into the same shape. Now grease the roti with some oil. Dust some dry flour over it.
And place another roti over it. Seal the edges and again roll out the roti into a thin circle. With this process, you can make these wrap extra thin. So you can also stack 3 rotis at a time. If it is possible for you.
After rolling, take a pan. Heat it for 10 to 20 seconds on a high flame. Place the roti and cook them for 30 to 40 seconds from both sides. Here we do not want to cook the roti. So do not overcook them, because it is just the process to separate the rotis. After that remove it from the pan.
And immediately and carefully remove the roti layers like this.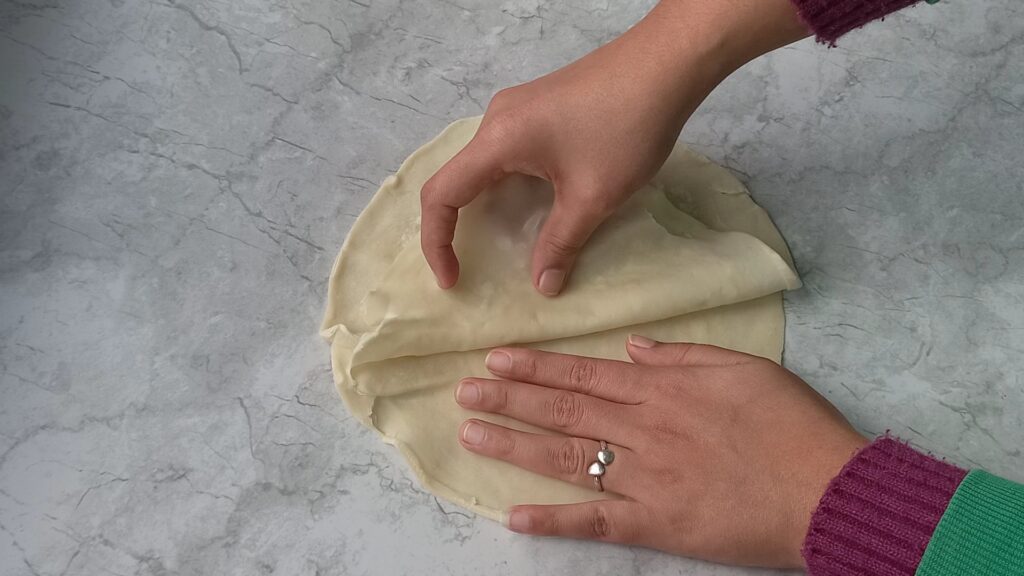 So you can make all of these warps like this. Now our warps are ready.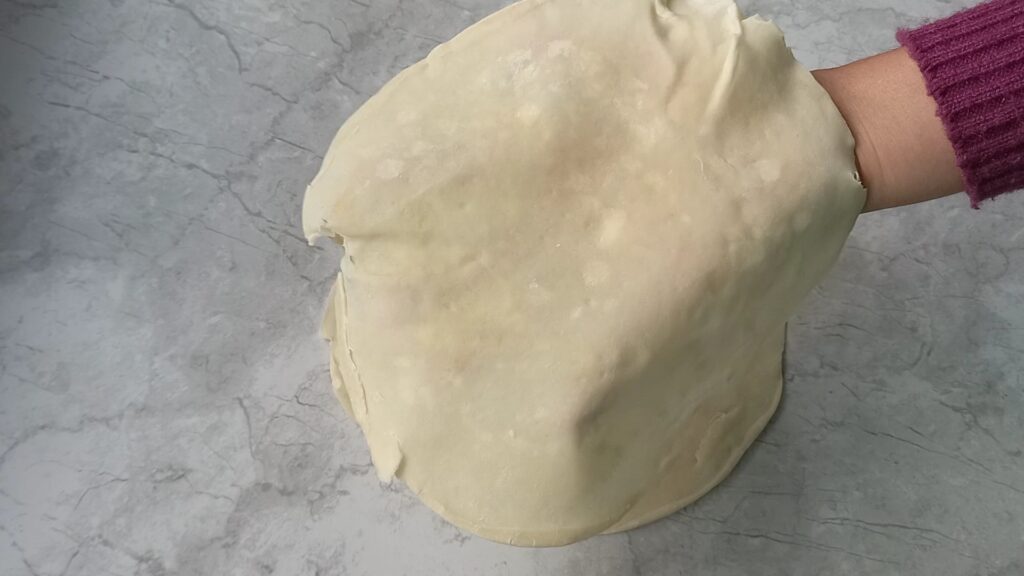 Take a bowl. First, chop the tikka into small pieces. Add chopped paneer tikka.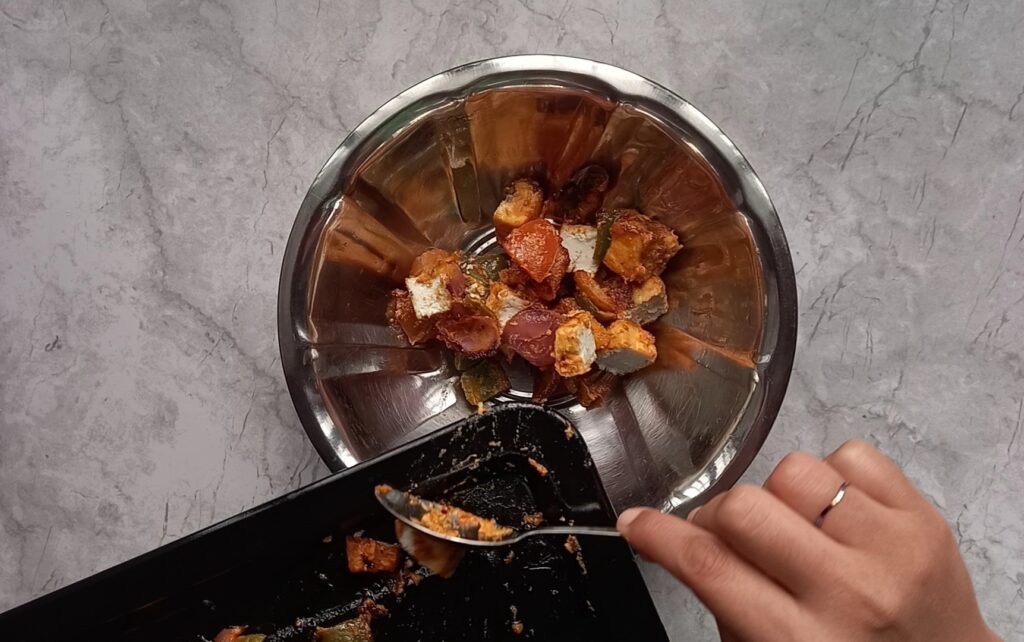 Then add sliced onions. Ere you can also use cabbage, carrots, or green chutney. Add black salt. Toss them well.
Now take a wrap.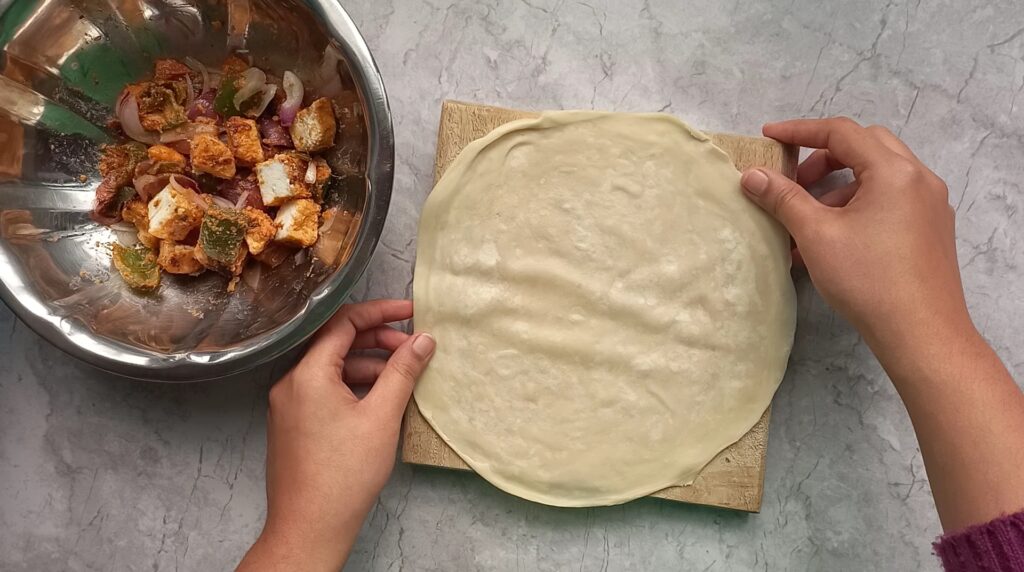 Add 2 to 3 tbsp paneer tikka.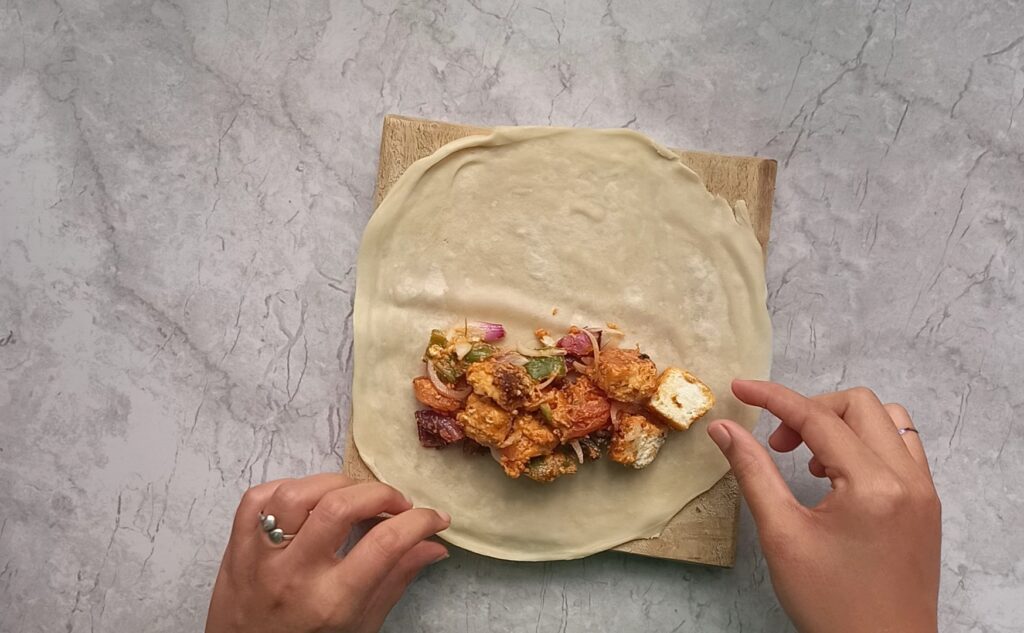 And roll the dough like this. First, fold the tikka layer then fold the sides of the wrap.
And again roll it out.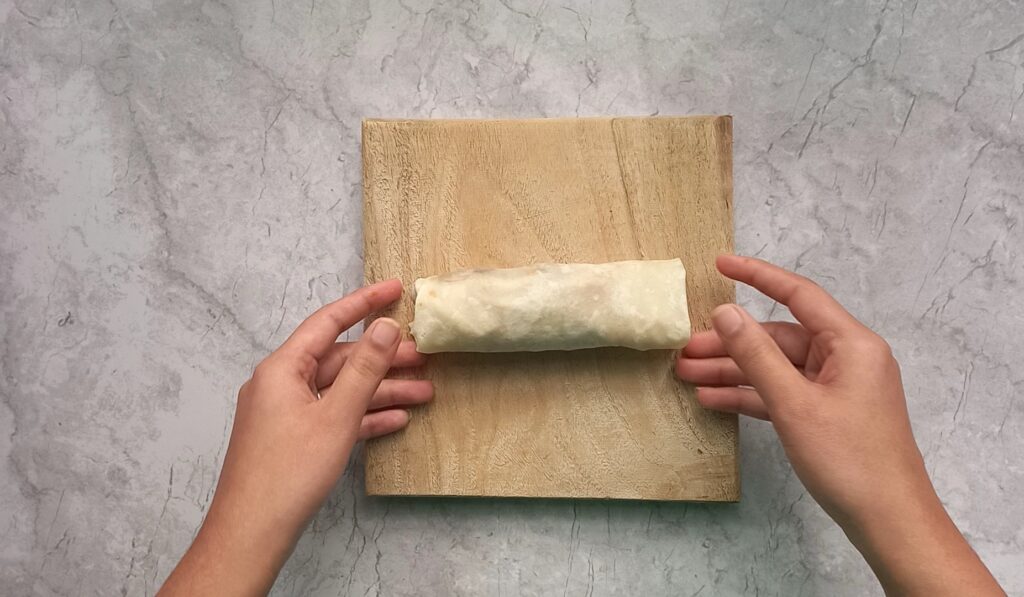 Now take a tawa or pan. Add some oil and place the roll. Toast the roll from each side on medium to high flame.
When it turns light golden in color, remove it from the pan. Make all of them like this.
Paneer tikka roll is ready to serve. Hope you enjoy the recipe.