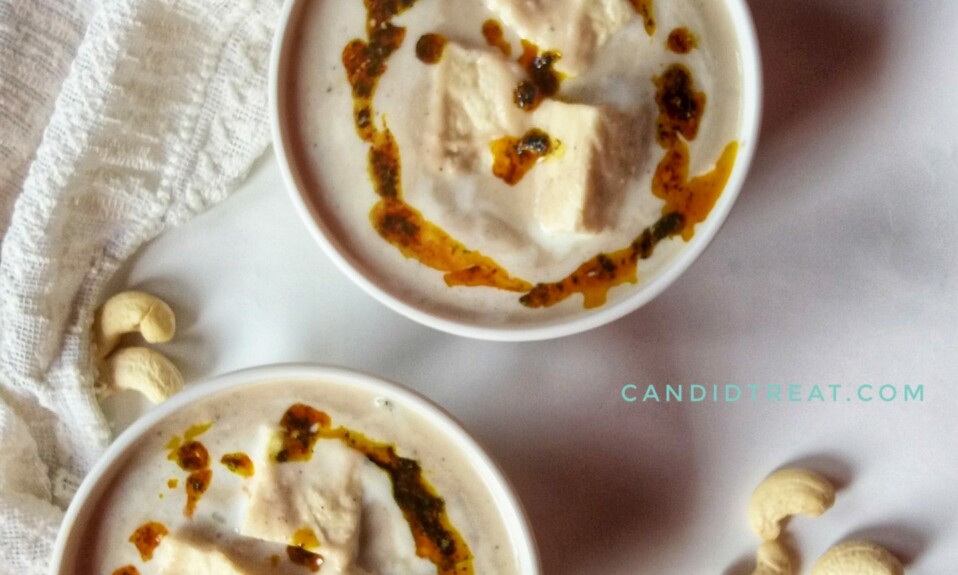 Malai paneer korma recipe with step by step photos and detailed information. Looking for something royal then try this silky and smooth Malai paneer korma. This type of dish is a part of royal Mughlai cuisine because of its looks and taste. Malai paneer korma is full of rich ingredients and is topped with some saffron milk or with saffron oil. Here, step by step recipe.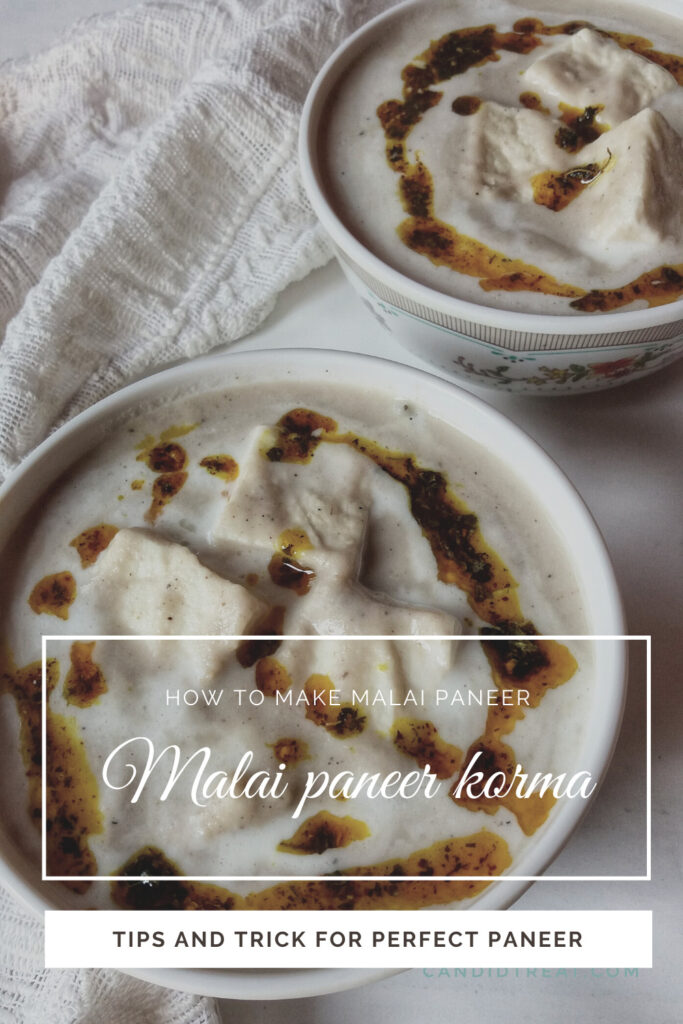 What is Malai paneer korma?
Malai paneer Korma is a paneer dish in white gravy. It is creamy and silky in texture because of its gravy which is made with cashew nuts, milk, yogurt, and cream. Paneer cubes are simmered in an onion, cashew nut gravy. It is very popular in restaurants and also in wedding meals. It goes well with Indian flatbread (roti), Naan, or with Jeera Rice Recipe. It looks so royal that you can make this dish for any party or special occasion.
You can check these paneer recipe too…
Ingridents used in Malai korma
Paneer: Use always fresh paneer for any recipe. It gives a soft texture. Fresh Homemade Paneer is better than the market one. It is very easy to make at home.
Whole spices: Here we are using green cardamom, black cardamom, cloves, black pepper. Not use a lot of spices. We just want a hint of spice flavor in this gravy.
Yogurt : Use fresh yogurt for this recipe. It gives the smooth texture to the gravy.
Ghee: It gives the aroma and flavor to the gravy. You can use butter but in Indian cuisine, we love to use clarified butter or Ghee.
Cashew nut: Don't forget to use cashew because it provides the creamy and nutty flavor and texture to the gravy.
Tempering: We are using some Ghee, turmeric powder, red chili powder, and some dry fenugreek leaves as tempering.
INGREDIENTS
250-gram paneer
5 tablespoon ghee
4 to 5 onions
8 clove garlic
3 small piece of ginger
4 green chilies
3 green cardamom
1 black cardamom
6 black pepper
3 Cloves
1 tablespoon salt
1/4 tablespoon sugar
6 to 7 cashew nuts
4 tablespoon yogurt
50 ml of milk
5 tablespoon fresh cream
A pinch of garam masala powder
A pinch of cardamom powder
For tempering
2 tablespoon ghee
A pinch of turmeric powder
a pinch of red chili powder
Some dry fenugreek leaves
| | |
| --- | --- |
| Total time | 55 minutes |
| Servings | 4 |
Preparation for making Malai paneer korma
Take a saucepan to add 2 cups of water. Then chop some onions, garlic, ginger, 2 green chilies. Add them into water. Turn on the heat on medium flame.
Then add all whole spices.
Add cashews into it cover the lead and cook for 25 to 30 minutes on low flame.
After that when onions are slightly mushy then remove it from water and let it cool completely.
Make a fine puree of this. First, remove the black cardamom and green chilies then Add yogurt and grind it.
Make a smooth puree of the mixture. You can add a bit of water in this stage to mix well.
Now, take a pan add ghee and heat it on low flame.
Immediately add gravy into it and cook it for 10 minutes on low flame. It will pop up from the pan so maintain the distance from the pan.
Add salt. You can adjust salt as per your taste.
Add sugar.
Then add 2 green chilies and a pinch of cardamom powder.
Add garam masala powder. Cook another 5 minutes.
Then add milk and cream for smooth, creamy texture.
Add paneer cubes in gravy and cook for more 10 to 15 minutes. After that turn off the heat. Gravy has to be thick but not too much. You can adjust the consistency by adding more milk.
Tempering for korma
Take a pan add ghee and heat it for 30 seconds.
Add turmeric powder. And chilli powder.
Add dry fenugreek leaves. Turn off the heat. Do not burn it cook on low flame. Tempering is ready.
When you pour the gravy in serving plates then pour this tempering over it to adjust the white contrast and enhance the flavor. Serve it with naan, parathas or with rice.