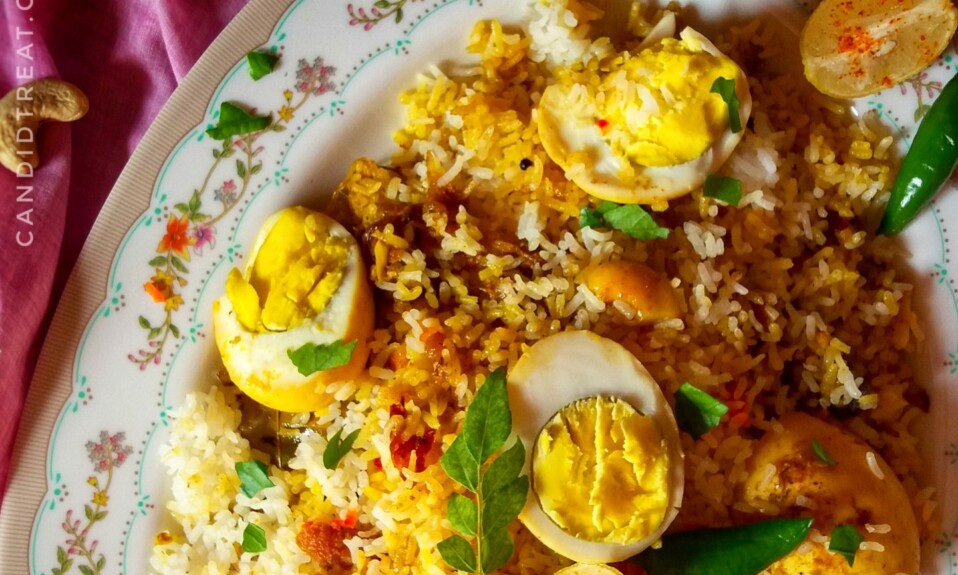 Egg biryani recipe with step by step photos and detailed information. In this egg biryani, rice is the basic ingredient because biryani totally depends on rice quality. Choose the best quality basmati rice. Rice is one of the most popular staple food in Indian cuisine which is used on daily basis. And it is so versatile that we can make thousands of dishes with them. Egg biryani is inspired by Mughlai cuisine where rice is cooked in layers with gravy. You can add chicken, eggs, paneer in layers. If you are a novice then this is the perfect biryani recipe for you. Because this recipe is instant pot egg biryani. You can make this at home easily.
Basmati rice is the key ingredient of biryani, it gives a nice fragrance to the biryani, and the texture of long and fluffy basmati rice goes well. It enhances the visual appeal of the biryani. Basmati rice is cooked with some spices, I like to add some ginger, garlic paste, cumin seeds, bay leaf in boiling water. I learn the biryani recipe which is a treasure of one of my friend's mom. The first time when I ate that biryani, I fall in love with that because it was so tempting and easy to make that after that time I always prefer the same recipe for my every biryani recipe. It turns delicious all the time. So I would like to thanks her for sharing her experience with me. I feel blessed that she is part of my life. If you like to eat more veggies, feel free to use them in this biryani. Now it's time to note down the recipe for this delicious egg biryani. Scroll down to read.
Ingredients and substitutes
Choose the best rice: Use the best quality basmati rice. I always prefer to use at least 1 year aged basmati rice because its grains are much fluffier and longer. Always use a heavy bottom pan or pressure cooker to assemble the layers of biryani. Do not stir the rice much while cooking unless it will break the grains of rice. Long grain basmati rice gives an attractive visual appeal to the biryani.
Spices: Here, we use some whole spices and some powdered spices. The balance of both spices gives the aroma or flavor to egg biryani. The most important spices are green cardamom, black cardamom, cinnamon stick, cloves, black pepper, red chilies, dry fenugreek leaves, garam masala powder, coriander powder, cumin powder, turmeric powder, and of course salt and a little bit sugar. Use some fresh curd, it gives a rich texture.
Ingredients
6 eggs
3 cup basmati rice
3 onions
3 to 4 tablespoon ginger, garlic paste
2 tomatoes
1 cup curd
3 green chilies
20 ml of mustard oil
2 tablespoon salt
1 tablespoon sugar
1 tablespoon turmeric powder
A pinch of orange food color(optional)
1 teaspoon kewra essence(optional)
Some fresh coriander leaves for garnishing
3 to 4 tablespoon clarified butter
Whole spices
3 green cardamom
2 black cardamom
2 cinnamon stick
1 bay leaf
1 teaspoon cumin seeds
5 black pepper
5 to 6 cloves
1-star anise
3 to 4 red chilies
2 teaspoon dry fenugreek leaves
Powdered spices
1 tablespoon cumin powder
1 tablespoon coriander powder
1 tablespoon garam masala powder
1 tablespoon red chili powder
Preparation for egg biryani
Take some rice. And wash them properly 2 to 3 times. You can adjust the quantity of rice.
Soak it for 25 to 30 minutes. Meanwhile, chop some onions, make some ginger garlic paste. Chop the tomatoes.
Take a saucepan, add water. Gently place the eggs into the water and boil them on a medium flame for about 10 to 12 minutes.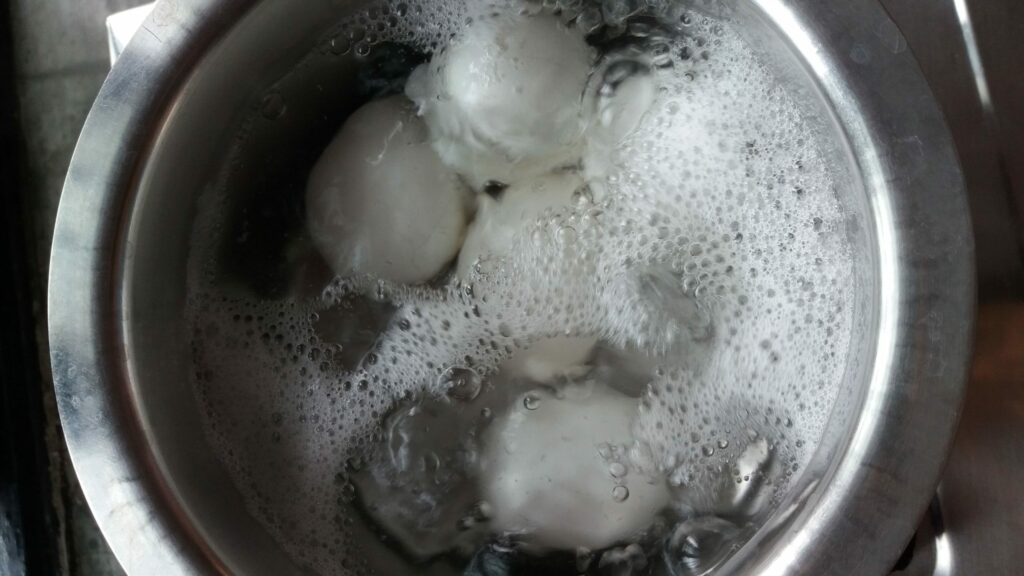 After that remove it from boiling water and leave it to cools down then peel the skin of eggs and shallow fry them until golden in color. Set aside.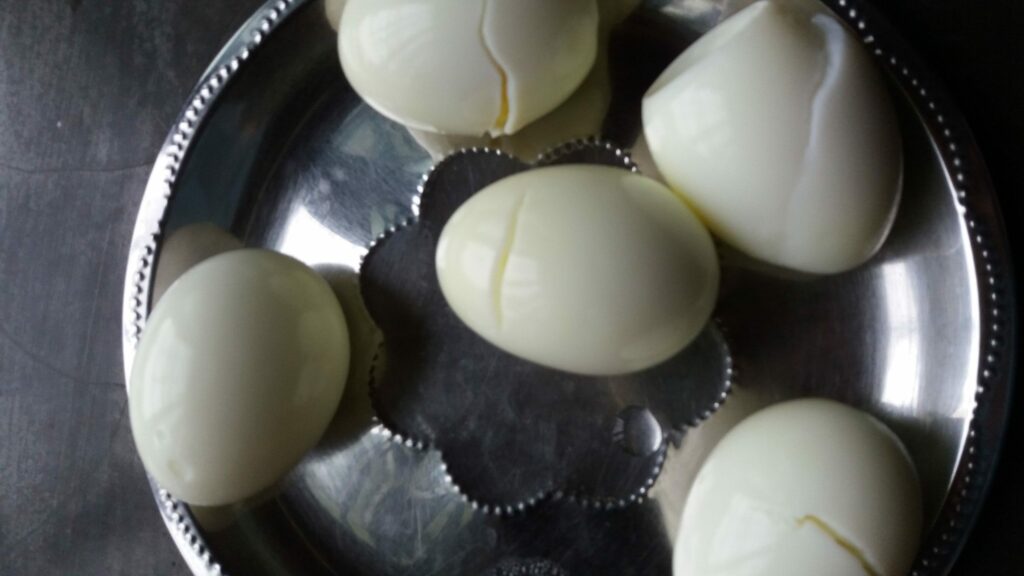 Take a pressure cooker, add some oil heat it for 30 seconds on a high flame. Add the whole spices and sauté for 30 seconds on low flame.
Then add onions, ginger garlic paste and chillies. Cook until onions turns golden.
How to cook rice?
Meanwhile, heat some water for rice. Add salt into it and some ginger garlic paste.
When water starts boiling, add rice into it and cook until rice is cooked half. Time depends on rice quantity. So it may differ, keep your eye on rice.
When the rice is cooked half, strain all the water from the rice and cover it with any lead. Start this step when your gravy is half cooked.
Now, Add salt and turmeric. Mix well.
Add all powdered spices. Cook for 5 minutes on medium flame.
Add tomatoes.
Add sugar.
Whisk the curd well then add it to the onion mixture. Stir while mixing curd. Cook for more than 4 to 5 minutes.
Cook the gravy for 4 to 5 minutes on low flame.
Add eggs and mix well. I do not like fried eggs, so I leave my eggs as it is. You can fry them.
Add chopped cashews and raisins.
Now add half cooked rice. Add some food color or some clarified butter.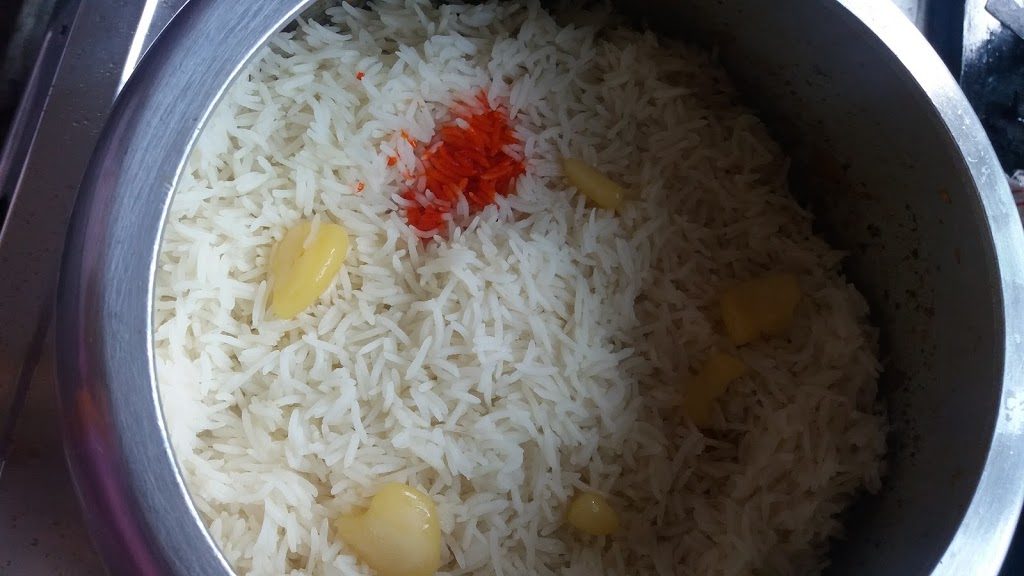 Close the lead of the pressure cooker and cook for 5 minutes on a low flame. After that turn off the heat and leave it for 10 minutes before serving.
Remove the lead and mix with gentle hands. Garnish with some coriander leaves and serve it with papad or raita.
You can also store this biryani for 2 to 3 days in the refrigerator. store this in an airtight container. I love this egg biryani because of its simplicity. I often made this whenever I want something special for my lunch or dinner.
some other recipes from the blog…