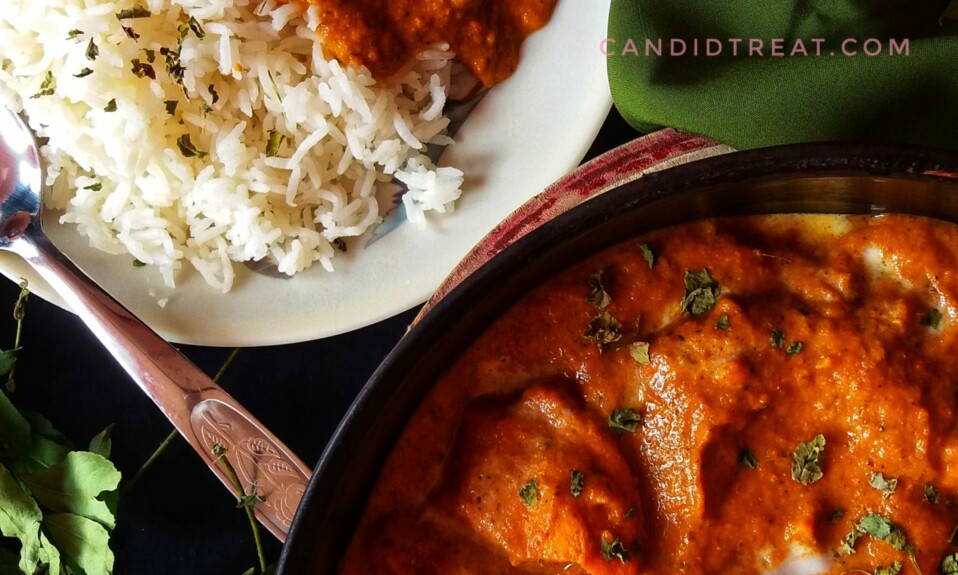 Today's recipe is a unique combination of sweet and savory flavors. And the dish is butter chicken. Butter chicken is the most popular restaurant-style dish which is mostly served with naan, with parathas. Here, I'll show you the process of butter chicken with step by step photos. Make this butter chicken easily at home. And pair this with pulao, Aloo Dum Biryani, Naan, parathas, kulcha, etc.
There are many different ways of making butter chicken. In a restaurant, chicken is cooked in tandoor, but at home, it is not possible for everyone. So try this easy and delicious butter chicken recipe and make it at home. These type of dishes is also very popular at the wedding feast, or in any type of celebration.
What is butter chicken?
Medium chunks of boneless chicken are marinated in yogurt or with some spices and then cooked on tandoor or on the stove. After that, the cooked chicken pieces are simmered in a buttery, rich tomato, onion based gravy. The butter word stands for the rich and creamy gravy just like butter. In this recipe, we use a lot of butter. Butter chicken is also known as Murgh Makhani.
What I search about this recipe is very interesting and truly I can say that mistake is not always giving the bad result. Because this recipe is also a result of a flavorful mistake.  So the history of this recipe is that butter chicken was developed by the chef Kundan Lal Gujral who was the owner of Moti Mahal restaurant which is placed in Delhi. And this dish would become their best seller and adopted by restaurants across the world.
Ingredients & Substitutes
Chicken: use medium boneless chunks of chicken. If possible always use fresh chicken, because fresh always give the best flavor. But you can also use frozen chicken if a fresh one is not available.
Marination: Marination of chicken is the most important step. Do not skip this step because marination helps in tenderizing the chickens. For marination, we need some, yogurt, ginger paste, salt, red chili powder, sugar, dry fenugreek leaves.
Gravy: gravy of butter chicken is made with onions, tomatoes, cashews, ginger, and garlic, and with some spices. The most important spices for this gravy are whole spices like cinnamon sticks, green cardamom, black cardamom, cloves, etc.
Butter: And yes, of course, butter is the soul of this dish. It gives richness and velvety texture.
some other dinner or lunch recipes..
Ingredients
For marenation of chicken
Half kg boneless chicken
4 tablespoon curd
1 tablespoon ginger
1 tablespoon salt
1 teaspoon powdered sugar
1 tablespoon turmeric powder
1 tablespoon red chili power
1 tablespoon dry fenugreek leaves
Butter for cooking approx ( 40 grams)
For gravy of butter chicken
4 onions
4 tomatoes
10 to 12 cashews
7 garlic chopped
2 to 3 piece of ginger
Whole spices( 3 cinnamon stick, 3 green cardamoms, 1 black cardamom, 5 cloves, 1 teaspoon cumin, 1 bay leaf)
½ tablespoon salt
½ tablespoon turmeric powder
4 green chili
1 tablespoon sugar
2 teaspoon powdered spices( coriander powder, cumin powder, garam masala powder, red chili powder)
2 to 3 tablespoon cream
10 ml of water
Coriander leaves for garnishing
Orange Food color ( optional)
STEP BY STEP METHOD
How to make gravy for butter chicken?
Take a bowl and wash the chicken pieces properly. Then drain the access water.
Add curd into it. Do not use sour curd.
Add ginger paste.
Add salt, sugar, turmeric powder, red chili powder, dry fenugreek leaves. And mix well. Leave it for 12 hours in the refrigerator. Because it helps in tenderizing the chicken.
After marination, you get a tender and succulent piece of chicken. But if you are in hurry then leave it at least 30 minutes. It also works.
How to make gravy for butter chicken?
Chop the onions, ginger, garlic and tomatoes roughly.
Then take a pan or add 3 to 4 tablespoon butter. Heat it for 30 seconds on high flame.
Then add all whole spices ( cinnamon stick, green cardamom, black cardamom, cloves, bay leaf, cumin). First, crush them a bit then add. Sauté for 30 seconds on low flame. Do not burn them. Then add cashews.
After that add chopped onions, garlic, ginger, green chilies and cook for 3 to 4 minutes on medium flame.
Add salt and turmeric powder into it and mix well. After that add tomatoes.
And cook for 5 minutes then turn off the heat and allow it to cool down before grinding.
Meanwhile in the same pan add more butter and cook the chicken in batches.
It takes 4 minutes from each sides.
Cook all the pieces of chicken.
Now puree the gravy into fine and smooth paste with the help of little amount of water.
Use the same pan and add more butter and pour the puree into it and cook on a medium flame for about 5 minutes.
Then add all powdered spices. And also add sugar to balance the flavor of the gravy.
Adjust the salt as per your taste. Now you can also add food color if you want your gravy, like restaurant-style otherwise leave it. The color of your gravy may differ because of the tomatoes and red chili powder. Use Kashmiri red chili powder for color.
Then pour the cooked chickens in gravy. Cook for 4 minutes on low flame.
Add some dry fenugreek leaves. Mix well. After that turn off the heat and garnish with some fresh coriander leaves and some fresh cream.
Butter chicken is ready to serve. Pair up with some naan, parathas, or biryani. You can also store this in the fridge for 2 days. Or you can also make the gravy before and store it in the fridge.