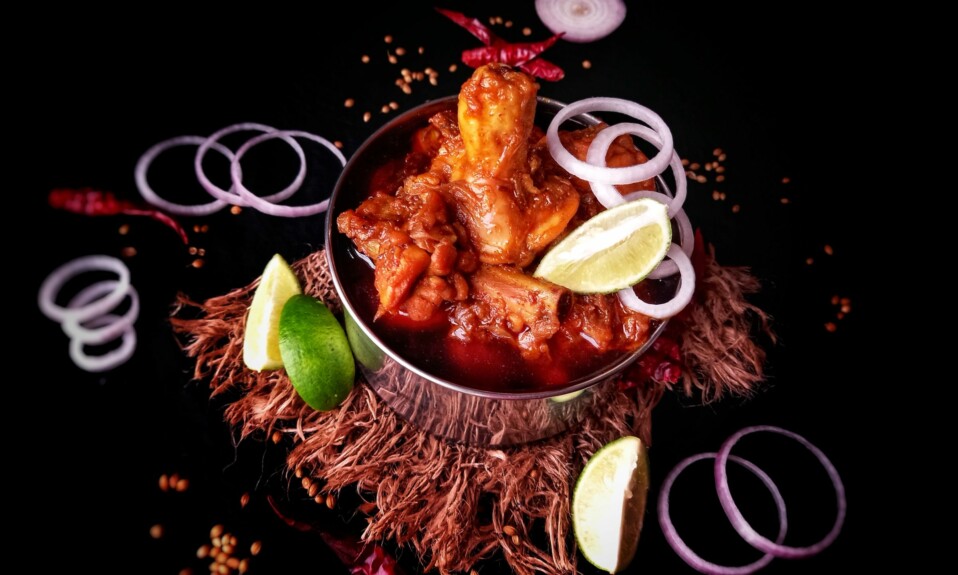 Chicken curry recipe | Chicken curry in pressure cooker | Learn how to make this spicy and delicious chicken curry with step-by-step photos and video. This recipe is for beginners because it is a very simple one-pot chicken curry that even a novice or a bachelor can cook this curry without any hassle. You can also say this, Slow cook chicken Stew. Stew is basically known for the gravy. In this, we cook some solid food with liquid. Serve this delicious and spicy chicken curry with Naan, Jeera Rice Recipe, or Roti.
What is chicken curry?
Curry is the most popular and basic dish made across all over the Indian subcontinent. Veg or non-veg both types of curries are famous in Indian cuisine. This chicken curry is the most authentic curry and very easy to make. For this curry, we need some basic ingredients like onions, ginger, garlic, and some whole spices. Here we are using chicken masala powder.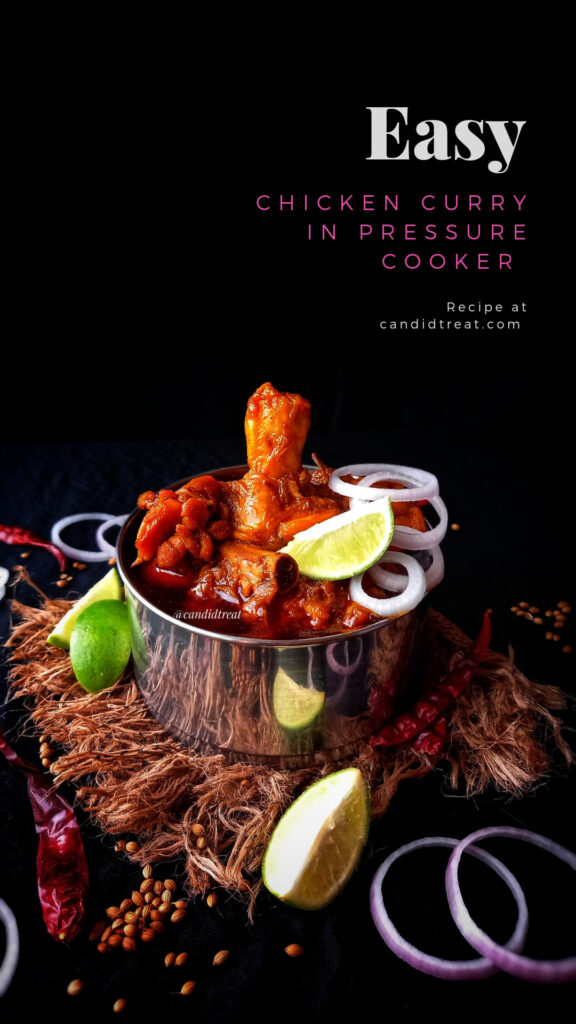 My mom always cooks this curry on weekends and she serves this spicy chicken curry with some rice or roti. I learned this curry from my mom. Follow the steps and I am sure you will cook an awesome curry. You can also use any deep pan for making this.
Traditional and authentic Indian curry
I am from India and here we are not using any fancy ingredients for our curry. For the best chicken or any type of curry, you need only some fresh Chicken, onions, garlic and ginger paste, some whole spices. You can add chicken masala from any brand. We do not need canned tomatoes, curry powder, any type of stock, or broth for our curry and that's why it is so simple to make.
Chicken Curry Recipe video
Some other curry recipes…..
Whole spices for chicken curry
Here we are using some freshly ground whole spice.
Green cardamom- It gives the sweet flavor and aroma to the curry.
Black cardamom- It has a more strong aroma and gives a strong flavor.
Cloves- It also gives a nice punch of flavor.
Cinnamon sticks- We are using a lot of cinnamon in our curries. Use a good amount of cinnamon.
Black peppers- It gives the spicy flavor.
Red chilies- you can use them as per your taste.
Cumin and bay leaf- It also has nice aromatic flavor. When all these combine together it completes our curry. You can also use star Annis and shah jeera.
INGREDIENTS
1 kg of chicken
1 and a half tablespoon salt
1/2 tablespoon turmeric powder
2 tablespoon ginger and garlic paste/crushed
Whole spices ( 6 cloves, 3 Green cardamom, 2 black cardamoms, 4 cinnamon sticks, 6 black peppers)
1 tbsp cumin seeds
2 to 3 bay leaves
5 to 6 dry red chilies
2 tablespoon red chili powder
2 tablespoon chicken masala powder
7 to 8 onions (medium size)
Mustered oil 7 to 8 tbsp(150 to 160 ml)(you can adjust them as per your health)
Water 60 to 100 ml(as required)
| | |
| --- | --- |
| Cooking time | 1 hour |
| Servings | 7 to 8 bowl |
Preparation for curry
First, marinate the chicken Take the chicken and wash them with water. Use bone-in chicken because it gives more flavor to the gravy. And the actual flavor comes from the bones.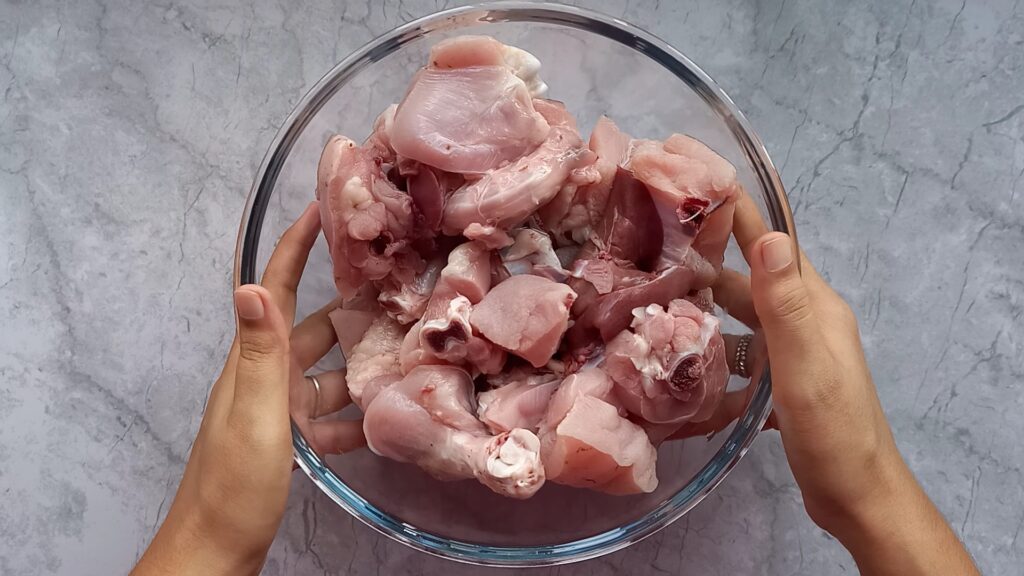 Add all whole spices. First, crush them a little bit then add.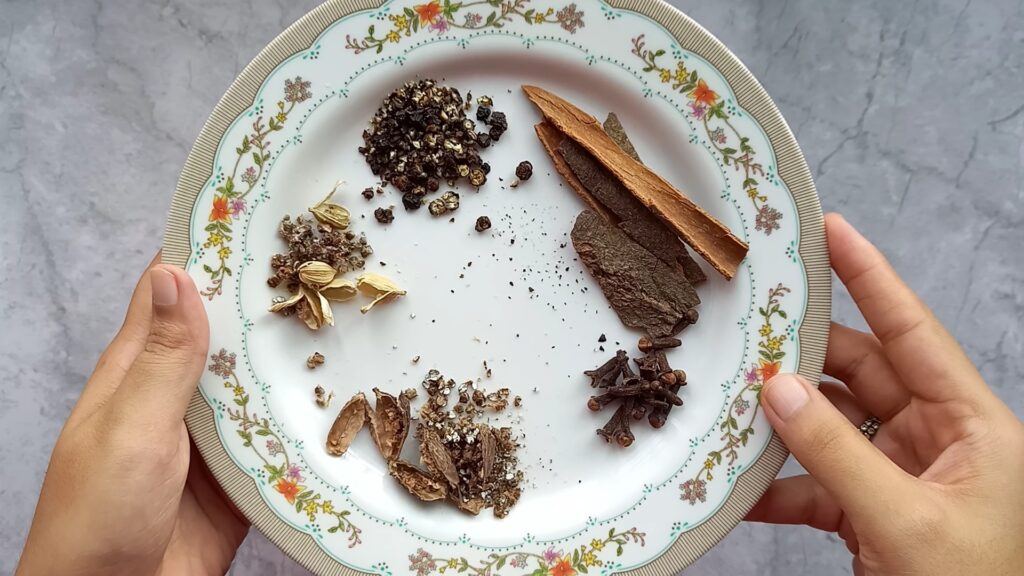 Add 1 and a half tablespoons salt to the chicken. Add turmeric powder.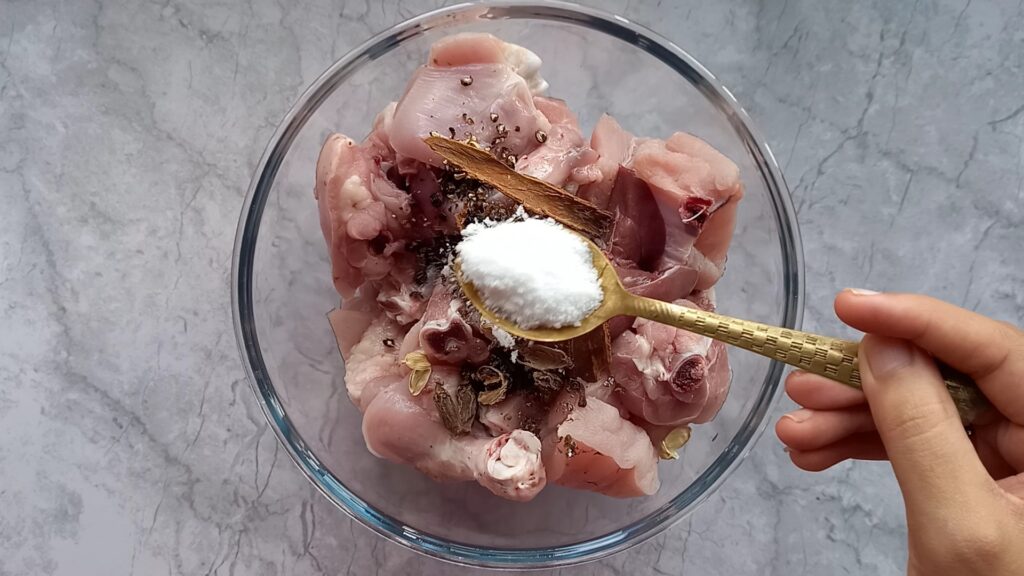 Add red chili powder as per your taste.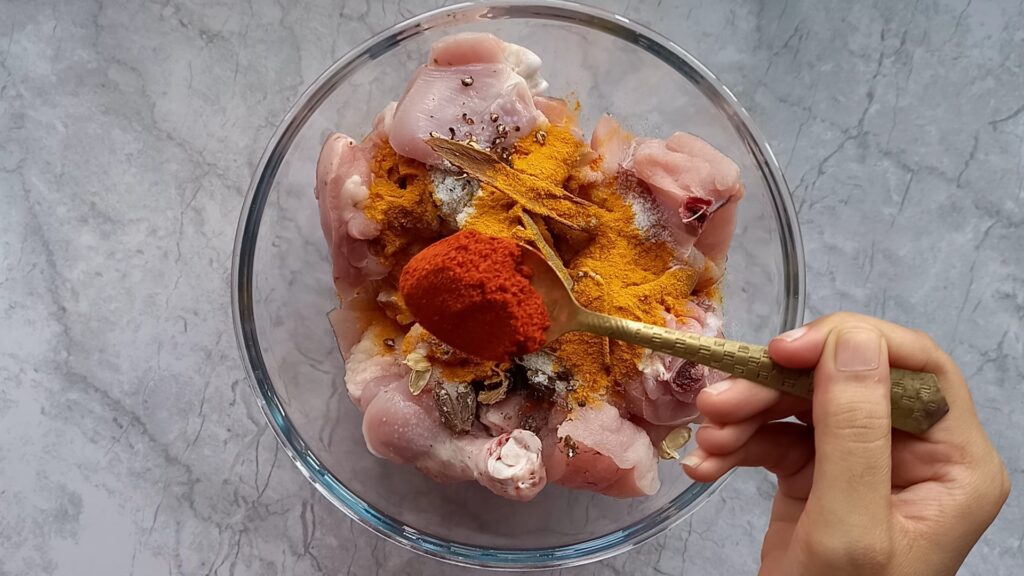 Mix them well and leave them for 15 to 20 minutes.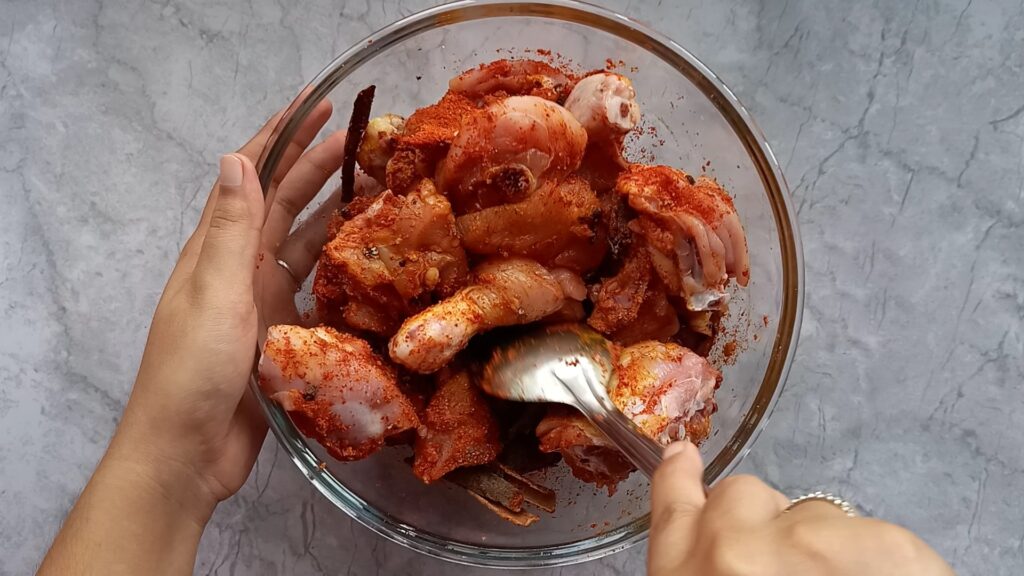 Now, peel the onions and chop them into fine slices. And crush the ginger and garlic. If you want more Gravy in your chicken, take 3 to 4 more onions.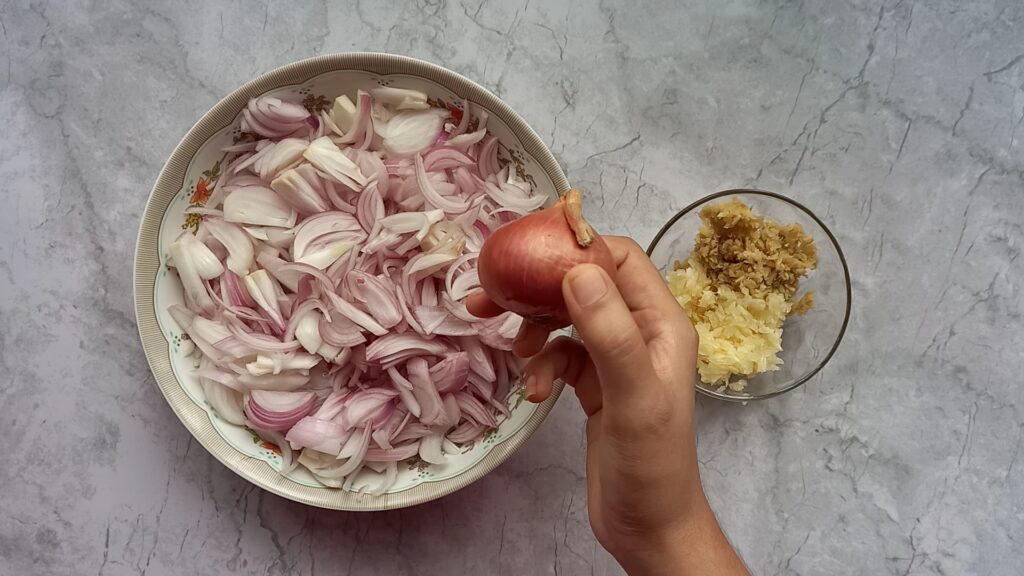 Take a pan or pressure cooker. You can make this curry in a pan or in a pressure cooker. Add oil and heat it for 2 to 3 minutes on high flame.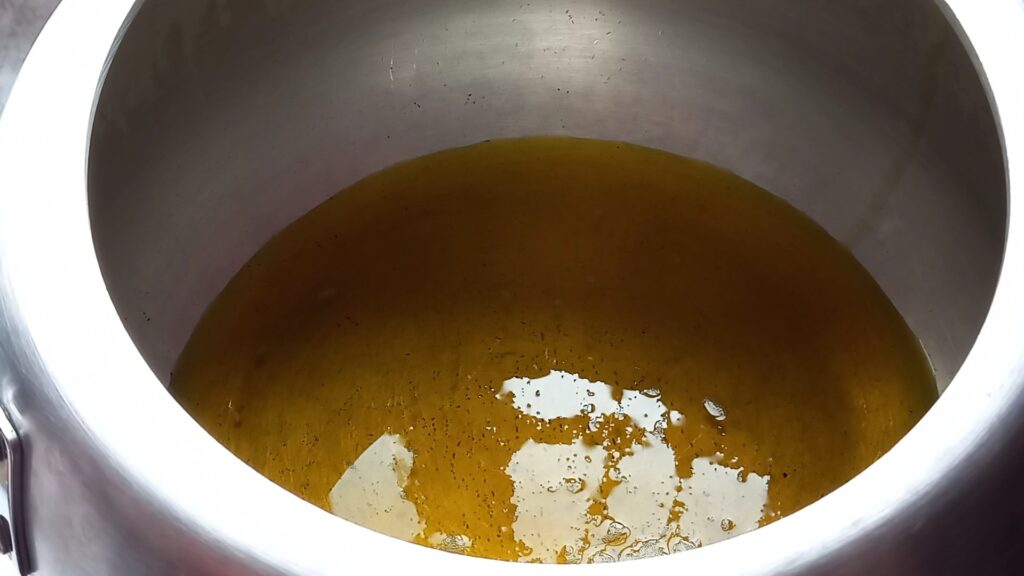 Turn the flame on low then Add bay leaf, cumin seeds, and dry red chilies.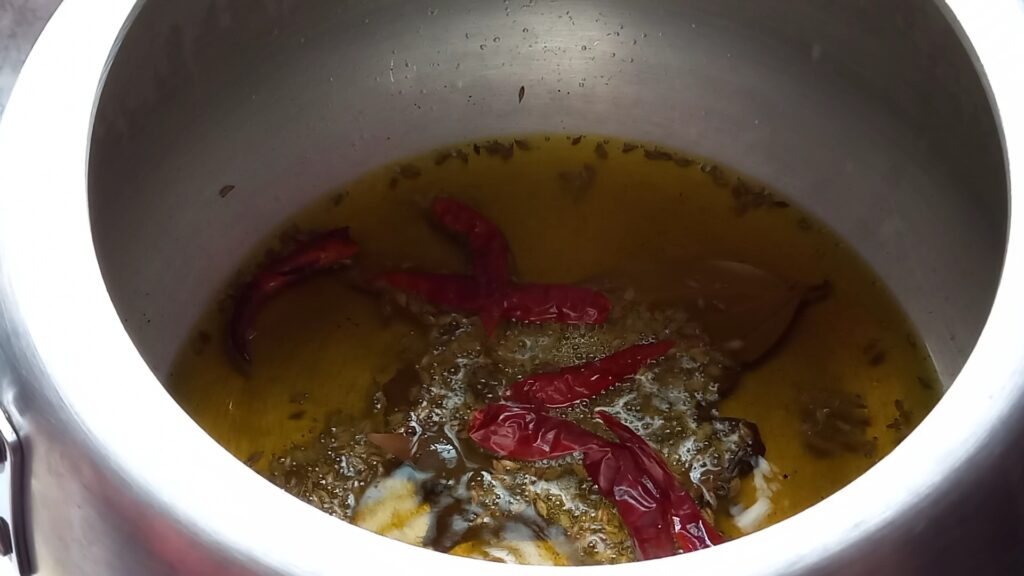 Then add onions and 2 to 3 tablespoons ginger garlic paste/crushed.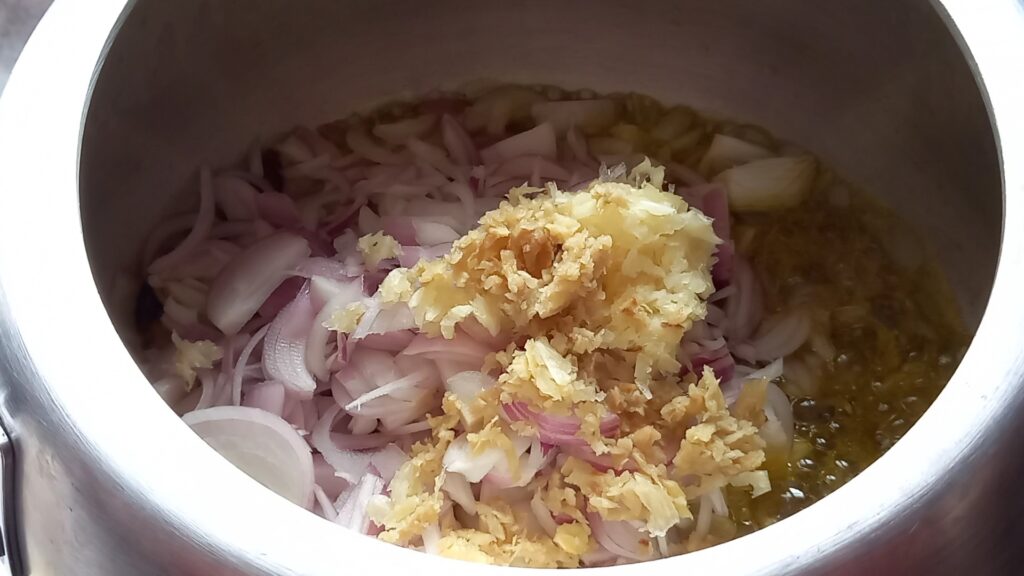 Cook them on high flame for 10 to 14 minutes. Keep stirring the onions.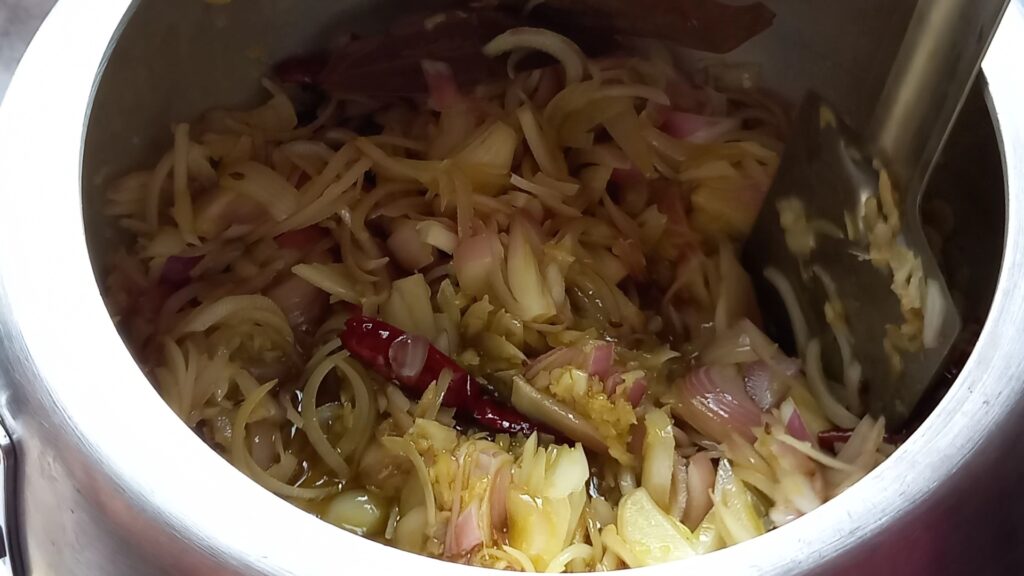 When onions turn light golden in color, turn the flame on low.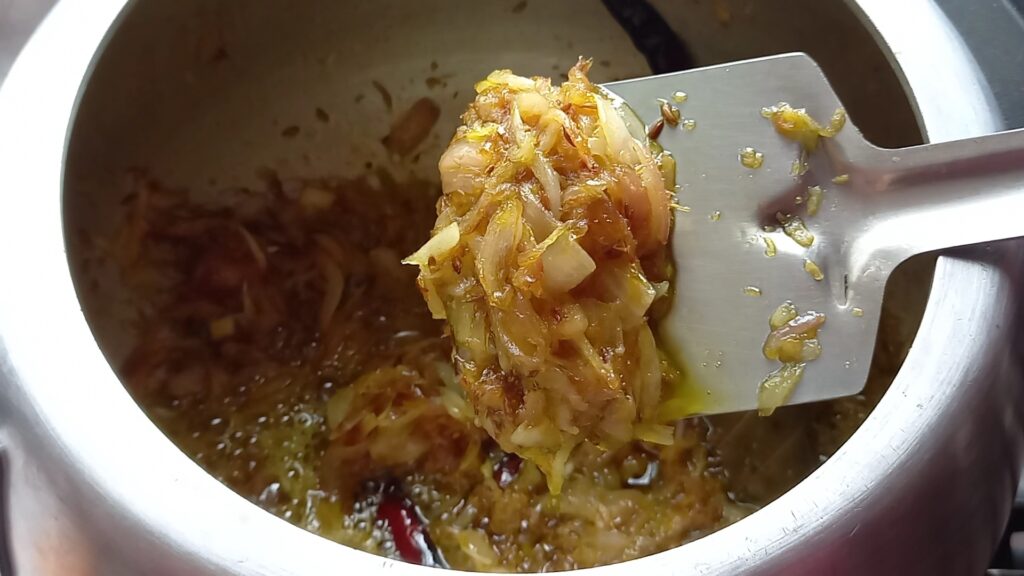 After that add marinated chicken and cook for 10 to 12 minutes on high flame.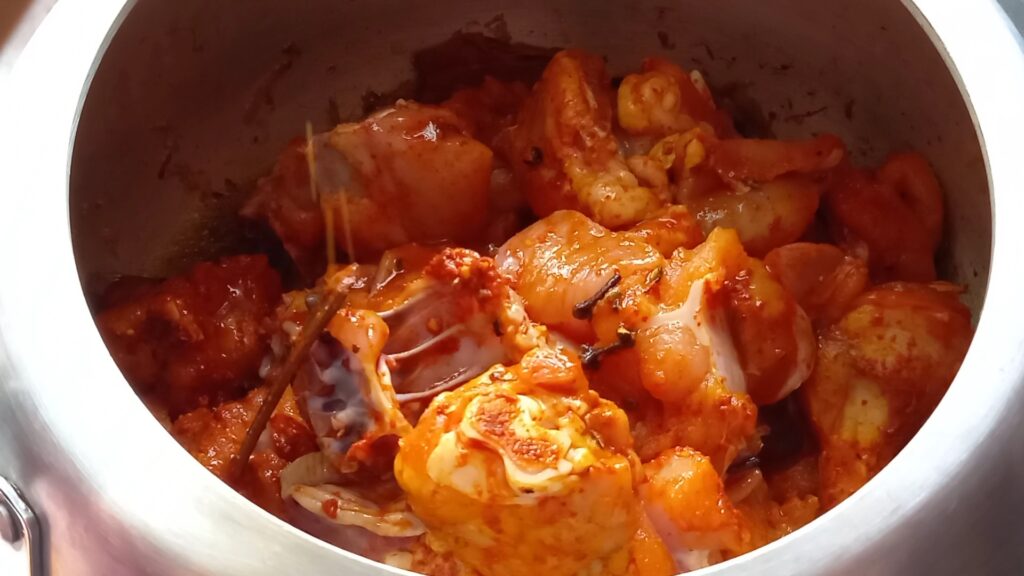 Then cover it and cook it for 10 to 15 minutes on medium flame. Occasionally stir it. When chicken releases its moisture then turn the flame on high.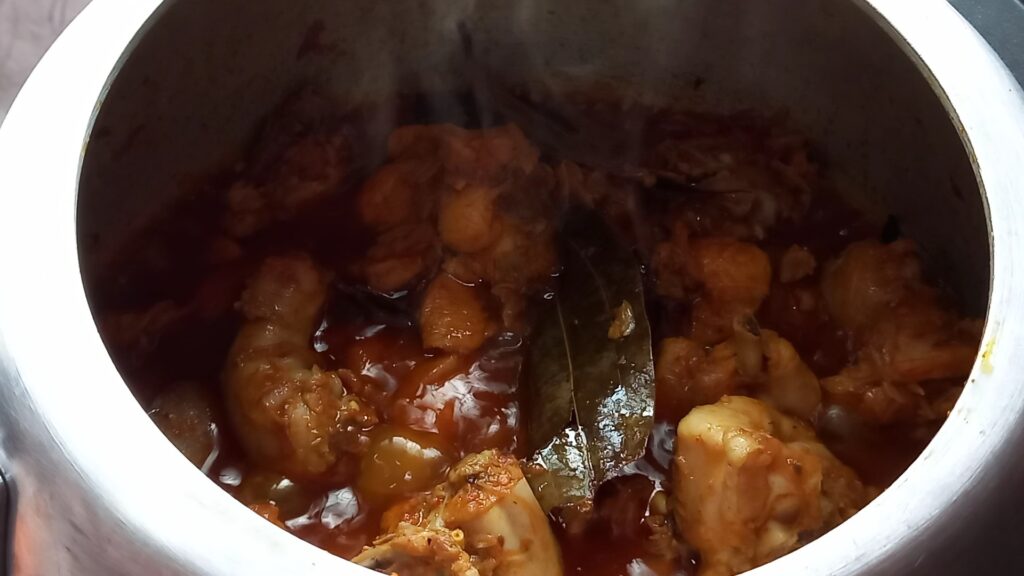 Add chicken masala powder. Or, if do not want to use chicken masala powder then skip this. In place of chicken masala powder, you can use 1 tablespoon of coriander, cumin, or garam masala powder. But do not use a lot of powdered masala.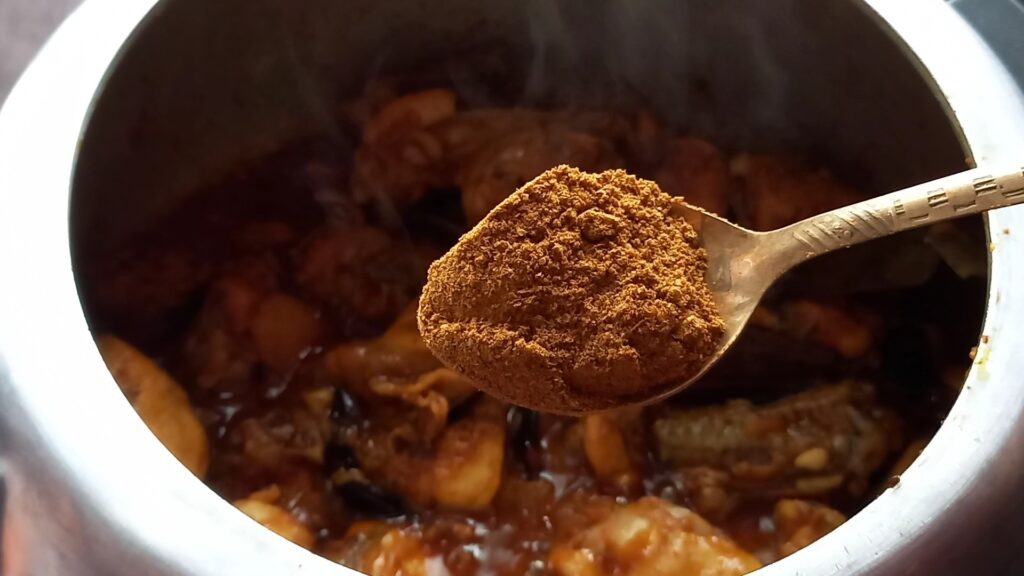 Cook for more than 12 minutes on high flame.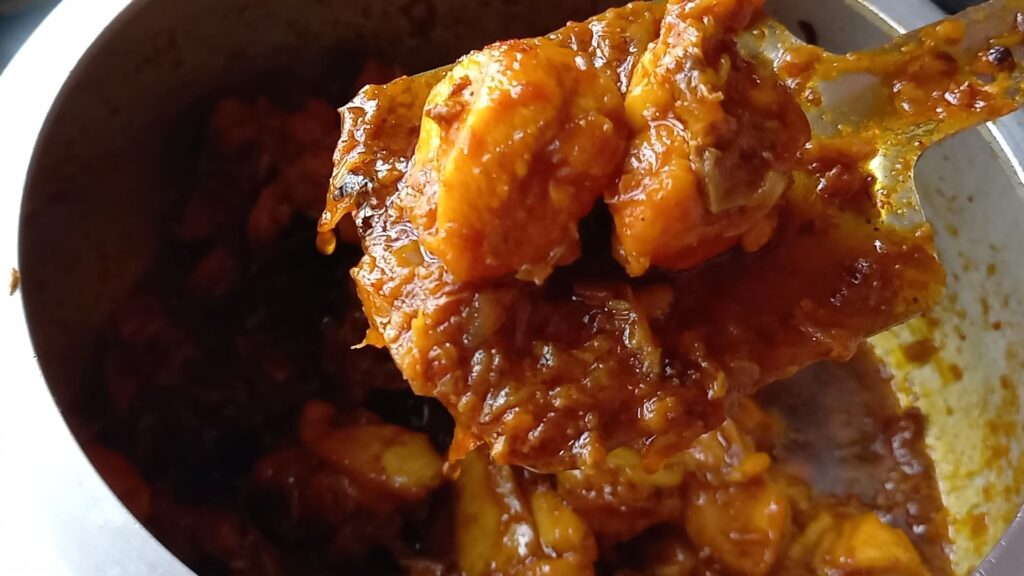 Then add water. You can adjust the water as per your preference. If you like dry chicken, add less water.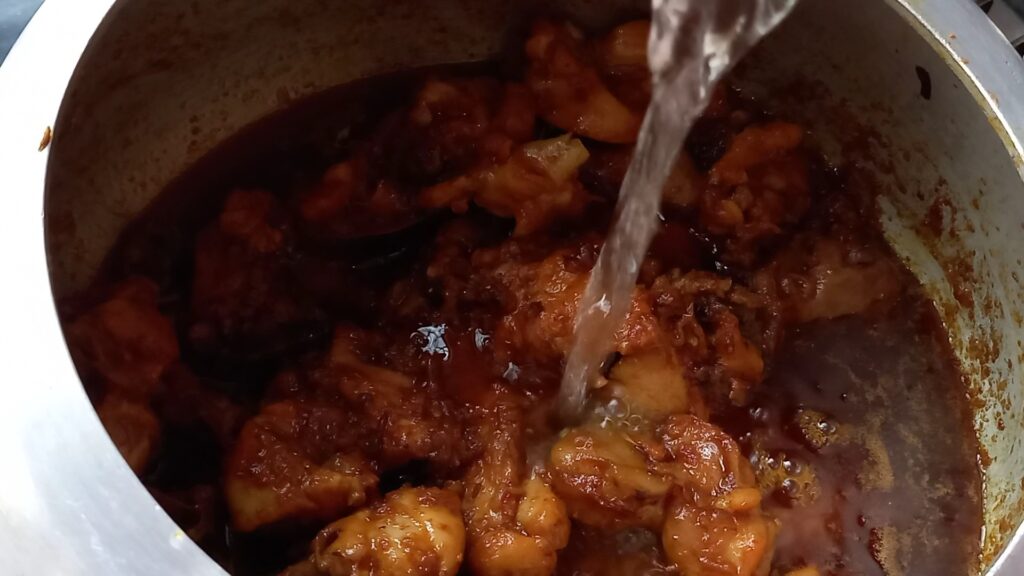 Now, close the lead of the pressure cooker. Cook it for 1 whistle on high flame. Then turn off the flame and leave it to release the pressure. If you are cooking the chicken in a pan. Cook it until it is completely cooked. you can cook them on a medium flame or on low.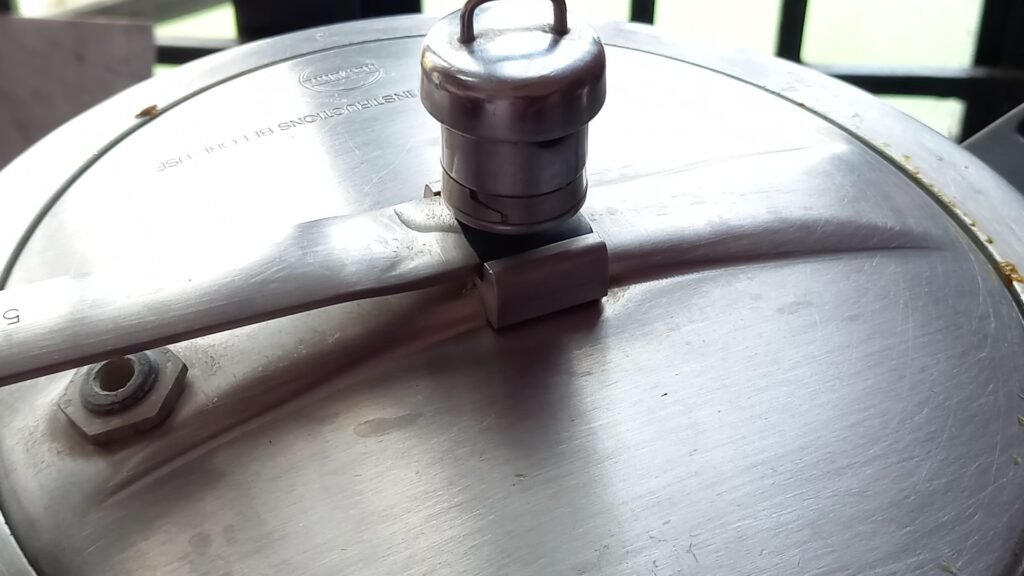 when pressure is released, open up the lead. It is ready to serve. You can see how oil comes on the surface. Serve this curry with rice or naan.