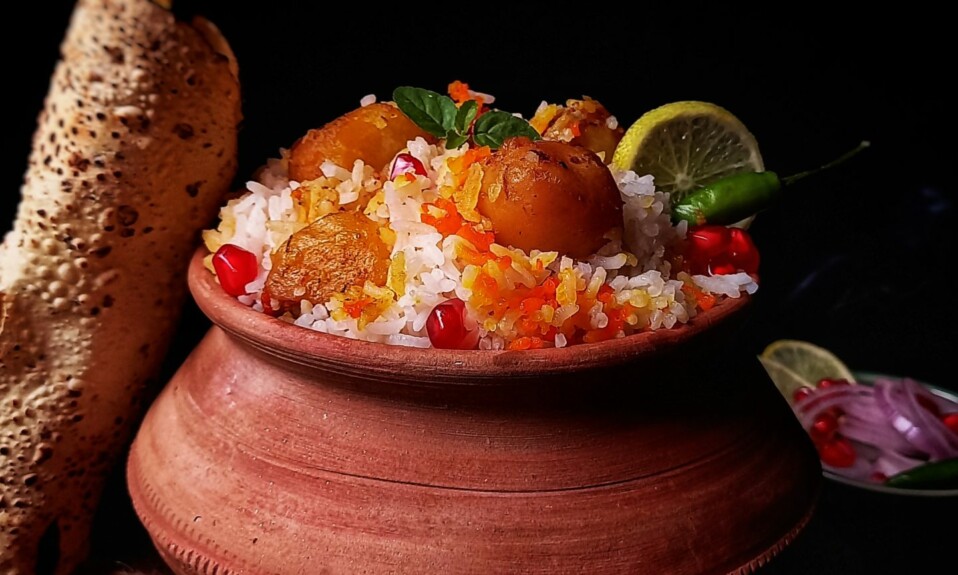 Aloo dum biryani | How to make biryani in pressure cooker | Potato biryani recipe | Learn how to make this easy and delicious aloo dum biryani in a pressure cooker with step by step photos and video. Biriyani is known for its aroma and rich flavor that comes in each bite. Its making process always differs based on different regions. Generally, biryani is made with either chicken or mutton and traditionally dum biryani was made in a clay pot or any clay vessel. But this one is a vegetarian or quick version of biryani. If you are looking for a vegetarian option, it is perfect for you. Making a traditional biriyani recipe uniquely with potatoes is sounds interesting. And it also tastes amazing. you can make this for lunch or dinner. You need only some basic ingredients for this recipe. So if you never try this recipe, just give it a try.
My Choice
A simple and easy way of making a traditional biryani just in one pot makes it easy to work and handle. But, yes no compromise with flavors. Whenever I want to have a special rice-based dish then biriyani is always my first choice. This is my first biriyani recipe and I will share more biriyani recipes with you from time to time. Whenever I don't have any choice for my lunch then always go to this recipe because their ingredients are available all the time in my kitchen and I think there is no kitchen where these ingredients are not having their space. And I love the flavor of this simple biryani. You can go for more…
Preferences
Always use long grain basmati rice because it looks beautiful and has a nice aromatic fragrance. But you can also use normal medium-grain rice as well. Use a little bit of sour curd for a nice tangy taste in biriyani. You can use any vegetables in this recipe (like carrots, beans, paneer, tofu) if you want. For a nice restaurant like fragrance use kewra essence. For fluffy rice, soak it for at least 30 minutes. You can serve this biryani with raitha, curd, and one glass of cock.
Biryani Recipe video
How To Make Biryani?
Firstly chop the onions in slices, crush the ginger and garlic. Take some green chili, and chop tomatoes. Peel potatoes and cut them in half. Then take a pressure cooker or a heavy bottom pan heat some oil and shallow fry the potatoes after that add cumin, cloves, cardamom, cinnamon, black cardamom, black pepper, bay leaf, and sauté for 30 seconds. Add ginger-garlic paste and onions and sauté it until onions turn golden brown then add tomatoes and salt, turmeric, all powdered spices and stir it for 10 minutes.
After that add curd and mix well and cook it for 10 to 15 minutes. While mixing curd, the flame has to be on low unless curd breaks out and we don't want broken curd. Or just take the cooker away from heat, mix curd then again put on the flame. Meanwhile, take another pan and boil water, add salt some oil, and add rice. Half cook the rice then layer it with potato gravy. Then add some ghee and coriander leaves. Close the lead and cook them for another 10 minutes on low flame. That's it. Turn off the heat and leave it for 15 minutes to take dum.
Ingredients
For Potato Gravy
8 medium sized potatoes
2 onions chopped
2 tbsp ginger garlic crushed
3 to 4 green chilies
1 tomato chopped
2 bay leaves
2 cinnamon sticks
4 to 5 cloves
2 green cardamom
2 black cardamom
6 to 7 black pepper
1 tablespoon cumin
2 tablespoon fenugreek leaves(dry Kasuri methi leaves)
2 tablespoon salt
1 tablespoon turmeric powder
1 tablespoon cumin powder
2 tablespoon coriander powder
1 tablespoon garam masala powder
2 tablespoon sugar
5 to 6 tbsp curd
2 to 3 tablespoon ghee
4 to 5 tablespoon mustard oil
2 tbsp red chili powder
60 to 70 ml water
3 cups (300 grams) basmati rice/normal rice
How to make aloo dum biryani?
First, Peel onions and chop them into thin slices, peel garlic and ginger and make a paste, I use crushed because it is an easy way. Chop tomatoes. Take all whole spices in a bowl. Now, Take a pressure cooker and heat some oil.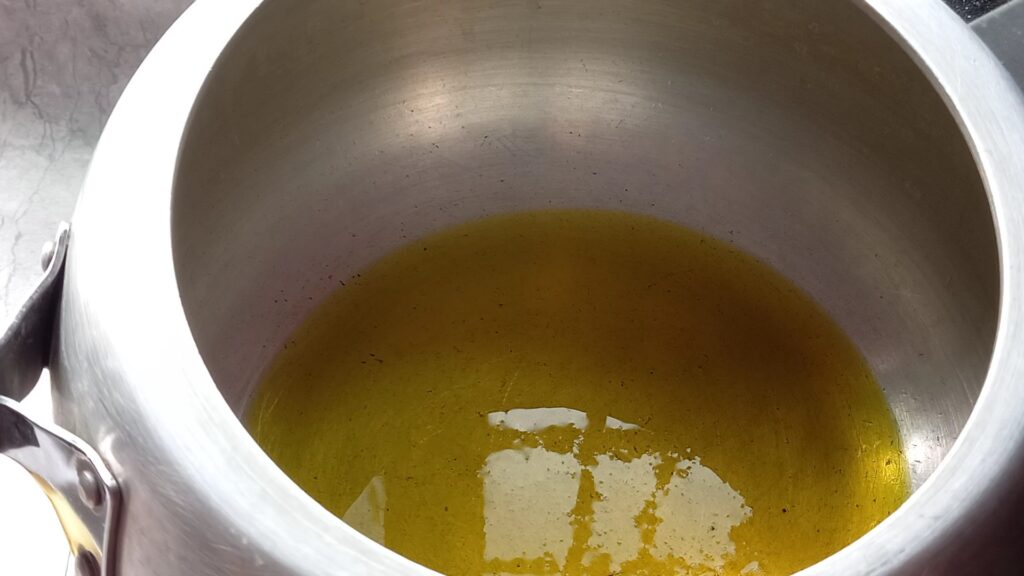 Then fry potatoes on high flame and when it is in golden color, turn the flame on medium.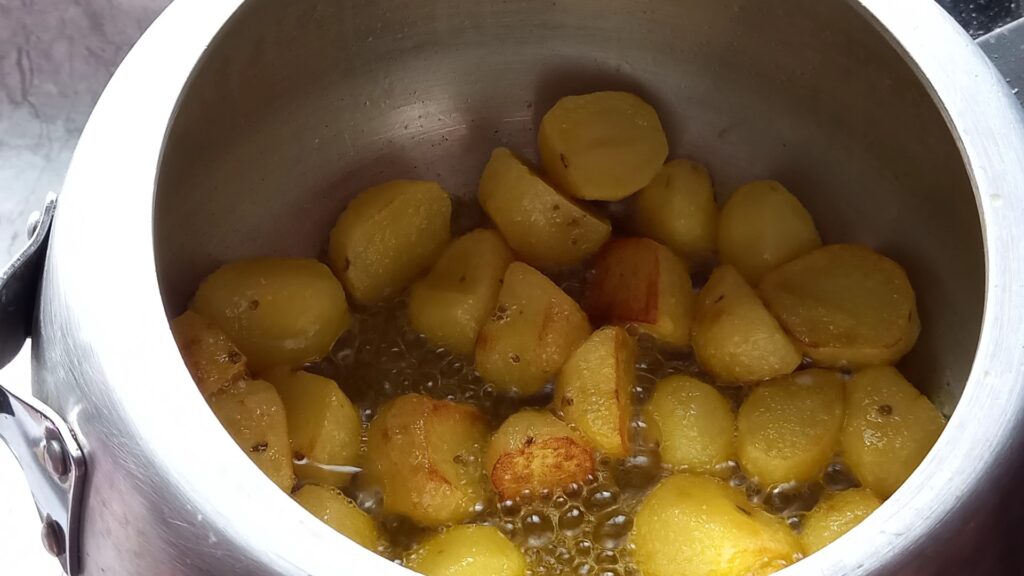 Add whole spices.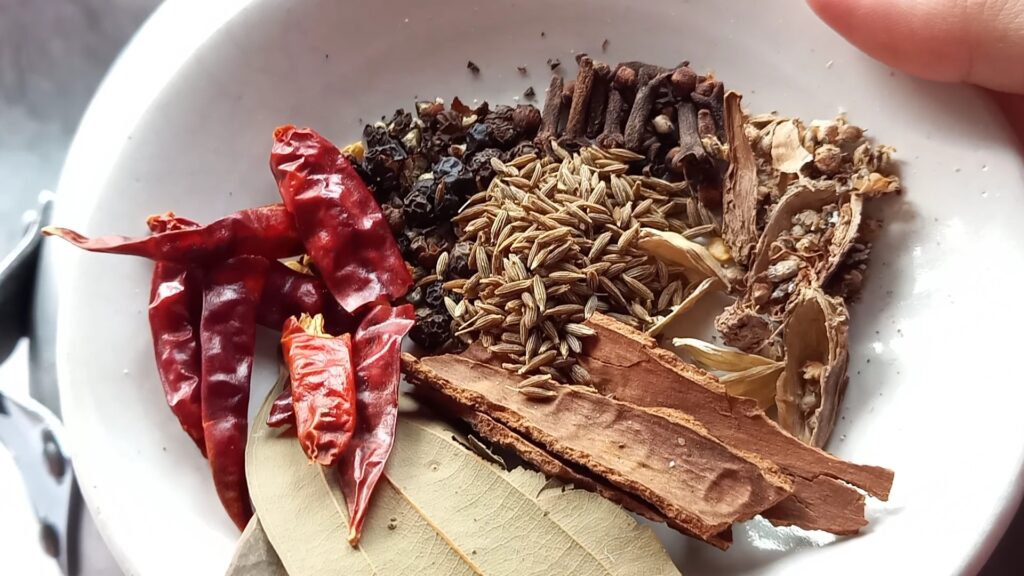 After 30 seconds, add garlic and ginger. Add onions, green chili.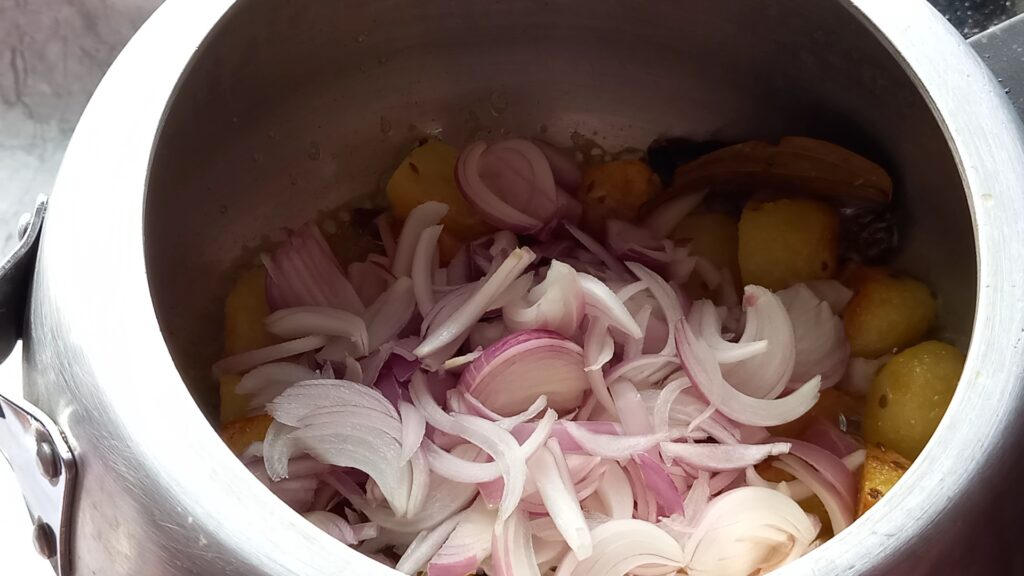 Add salt and turmeric powder and sauté it for 10 minutes on high flame. Or until the onions turn light golden in color.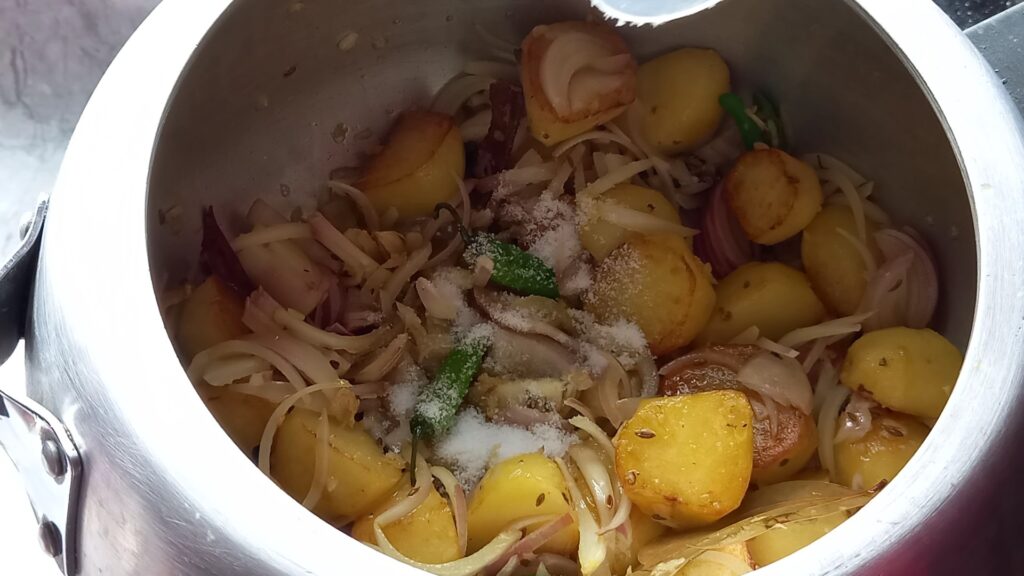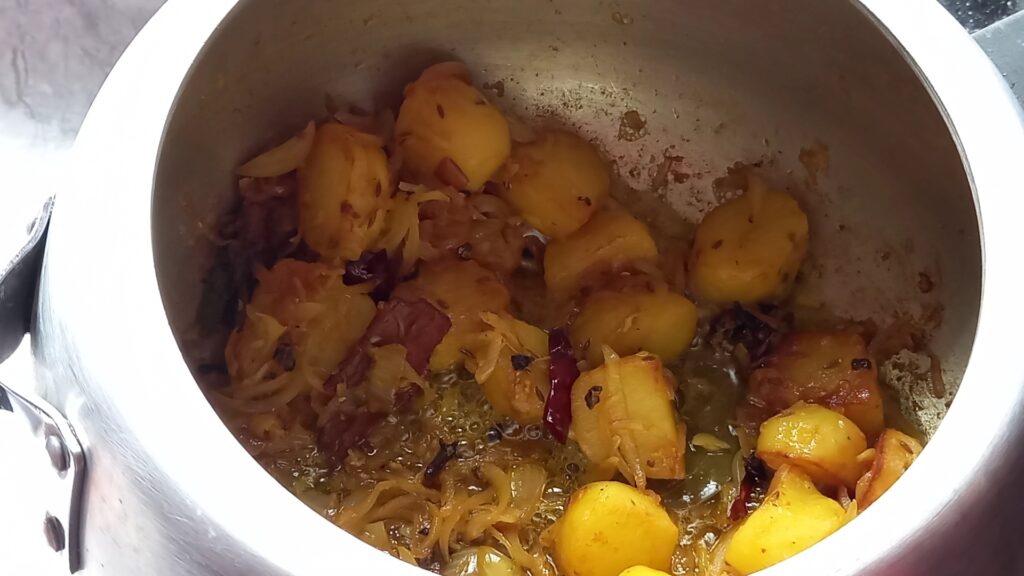 After that add tomatoes.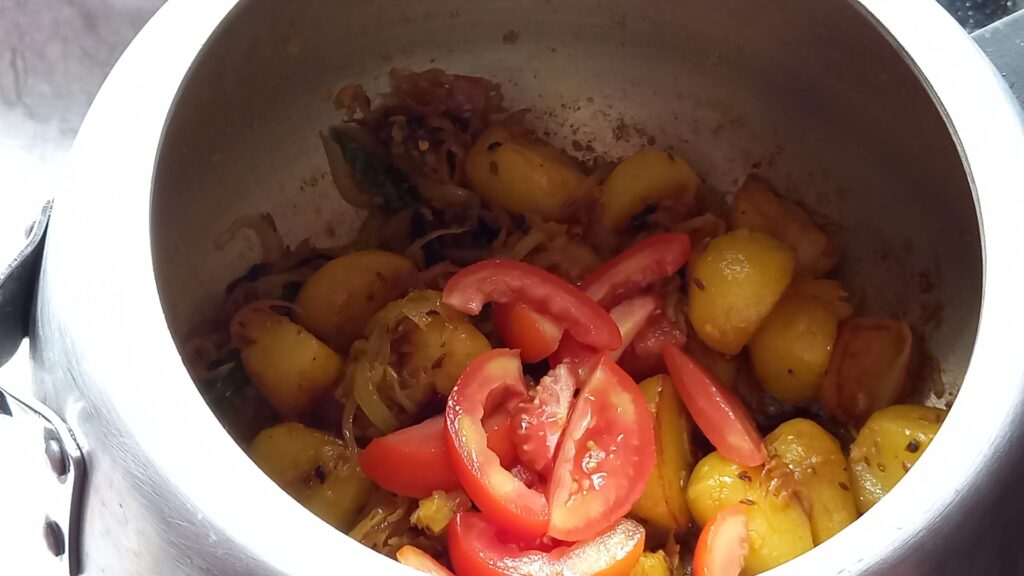 Add cumin powder. Add coriander powder. Add garam masala powder, red chili powder, sugar. Add dry fenugreek leaves.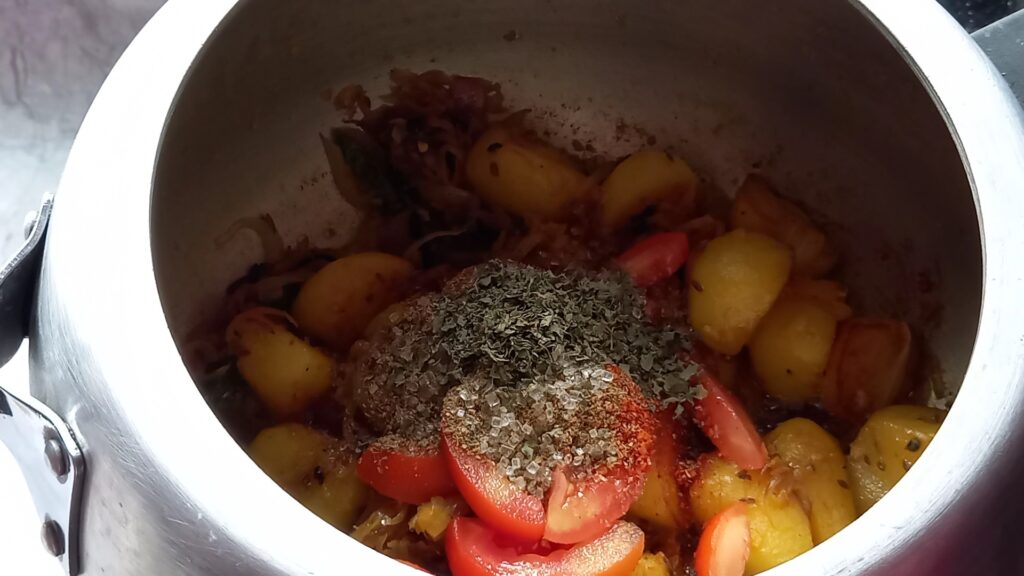 Now cook them for 10 minutes on low flame.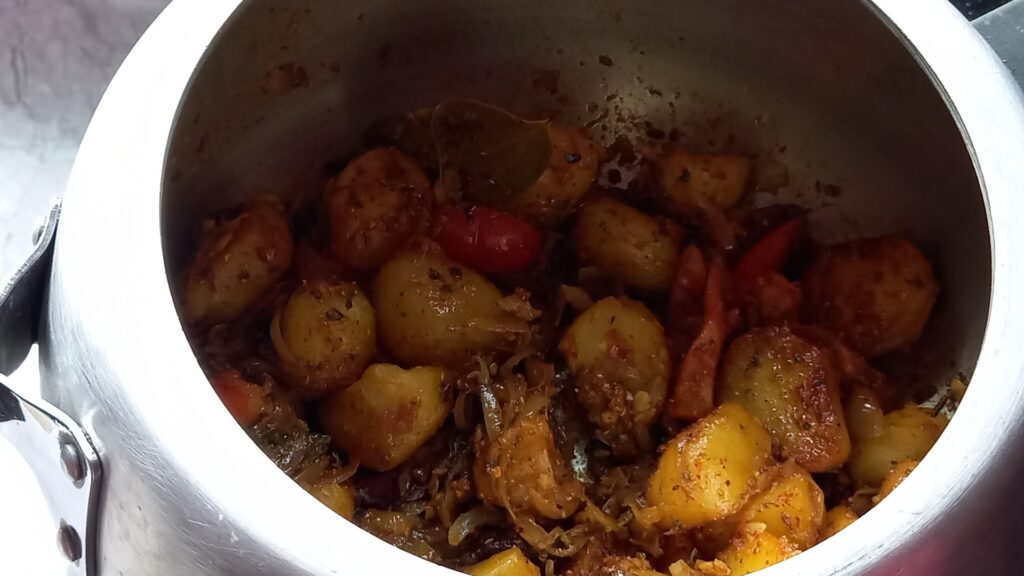 Meanwhile, prepare the rice for biryani. Here take some rice and wash them well. after that soak the rice for 30 minutes then use. you can use basmati rice or any normal rice for this recipe. today I use normal rice for biryani.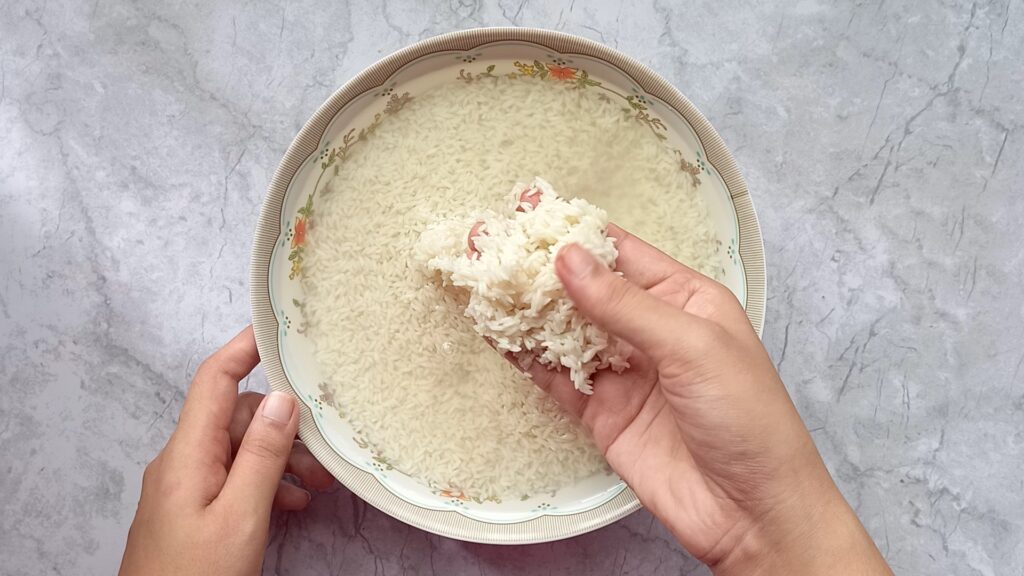 When your gravy process is in half at that time take a large pot and boil some water for rice. so always take a large pot and at least half or more than half pot water. Boil the water on a high flame.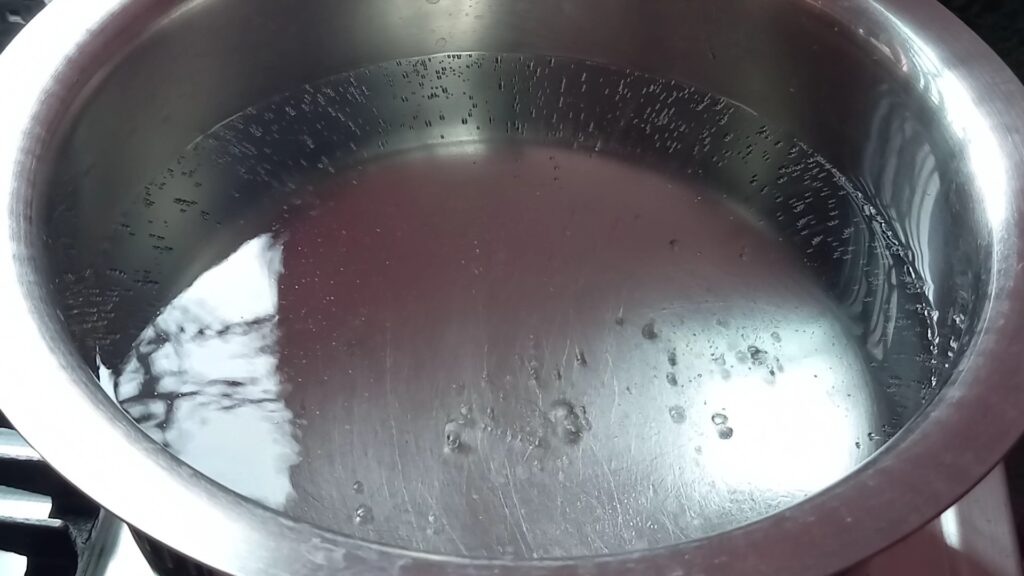 When water is boiling add salt and 1 tbsp oil then add rice. Give a nice stir. Cook for 15 to 17 minutes on a high flame or until the rice is cooked 70 to 80 percent.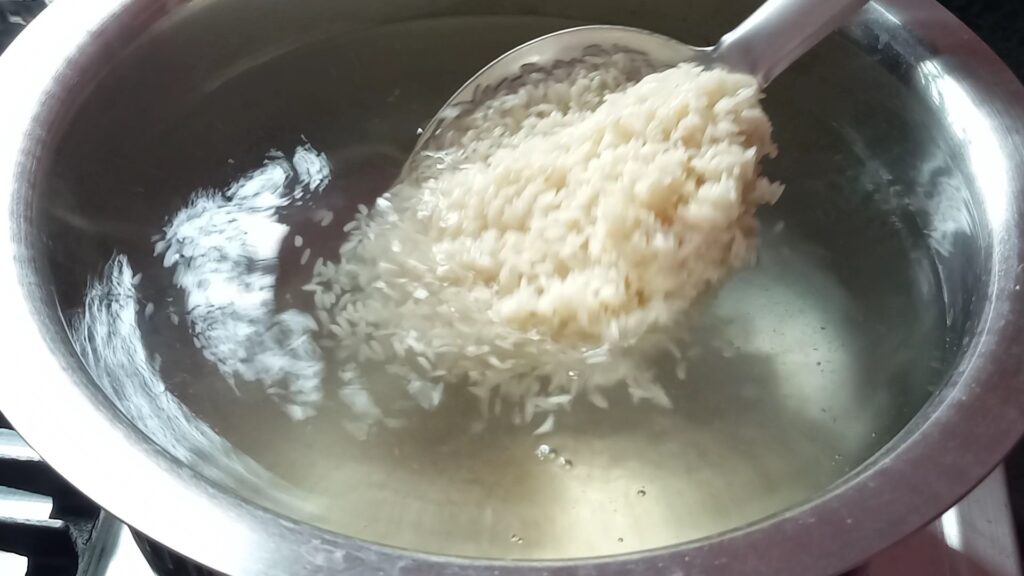 Meanwhile, let's check the potato masala. After 10 minutes of cooking, add curd and immediately mix them.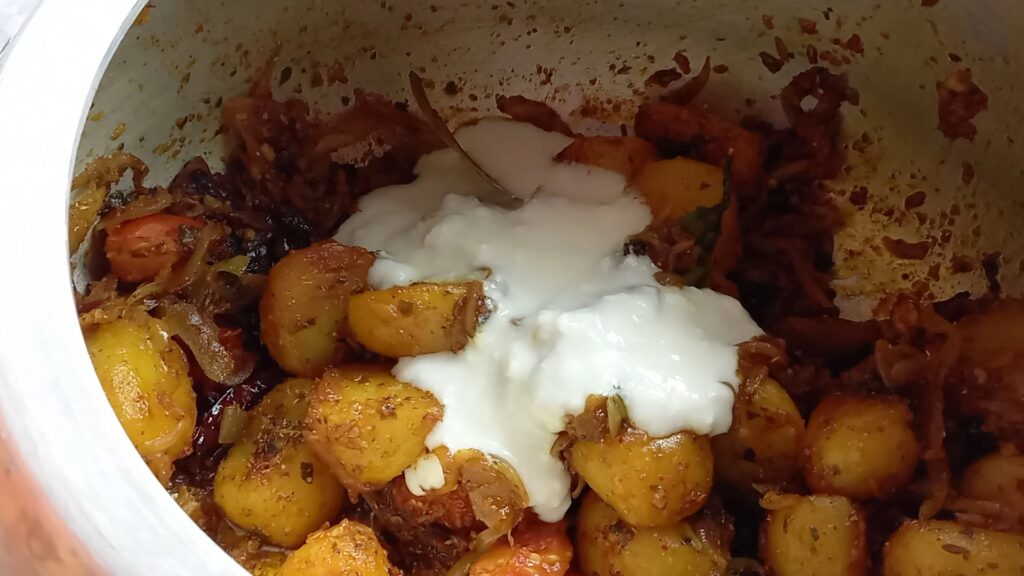 Then add 60 to 70 ml water. Cook it for 2 to 3 minutes on medium flame then turn the flame on low and again cook them for 15 minutes or until the rice is cooked.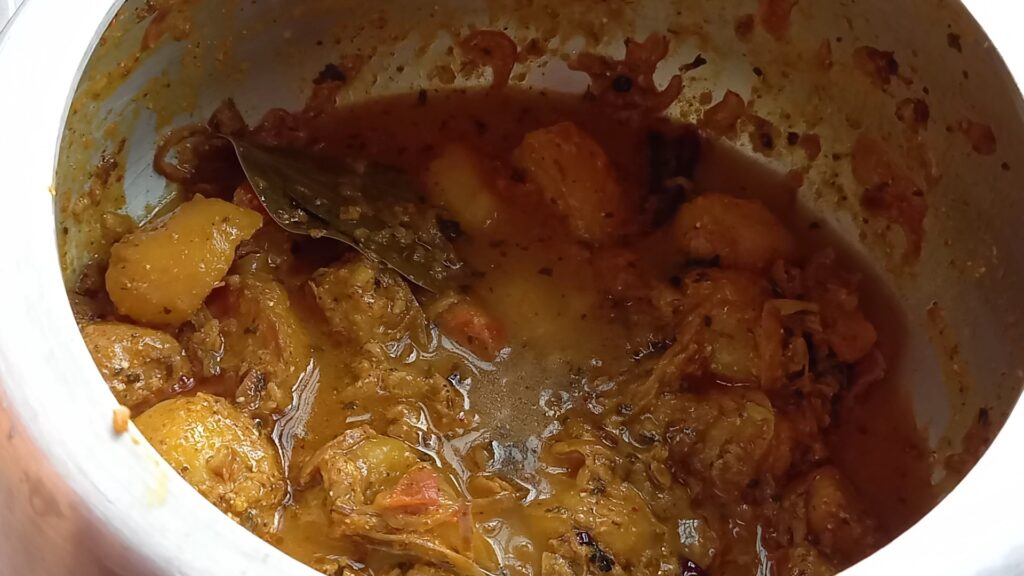 When the rice is 70 percent cooked, you can check them by pressing the rice grain. If it is pressed yet you can feel the grainy texture. That means it is ready, Turn off the heat and drain out all water from the rice. You can use a strainer or sieve.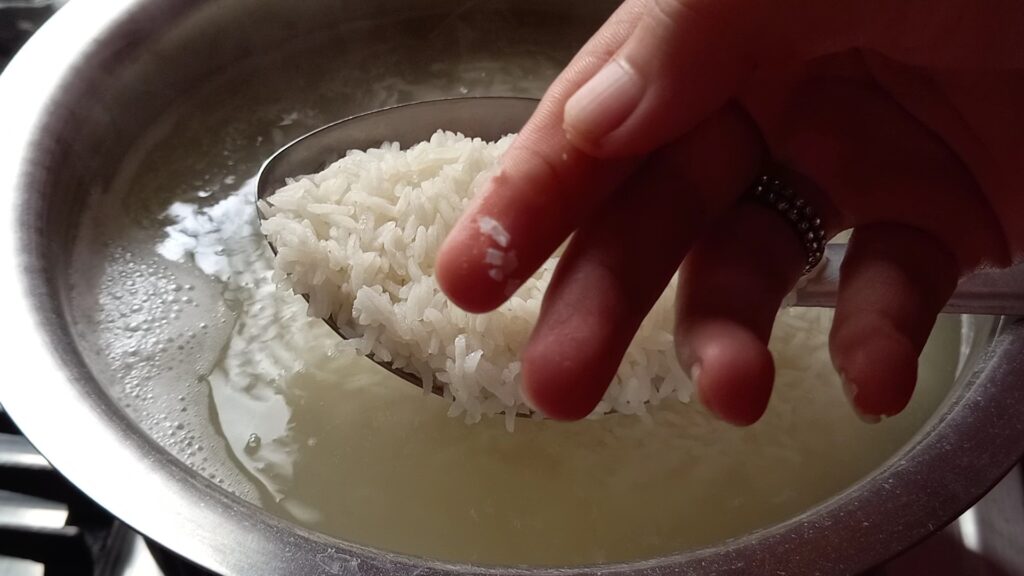 Now, layer your biryani with one layer of gravy and one layer of rice, or add rice over the gravy.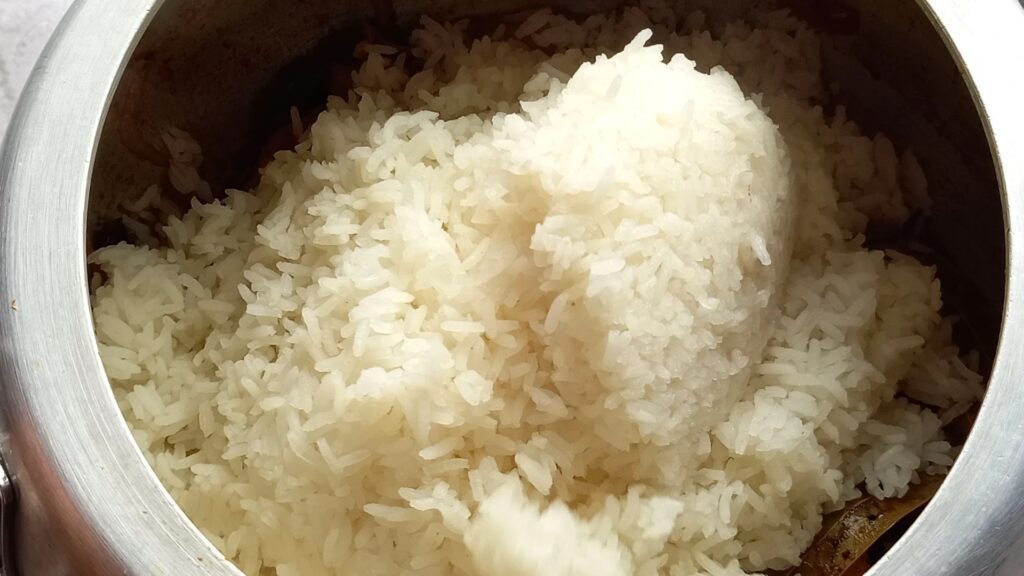 Add food color. It is optional.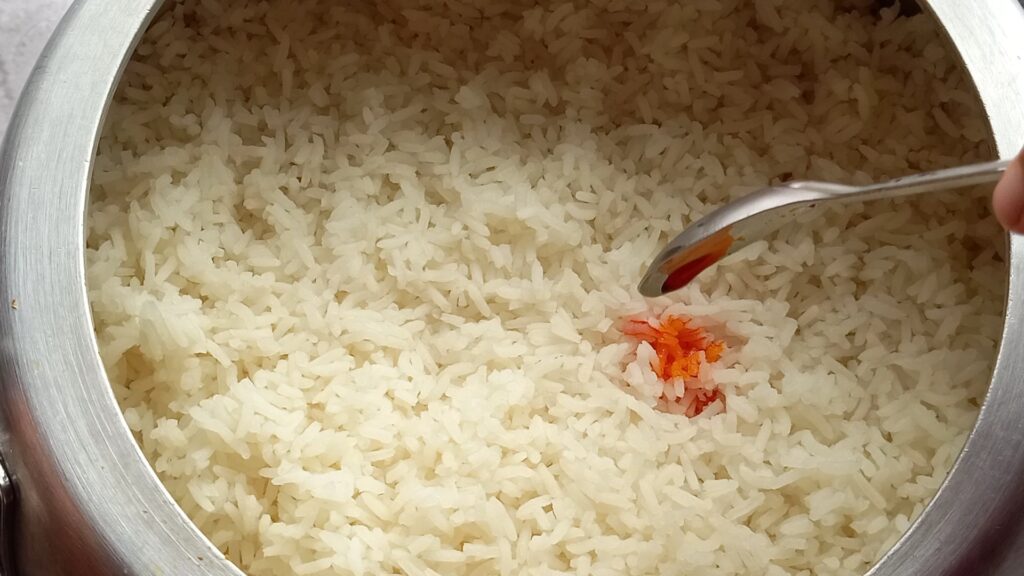 Add ghee and coriander leaves.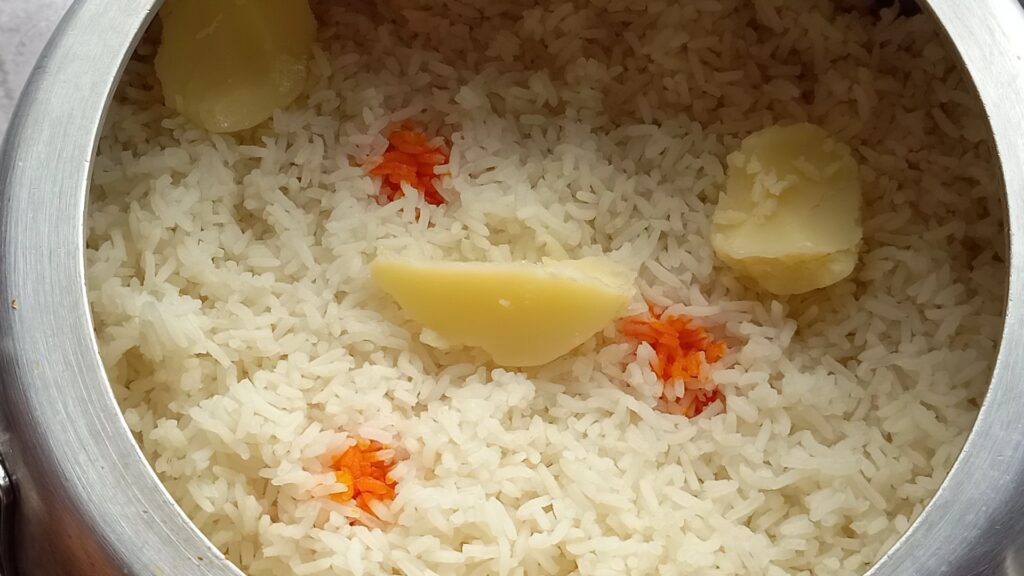 Now, close the lead and cook them for 10 minutes on low flame.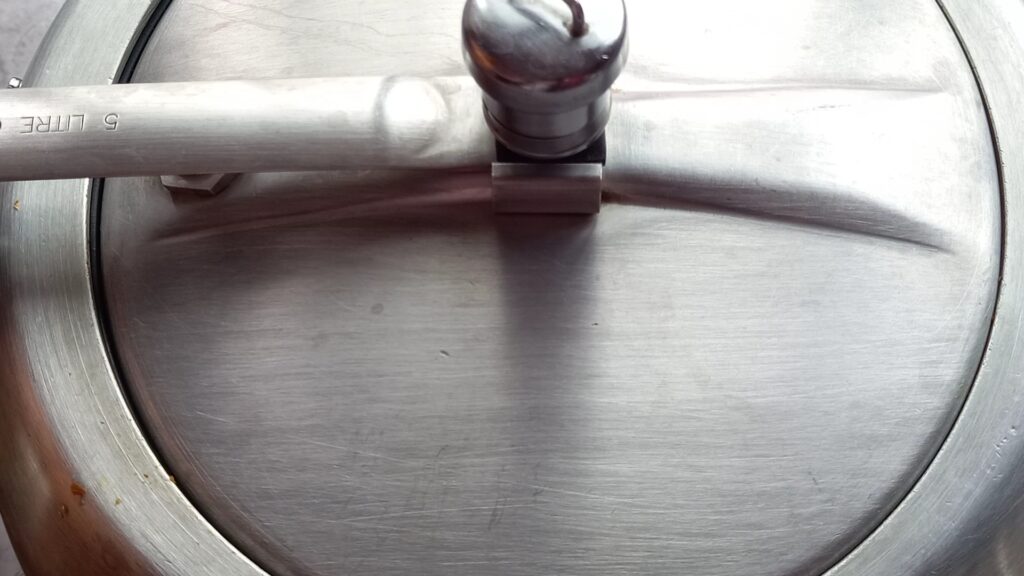 After 10 minutes, turn off the heat and leave it for 15 minutes. then you can open up the lead. Aloo dum biryani is ready to serve.