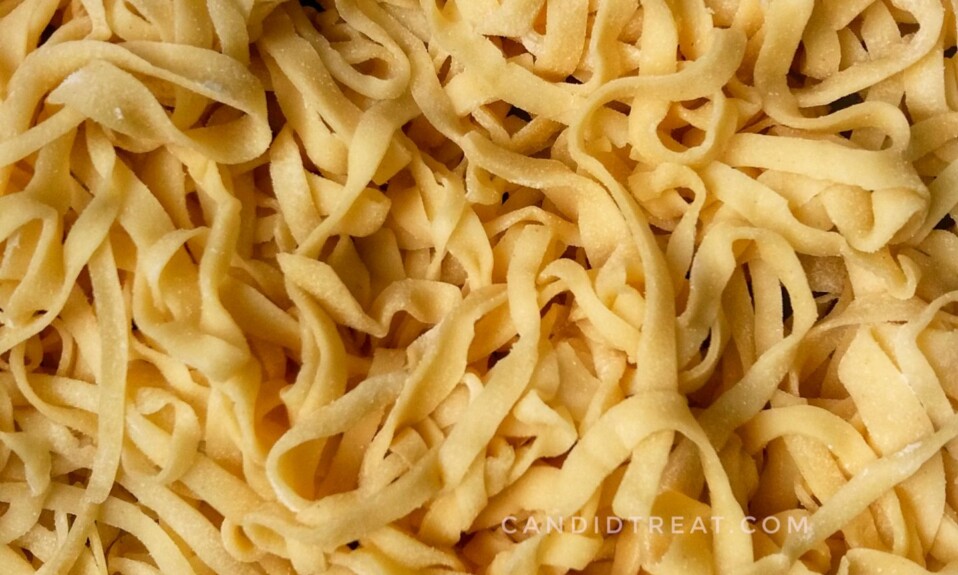 Homemade pasta recipe with step by step photos. It is easy to make at home. This pasta takes only 2 ingredients, flour, and fresh eggs. You can use your hand, stand mixture, or food processor. In this post, I will show you to make pasta without any machine.
Finally, I am back with this recipe. This homemade pasta is so easy and delicious than I expected. It takes some effort but it totally worth it. You love the texture of the pasta. It is silky, smooth, and shiny. You can use this pasta with red sauce, carbonara. you can also make ravioli with this pasta dough.
What is pasta?
Pasta is an Italian recipe. It is made with OO flour, refined flour, salt, eggs, etc. it can be made with salt or without salt. With this single pasta dough, you can make a lot of pasta recipes. It is perfect for breakfast or a teatime snack. Serve it warm and pair it with your favorite sauce.
Ingredients used for pasta dough
Flour: If possible use OO flour, it gets a more silky texture. But you can use regular refined flour, semolina flour. In this recipe, I use refined flour. It also goes well and I love the texture.
Salt: You can use salt in the dough. But I do not use salt in the dough. Rather I use salt in boiling the pasta.
Eggs: It is the most important ingredient for pasta dough. Egg provides a silky and smooth texture to the dough.
Why the dough needs rest time?
Rest time is a very important part of making good pasta dough. It is important to let the dough rest for 30 minutes at room temperature or for 4 hours in the fridge. In his rest time, the flour absorbs the moisture and liquid. It also needs to relax the gluten. Gluten will allow the dough to be stretchable and when you stretch the dough, at that time you find a smooth pasta dough.
Ingredients
2 eggs
75 to 80 grams of refined flour
How to make pasta dough?
Take a bowl, sieve some flour.
Add 2 whole eggs.
Now, mix with the fork. When it is well combined then use your hand.
Dust some flour on the working surface and knead the dough for 10 to 13 minutes. If it looks sticky, add a little bit of flour and knead it well. The dough needs to be hard, but not too much. We do not need soft dough.
Once the dough is ready, wrap it with plastic and leave it for 30 minutes at room temperature.
Now, cut the dough into two equal pieces. You can also make some more small piece.
Take a piece of dough and dust with some flour. Roll it into nice thin sheet, like this.
Then roll them into a log.
Use a sharp knife and cut it into pieces. You can adjust the thickness of the dough. After that unfold the layers of the pasta dough. It is ready to go straight into boiling water. Or, you can store it in the refrigerator for 2 days.
How to boil the pasta?
Take a saucepan, add water and heat It on high flame. Add salt into it.
When water starts boiling, add pasta and cook on high to medium flame. It takes 3 to 4 minutes. And that's it.
Remove it from boiling water and rinse it with cold water. Drizzle some oil to prevent it from sticking. Pasta is ready to serve with some delicious sauce.
How to make pasta in food processer or stand mixture?
If you are using these two machines, then it is very easy to make. Add all the ingredients together in a food processer and mix it until you get the crumbled texture. After that knead all together and leave to rest. Or in a stand mixer, add all of them and mix it for 5 to 10 minutes then wrap it with plastic. Leave it to rest.
some other recipes…
Storing suggestions
You can keep the dough in the fridge for a day. You can also freeze it for 3 to 4 days. When you want to cook the pasta, thaw it for 4 to 5 hours at room temperature then boil it.