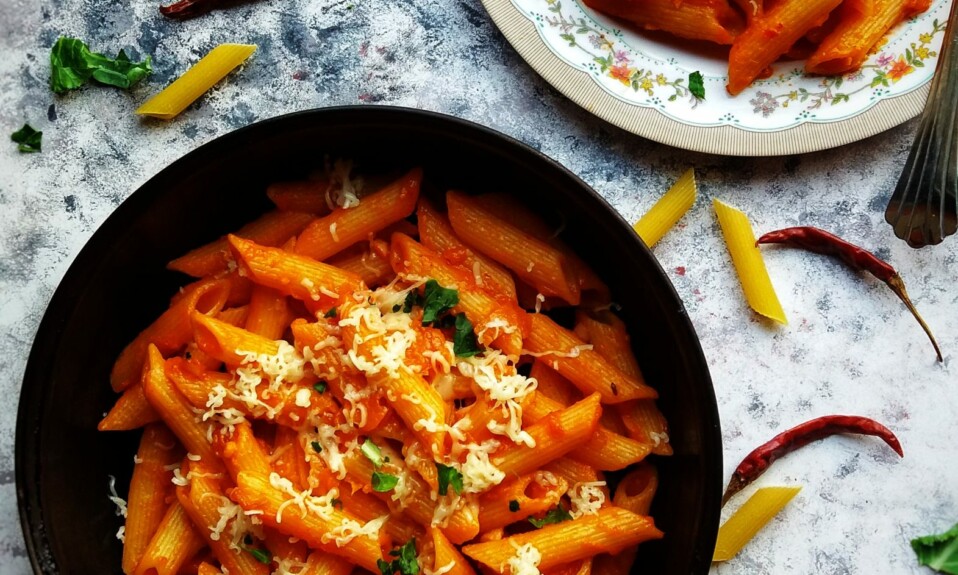 Red sauce pasta recipe with step by step photos and detailed instructions. Red sauce pasta is a very popular and delicious pasta recipe that is loved by kids. This pasta is also best for your kids' lunch box or for after school meal. Red sauce pasta made with some basic ingredients like pasta, tomatoes, onions, garlic, and herbs. This is one of the best recipes that you can make at home easily. For the red sauce, you can also try my Pizza Sauce recipe. It also goes well with pasta.
Red Sauce Pasta
Red sauce pasta is a very delicious and finger-licking recipe. Here we used penne pasta because their outer layer is rough and it sticks with the sauce easily and also holds the sauce. You can also use other pasta. For the sauce, we need some basic ingredients like peeled tomatoes, some chopped onions, garlic, tomato ketchup, vinegar, red chili sauce, sugar, and salt. We use some cheese for extra flavor.
Then boil some penne pasta and mix with red sauce. After that top the pasta with some grated cheese. You can use any type of cheese for this recipe.
Some other recipes collection….
Used ingredients for this recipe
Pasta: I love the shape and size of penne pasta because it holds the sauce very well and looks beautiful but you can also use any other pasta for this recipe. Tastes always the same. Use the best quality pasta. Use pasta water for the sauce because the starch helps to thicken the sauce.
Tomato: Use good quality and ripe tomatoes. Because of flavor and color matters. Do not use raw tomatoes. You can also use canned tomatoes. But if possible then go to the market and choose some red and ripe tomatoes and use this. Because fresh is always the best.
Herbs: Use some oregano and some Italian seasoning for the sauce. It enhances the flavor of the sauce.
Cheese: Here we processed cheese but can use your favorite one. For extra cheesy and stringy flavor and texture, use mozzarella cheese.
Seasoning: Use some sugar for balancing the flavor of the sauce. Add less salt because cheese also has a salty flavor. You can also use basil leaves. Use some tomato ketchup and red chili ketchup for extra flavor.
INGREDIENTS
250 grams of penne pasta
Water for boiling pasta
3 tomatoes
5 to 6 red chili
1 onion
5 to 6 garlic
1 teaspoon oregano
1 teaspoon salt
1 teaspoon sugar
2 tablespoon tomato ketchup
2 tablespoon red chilli sauce
1 teaspoon vinegar
50 grams cheese
10 ml oil
| | |
| --- | --- |
| Total time | 35 minutes |
| Servings | 3 to 4 |
How to make pasta?
Take a saucepan add some water and boil it. When water is boiling add pasta and cook it until it cooks completely.
When you can feel some resistance and firm texture then pasta is cooked. It takes almost 7 to 8 minutes.
After that drain off in a colander and rinse of the extra water. Save some water for sauce. Drizzle some oil over pasta. Set aside for further use.
How to make red sauce for pasta?
Take a saucepan, boil some water and add tomatoes and red child for 6 minutes.
Then peel of the skin of tomato and make a smooth puree.
Chop some onions and garlic. Take a pan add some oil and saute garlic and onion on medium flame.
When onions turns light golden then add tomato puree.
Add salt.
Add sugar.
Add tomato ketchup and red chili sauce.
Add vinger for tangy flavor.
Cook the sauce on low flame for 10 minutes.
Then add grated cheese. Mix well. Add little amount of pasta water.
Then mix the boiled pasta with red sauce.
Mix well and serve warm. Grate some more cheese over it and enjoy.
How long this sauce is stored ?
You can make this sauce and keep it in the refrigerator for a week. Whenever you want to eat take some sauce warm it and add some pasta. Cook it for 3 to 4 minutes. It is ready to serve. So yes, it is quite easy and tastes amazing.