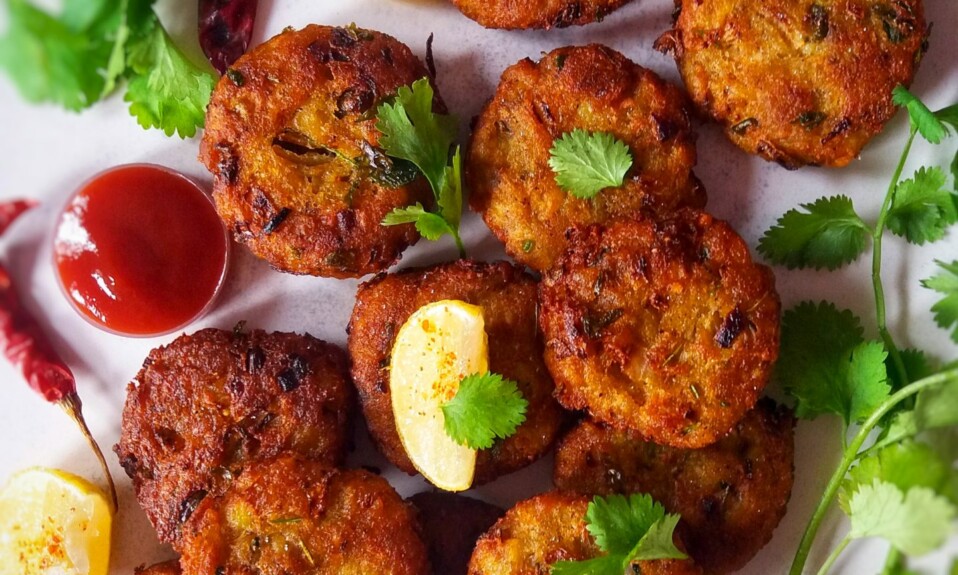 Learn how to make the super easy and delicious raw banana cutlet. It is also called kacche Kele ki Tikki in Hindi. These cutlets are crispy and from inside it is super moist. These raw banana cutlets are a popular snack and vegan recipes. It is gluten-free and the best party starter recipe. You can also pre-plan this recipe. It is made with raw bananas. Raw bananas are a great source of fiber, calcium, vitamin A and C. You can make different types of snacks with this green raw plantain, like banana chips, raw banana kofta, curry, and many more. You have to include this healthy ingredient in your regular diet.
What is a raw banana cutlet?
Raw banana cutlet is a mix of raw bananas, potatoes, some herbs, and spices. These cutlets go well with a cup of tea or coffee. And during winters we want some warm, spicy food for a teatime snack. These are very easy to make. First, you have to boil the bananas and potatoes. Then mix it with some onions, green chilies, coriander leaves, some spices and mix well. For the crisp texture, add some poha/flattened rice into the pattie mixture. After that, deep fry them or you can also bake them, air fry them. If you want the healthy version then skip the deep frying method.
Ingredients
2 raw banana/plantain
3 to 4 small potatoes
1 onion
4 green chilies
6 to 7 tablespoon poha/flattened rice
1 tablespoon cumin powder
1 tablespoon chat masala powder
½ tablespoon red chili powder
½ tablespoon vinegar
1 teaspoon carom seeds
1 tablespoon salt
2 to 3 tablespoon coriander leaves
mustard oil for deep frying
How to make raw banana cutlet?
First, pre-cook the bananas and potatoes. Take some water in a pressure cooker, add the bananas and potatoes. Pressure cook them for 4 to 5 whistles on high flame. After that, peel the outer skin and mash them with the help of a masher.
Then add chopped onions, green chilies, coriander leaves.
Add salt into it. You can adjust the salt as per your taste.
Add cumin powder, red chili powder, chat masala powder. You can adjust the chili. If you do not like spicy flavor then add less chili.
Add carom seeds, vinegar into it.
Now, wash the poha with water and mix them into pattie mixture. Mix well.
Take a small portion of mixture and shape them.
Now, take a pan add some mustard oil for deep frying. Heat the oil on high flame for 2 to 3 minutes. Then add the cutlets and fry them from each side. It takes 3 to 4 minutes.
When it turns golden brown in color, remove it from the oil. Fry all of them like this. Serve the cutlets with tomato sauce or with chili sauce.
Storing suggestion
You can store the pattie mixture in the refrigerator for 2 days. Or just boil the bananas and potatoes. Mash them and store them in the refrigerator like this. Add other ingredients into the mixture, when you want to fry the cutlets. So, these are perfect for pre-plan starter recipe. Kids also love these cutlets. Make this on their birthday parties or family get together.
some other recipes that you may like…