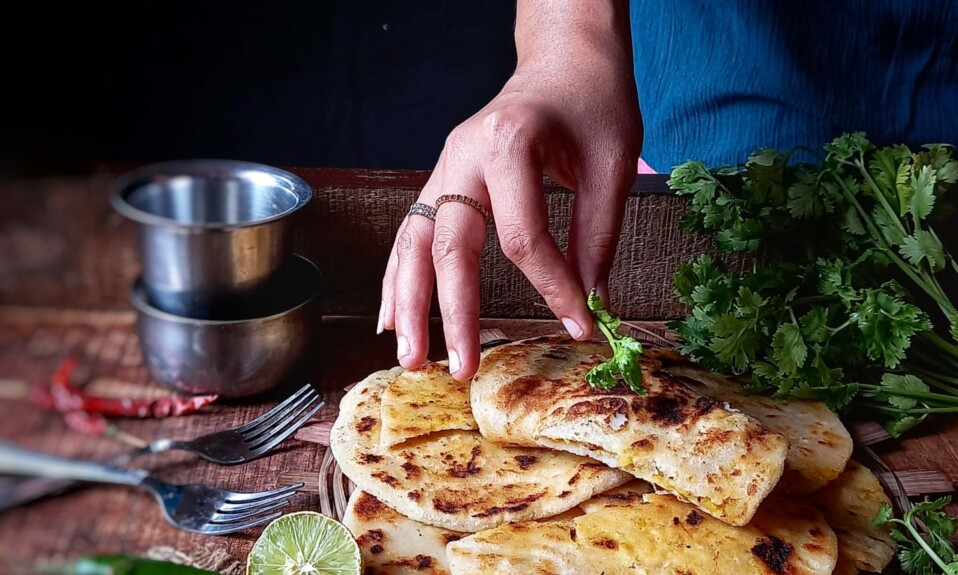 Chawal ka paratha | chawal ki stuffed roti | Rice flour stuffed paratha | Learn how to make chawal ki stuffed roti with step-by-step photos and video. If you are facing difficulty while making rice flour roti/paratha, watch this video to make perfect and smooth roti. Rice is the staple food of Indian cuisine. There are a lot of recipes in Indian cuisine that are made with rice. It is so versatile that you can make savory or dessert with this. It is a perfect recipe that you can make for breakfast or for lunch. You can serve this chawal ki stuffed roti/rice flour paratha with tomato ketchup or any curry. It is very easy to make. You can also make these parathas for the tiffin box.
Chawal ki stuffed roti | Chawal ka paratha
Chawal ka paratha is similar to aalo ka paratha. The only difference is flour. For aalo paratha, we use wheat flour and for chawal ka paratha we use rice flour. And trust me, it tastes amazing. If you do not try them yet, you have to try this once. For the chawal ka paratha, you need some rice flour, water. And for stuffing, you need some boiled potatoes, some seasonings. In this chawal ka paratha, you can also make different types of stuffing for this. So you can make these parathas for breakfast or for lunch. You can also give this to your kid's tiffin box.
SOME OTHER RECIPES FROM THIS BLOG…
INGREDIENTS
400 to 500 grams rice flour
800 to 900 ml water
For stuffing
7 to 8 medium sized boiled potatoes
2 to 3 tbsp oil
½ tbsp cumin seeds
3 to 4 dry red chilies
1 nd a half tbsp salt
½ teaspoon turmeric powder
½ tbsp red chili powder
Oil for toasting
Preparation for stuffing
First, take some boiled potatoes. Mash them. You can adjust the quality as per your need.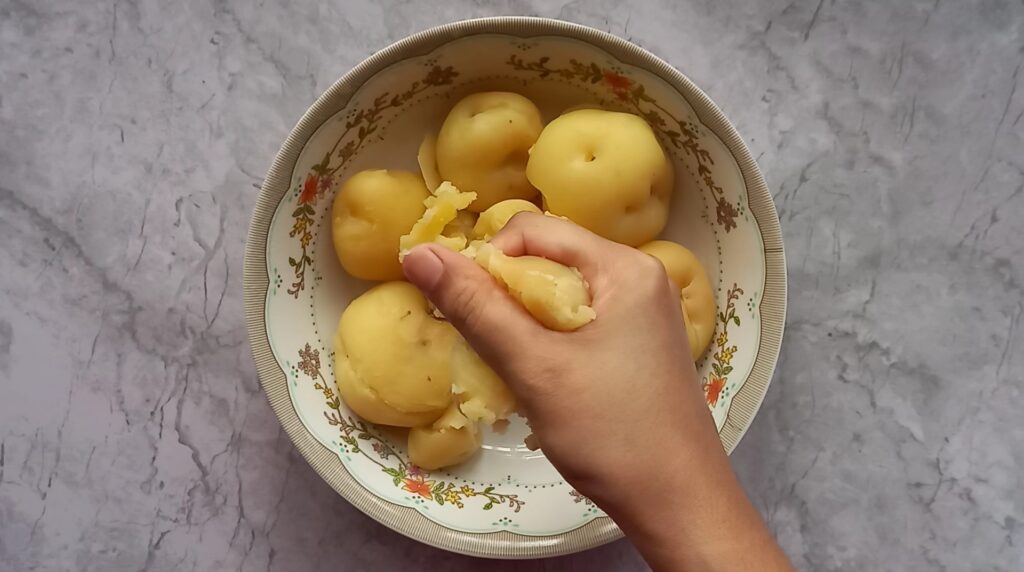 Take a kadhai or pan. Add oil and heat it for 30 to 40 seconds on high to medium flame. Then, add cumin seed and dry red chili. After that add mashed potatoes. Mix well and cook it for 5 to 6 minutes on high flame.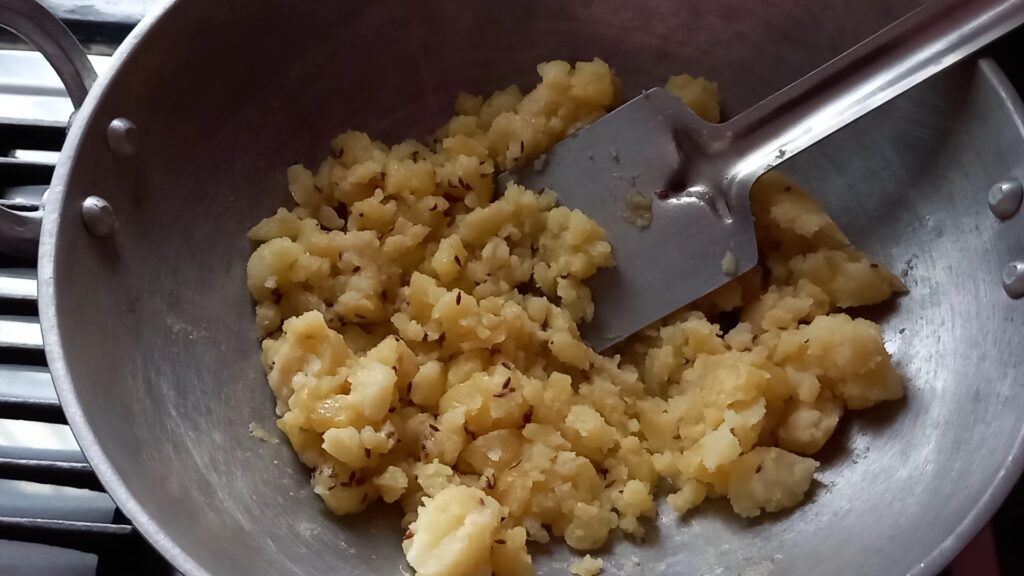 Add salt and turmeric powder.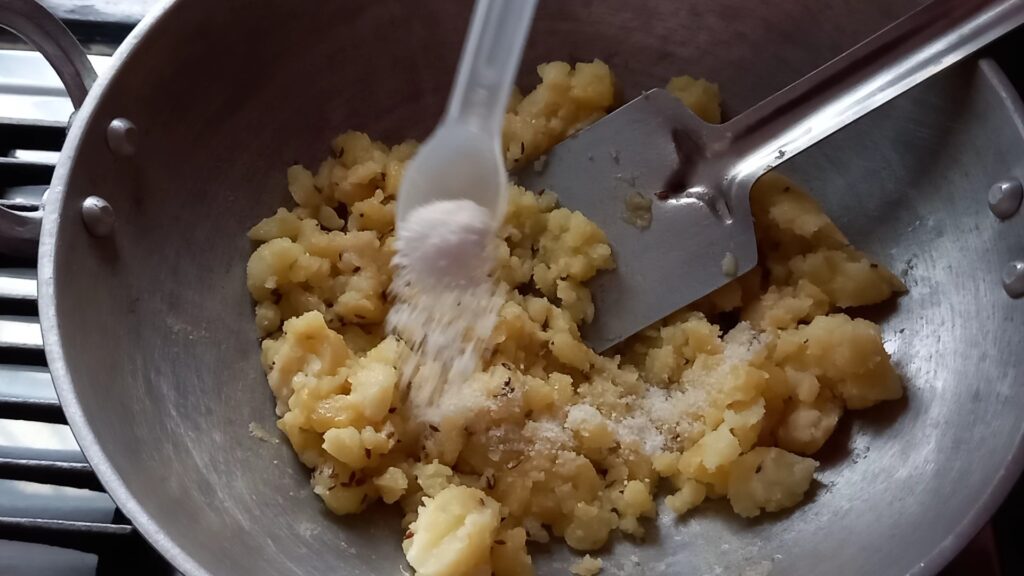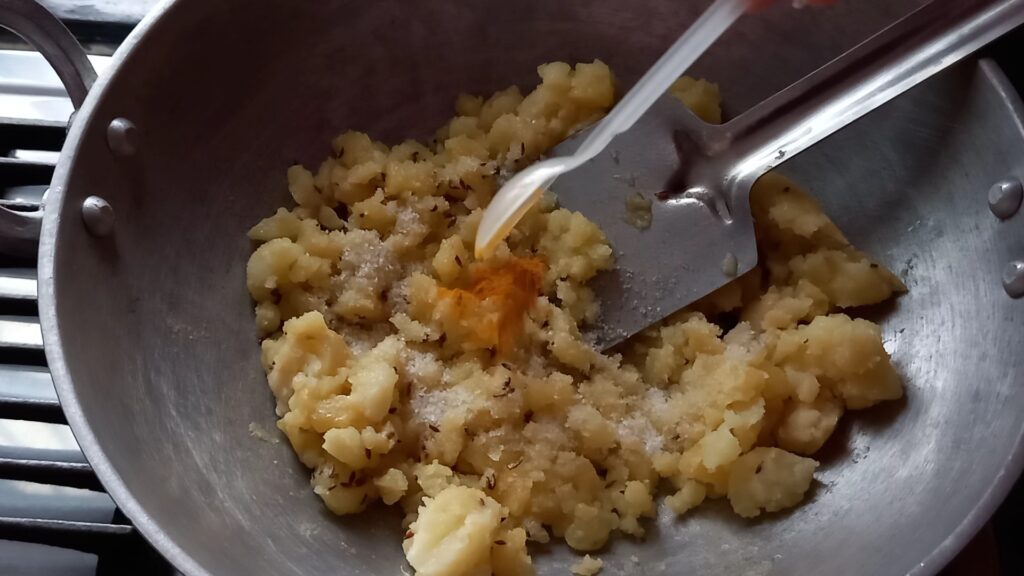 Then add red chili powder.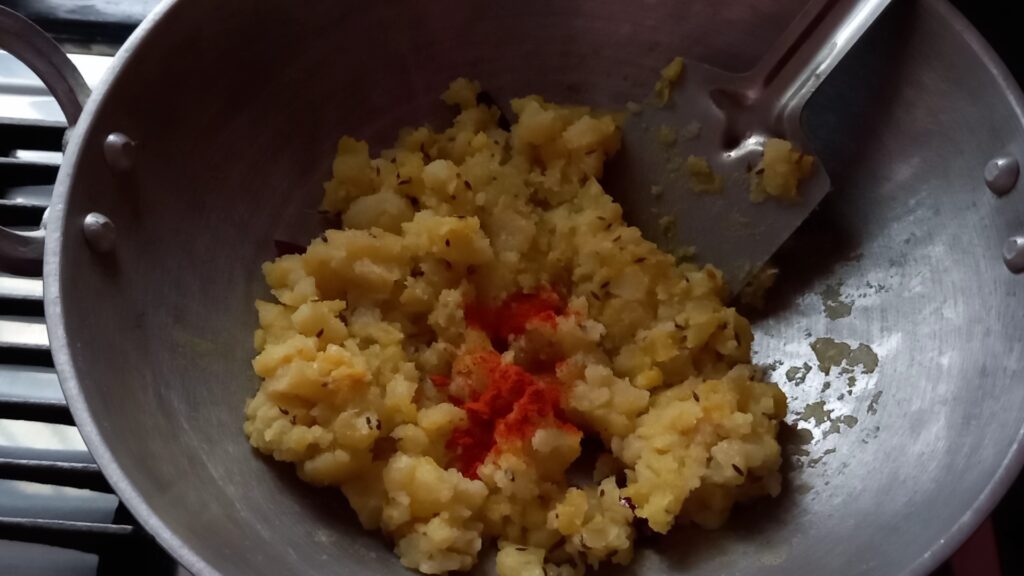 Mix them and cook them for 2 to 3 minutes on high flame. After that, turn off the heat and leave it to cool down.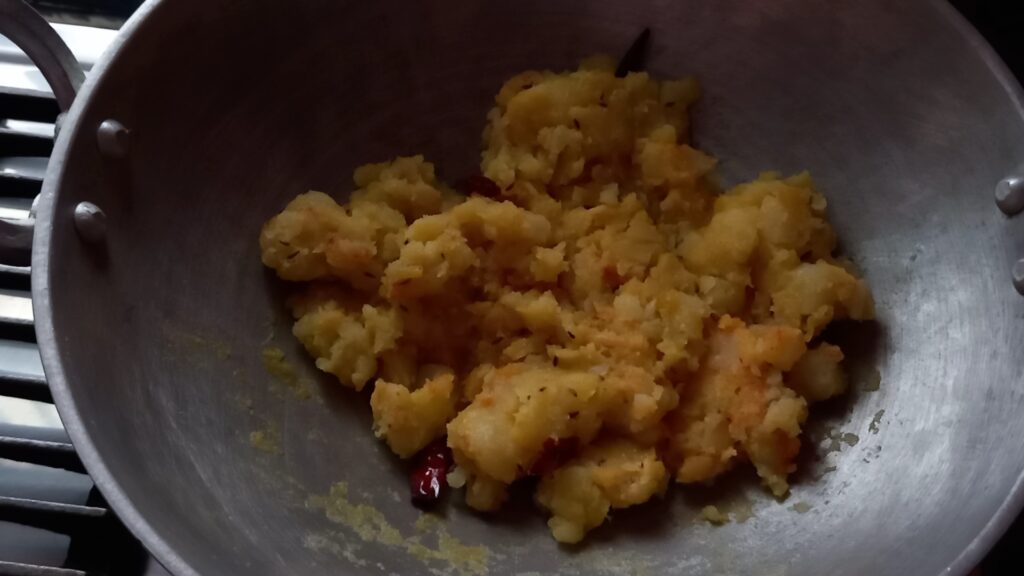 How to make rice flour dough?
Take a pot or pan. Add water and boil the water on a high flame.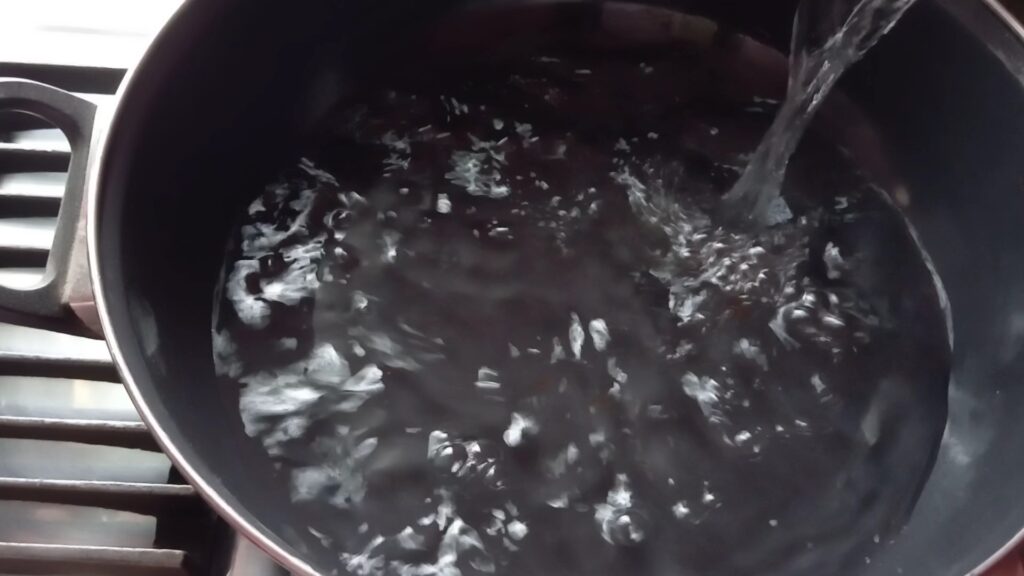 When water is boiling, turn off the heat.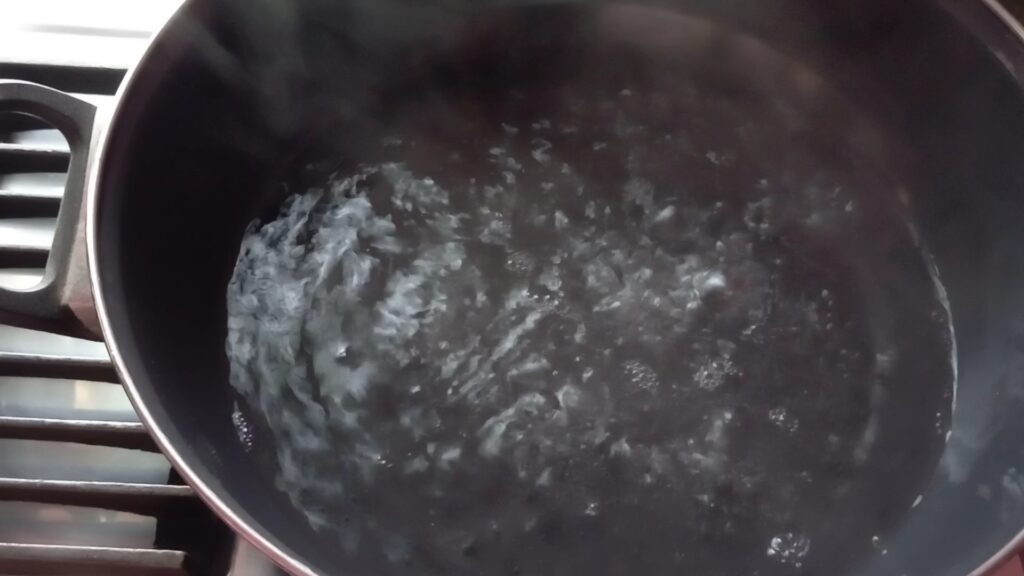 Add rice flour. Do not worry about the water. If your flour is less than water, you can add more flour.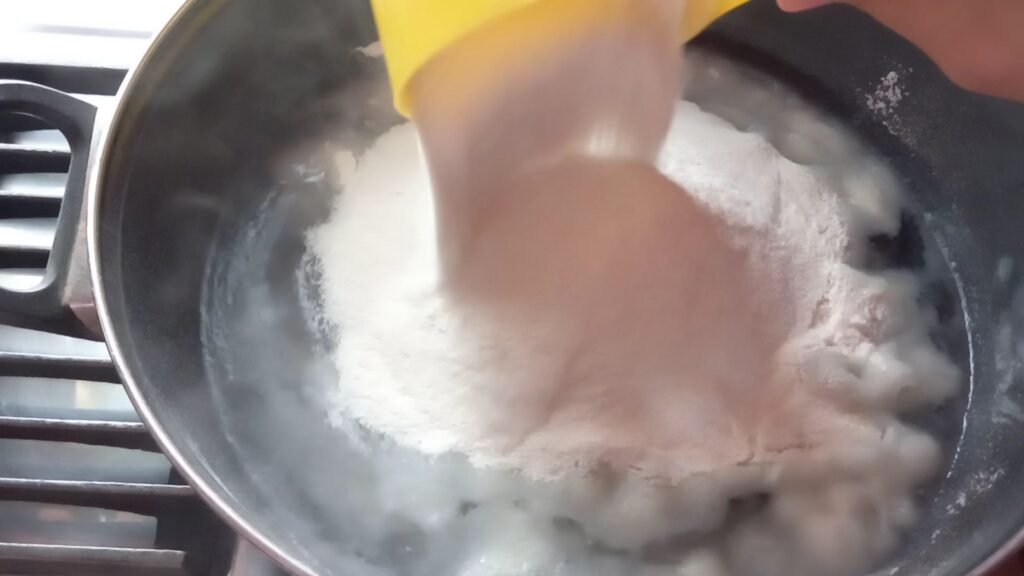 Mix them well and leave them to cool down for 10 to 15 minutes.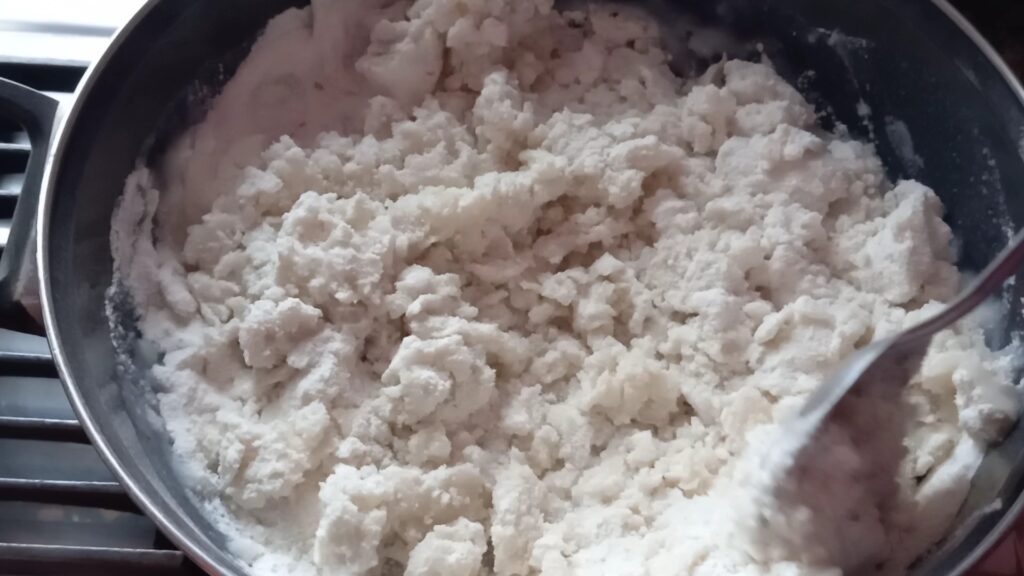 After that knead the flour well.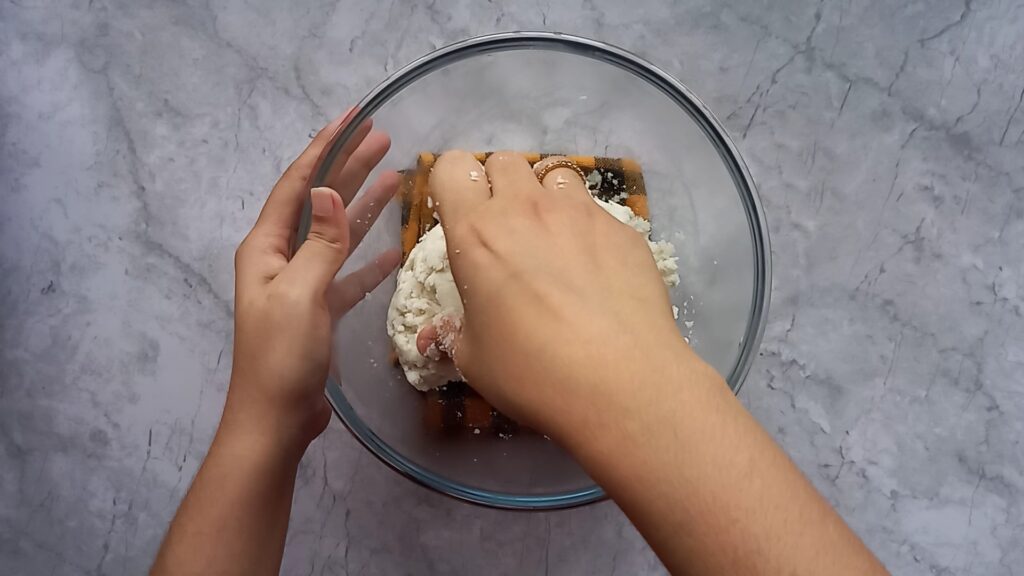 Then take 2 to 3 tbsp water at a time and knead a smooth, crack-free dough. Do not add too much water at one time.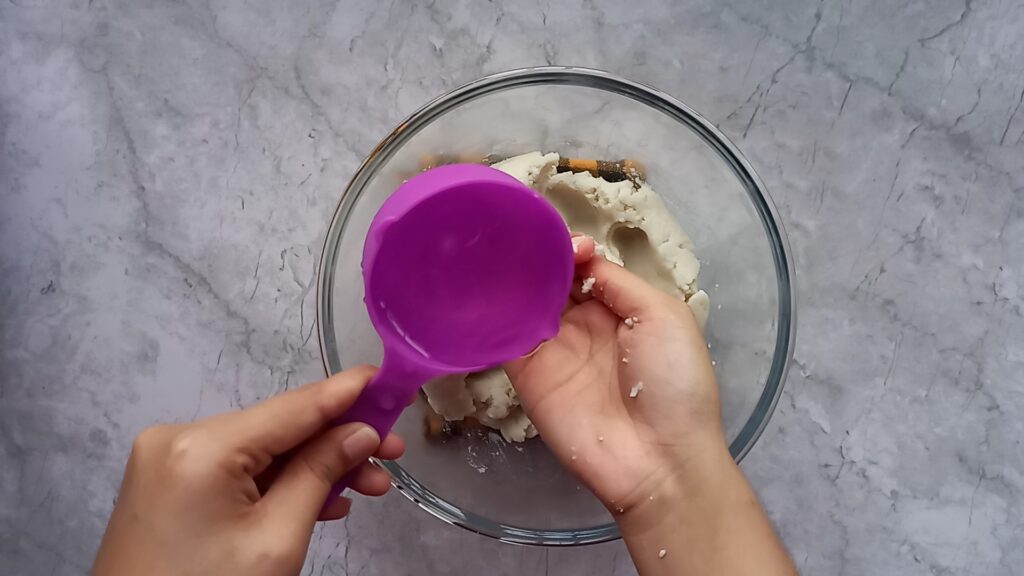 Now, take a piece of dough.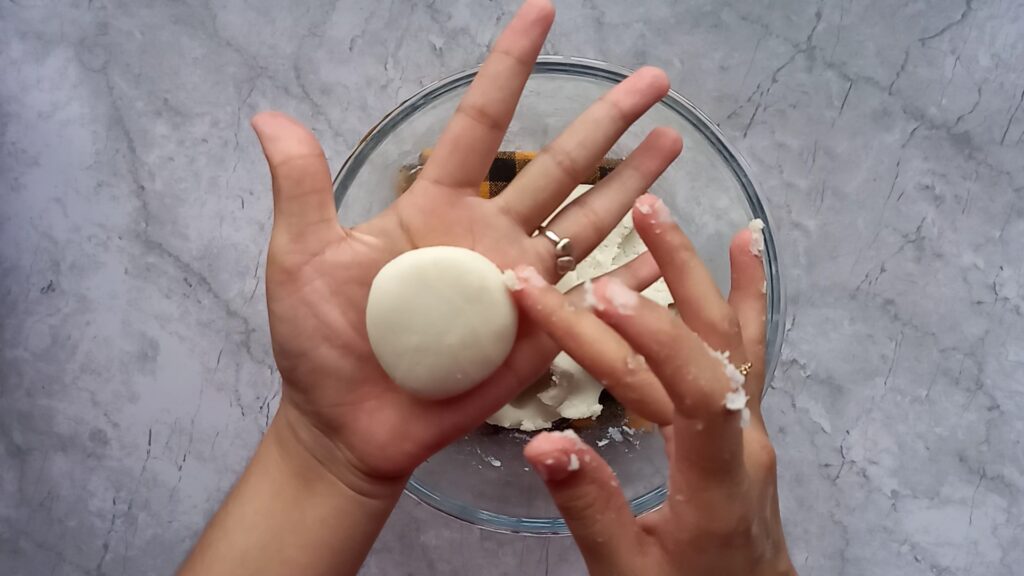 Sprinkle some flour and flatten it up a bit to fill the stuffing.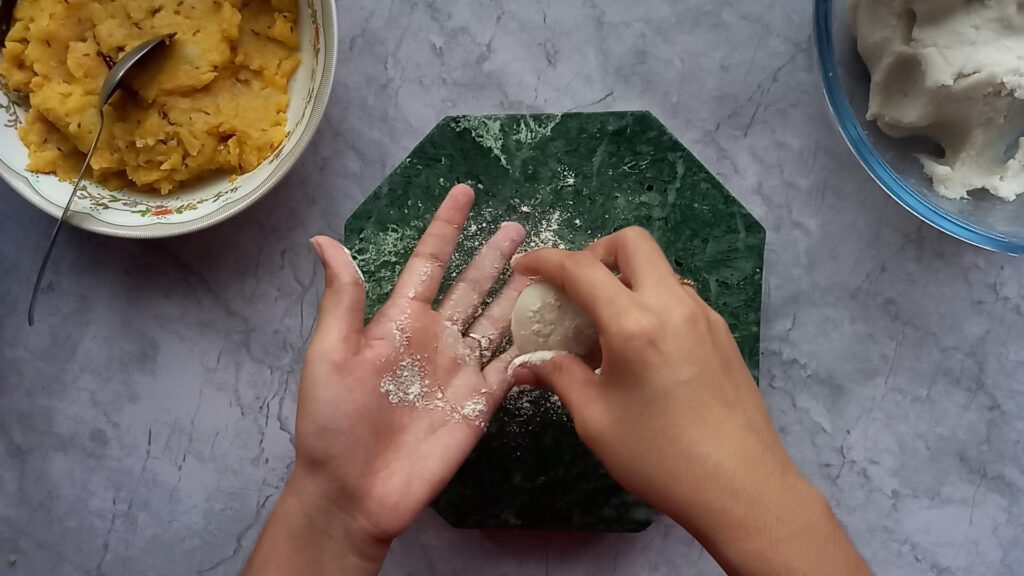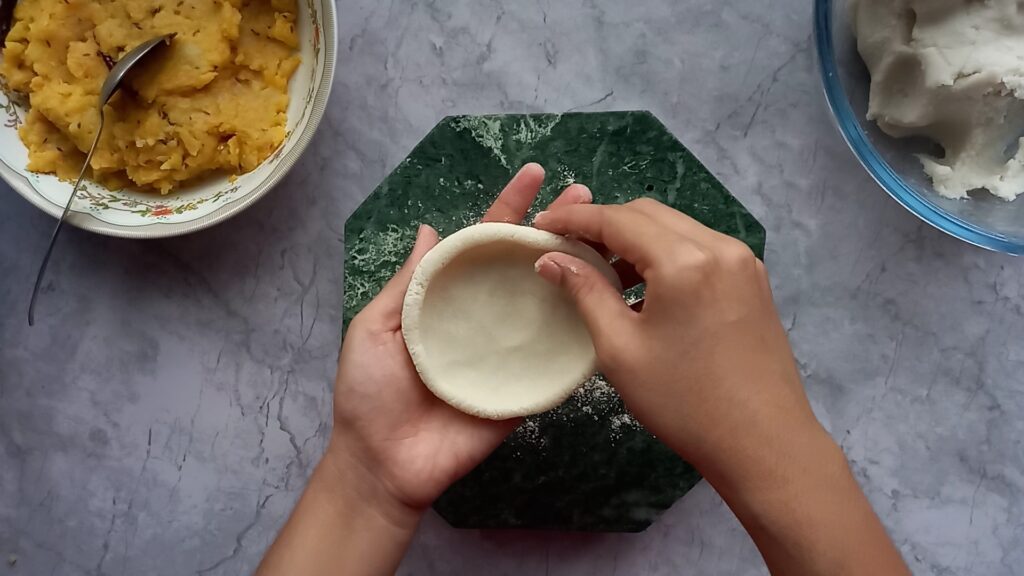 Add1 tbsp of potato stuffing and pack them evenly.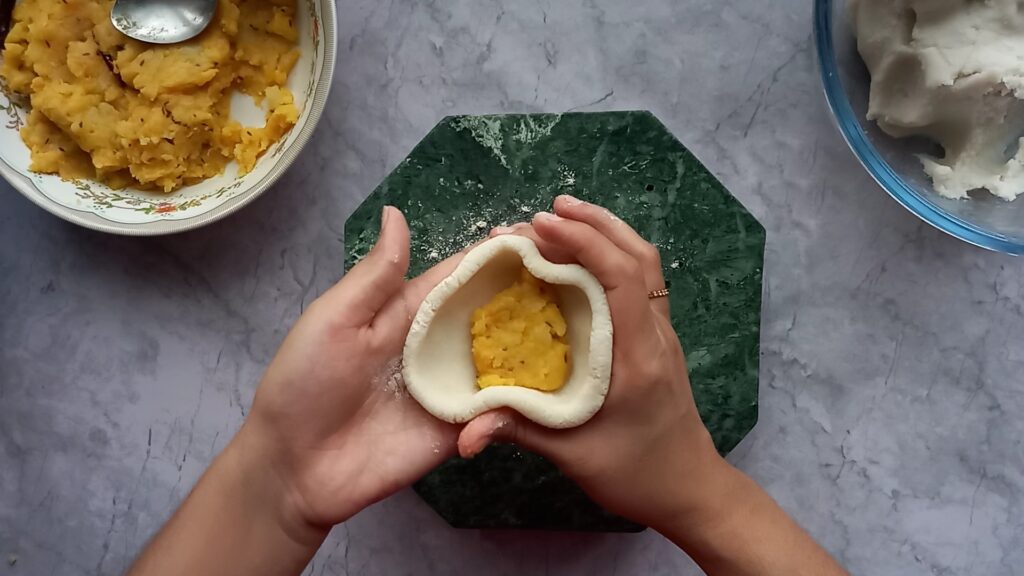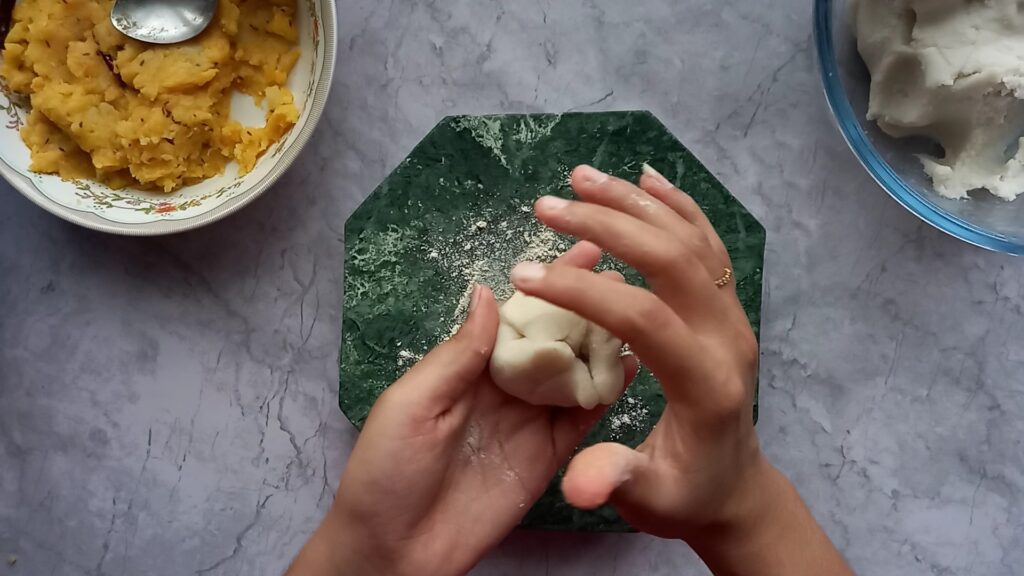 Now dust it with some flour. Spread the dough with the help of a hand. Or you can also use a rolling pin.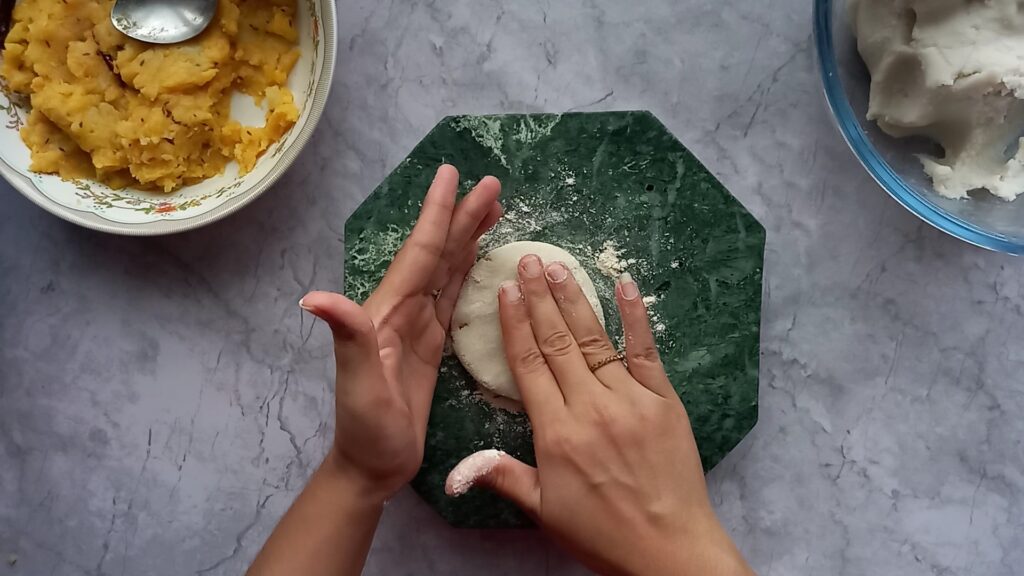 Do not spread it in a large chapatti. We need a medium-sized chapatti for this. Make all of them like this.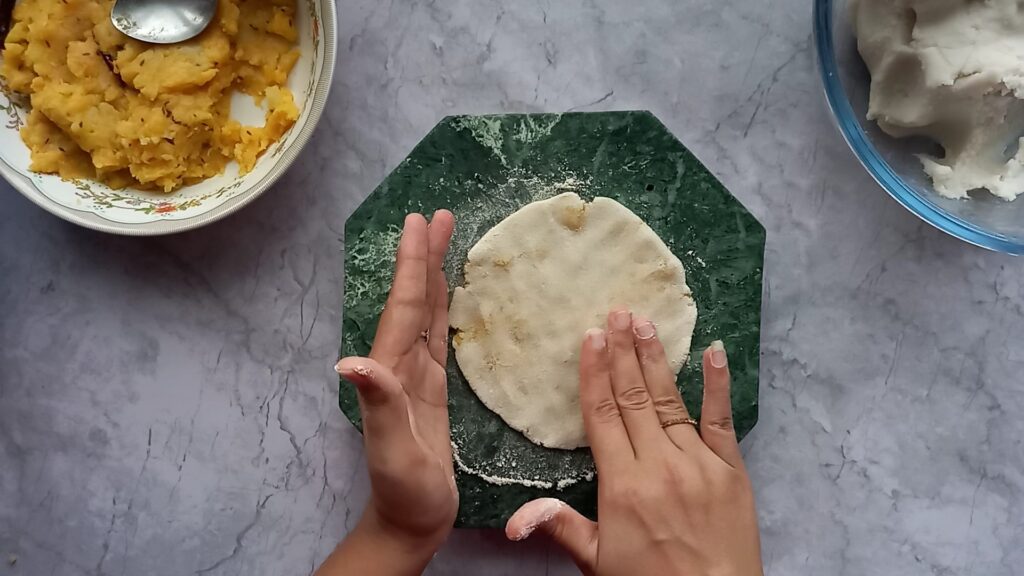 Now take an iron griddle. Heat it for 30 to 40 seconds on a high flame. Place the rice flour roti and cook it for 30 t0 40 seconds from both sides.
Then take 1 to 2 tbsp oil or ghee. Spread it evenly on the roti.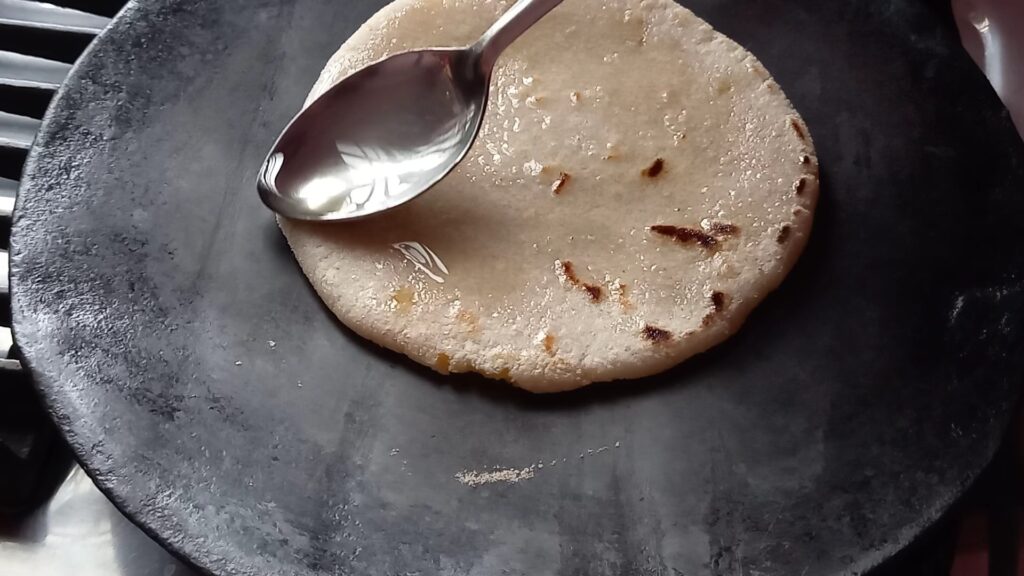 And toast them from both sides until it turns light golden in color. You can make all of these parathas like this. It is ready to remove. Serve it hot with some ketchup or curry.