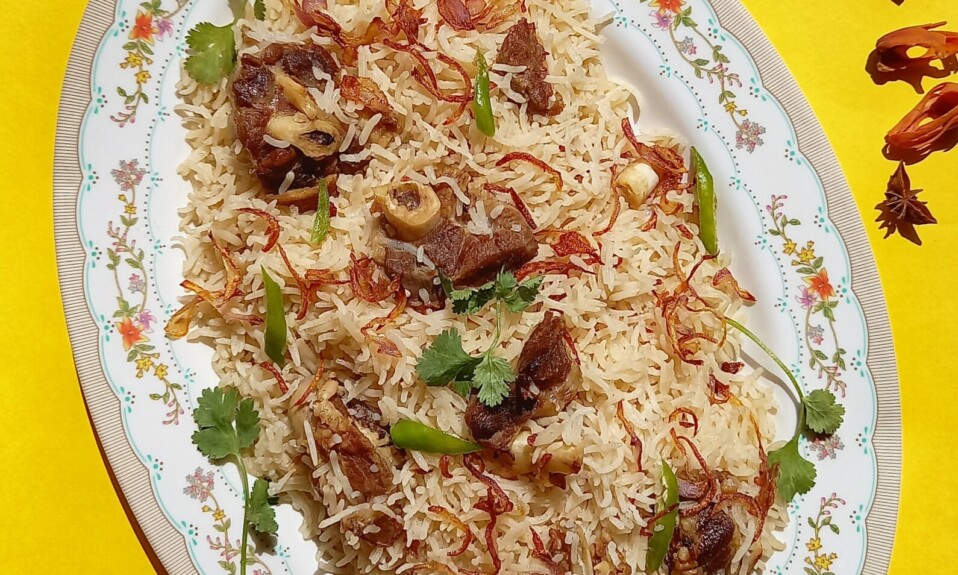 Mutton Yakhni Pulao | Yakhni Pulao | Learn how to make yakhni Pulao with step-by-step photos and videos. Check out the recipe Video for more details.
Mutton yakhni Pulao or pilaf is a rice dish made with basmati rice and cooked with delicious yakhni. yakhni Pulao is made with mutton but you can also make them with chicken or vegetables.
Yakhani means a stock or broth made with marinated mutton, some spices, and water. And pilaf is also known as Pulao. Pulao is a flavored rice cooked with spices, herbs, etc. For making a delicious Pulao, the yakhni/broth has to be flavorful.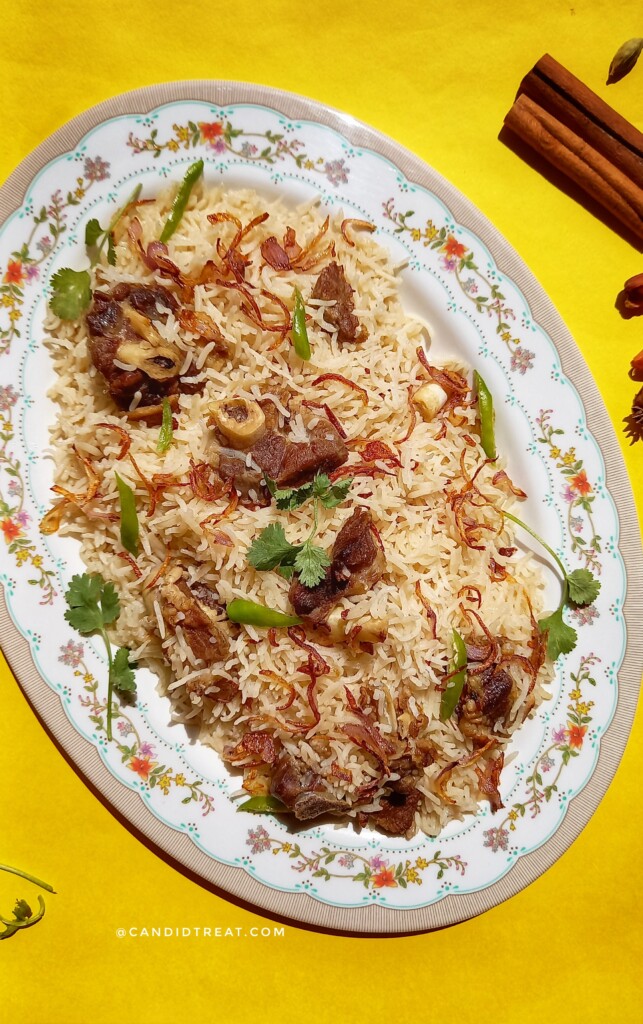 You can make this recipe during Eid or at any special house party. Serve this yakhni Pulao with some salad or raita. And a glass of cold drink.
Lunch or Dinner Recipes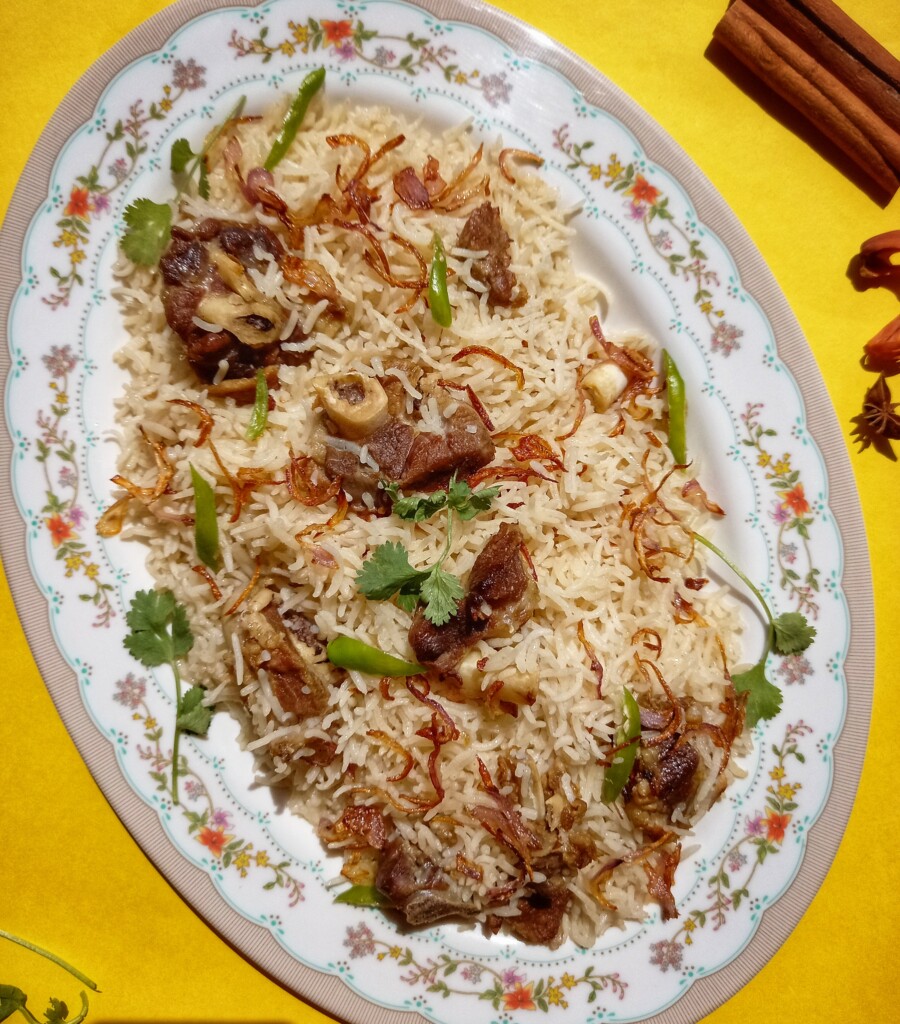 INGREDIENTS
3 small bowl basmati rice
2 onions sliced for barista
600 grams of mutton
whole spices(2 cinnemon sticks, 3 green cardamom, 2 black cardamom, 4 to 5 cloves, 6 to 8 black pepper, 1tsp fennel seeds,1 Bay leaf, 1 tsp cumin seeds)
1 onion sliced
5 to 6 tbsp curd
1 and a half tbsp salt
1 tbsp oil
2 tbsp clarified butter
1 onion sliced for frying (in cooker)
5 to 6 green chilies
4 to 5 slices of ginger
2 tbsp clarified butter
9 small bowl water(same bowl used for measurement)
Coriander leaves
Yakhani Pulao Steps
Take a small bowl(any bowl) for measuring the rice and water. Take 2 or 3 bowls of rice and soak it for 30 to 40 minutes.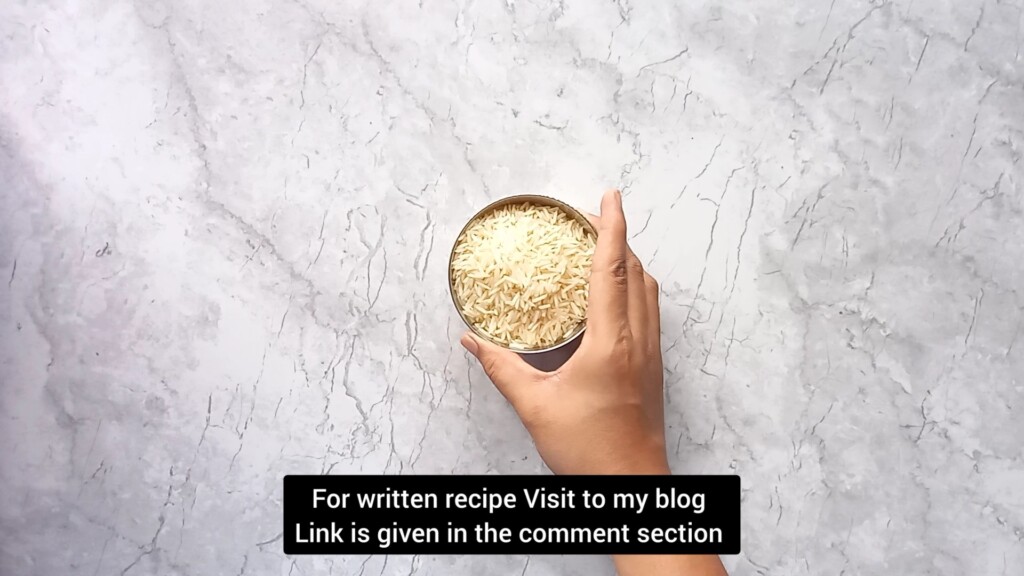 Then heat some oil for frying the onions. Fry 2 sliced onions on high flame until it turns light golden brown.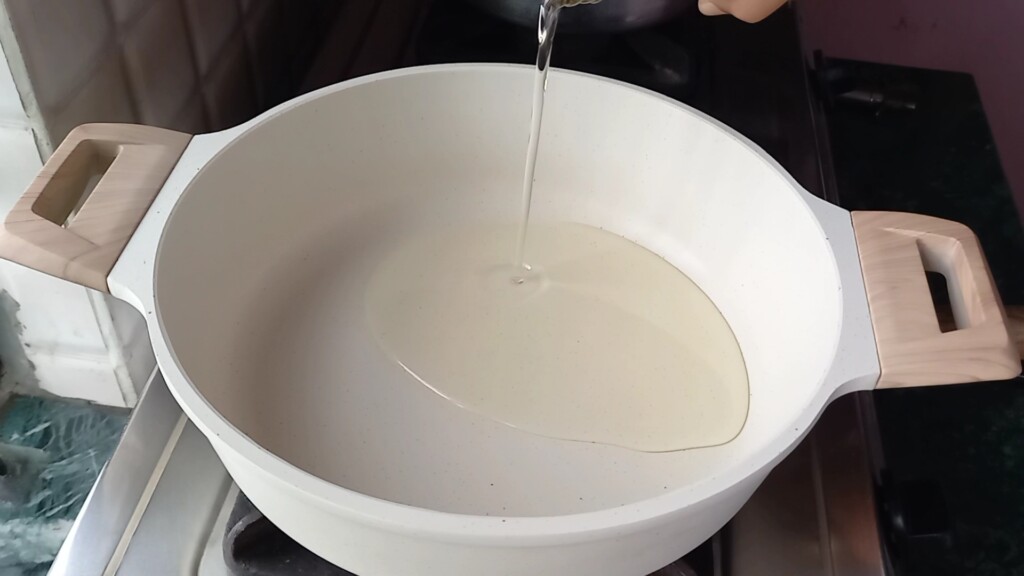 Take some fresh mutton. Add whole spices and salt. Add 1 sliced onion.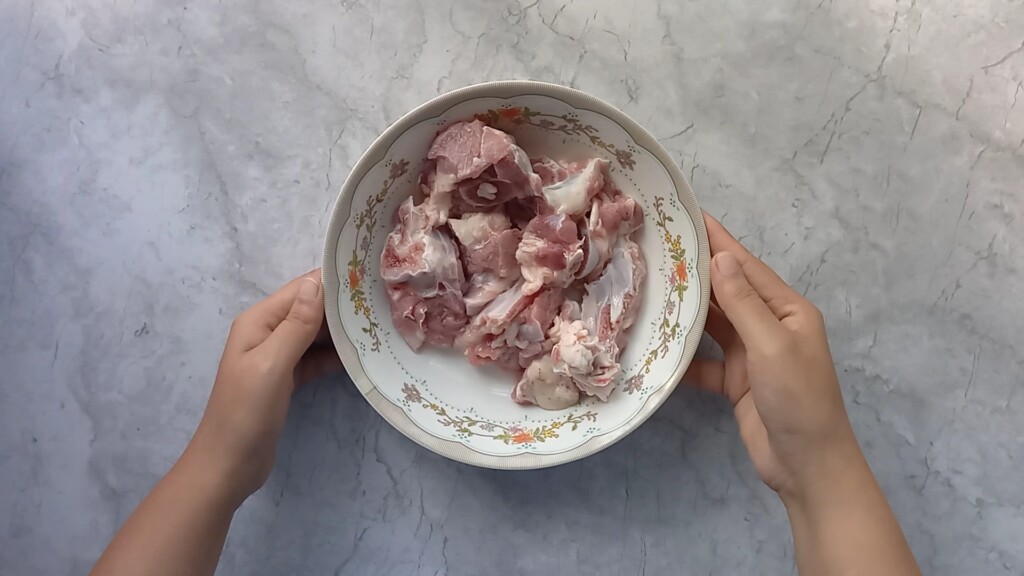 Add curd and mix well. Leave it for 15 minutes.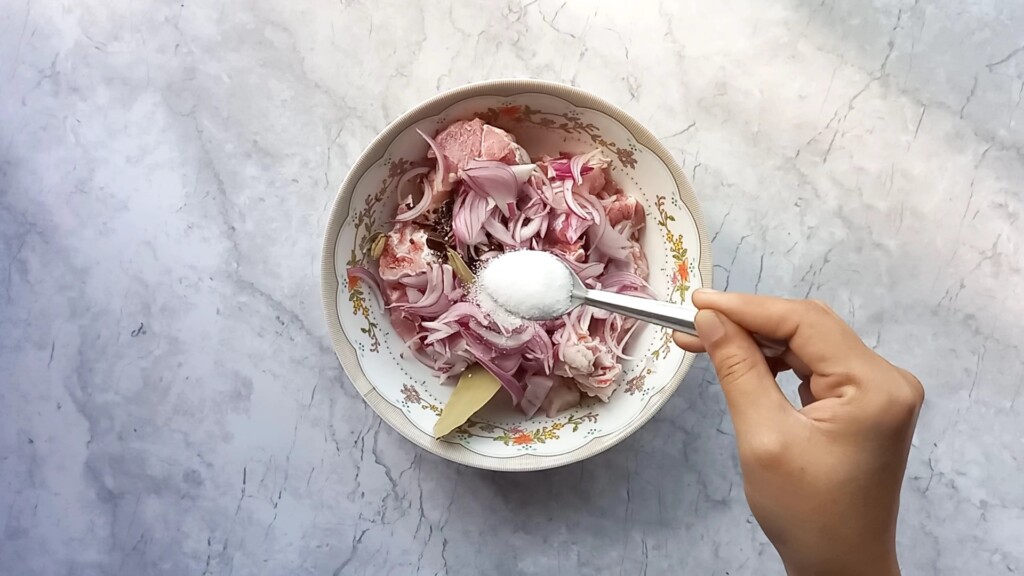 Then take a pressure cooker, and heat some oil. Fry 1 sliced onion and add marinated mutton. Cook it for 10 to 15 minutes on high flame. Then add sliced green chilies and ginger.
Then add water. Here I used 9 bowls of water. 6 bowls for rice and 3 bowl extra. Now close the lead and pressure cook it for 5 to 6 whistles.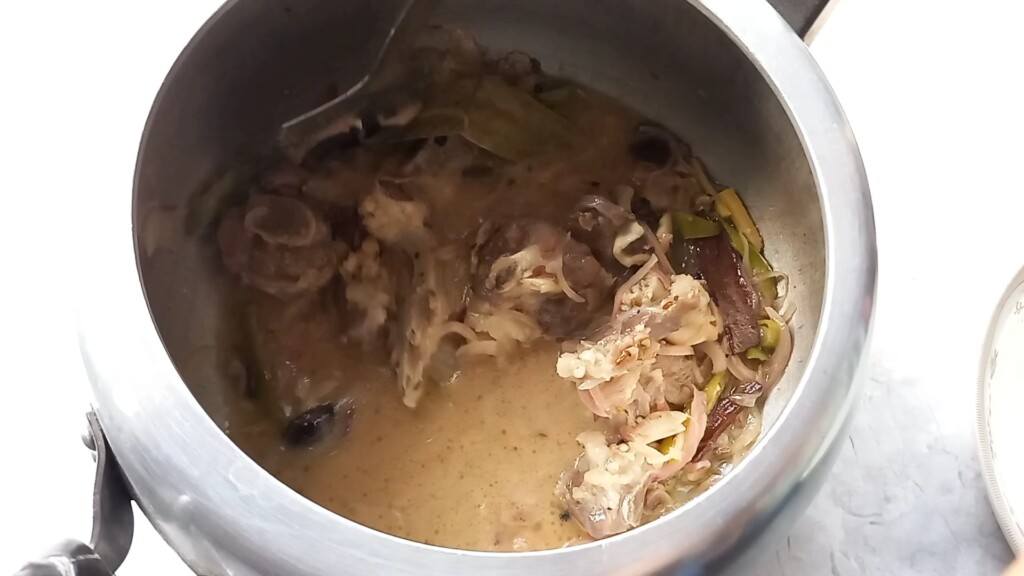 After that remove the mutton pieces from the broth. And strain the broth. Let the stock sit for 10 minutes.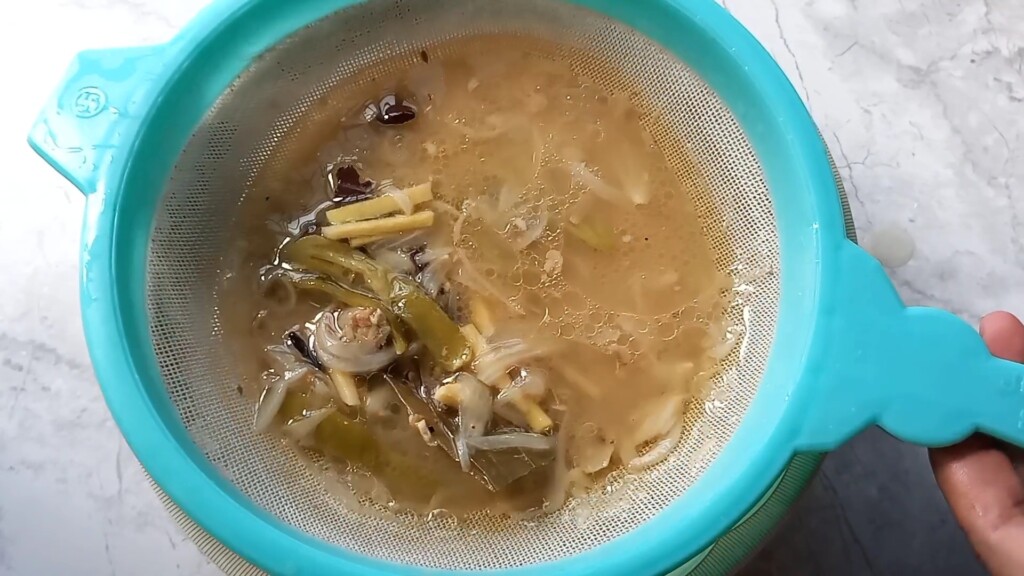 Now take a pot. Heat some ghee or oil. Add cooked mutton pieces and fry them on high flame for 5 to 6 minutes. Then add yakhni/broth. Slowly pour the broth and do not use the thick broth. Now boil it on high flame.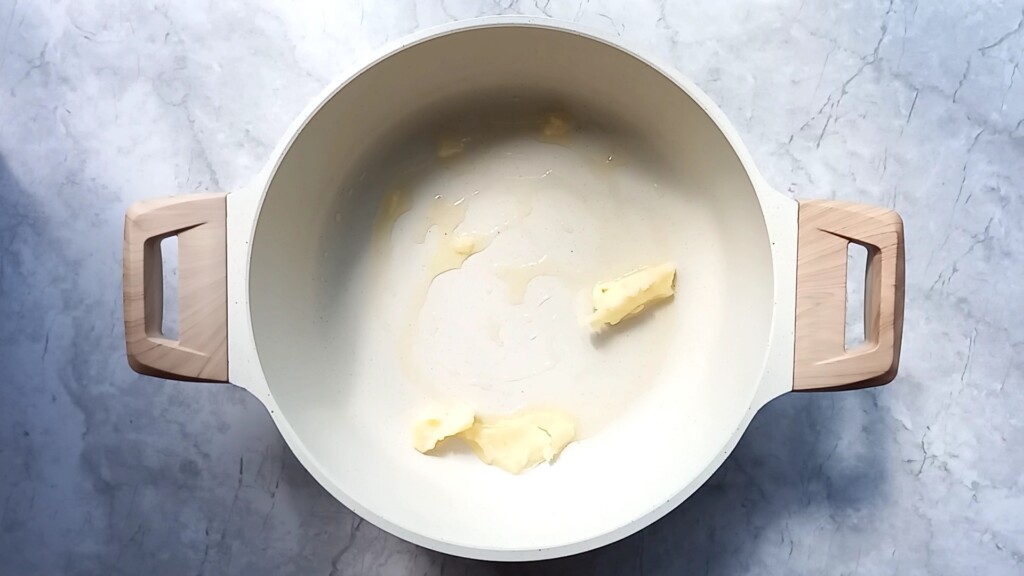 Then add soaked rice. Mix well and cook it on high flame for one boil. Then turn the flame on low and cover it. Cook the rice on low flame for 20 to 25 minutes until the rice absorbs the water. Then turn off the heat. Add some fried onions while serving. Mutton yakhni pulao is ready.