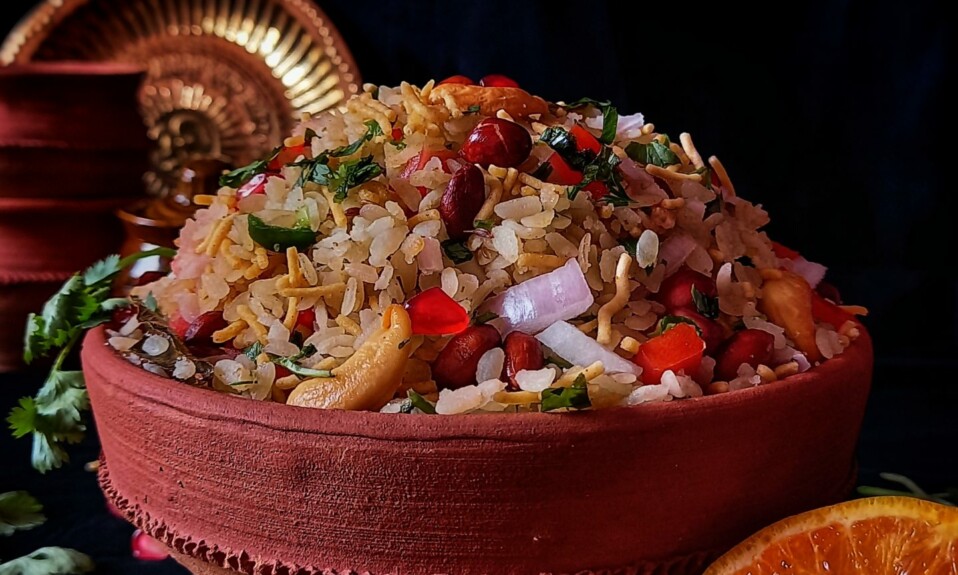 Mixed poha recipe | Healthy poha | Low-calorie poha recipe | Learn how to make mixed poha with step-by-step photos and video. One of the easiest and healthiest poha recipes made with parched rice or flattened rice. In this mixed poha, we use poha(chivda), onions, apple, lemon juice, and some spices. This mixed poha is also free from oil and best for diet freaks. This is tasty and low in calories. If you are on diet then must try this mixed poha. It helps to maintain your calorie and also feed your cravings. Poha is also called aval and it is made in many parts of India. There are a lot of varieties that are quite simple and delicious like mixed vegetable poha, Kanda poha, poha chivda, missal poha, tari poha, Kanda poha, etc. Poha is the most common breakfast recipe. It can be eaten in breakfast or can also be taken to work in a lunch box. It is also good for your kid's tiffin box.
What is mixed poha?
There is a lot of poha recipe in Indian cuisine, this mixed poha is one of them. And it is my personal favorite. Mixed poha is made with soaked flattened rice and in the soaked poha, add some onions, diced tomatoes, diced apples, pomegranate seeds, orange juice, lemon juice, salt, chaat masala powder, cumin powder, some fresh coriander leaves. It is very quick and takes about 6 to 8 minutes. You can enjoy this warm poha with your tea or coffee. This is one of my favorite food when I am dieting and have something delicious and a full bowl meal. This one is perfect. Trust me, if once you make this mixed poha, you stick with this recipe forever. I learned this recipe from my best friend, who is also a foodie like me. She is an amazing cook and always makes some interesting recipes.
some other breakfast or tea time recipe…
Some tips and suggestions
Poha: Use medium poha for any poha recipe. Because thin poha turns mushy after one wash. That's why use medium to thick poha. Here, I use white poha or white flattened rice. You can also use red poha. Do not over rinse or soak the poha. When you make poha frequently, you can easily understand the soaking period of poha. But if you are new then just rinse the poha one or two times and drain all of the water and leave it for 2 to 3 minutes. And it is done.
Other ingredients of this recipe: Use some diced onions, some tomatoes. Add some diced apples or pomegranate seeds for sweetness. For some tangy flavor add orange and lemon juice. Add chat masala powder for an extra punch of flavor. if you don't like this, you can avoid this. But this poha is a combination of sweet, salty, tangy, and spicy flavors. If possible do not skip any ingredient of this recipe.
Ingredients
250 to 300 grams of flattened rice
1/2 tablespoon salt
1 chopped onion
1 chopped tomato
½ diced apple(optional)
some pomegranate seeds
1 tablespoon chat masala
1 tsp cumin powder
Some freshly chopped coriander leaves
2 to 3 chopped green chili
3 to 4 tablespoon bhujia(mixture)
½ lemon juice
2 tablespoon orange juice
Some toasted peanuts and cashews
For tempering
1 teaspoon cumin seeds
5 to 7 curry leaves
1 tablespoon mustard oil(or as you like, you can also reduce the oil)
| | |
| --- | --- |
| Total time | 15 minutes |
| Servings | 3 to 4 |
How to make mixed poha?
First, chop some onions, tomatoes, into small cubes. Chop some green chili, coriander.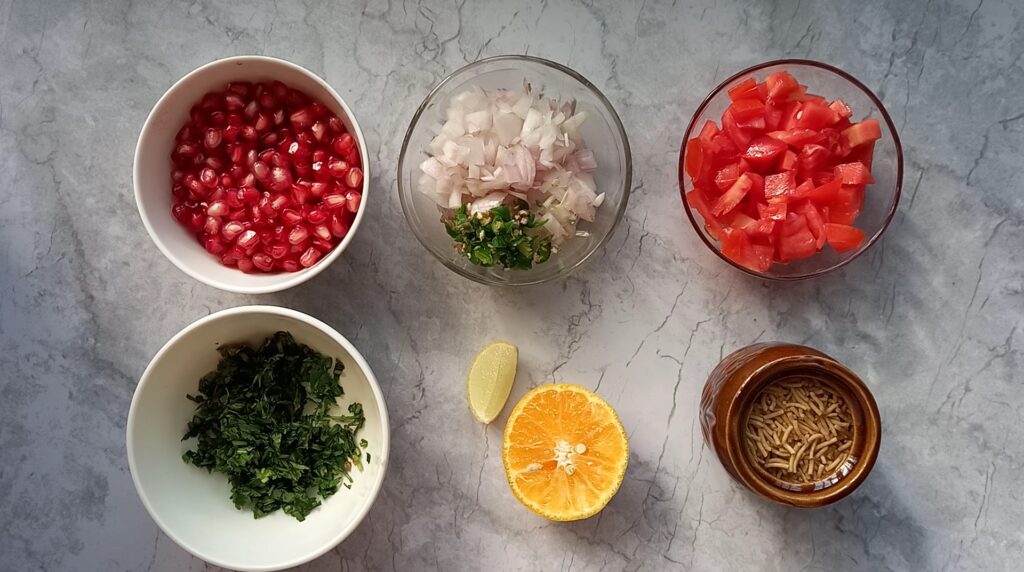 Now, take some flattened rice(chivda) and rinse it with water. Drain all of the water and leave it for 2 to 3 minutes.
Add 1 tbsp mustard oil. Heat it for 30 to 40 seconds on high flame. Dry roast the peanuts and cashews. Leave aside for further use.
Now add 1 tsp cumin seeds and curry leaves. Add soaked poha and sauté on high flame for 2 to 3 minutes.
Meanwhile, add salt, black salt and mix it well. Turn off the heat.
Add orange juice and lemon juice. Add roasted cumin powder
Add onions, tomatoes, green chilies. Add black salt and pomegranate seeds, coriander leaves.
Add fried peanuts and cashews. Add bhujiya into it. You can add your favorite one.
Mix well. Healthy and delicious mixed poha is ready to serve. Apples and pomegranate give sweetness. Orange and lemon give tanginess. Peanuts, cashews, and bhujia give the crunchiness. For freshness, we add coriander leaves. Overall, this is a unique blend of flavors, texture. Enjoy this with a cup of tea or coffee. Perfect for tea time or for breakfast. You can make this instant poha at any time.