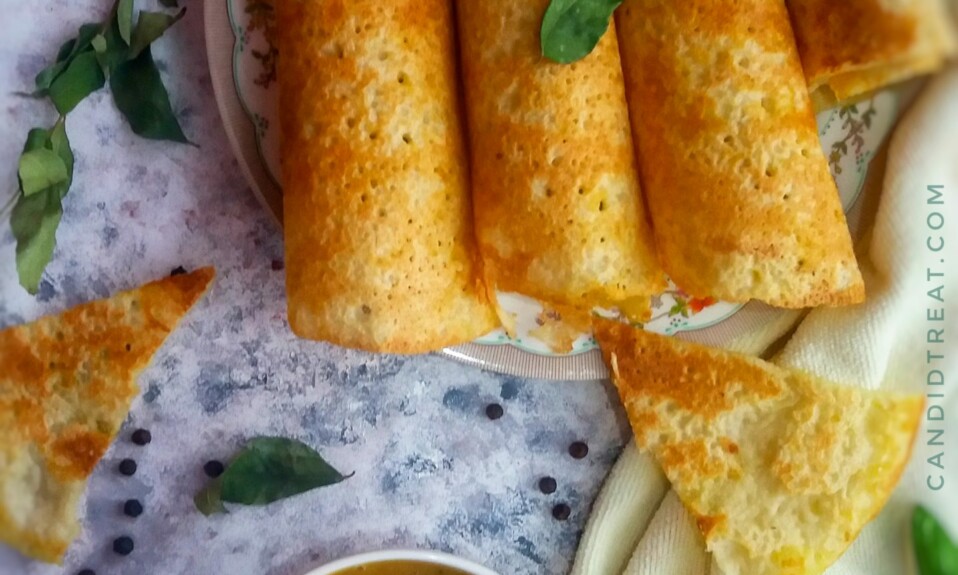 Instant dosa recipe but not with Rava or semolina. This dosa is made with rice, yellow dal (Bengal gram), or black gram (urad dal). In this recipe, you do not need to ferment the batter. This instant dosa batter is prepared with soaked rice, dal for 3 to 4 hours then grind them into a thick smooth batter. Dosa is the most popular South Indian recipe and served with Sambhar or chutney. I love my dosa with peanut chutney. Scroll down for the Instant dosa recipe with step by step photos.
What is dosa?
Dosa is one of the common and popular morning breakfast for South Indian. Traditionally, it takes at least two days of the making process. First, you have to soak the rice and dal overnight and then leave it to fermentation. However, there is some quick version of dosa that is easy and delicious too. There are many different types of instant dosa recipes but this one is my favorite. Some of them are made with Rava, wheat, or oats. Some of them are either soft and thick or thin and crisp.
Instant Dosa?
In this recipe, you do not need to leave the batter for fermentation. This is the best alternative to the traditional dosa. This instant dosa is not made in 15 minutes. It takes at least 6 to 7 hours, but less than the fermented one. If you want to eat this in your morning then soak this at night and then grind it in the morning and leave it for a minimum of 1 hour, now it is ready to cook. You can also keep this in the refrigerator and make the crispy dosa whenever you want.
Some other brunch recipes…
Ingredients used in this recipe
Rice: Use basmati rice or any other fine or broken basmati for this dosa. Because rice is very important to this recipe. Do not use other types of rice, because they do not have the combining or proofing quality.
Yellow dal: Here we use yellow dal for the flavor. So this is the first twist in this instant dosa recipe.
Black dal: Urad dal gives a smooth texture and a little bit sour taste to the batter. You can also ignore this if you want. But do not change the recipe for exact flavor.
Garlic and chili: This is the second twist. Use fresh garlic and green chili while grinding the rice or dal.
INGREDIENTS
3 small bowl of basmati rice(you can use any measuring cup or bowl)
1 small bowl yellow dal
1/2 small bowl black dal (urad dal)
7 to 8 piece of garlic
5 green chilies
1 tablespoon salt
Mustered oil (as required)
Preparation For Making Instant Dosa
Take a large bowl. Add rice. Use good quality basmati or broken basmati rice.
Add Yellow dal.
Add urad dal. Wash 2 to 3 times and add water.
Soak them for 3 to 4 hours.
Peel some garlic and take some green chili. You can adjust the chili flavor.
Then with the help of a grinder, grind all the things together in small batches. Grind the garlic and chili also with them.
Add a little bit of water and make a fine paste. Do not add too much water. We want thick batter not liquidy or runny.
Like this. Then leave it for 2 hours. It is an important step because it helps the batter to combine well and while making dosa, it does not break from sides. It also helps to make the dosa crisp.
After that add salt and mix well.
Take a nonstick pan or griddle. Heat it for 1minute on medium flame. Pour some batter in the center of the pan and immediately spread it evenly, starting from the center and make a thin crepe-like.
Then drizzle some mustard oil over and sides of the dosa. Cook for 2 minutes or until the layer turns golden then flip it.
Again cook for 1 minute. Remove it from heat and repeat the process again and again. Make all of them like this.
Serve it with Sambhar or with your favourite chutney. Serve it warm.
Storing Suggestions
You can store this batter in the refrigerator for 3 to 4 days. Whenever you want to take out of from refrigerator and make the dosa and eat. It is very easy to store.