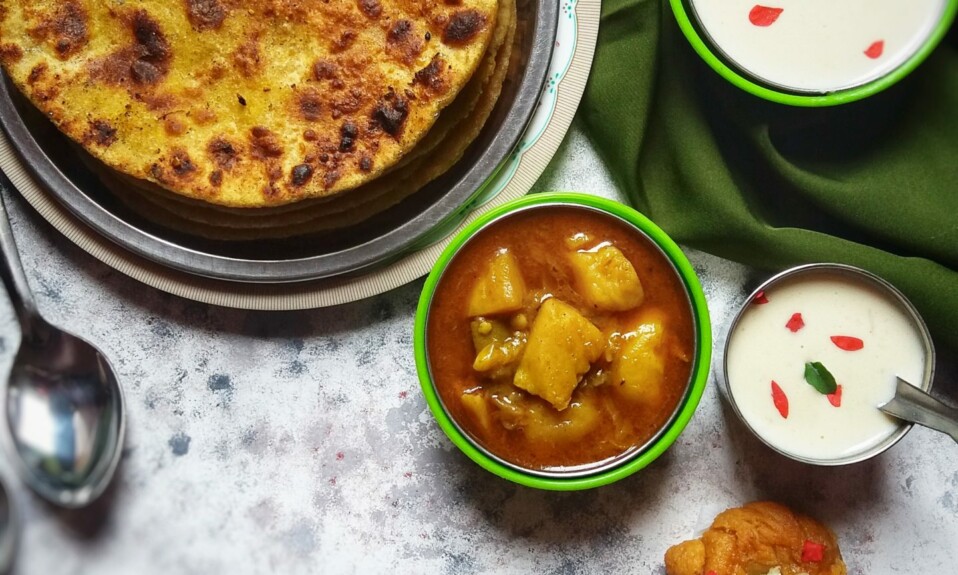 India has many flatbread recipes and all of them are delicious. This chana dal paratha is one of them. This is cooked and flavoured with some spices. You can either deep fry them or just fry with some oil on iron griddle. This is a traditional dish from the state of bihar which is made with yellow bengal gram stuffed inside wheat flour dough. Traditionally it is served with rice kheer (Kheer(Rice Kheer)) Or with some potato gravy. Parathas are quite usual in every Indian household. Especially children relish their parathas.
Dal paratha steps
It requires very little ingredients. Here I am giving steps in a nutshell. Scroll down for detailed recipe with step by step photos.
Wash and pressure cook the chana dal for about 4 to 5 whistles. Dal should be soft but not mushy. Heat some oil and temper with red chili or cumin. Add dal into it and then add salt, turmeric, onion seeds, and some carom seeds. Cool for 10 minutes. Then turn off the heat and mash the dal with the help of masher.
Take some wheat flour add water and make a soft and firm dough. Make small balls and stuff it with a dal mixture. Gather all together and roll it like a ball then flattens this stuffed dough and roll it into a flat paratha. Then cook it on the griddle on medium flame. You can enjoy this with potato curry (Kashmiri Dum Aloo/Dum Aloo(How To Make Dum Aloo)) or with chana gravy (Kala Chana (Black Chickpea Curry).
INGREDIENTS
1medium bowl dal
3 bowl water
1/2 tablespoon of salt
1/4 tablespoon of turmeric
1/4 tablespoon of (onion seeds, cumin seed, carom seed)
2 red chili
300 grams of wheat flour
Some water to make a dough
Mustered oil for parathas
METHOD
Take 1 bowl chana dal and wash them.
Add water into it and 1/4 tablespoon salt and close the lead of pressure cooker and on medium flame cook for 3 to 4 whistles. Dal should be soft but not mushy. If your dal is not cooked in 4 whistles then again cook it for more.
After that drain the hot water and wash with some cold water. Leave aside.
Then take a pan to add 3 to 4 tablespoon mustard oil. Heat it on medium flame. Then temper with cumin and red chili. Saute for 20 seconds.
Then add dal into it and add salt, turmeric, carom seeds, onion seeds and saute well. On medium flame cook it for 10 minutes.
After that turn off the heat and mash dal with the help of masher in the fine mixture. Mash it while it is warm. And add some chopped green chilies.
Take a bowl add flour and add little water at a time to make a firm and soft dough.
Leave it for 15 minutes.
Make small balls of the dough approx lemon size. Coat with some flour.
Flat-it into small into a circle then stuff 2 tablespoon of the mixture.
Gather the sides together and make a ball.
Then flatten this stuffed dough with a rolling pin. Use some flour for dusting on bread which helps in rolling easily. Continue the same process for the rest of the dough.
Heat any flat pan or griddle on medium flame and cook them on both sides it takes 50 seconds.
Then fry it with some oil with the help of a spatula from the both sides it takes 25 seconds on each.
You can see it change it's color into golden.
Repeat the process with the rest of the dough. Paratha is ready for serving.