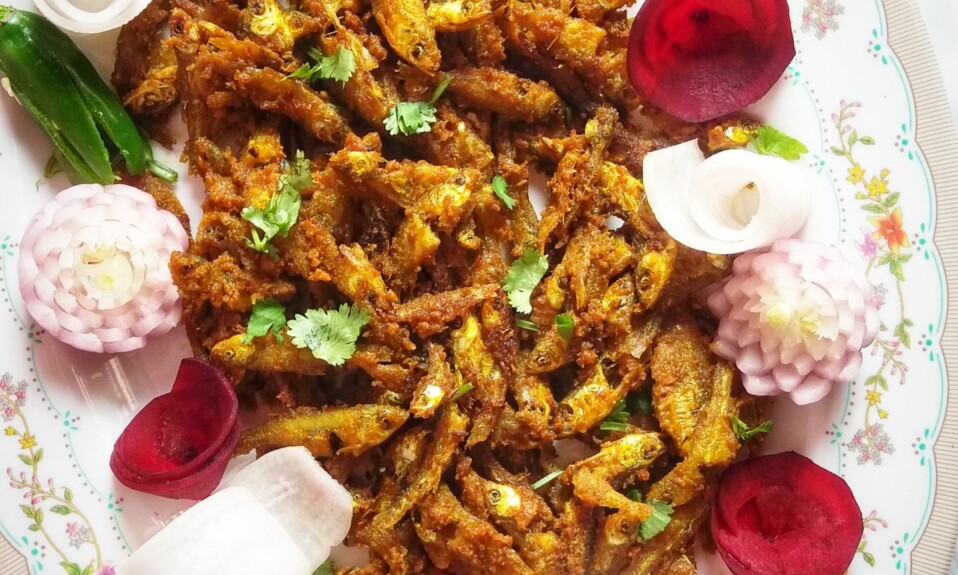 Fish fry recipe with step by step photos. This crispy and spicy fish fry is a great starter/appetizer dish. Some fresh onions or salad compliment this masala fish fry. You can serve this as a side dish with your main meal. It goes well with plain rice, jeera rice, biryani, or plain roti. Or if you want to serve it as an appetizer then serve this fish fry with some lemon wedges, onions, or radish. In this recipe, you can use your favorite fish. I use small fish for this recipe because it is very easy to use. You can also use prons instead of fish.
Masala fish fry
To make this fish fry, you need to marinate the fishes with some turmeric and salt. After marination, deep fry them. You can also shallow fry or grill them. All these methods gave the best fish fry. Then prepare some spicy masala for fried fishes. This is very simple to make. For the masala, you need some spices like coriander seeds, cumin seeds, yellow mustard seeds, red chilies, green chilies, some onion, ginger, garlic paste, tomato paste. Sauté all the ingredients well then add fried fish. Mix well and it is ready to serve.
You may also like these recipes…
Tips for perfect fish fry
Do not overcook the fish. And first, heat the oil until it starts to release smoke, then fry the fishes on high flame for 3 to 4 minutes.
You can use more red chilies for a more spicy flavor.
And you can also eat fish without masala.
Use always fresh fish for better flavor.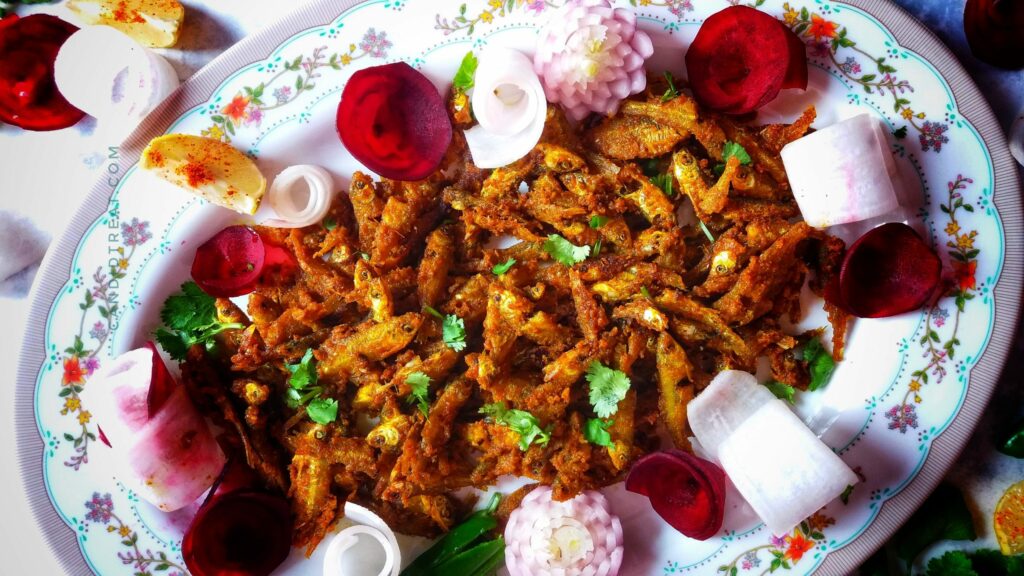 Ingredients
400 grams of small fish
Mustard oil for frying
For marination
½ tablespoon turmeric powder
½ tablespoon salt
For masala
1 tablespoon coriander seeds
½ tablespoon cumin seeds
1 tablespoon yellow mustard seeds
5 to 6 dry red chilies
1 onion puree
1 tomato puree
1 tablespoon ginger, garlic paste
½ teaspoon salt
½ teaspoon turmeric powder
3 to 4 tablespoon mustard oil
| | |
| --- | --- |
| Cooking time | 30 minutes |
| Servings | 5 to 6 |
How to cook the fishes?
Take some tiny fish, wash them 3 to 4 times in running water and clean them properly.
Then add salt.
Add turmeric powder. Mix well.
Take a pan, add mustard oil, and heat the oil on high flame for 3 to 4 minutes. Heat the oil until it releases the smoke then add marinated fish. Cook on high flame. It takes 3 to 4 minutes or until the fish turns golden and crisp.
Fry all of them. Set aside.
Masala for fried fish
Peel the onions and ginger, garlic. Make a smooth puree. Then take a bowl add all whole spices with some water and soak it for 10 minutes. make a smooth puree of it. Also, make some tomato puree.
Now, take a pan add some oil.
Add onion, ginger, garlic paste, and sauté for 5 minutes. Then add spice puree. Sauté for 10 minutes. After that add tomato puree. Cook for more than 5 minutes. When masala releases its oil, then add salt and turmeric powder. Mix well.
Then add fried fish into masala.
Mix all of them together and cook for 2 minutes on medium flame. Turn off the heat and garnish with some fresh coriander leaves.
It is ready to serve. Serve it with roti or rice. It can be perfect for your party starter. The most important thing to use tiny fish is that you do not have to worry about the bones. It is very easy to grab especially for kids. Make this crispy, spicy fish fry on weekends and enjoy.