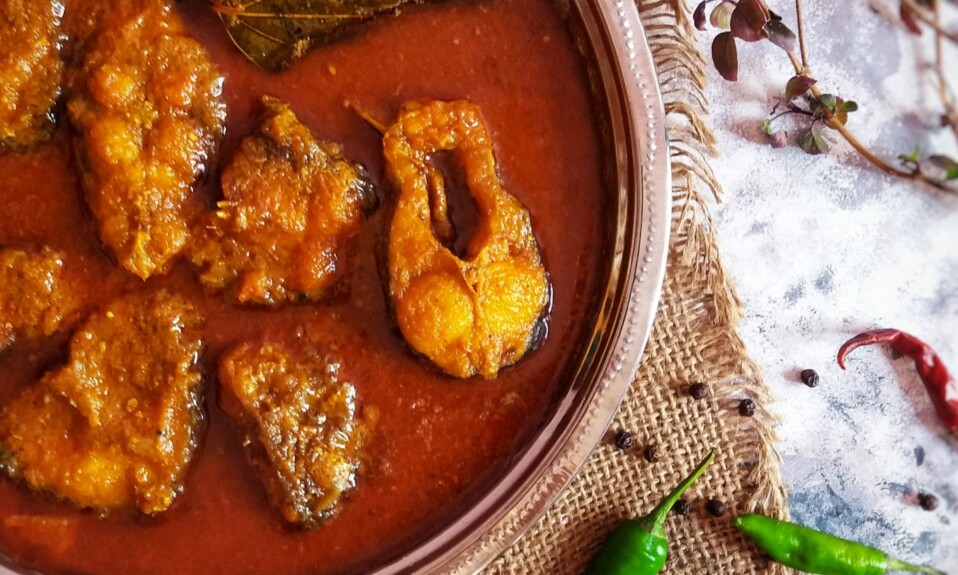 Fish curry is one of the famous seafood eaten in Indian cuisine. Asia has a lot of curry recipes. Some of them are vegetarian and some of them are non vegetarian. You can choose your favourite one and make that. This fish curry is so varsetial that you can use any type of fish for this recipe like rohu fish, hilsa fish etc. Nothing is better then a perfect fish curry with some warm rice. This curry is made with onions, mustered seeds and tomatoes. The secret of this spicy curry are the spices which we used. This was another great recipe that was handed down to me by my mother.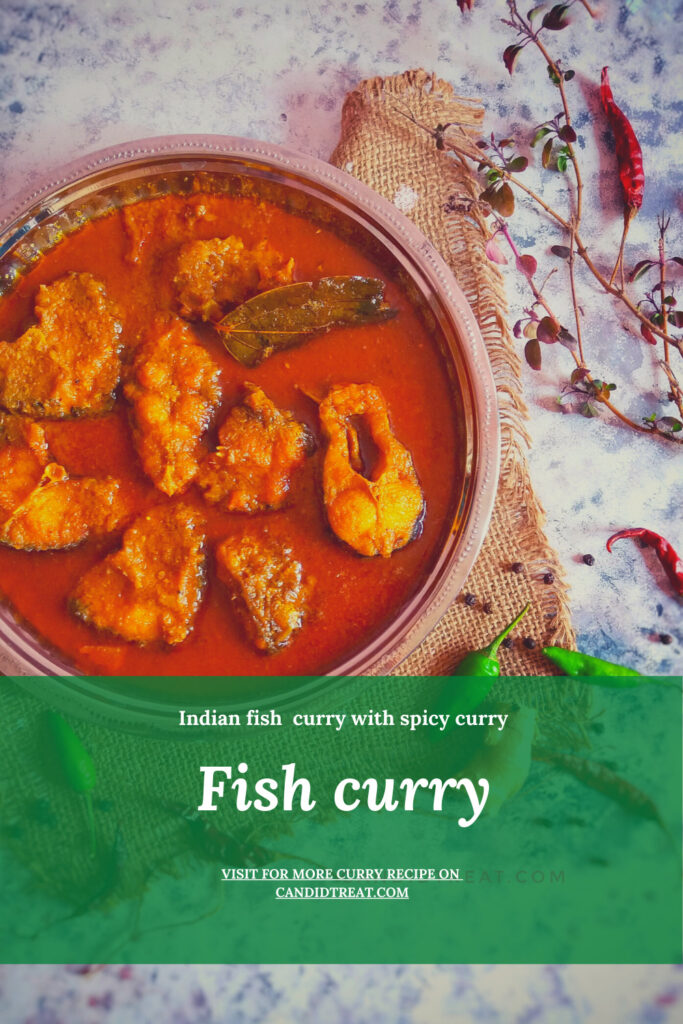 Fish Curry
Fish curry with Spicy curry recipe. Basically, curry is based on onions, tomatoes, and mustard gravy. The secret of this curry is mustered seeds because it gives the creamy and bitter flavor to curry. It is served with warm rice or with roti.
I love the fish curry so much that we eat a lot during every visit to the village. Because there we always get freshwater fish. The freshness of fish is very important for a good fish curry. In this recipe first, deep fry the fish for 3 to 4 minutes then add with curry. You can also eat your fish as a fried one. It also tastes amazing.
Some other must try recipes…..
Ingredients and substitutes
Fish: The most important ingredient is fish. Use fresh fish as much as possible. You can use any kind of fish for this curry. Fresh fish elevate the flavor and aroma of curry.
Spices: Use a good amount of spices and fresh ginger, garlic paste. Spices which we are using for this dish curry are mustered seeds, cumin, green cardamom, black cardamom, coriander, black pepper, red chilies, cinnamon, cloves, turmeric. Now let's start the recipe…
INGREDIENTS
1 kg rohu fish
4 onions
1 tomato
2 tablespoon ginger garlic paste
Whole spices for paste( 3 tablespoon yellow mustered, 8 red chilies, 2 tablespoon coriander and 1 tablespoon cumin, 6 black pepper, 3 green cardamom, 2 black cardamom, 5 cloves, 4 cinnamon sticks)
Mustered oil for frying and cooking
2 bay leaves
1 tablespoon turmeric
2 tablespoon salt
800 ml water
| | |
| --- | --- |
| preparation time | 15 minutes |
| cooking time | 50 minutes |
| servings | 5 to 6 |
Preparation For Making Fish Curry
Wash the fish with water and sprinkle some turmeric powder and 1 tablespoon salt. Mix well and keep aside for 5 minutes.
Meanwhile, peel and wroghly chop the onions, tomatoes, ginger and garlic.
Take all spices.
Take a bowl add all whole spices and pour some water. Keep aside for 10 minutes.
After that take a grinder and blend the onions and spices separately. Make a smooth puree of spices and onions, ginger, garlic, and tomato with the help of water. Add little water and make a fine paste.
How To Cook Fish Curry?
Take a Kadai or pan add 60 ml mustard oil and heat it on high flame. Then add fish pieces, 4 at a time. Cook for 3 to 4 minutes only. Do not overcook the fish otherwise, its upper layer burn and the fish gets chewy in texture.
When it looks slightly golden remove the fish from oil and fry all fishes like same.
Now remove excess oil and in same oil add bay leaf and some cumin seeds. Then add onion puree and turmeric powder and some salt. Cook for 5 minutes on medium flame.
Then add spice puree again cook for 10 minutes on low flame. After that add tomato puree and cook for 15 to 20 minutes on low flame.
Then add 800 ml water. And cook for 10 minutes. You can adjust the water quantity for the gravy and sorry for the shadow of window because I have a very big window in my kitchen just in front of my stove.
Now add fried fish in gravy and cook for more 15 minutes.
Check the salt and adjust the flavor. Turn off the heat and garnish with fresh coriander leaves.
Fish curry is ready to serve with rice or roti. You can store this curry in refrigerator for 1 day. Give a try to this fish curry on your weekends.