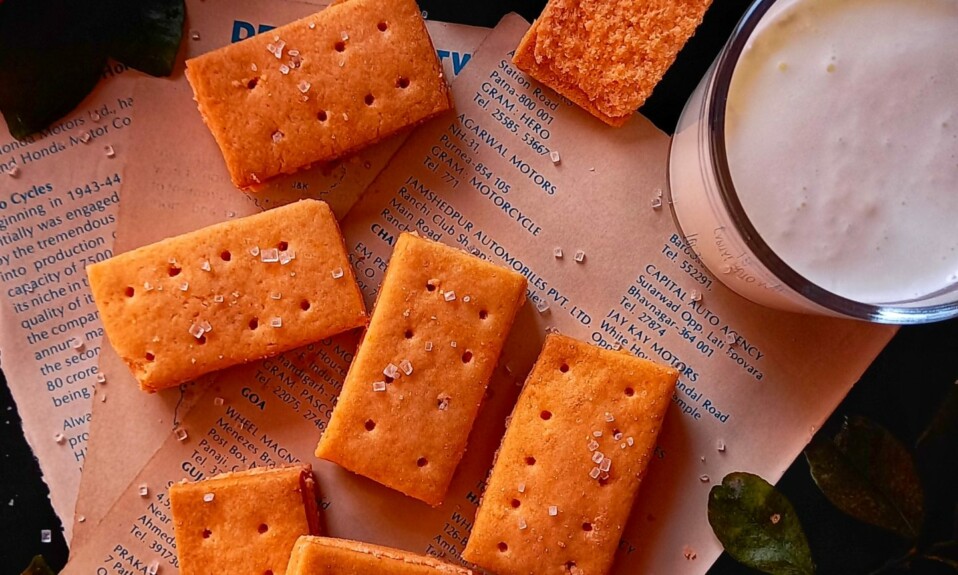 Orange cream biscuit | cream biscuit | eggless cream biscuit| learn how to make orange cream biscuits with step-by-step photos and video. First of all, Merry Christmas to all of you. And this cream biscuit is perfect for this Christmas. You can give these delicious biscuits to your friends and family as a Christmas gift. This orange cream biscuit is very easy to make. And this is an eggless biscuit recipe. you can make these biscuits with fresh oranges and you do not need to add any artificial flavors to them. You can also store these biscuits for 2 to 3 weeks in an airtight container. Serve these biscuits with a hot cup of coffee or tea. For detailed instructions, you can also watch the recipe video.
Must try recipes…
Ingredients for orange biscuit
12 to 13 tbsp unsalted butter
5 to 6 tbsp powdered sugar
1/3rd tbsp salt
1 tsp orange zest
22 to 23 tbsp refined flour
½ tsp baking powder
A pinch of orange food color
Ingredients for orange cream
3 to 4 tbsp unsalted butter
2 and a half cups of icing sugar or shifted powdered sugar
1 to 2 tsp of salt (or as needed)
2 to 3 tsp of orange zest
A pinch of orange food colour
Orange cream biscuit video recipe
How to make orange biscuit?
Take a bowl. Add unsalted butter. Use butter at room temperature. Mix well.
Then add powdered sugar. Mix them well for 1 to 2 minutes.
Add salt. Take a fresh orange and great some zest from the orange. Add orange food color.
Mix them well.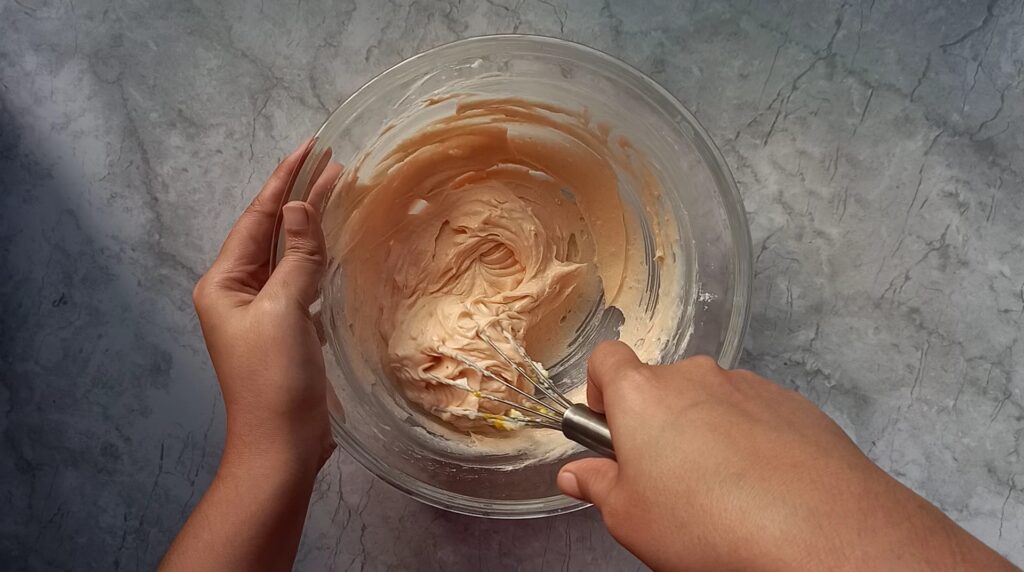 Add flour in batches. Add baking powder. Mix them well. First, shift the flour then use.
After that add more flour and combine the dough well. If your dough looks dry and does not combine well. Then add 2 to 3 tbsp chilled milk and mix well. (PRO-TIP FOR FIXING YOUR DRY COOKIE DOUGH). When the dough is ready.
Take a plastic sheet. Place some biscuit dough. Cover the dough with a plastic sheet and roll it out.
We don't want too thin or too thick biscuits. So roll them evenly. After rolling cut them into rectangular pieces or as you want.
Then make some holes with the help of a toothpick. First, preheat the oven for 10 minutes at 180 degrees Celcius. Bake them for 10 to 12 minutes at 180 degrees Celcius.
Bake all of the batches of biscuits like this.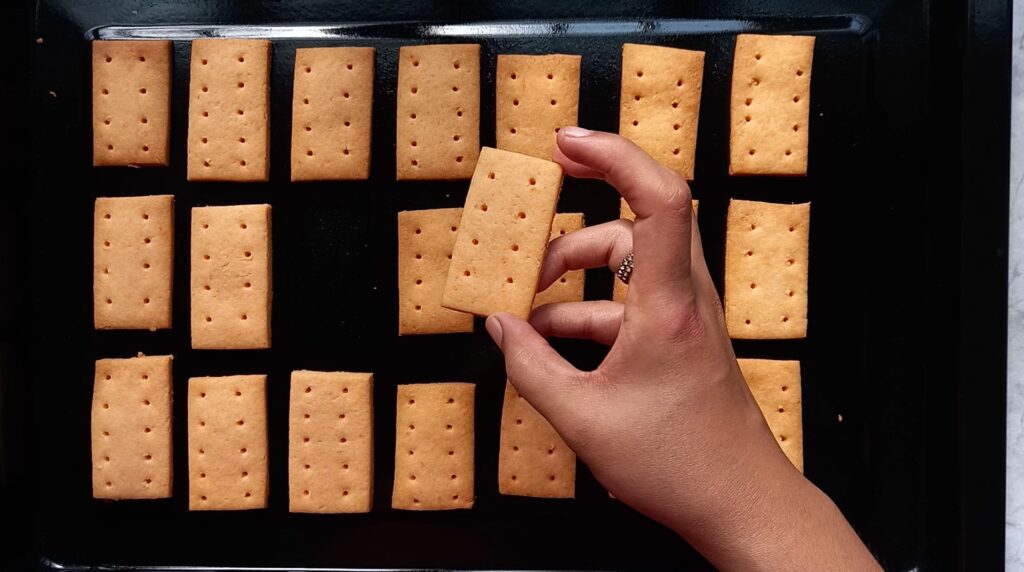 Now leave it to cool down.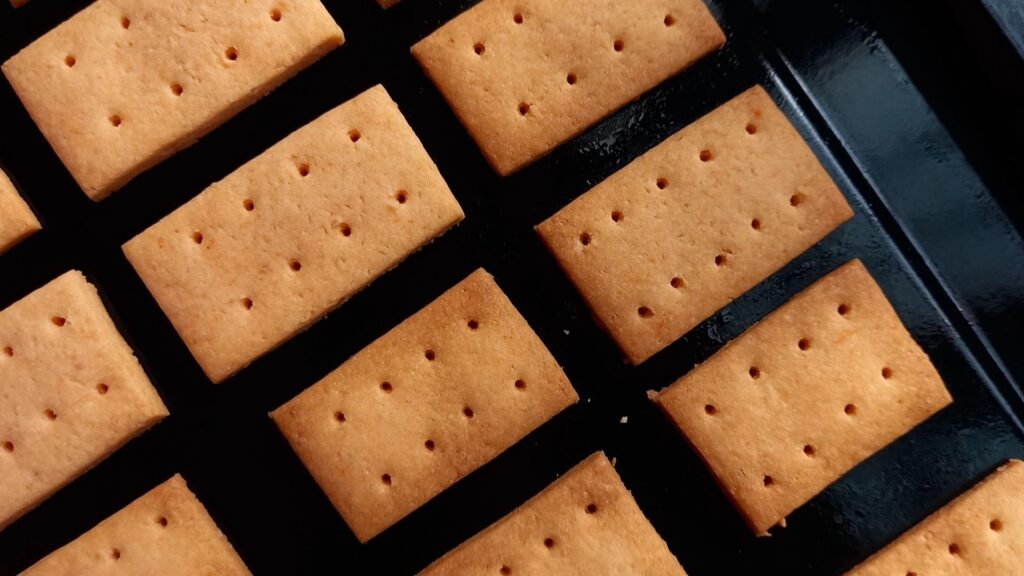 HOW TO MAKE ORANGE CREAM?
Take a bowl. Add some unsalted butter at room temperature. Add sugar in batches.mix well. You can use a hand whisk or electric whisk.
Here, you have to add sugar till it forms a thick and smooth cream. So you do not need to measure the sugar perfectly. Add them in batches till it looks thick and holds a stiff shape.
Add salt. Add orange zest and food color. Mix them well. You can adjust the salt and orange flavor as per your taste.
Here, you can see the consistency of the cream. We want this thickness.
Now take a biscuit. Add some cream. Place another biscuit and sandwich them.
Make all of them like this. So our fresh, homemade, and eggless orange cream biscuits are ready. Store them for 2 to 3 weeks.