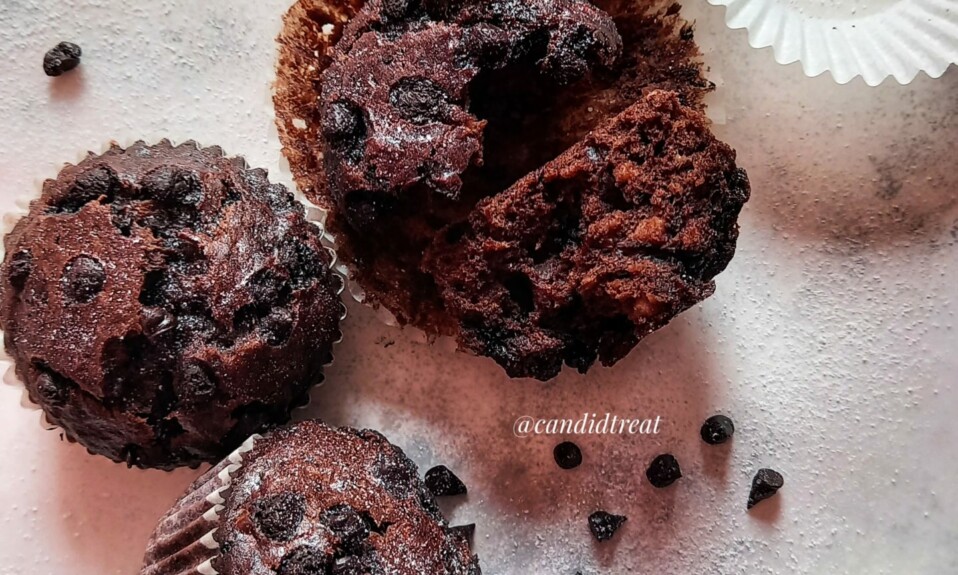 Chocolate Banana Muffins | banana Chocolate Chip muffins | Easy Cupcakes recipe | Learn how to make chocolate banana muffins with step-by-step photos and video. These chocolate banana muffins are super soft, moist, and delicious. And this muffin recipe is super quick because we do not need to whisk ingredients a lot. This recipe is a perfect way to use overripe bananas. With this muffin recipe, you can also make perfect chocolate banana bread. You can make these chocolate banana muffins on Christmas or on birthdays, whenever you want to make them.
Chocolate Banana Muffins
This chocolate banana muffin is a combination of two delicious recipes. The first one is banana bread and the second one is chocolate chip muffins. And when you combine them together, you get super moist and chocolatey muffins. For this recipe, you need some overripe bananas. It gives sweetness and a perfectly moist texture to your muffins. That is why use overripe bananas for this recipe. After this, you need some sugar, oil, eggs, flour, cocoa, a rising agent, and some chocolate chips. If you want to make this recipe eggless, skip the egg and follow the entire process. You can also bake these muffins without an oven. So you can check my vanilla cupcake recipe or take a large pot(heavy bottom pot). Place some sand or salt on the bottom of the pot. Then preheat it for 10 minutes on medium flame. Then place the cupcakes and turn the flame on low. Now bake them for 35t o40 minutes on low flame or until it bakes completely. That's it. So you can make them without an oven or with an oven.
SOME OTHER RECIPES FROM THIS BLOG…
INGREDIENTS
4 medium sized overripe bananas
4 to5 tbsp powdered sugar
3 to 4 tbsp refined oil/flavorless oil
1 egg
3 to 4 drops of vanilla
3 to 4 tbsp milk
5 tbsp flour
3 to 4 tbsp cocoa
½ tsp salt
1 tsp baking powder
½ tsp baking soda
1 tbsp choppwd chocolates
1 to 2 tbsp chocolate chips(optional)
How to make chocolate banana muffins?
Take some overripe bananas. Chop them into pieces and mash them well. Set it aside.
Take a bowl. Add sugar, oil. Mix well. Then add eggs. Mix it for 10 seconds. Do not over mix.
Add vanilla, milk, mashed bananas. Mix well.
Then add sifted flour, cocoa.
Add salt, baking powder, baking soda, chopped chocolates.
Mix well with light hands. Do not over mix the batter.
Now take some paper cupcakes or cupcake molds. Pour the batter in it. With this batter, you can make 4 to 5 medium-sized muffins. Top it with some chocolate chips.
Now bake them in preheated oven for 30 to 35 minutes at 180 degrees Celcius. OR, check this recipe for without an oven recipe. VANILLA CUPCAKE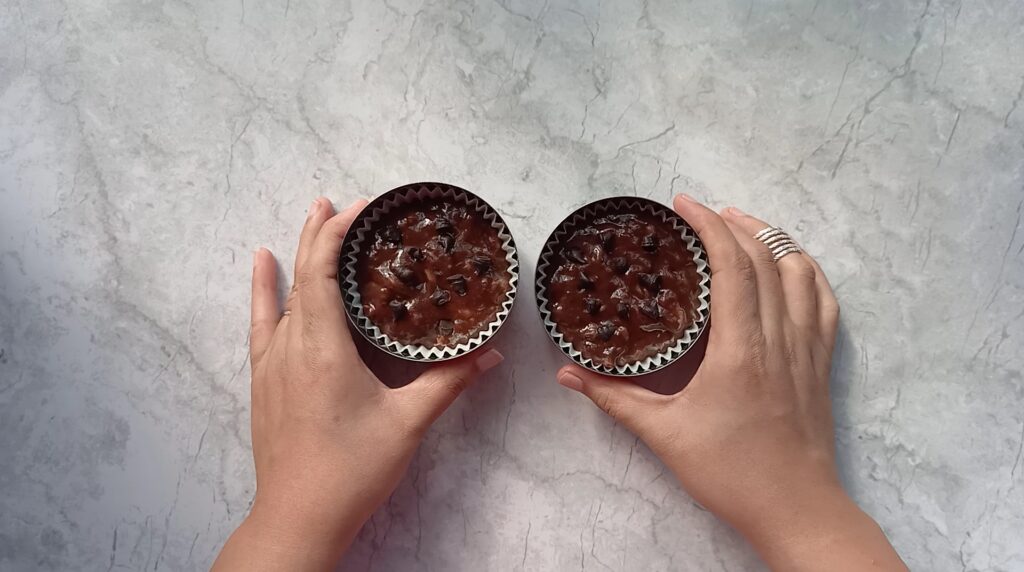 After that remove it from the oven. You can check them by inserting a toothpick into muffins. If it comes out clean, it is well baked.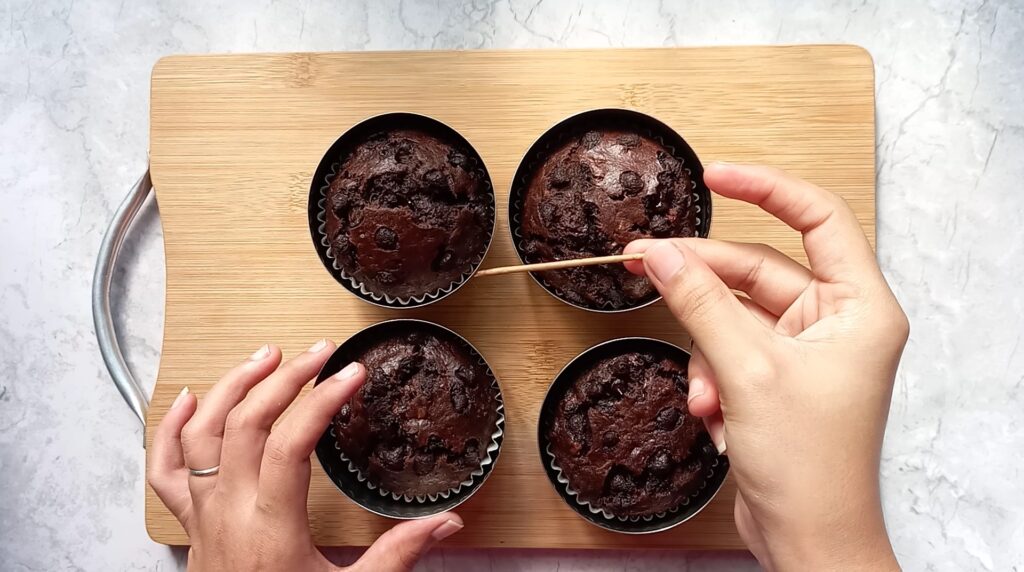 Our chocolate banana muffins are ready.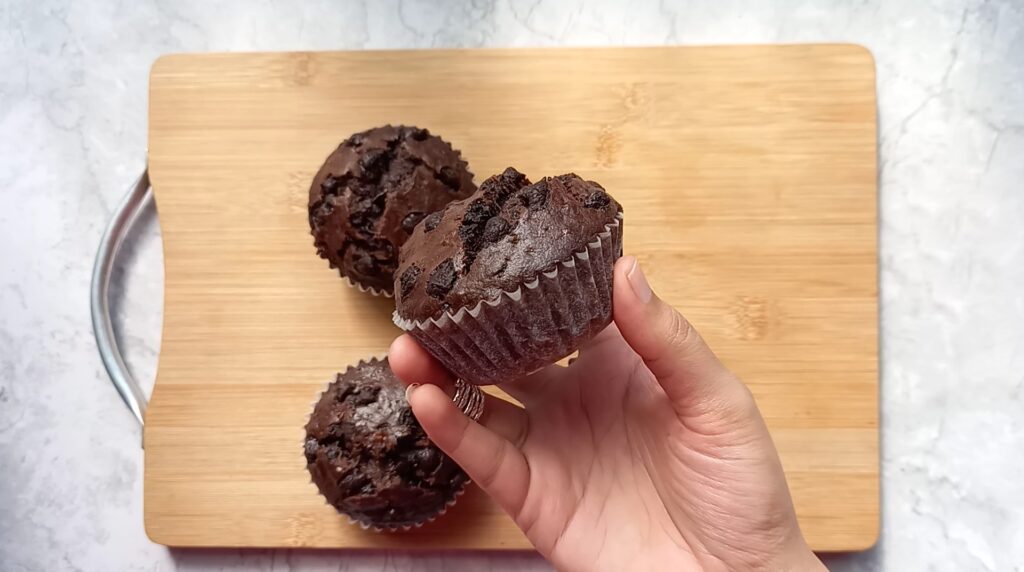 You can eat warm or keep them in the fridge to chill.