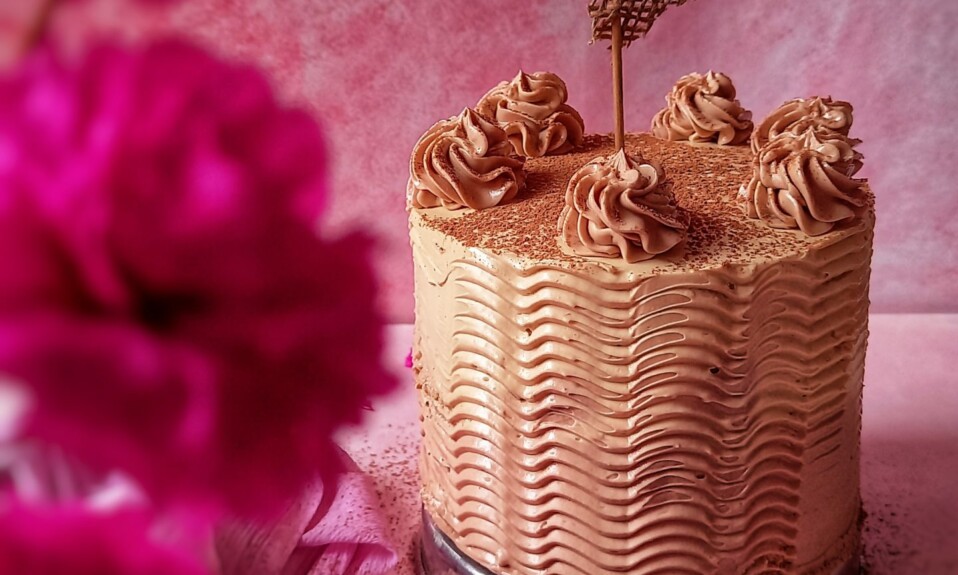 Coffee cake with buttercream frosting | Coffee chiffon cake | Coffeecake recipe without oven |Hey, foodies. Welcome to candid Treat. Today's recipe is very special because it is my gratitude for them, who always help me throughout my journey. And I completed my 1 year of blogging. It all happens because of all of your love, so thank you so much, everyone. We always want a person in our life, who understands us, cherishes, and motivates us in any situation. And that one is the most important one, and we never ever want to lose them. Again, thanks a lot. Now, let's talk about the recipe…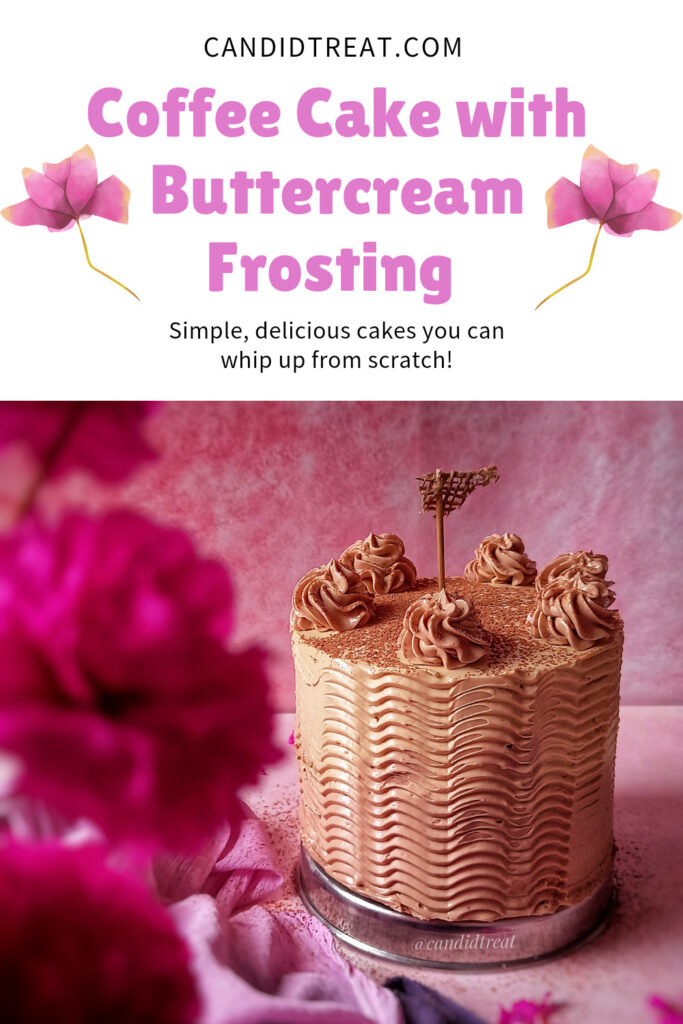 Coffee cake with Italian buttercream frosting
Coffee cake is a coffee-flavored cake made with eggs, sugar, flour, oil, and coffee. This cake is going to be super light and fluffy. Because this recipe is inspired by cotton chiffon cake. Cotton chiffon cake is made with egg yolk, flour, sugar, oil. And folded with some whipped egg whites. This whipped egg white gives a fluffy and light texture to the cake. And it tastes amazing. It is super easy to make. You can also make this chiffon cake in the oven or in the microwave or without an oven. Yes, in this post I made this cake without an oven(on a gas stove). Or the outcome is superb.
For the frosting of this coffee chiffon cake. I used Italian buttercream. Italian buttercream is very silky, buttery, and smooth buttercream. And it was perfect to frost your cakes. You can add different flavors to this buttercream. You can check my Italian buttercream post for more information and video recipe. for Italian buttercream, you need egg whites, sugar syrup, unsalted butter. Or you can also frost this with any frosting, like whipped cream, buttercream, chocolate ganache, etc.
Pro tips for baking a chiffon cake
Always use eggs at room temperature.
Carefully separate the egg whites and yolks. Always use a clean bowl to whip the egg whites.
In this cake recipe, do not use too much oil.
You can adjust the sugar and coffee flavor as per your taste.
Do not over mix the batter. And while folding the whipped whites, gently fold them.
Whip the egg whites until you get the soft peak. We do not want a stiff peak for this recipe.
SOME OTHER RECIPES FROM THIS BLOG…
INGREDIENTS
2 eggs(at room temperature)
3 tbsp powdered sugar for yolk and 5 to 6 tbsp powdered sugar for whites
2 to 3 drops of vanilla
8 to 9 tbsp refined flour
1 teaspoon coffee and 2 tbsp warm water
3 to 4 tbsp refined oil/flavorless oil(20 to 25ml)
3 to 4 drops of lemon juice
A pinch of salt
2 tbsp melted choclolate(for buttercream flavor)
2 tbsp cocoa powder
2 teaspoon coffee and 3 to 4 drops of warm water mix
How to bake coffee cake?
First, take 2 clean bowls. Carefully separate the egg whites and yolk.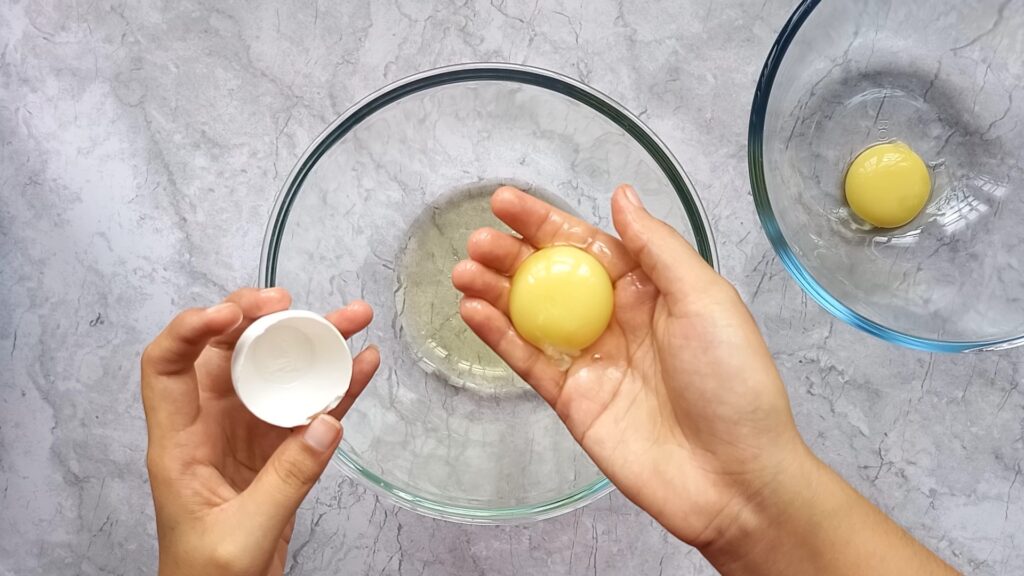 Now add vanilla essence, and 3 tbsp powdered sugar to the yolk. Mix well.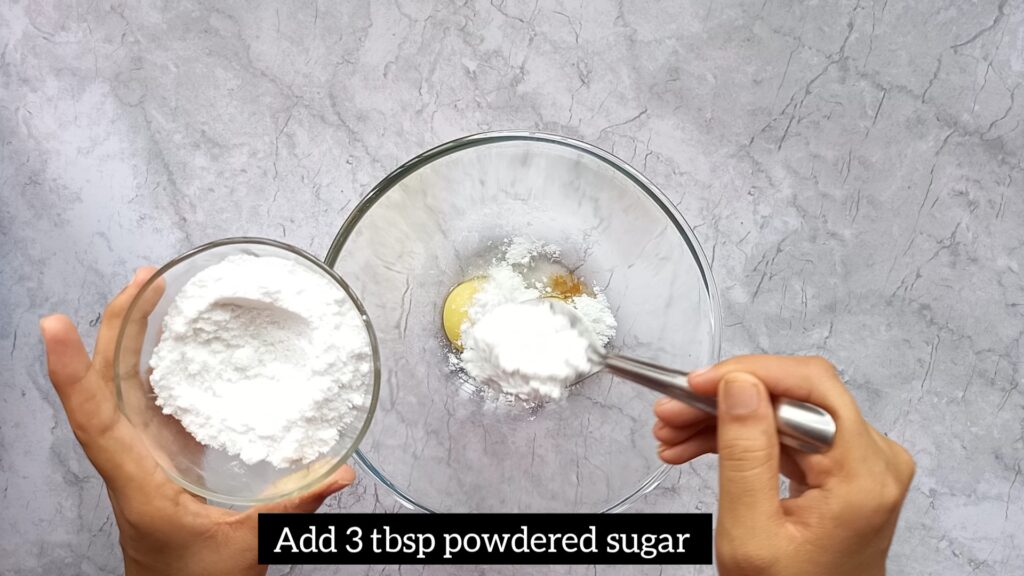 Add oil. Add salt.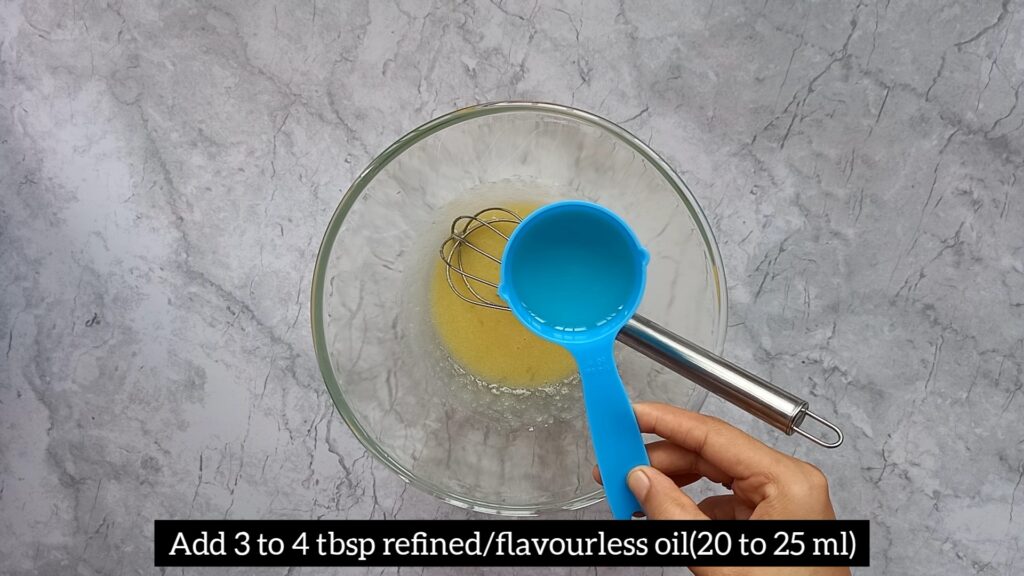 Then add coffee mix. For this take some warm water, add coffee and mix well. Then add this mix to the yolk.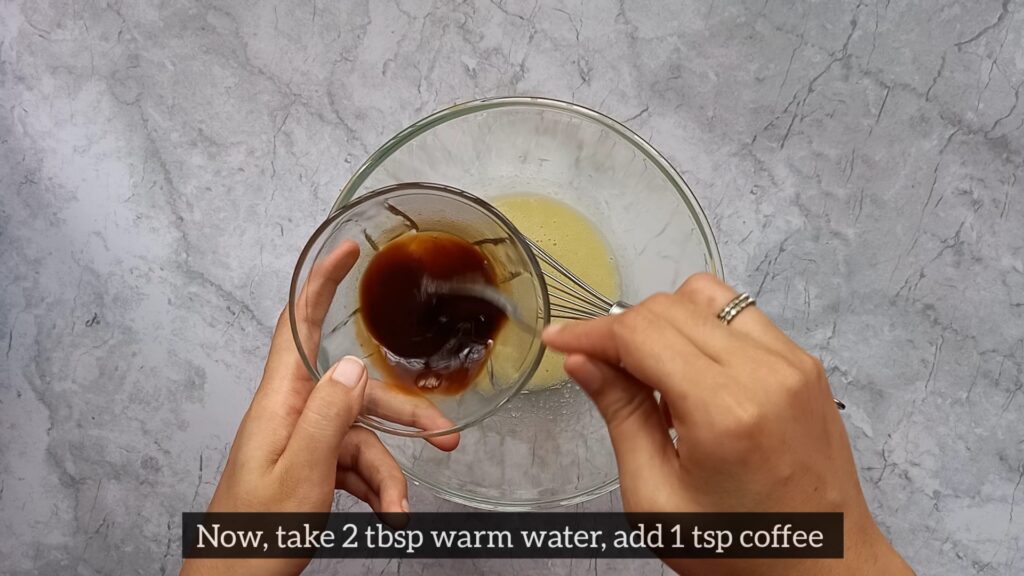 Mix all of them together.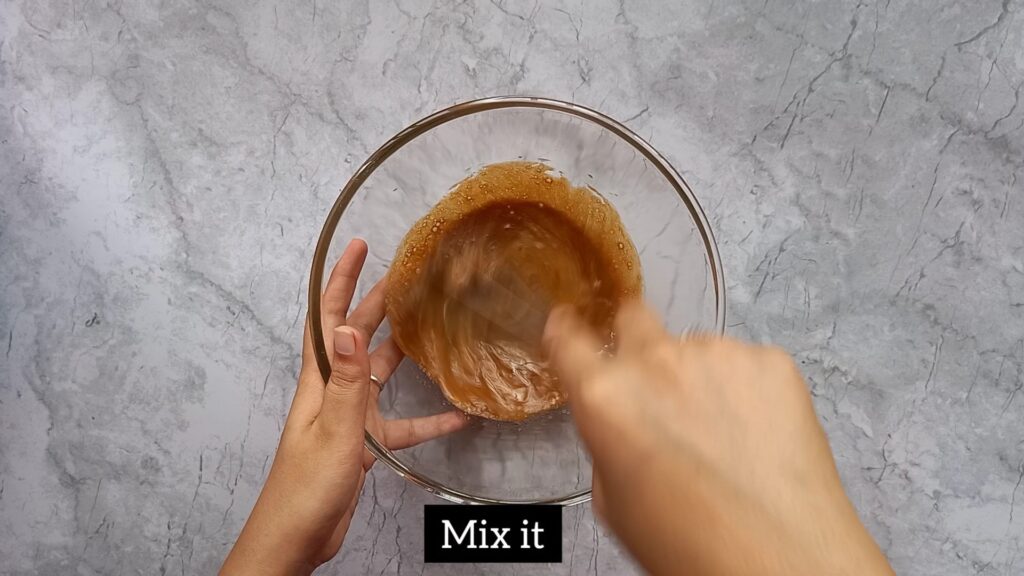 Add flour in batches and gently mix them.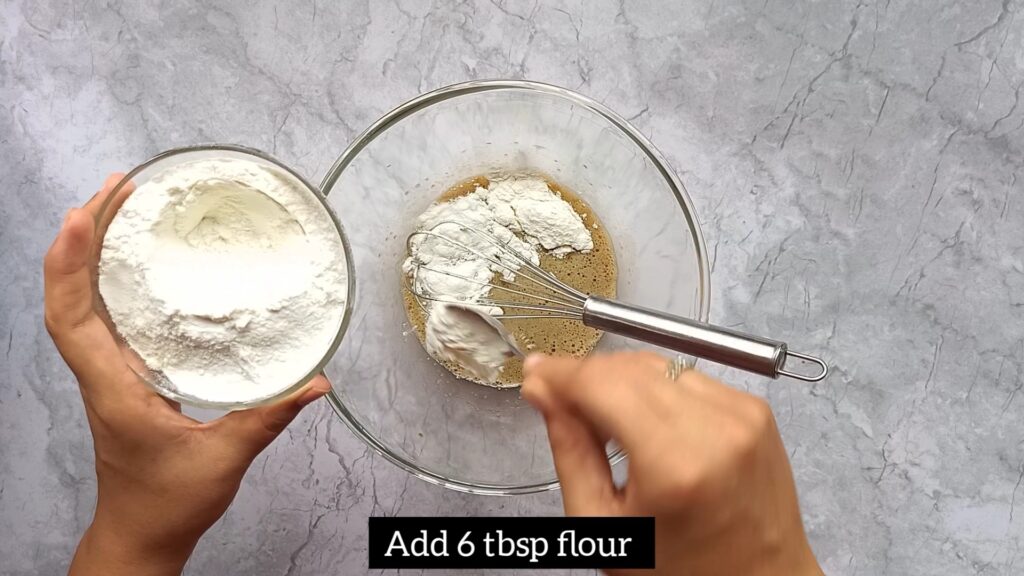 After that set it aside. If your batter is too thick, add 2 to 3 tbsp milk. And mix them.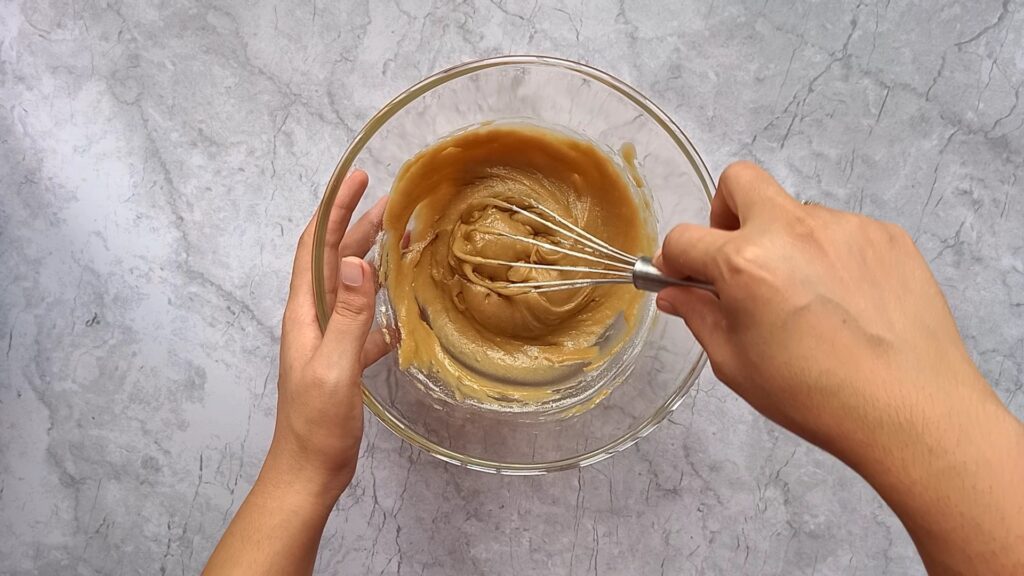 Now, add 3 to 4 drops of lemon juice and whip the whites for 2 minutes.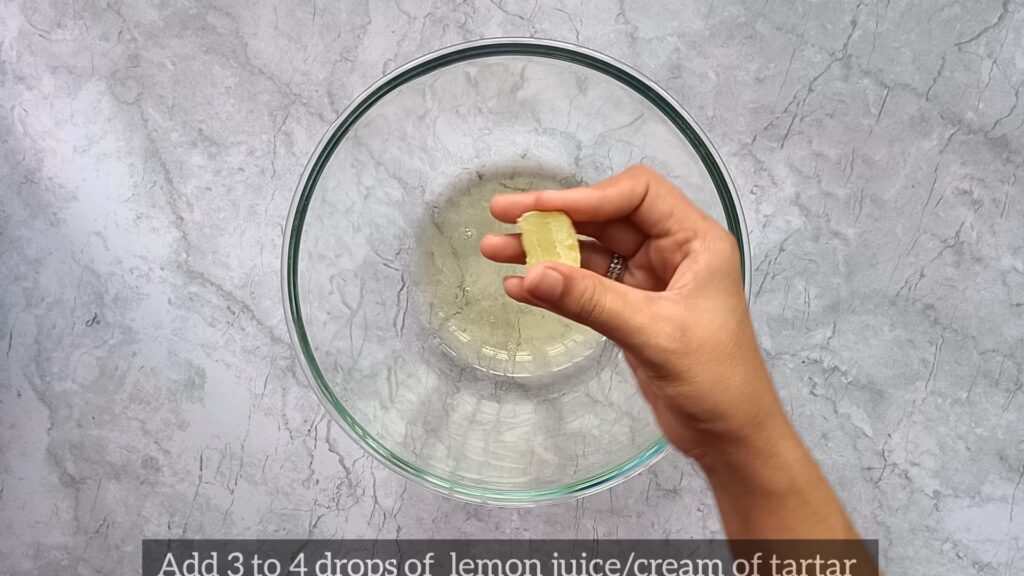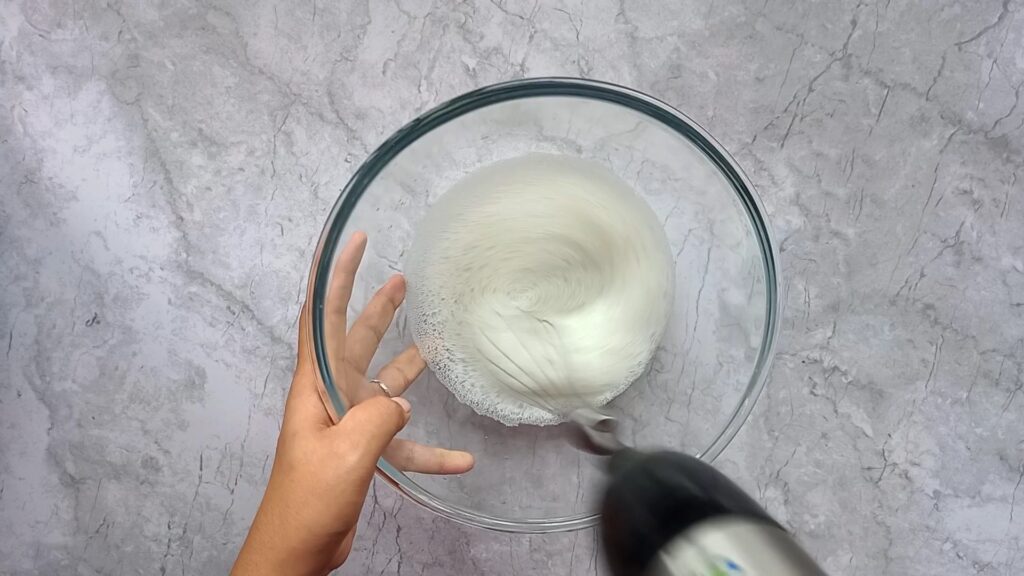 Then add 1 tbsp sugar at a time and whip the whites at high speed.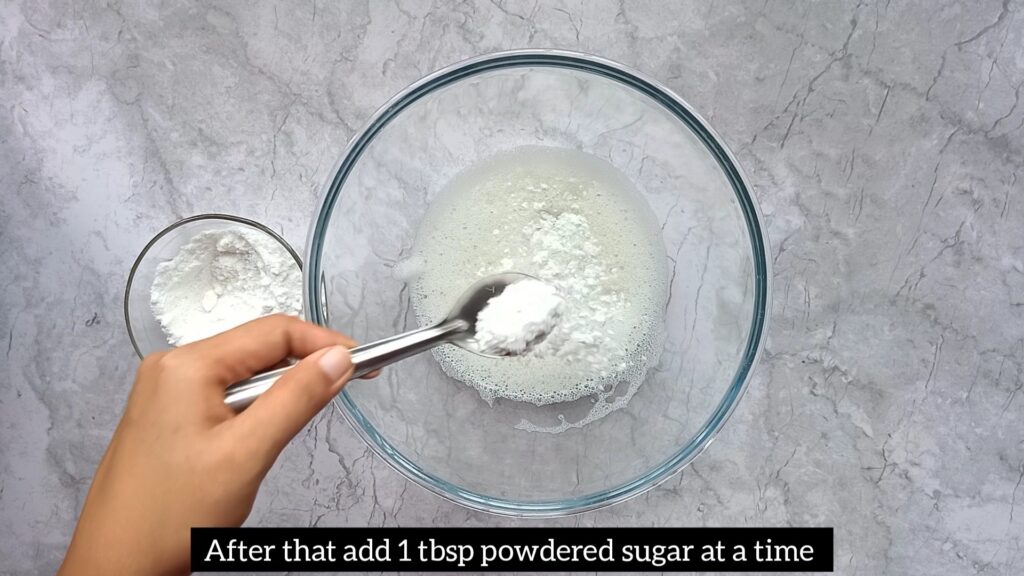 When you get the soft peak, the meringue is ready.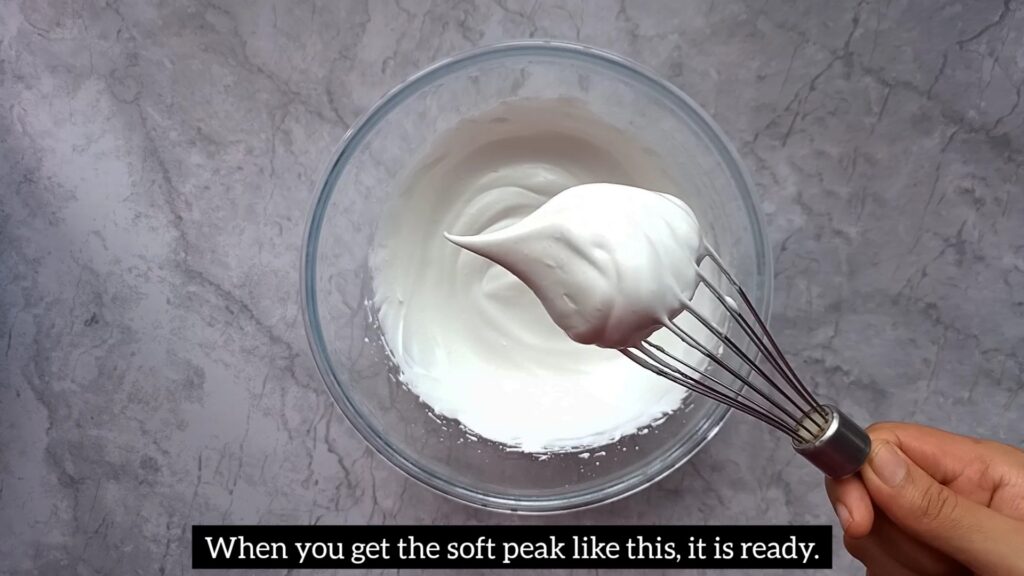 Take the coffee batter and add whipped egg whites.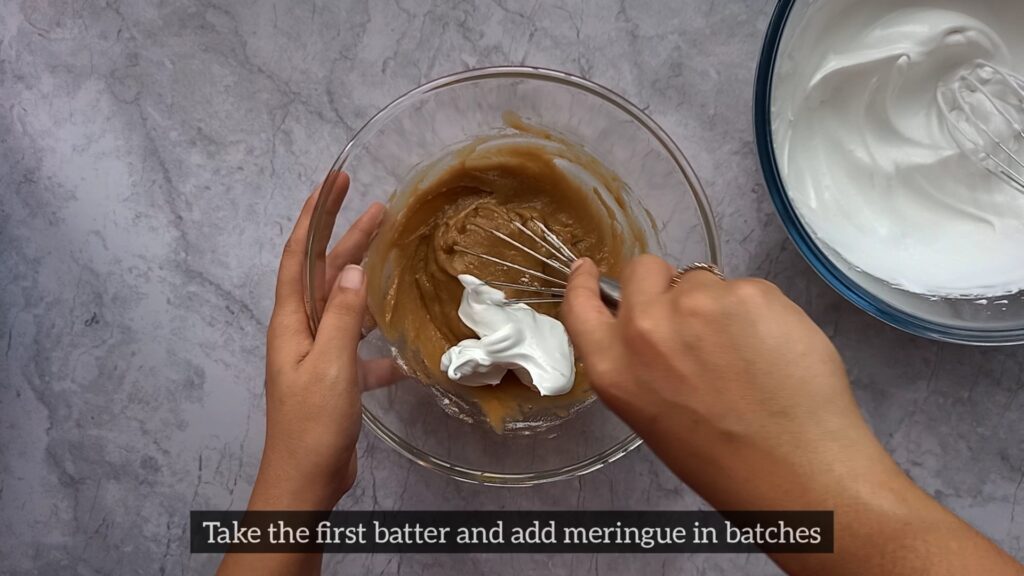 Add them in batches and fold them lightly.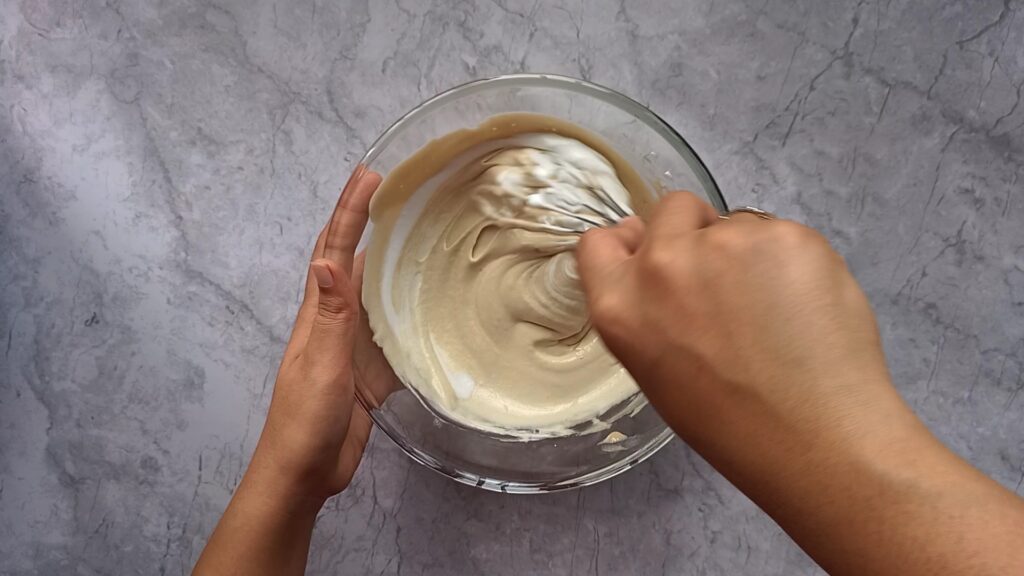 After that take a greased tin, pour the coffee cake batter in it. You can grease it with butter or with baking paper. Tap it a bit and it is ready to bake.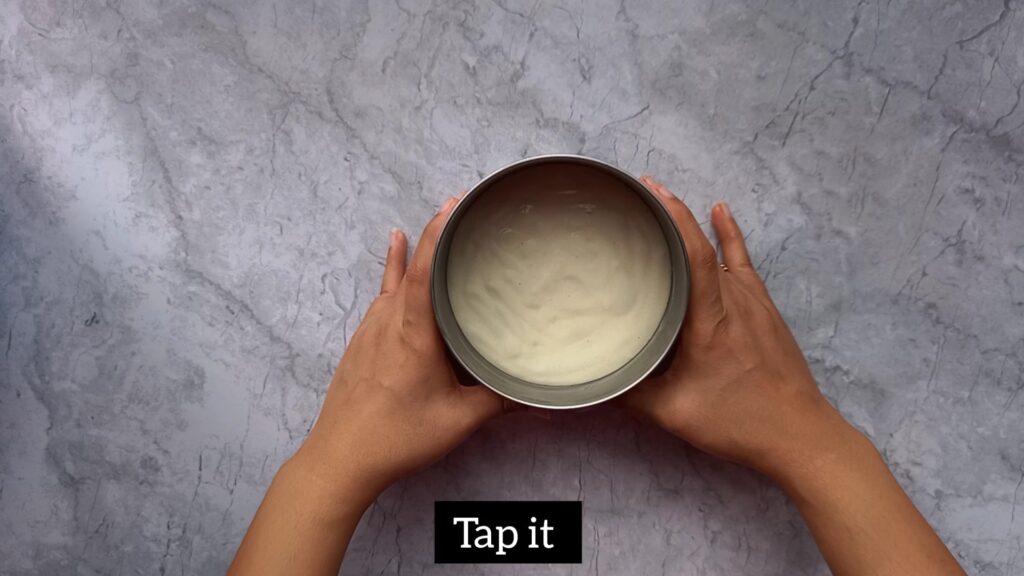 You can bake this cake in the oven for 25 to 30 minutes at 180 degrees Celcius. Or in the microwave, bake this for 7 to 8 minutes on convection mode. Or you can bake this cake without an oven. For this take a large pot, add sand or salt to the bottom of the pot. Place any steel plate and preheat for 10 minutes on medium flame. Then place the cake tin and cover it. Bake it for 30 minutes on low flame.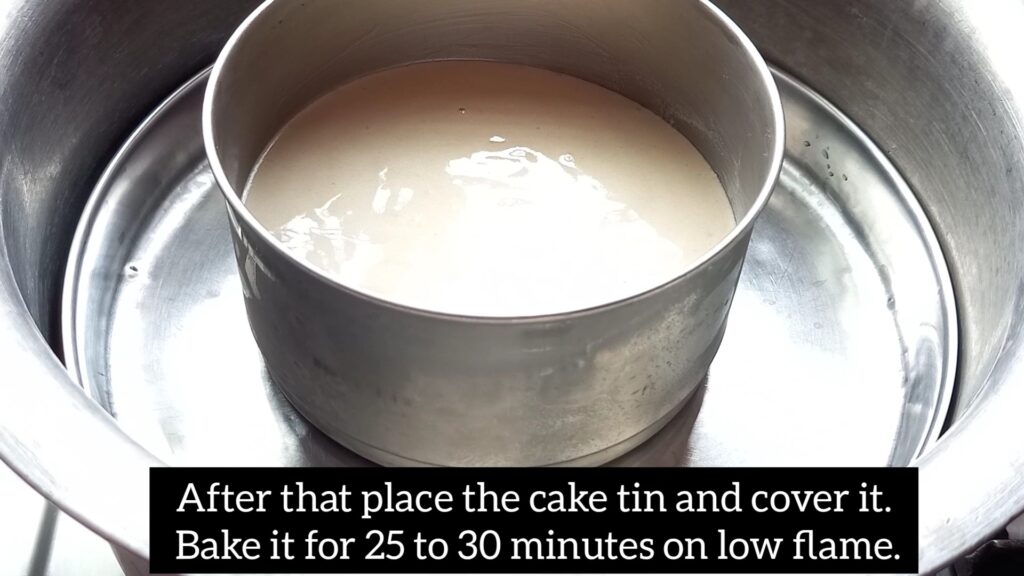 After 30 minutes, check them by inserting a toothpick. If it comes out clean it is ready. Or if not, bake it for more than 3 to 5 minutes.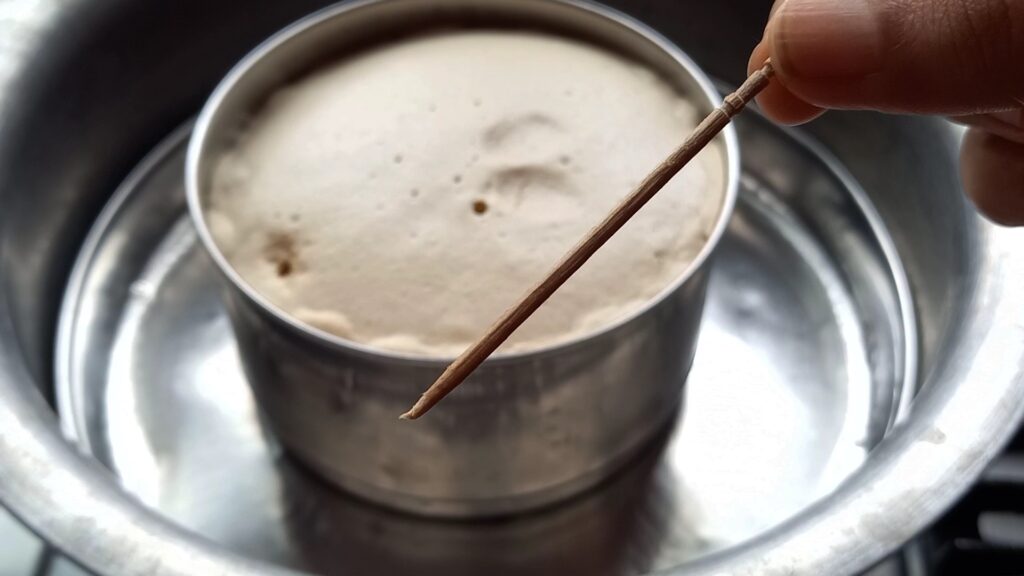 Now remove it from the tin and leave it to cool down.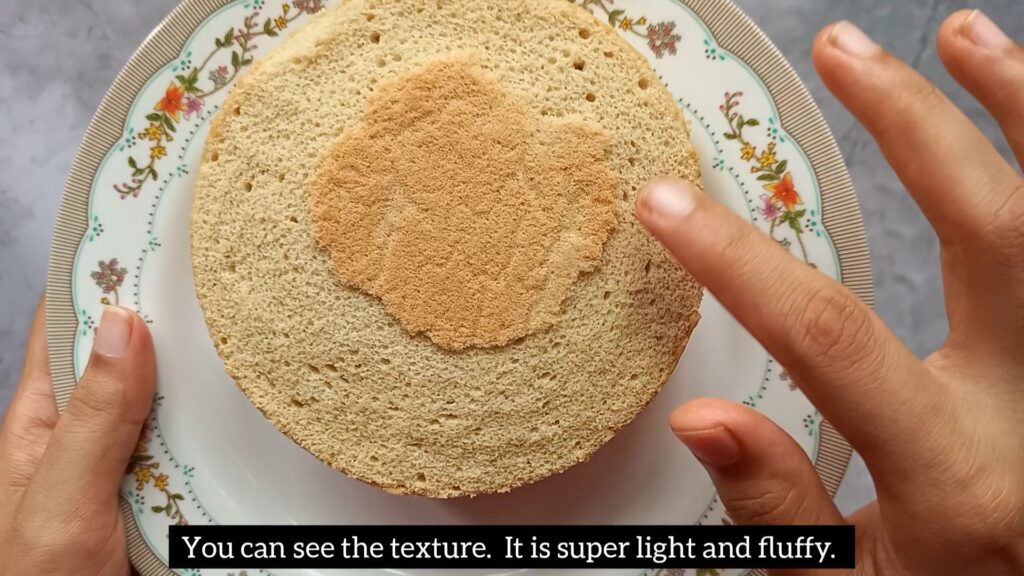 After that cut them into 2 to 3 layers.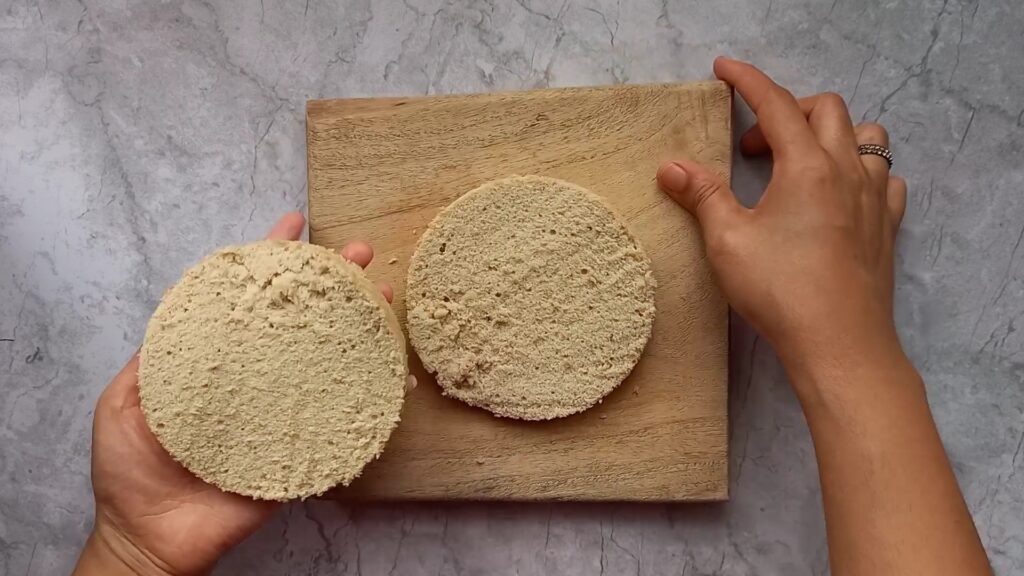 For frosting, I used Italian buttercream. And I add melted chocolate, cocoa powder in one batch or coffee mix in the other. Mix well. It is ready to frost. You can check my buttercream recipe here…ITALIAN BUTTERCREAM
now take a layer of cake. Add coffee syrup. For the coffee syrup, take some hot water, add 2 to 3 tbsp sugar. add coffee powder. Mix well. when coffee is dissolved, leave it to cool down. After that use, this syrup for cake.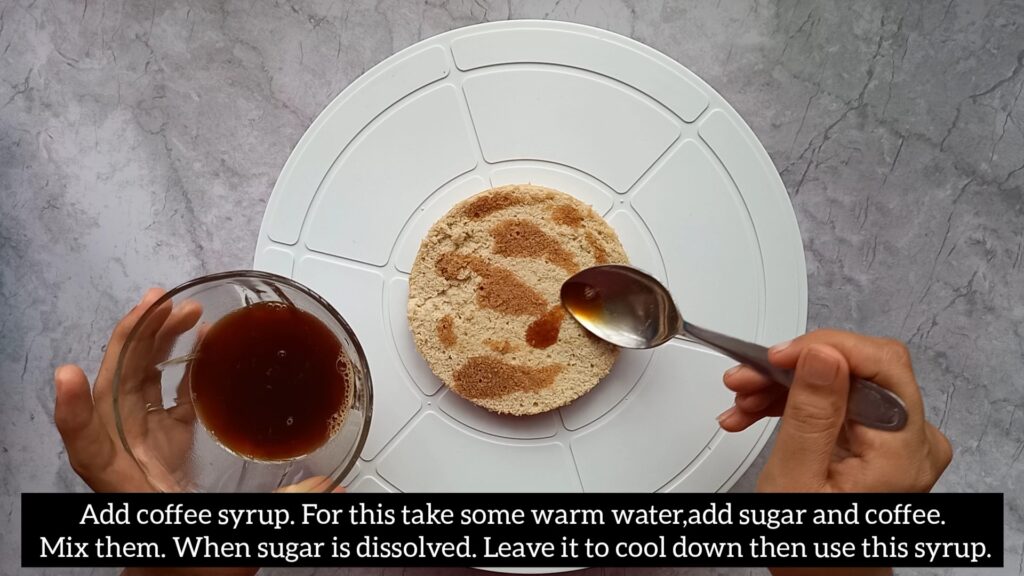 Then add buttercream and spread it evenly.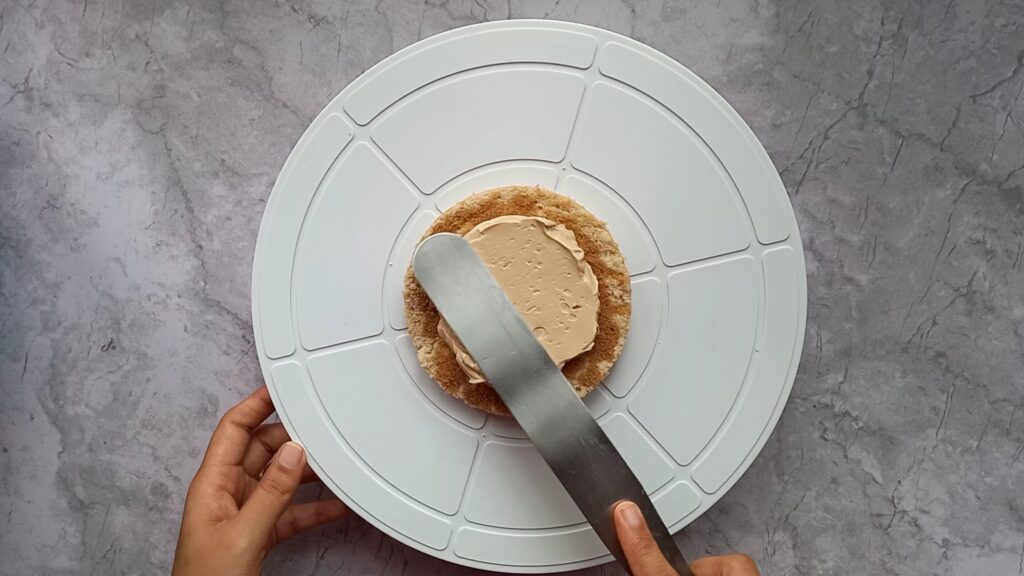 Repeat the same process till the end. You can see the smooth texture of this buttercream. You can frost your cake smoothly with this.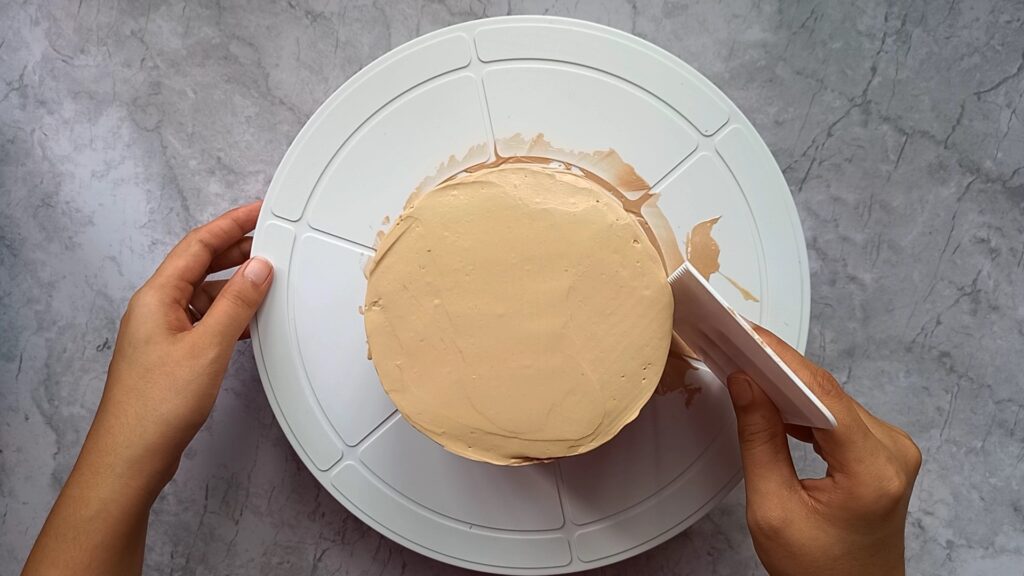 And decorate it as you like.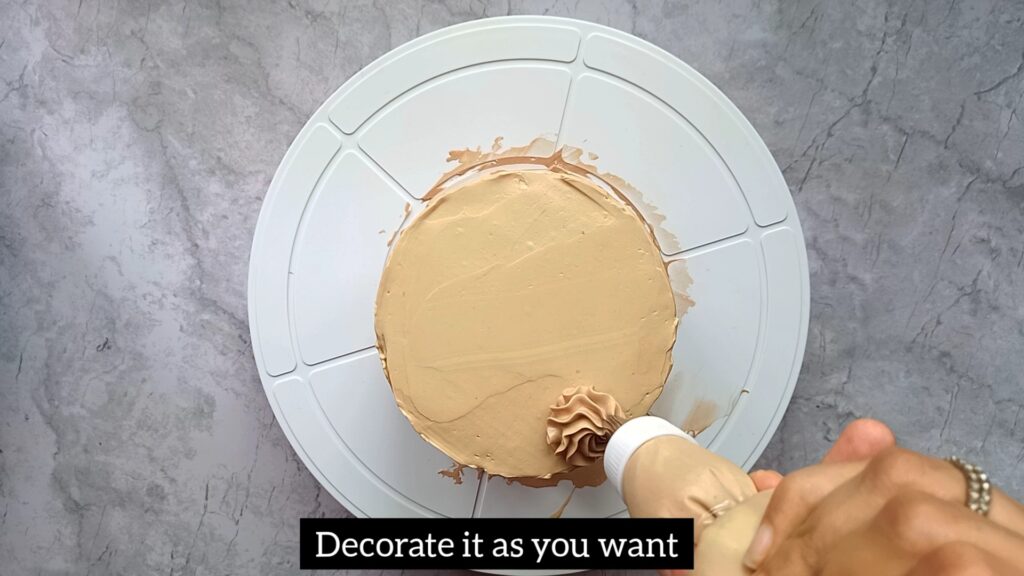 After that keep this in the fridge for 1 to 2 hours. Then it is ready to serve. If you have any doubts related to the recipe, leave a comment either on the blog or on my youtube channel. And some sweet memories with this sweet delicacy.