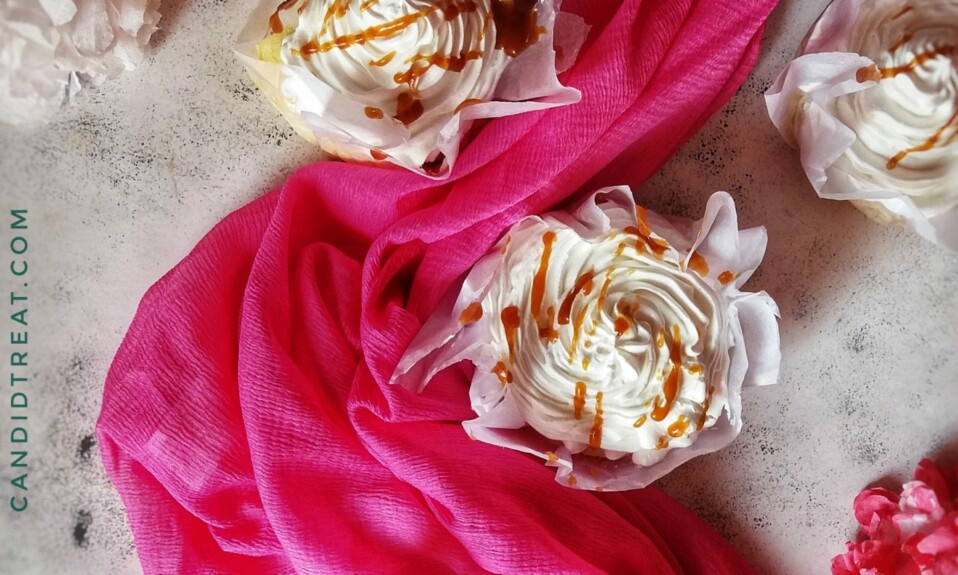 Almond cupcake recipe with cream frosting and drizzle of salted caramel, with step by step photos. These almond cupcakes are so moist and bursting with caramel filling, once you try this, you just loved it to bake again and again. They are not like those dry bakery cupcakes, they are super soft and fluffy in texture. Here we use almond flour to make this cupcake gluten-free, but you can make this with half and half flour-like 2:1, almond flour: refined flour. Or you can totally ignore the almond flour. Almond flour also gives a good almond flavor to your cupcakes.
What is cupcake ?
A cupcake is just a cake baked in a small cupcake mold. The batter is the same as the cake batter. You can make these small cupcakes in cupcake mold mood and frost with your favorite frosting-like, heavy cream frosting, buttercream, Italian meringue, Swiss meringue buttercream, etc. But mostly these frostings are very sweet and I don't like sweet frosting. So I perfect to use heavy cream frosting with little sugar and I love this.
There are varieties of cupcakes which you can make easily at home without any difficulty. Like, chocolate cupcake, vanilla cupcake, caramel cupcake, espresso cupcake, and many more.
About almond cupcake
This almond cupcake requires almond flour, cake flour (refined flour), sugar, unsalted butter, eggs, salt, vanilla, milk, oil. You can adjust the quantity of flour by using only almond flour, use half almond flour or half refined flour, or use only refined flour. Feel free to modify this recipe as per your choice. But as I said this is an almond cupcake, so if you are using refined flour then use almond extract for flavor. Here we used both kinds of butter for richness and oil for softness.
Cream and caramel frosting
In this almond cupcake, we use whipped cream for the frosting. Because whipped cream has a smooth and creamy texture and less sweet, perfectly goes with this cupcake. And generously drizzle caramel sauce over frosting. You can find my homemade caramel recipe here ..Caramel Sauce | Homemade Salted Caramel Recipe
Some tips for moist and rich cupcake
Always measure flour while baking. Using too much flour is a common mistake. If you are using a lot of flour then your batter is dense in texture. That's why follow the recipe for the fluffy batter.
You can use oil or butter for this recipe. Butter gives the richness and oil gives the softness. When you leave your cakes in the refrigerator then oil provides the softness to your cakes.
Do not overbeat your cake batter. This recipe is so flexible that you can use either an electric blender or a hand blender. This recipe is also an oven friendly recipe. So do not need to worry.
For extra creamy texture use whipped cream frosting. This is my favorite one.
You can also make this recipe gluten-free by replacing refined flour. Use almond flour because almond flour has its own flavor and texture. I am not using any essence for this recipe.
How long you kept these cupcakes ?
You can keep these almond cupcakes in the refrigerator for 5 to 6 days. These cupcakes are butter cupcakes, so you need to normal them before eating because butter turns your cupcake hard in the refrigerator.
Try some other sweet recipes…..
INGREDIENTS
2 eggs
25-gram refined flour
40-gram almond flour
40-gram butter (3 tablespoons)
40 gram powdered sugar (3 tablespoons)
1/2 teaspoon vanilla essences
15 ml of milk (chilled)
6 ml of oil
1/2 teaspoon baking powder
1/2 teaspoon salt
Caramel sauce for filling
Frosting :
250 ml of heavy cream
25 grams of powdered sugar
| | |
| --- | --- |
| Total time | 45 minutes |
| servings | 5 to 6 cupcake |
Making process of almond cupcake
Take a bowl seive refined flour.
Add baking powder.
Add almond flour. You can Use only almond flour for this recipe. Here we used half refined flour or half almond flour.
Add salt. In baking, salt always enhance the flavor of cake.
Mix well all dry ingredients and set aside.
Now take another bowl to add butter. Here we use unsalted butter. You can also use salted butter, but if you are using salted butter then do not add salt.
Add sugar. You can adjust the sweetness as per your taste. I usually make less sweeter batter then normal one.
Mix well and whisk for 3 to 4 minutes.
Then add vanilla extract and eggs, one at a time. Mix well. You can use either hand blender or electric one. Mix until it is well combine.
Then add oil and mix well. It almost takes 7 to 8 minutes.
After that add dry ingredients and mix with light hand. Do not over mix the batter.
Then add little bit of milk at a time to loosen up the batter consistency.
Now the cupcake batter is ready to bake.
Take any of your favourite cupcake mold add some batter. Here i use butter paper for my cupcakes. Because I don't have any mold yet. Preheat the oven on 180 for 7 minutes and bake for 20 to 25 minutes.
Or if you are using a stove then preheat your baking pan for 5 minutes and place a wire rack and bake the cupcakes for 20 to 25 minutes on low flame. It is as simple, so do not worry about anything.
Check the cupcakes with a knife or with a toothpick when it comes out clean, then the cupcake is ready. Turn off the heat and set aside to cool down.
Make a hole in the middle of the cupcake and fill the center with salted caramel sauce. You can get the sauce recipe here Caramel Sauce | Homemade Salted Caramel Recipe.
Then whip the heavy cream with a little bit of powdered sugar and vanilla. Use good quality vanilla and frost your cupcake. And drizzle some caramel sauce over it.
Almond cupcake with caramel sauce and the cream frosting is ready to serve. Keep it in the refrigerator and enjoy.