Nankhatai | Nankhatai recipe without oven | Learn how to make nankhatai with step-by-step photos and video. Cookies and biscuits are the all-time favorite tea-time snack. And this one is the simplest cookie recipe ever. you can make nankhatai for your tea time snack or for your kids. You can also make these cookies without an oven. For more without oven recipes, you can check my chocolate-filled cookies, coconut cookies, tutti frutti cookies, shortbread cookies, jeera biscuits, etc.
If you are new to this blog, you can also check my youtube videos. And do not forget to subscribe to my channel. and do share them with your families and friends.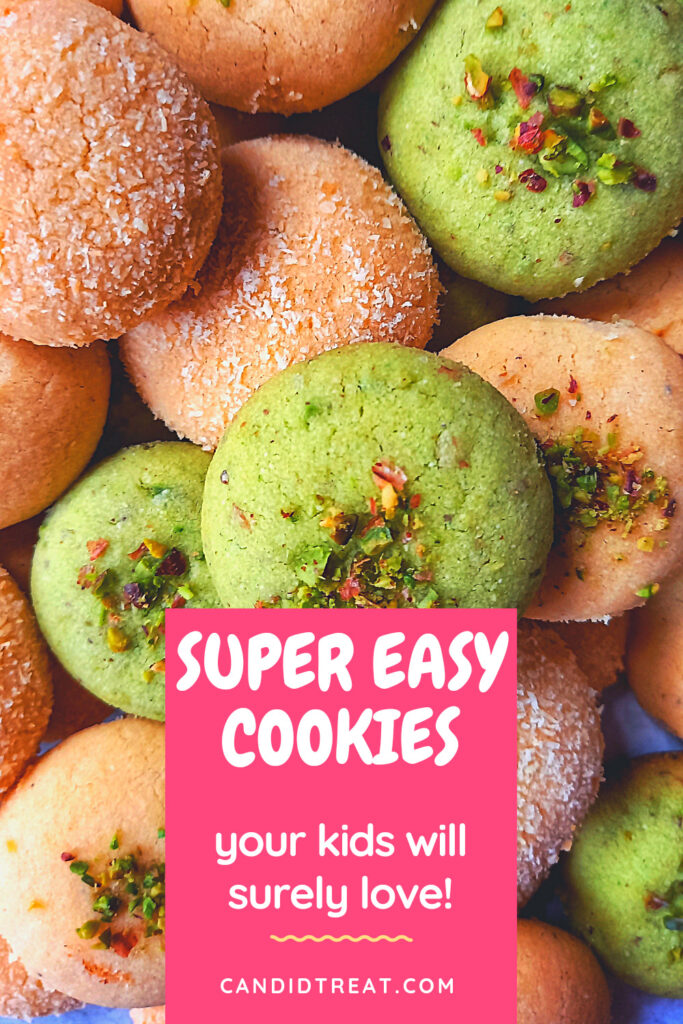 Nankhatai
Nankhatai is a delicious, eggless Indian shortbread cookie made with refined flour, semolina, gram flour, clarified butter, cardamom, or sugar. Nankhatai is the most popular and traditional cookie and it is popular in north India, Pakistan. You can also find different types of making processes. It can be made with refined flour or with a combination of flour. The most popular flavor is the cardamom flavor but you can also add other flavors too. In this post, you get two flavors of nankhatai.
Pro tips of making a perfect nankhatai
Flour- You can make this with nankhatai with refined flour or with a combination of flour-like, besan/gram flour, semolina/sooji, refined flour. Besan gives an aromatic flavor to the nankhatai. And this one gives a unique flavor to the cookies. Semolina gives a grainy texture that also tastes delicious in these cookies.
Fats– You can use oil or butter for this recipe but I always prefer to use ghee. Because ghee provides aroma and unique flavor.
Flavors-The traditional flavor of the nankhatai is cardamom. Now, you can also different types of flavors.
Cookie dough- Nankhatai's dough has to be very soft and smooth.it should not be dry and crumbly. And when we are adding different flavors to this, add more ghee to make a smooth dough.
INGREDIENTS
1 bowl of gram flour/besan
1/3 bowl of semolina/sooji
3 to 4 crushed cardamom/cardamom powder
2 bowls of ghee(as required)
Desiccated coconut(2 to 3 tbsp)
2 to 3 tbsp chopped pistachios
How to make nankhatai?
Take a bowl, place a sieve. Add refined flour and sieve it.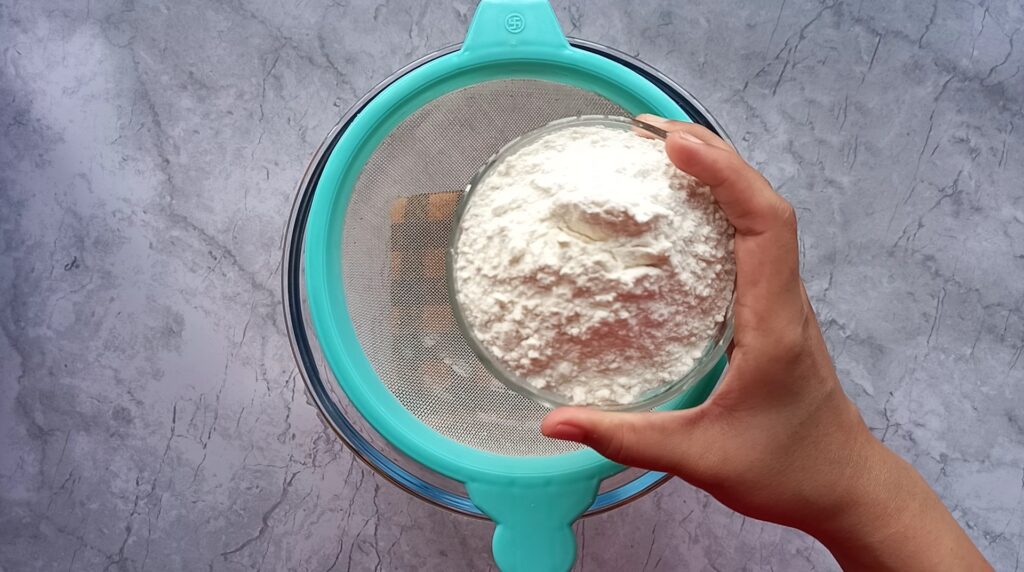 Add besan/gram flour.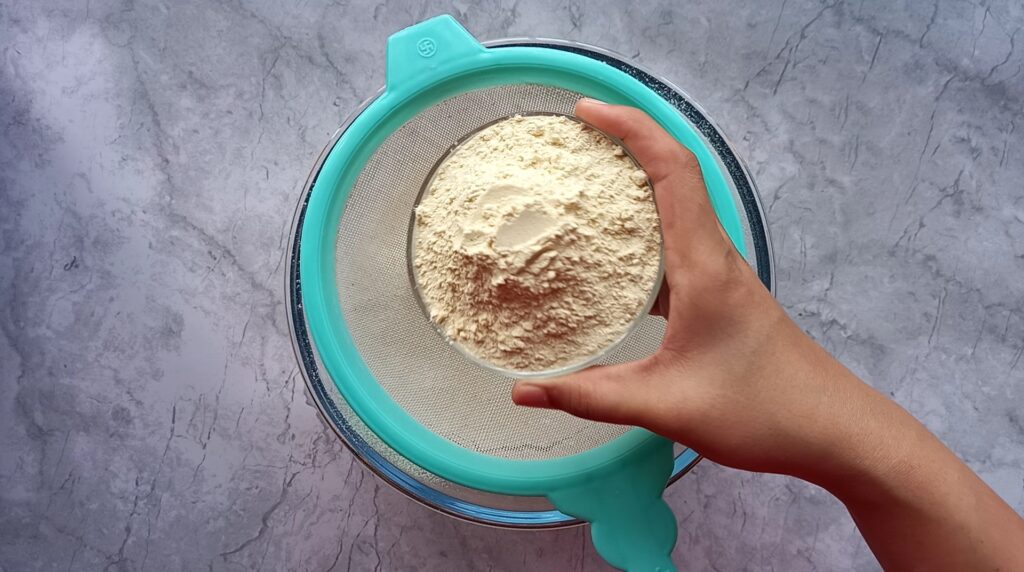 Add semolina. Here, you fine semolina.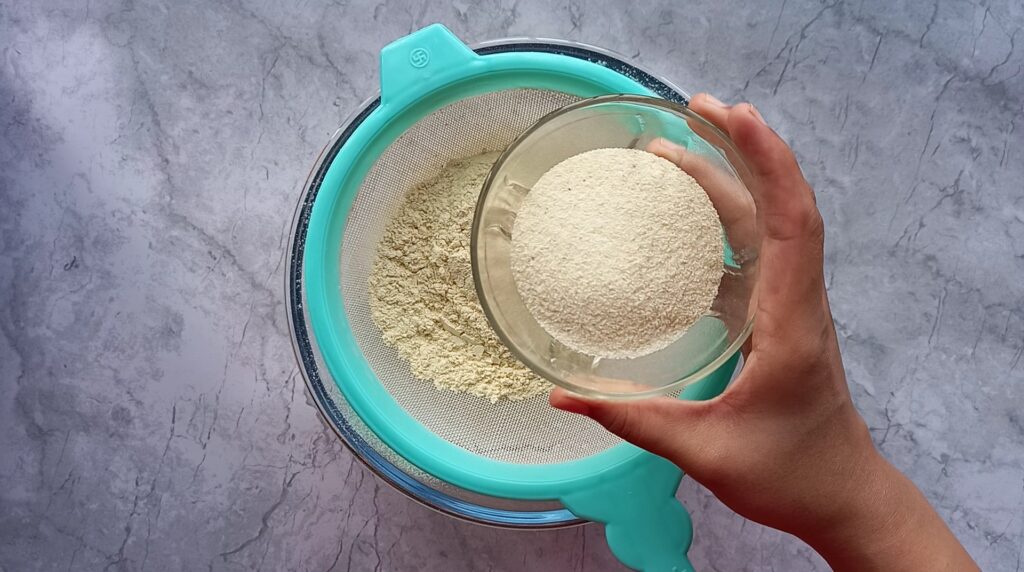 Then add baking powder and salt.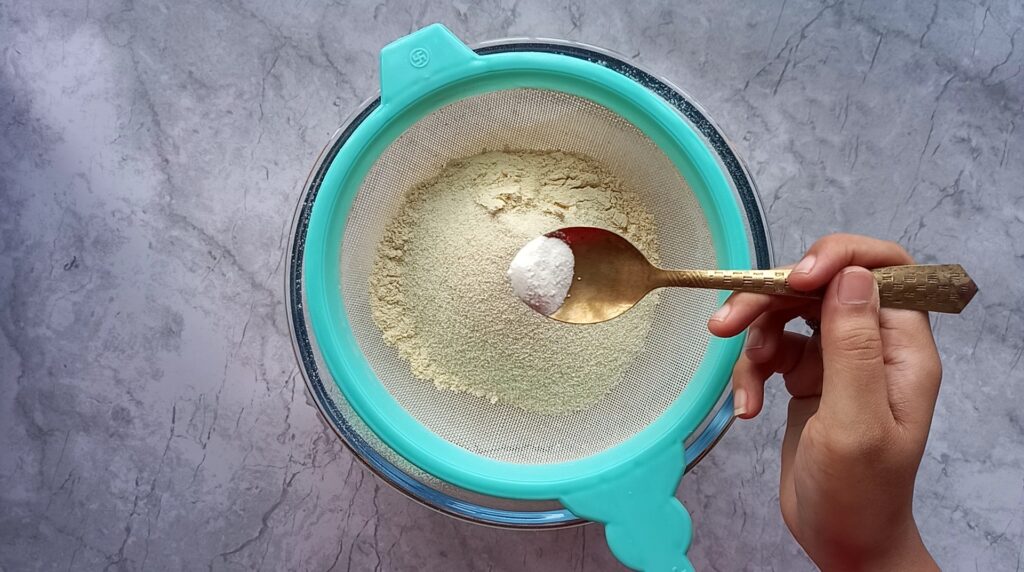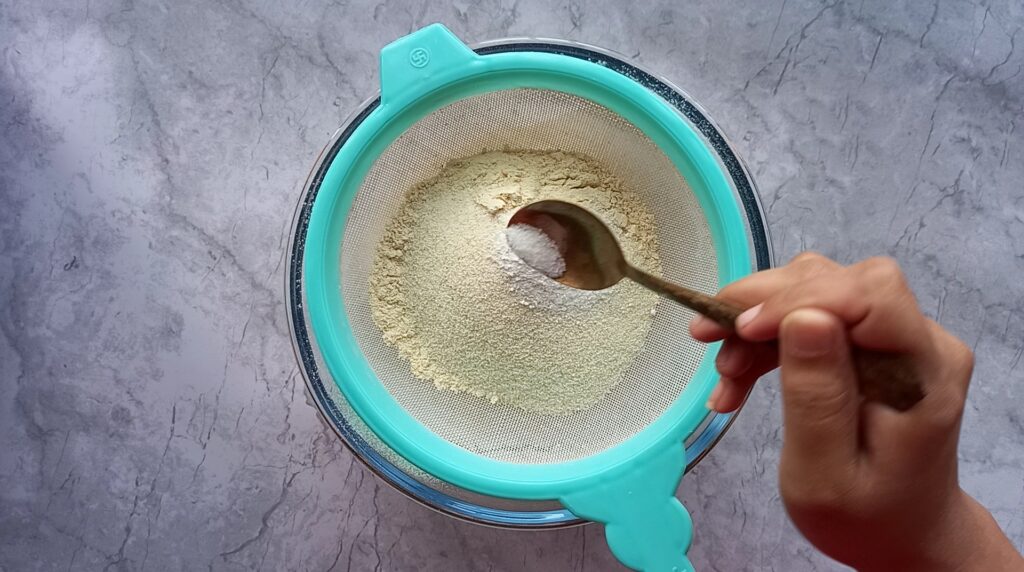 Add powdered sugar. You can adjust the sweetness as per your taste.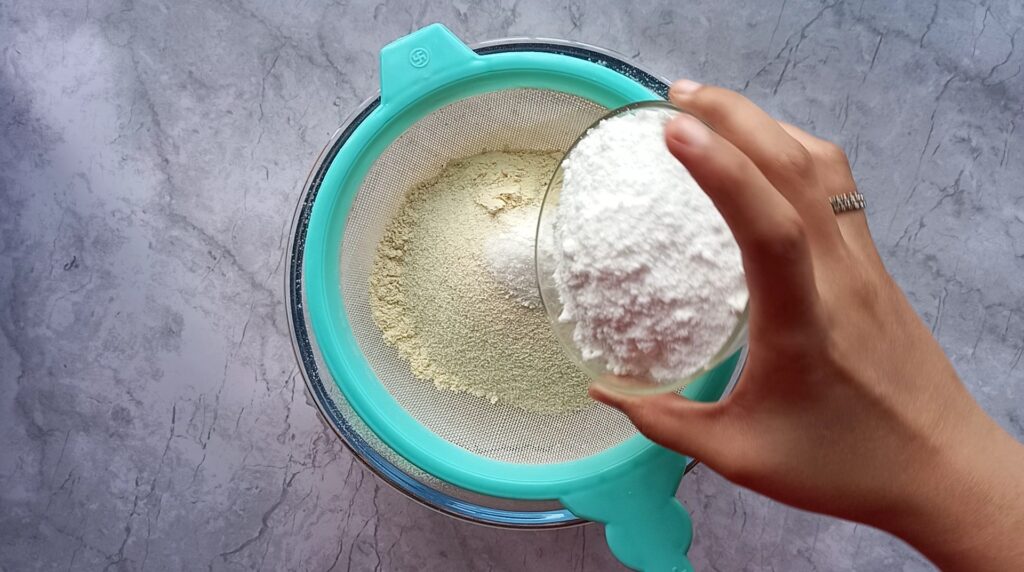 Sieve all of them together.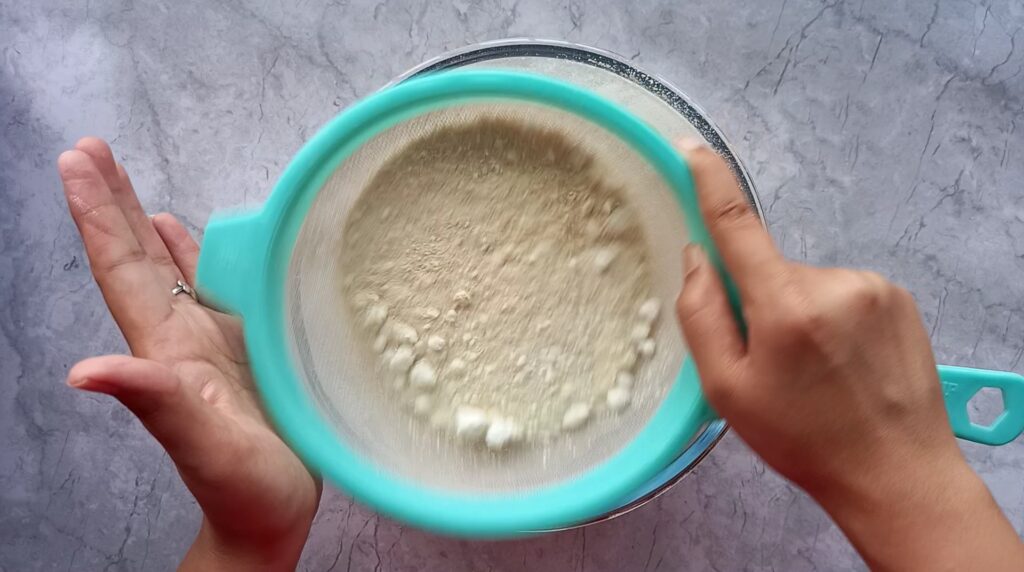 Add cardamom.
Mix them well.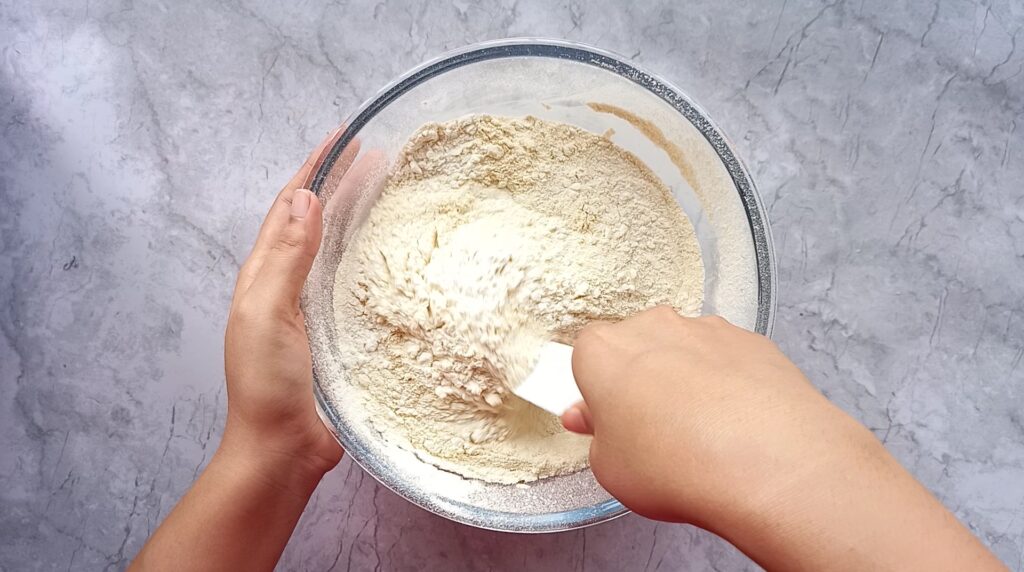 Now add ghee in batches. And mix it well. Do not add all of them at a time.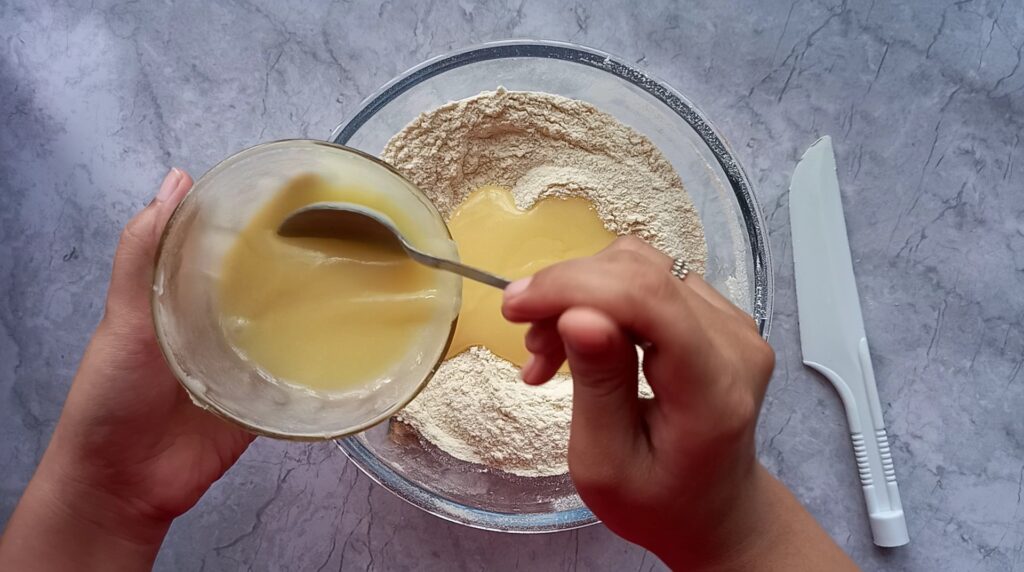 Mix well and make a crack-free, soft dough.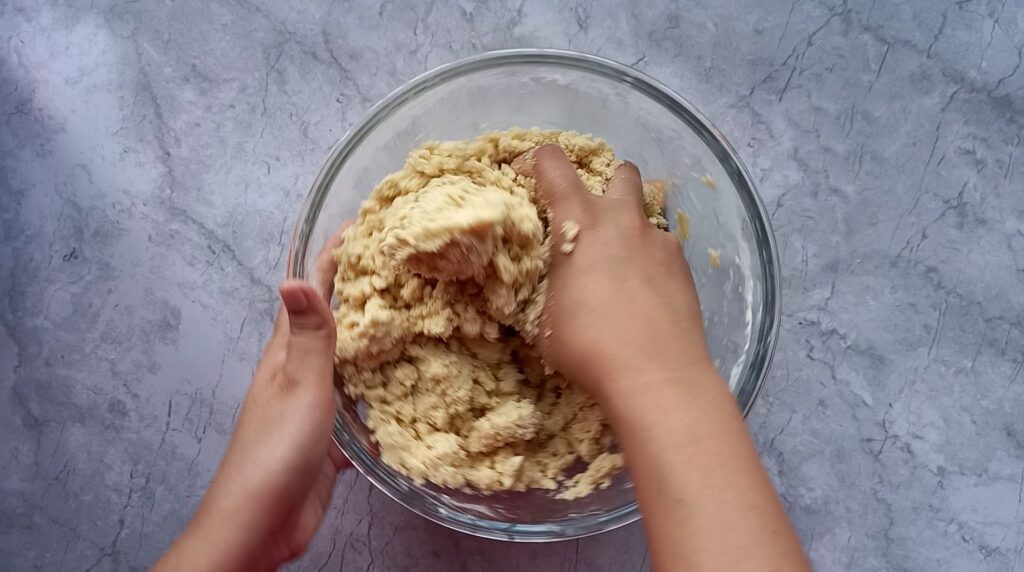 Add more ghee, if required. Because the dough has to be super soft.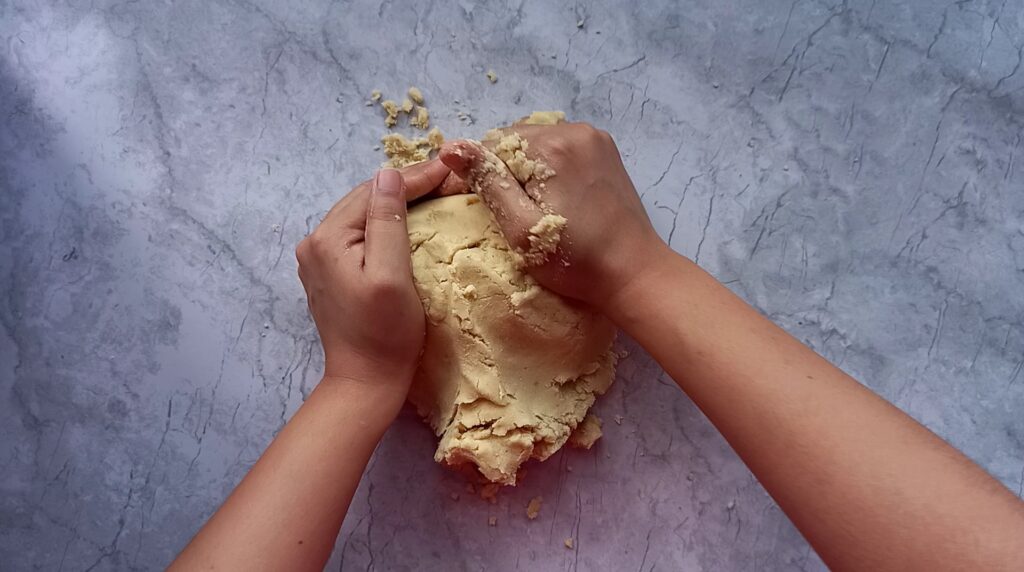 Divide them into 3 equal parts.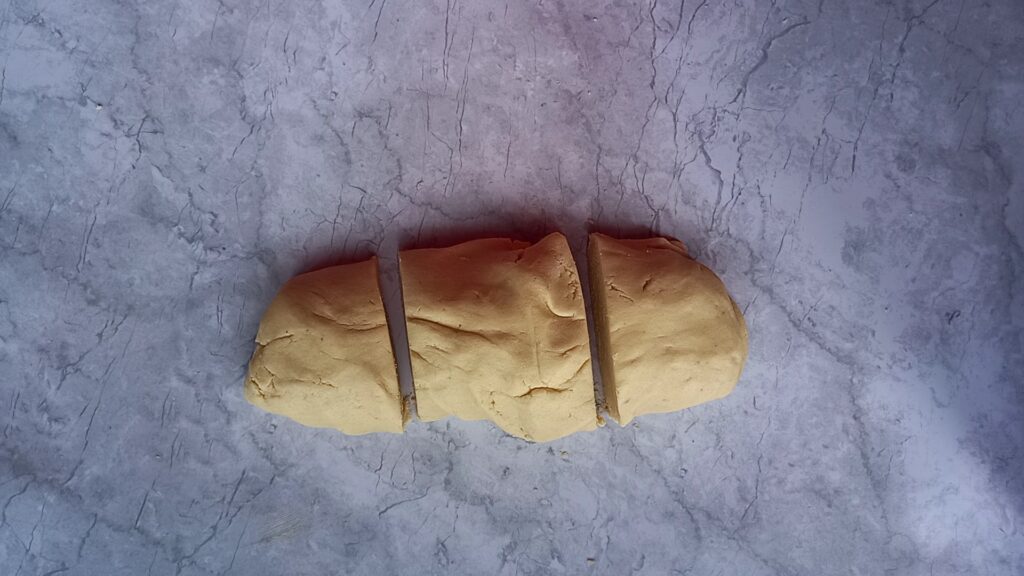 Now add coconut in 1 part. And mix well. After mixing the coconut, add 3 to 4 tbsp ghee to the dough to get the soft texture.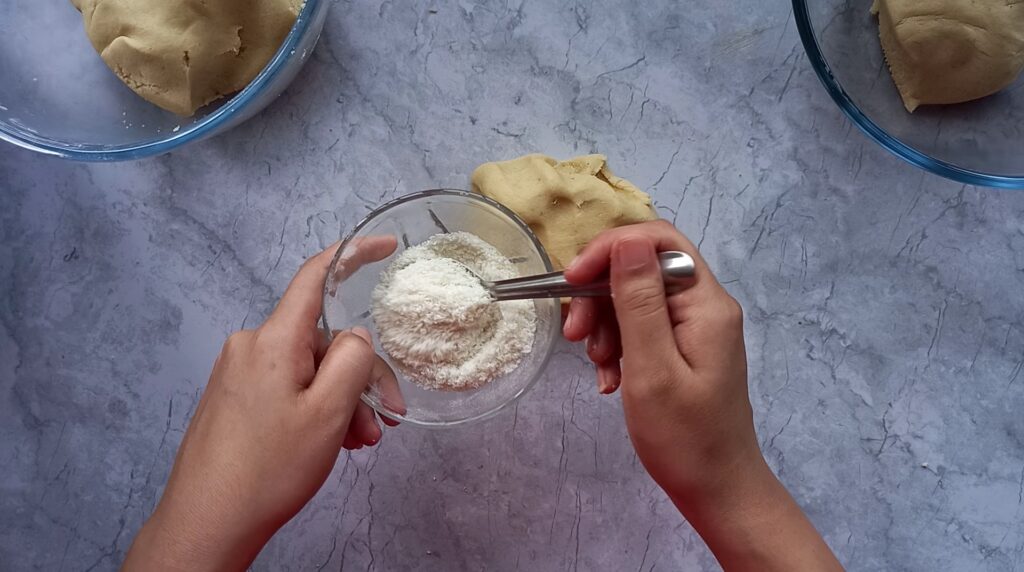 Add pistachio in 2nd part. And mix well. If your dough looks crumbly, add more ghee and mix again. Add 3 to 4 drops of green food color to make this more vibrant.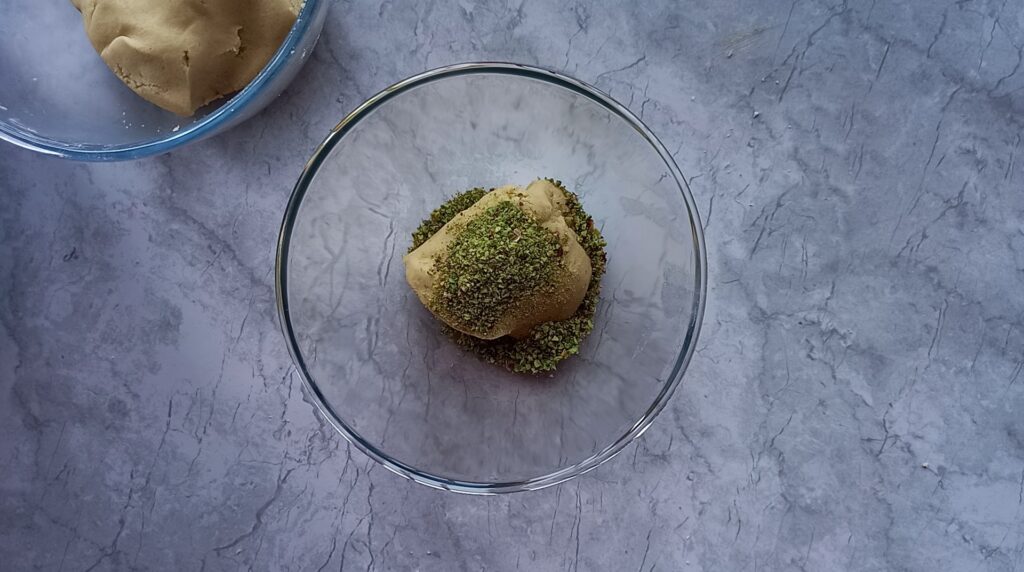 Take any plate or tray. Line them with baking paper or ghee. Now take a piece of dough, and shape them into a round ball. Here we make plain nankhatai.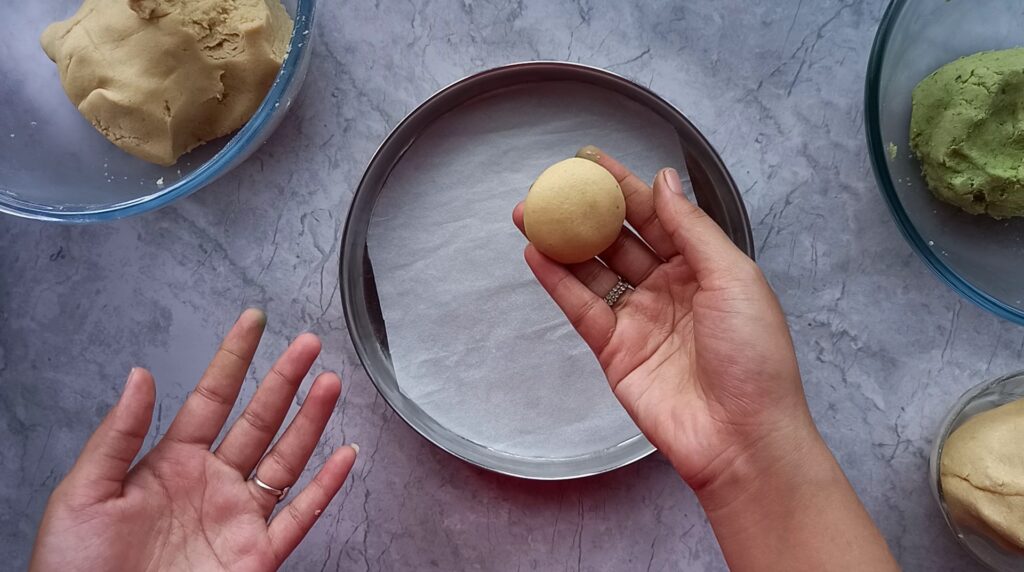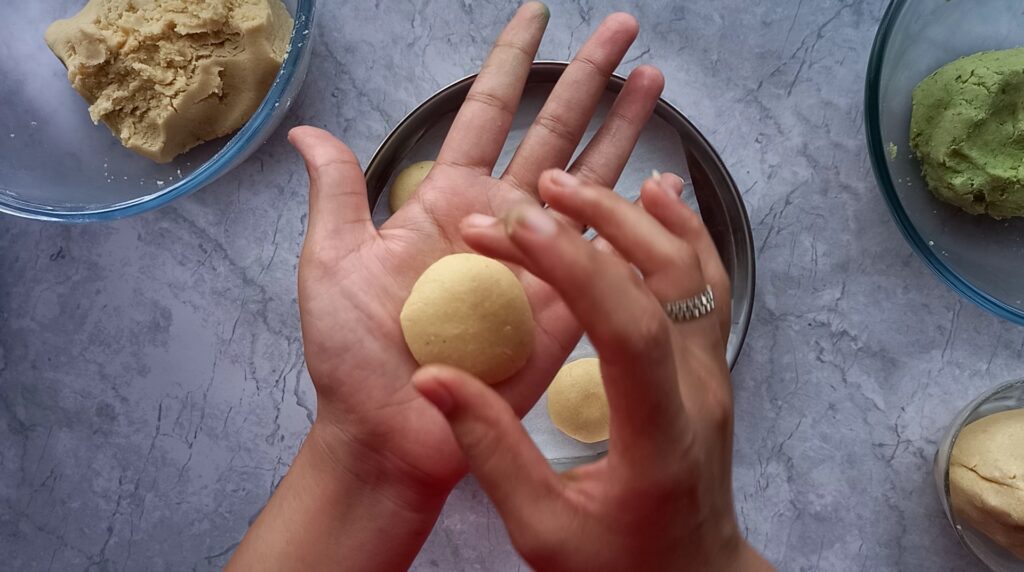 Then make some coconut cookies and dust them with some coconut.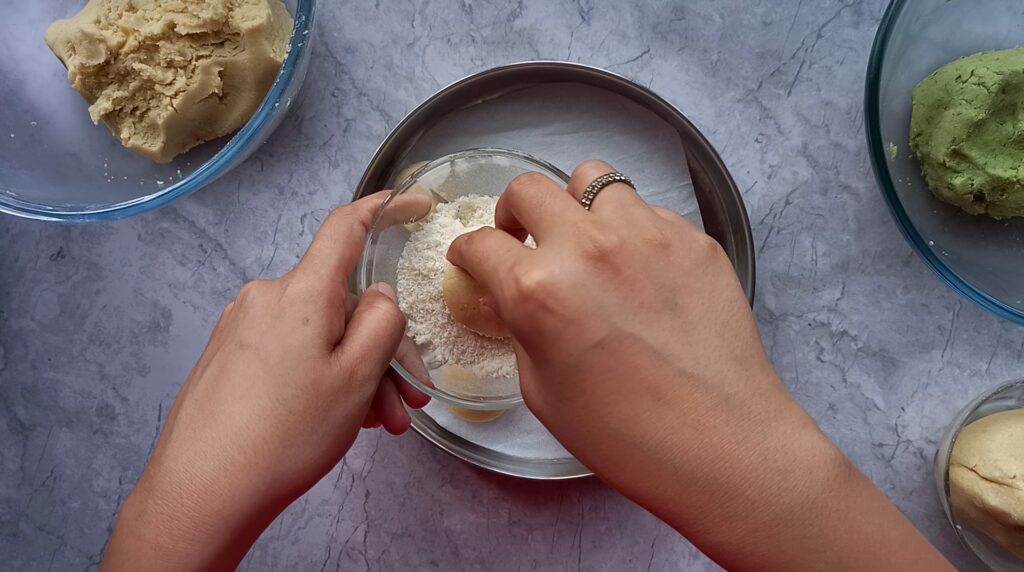 Make all of them like this. Top it with some chopped nuts.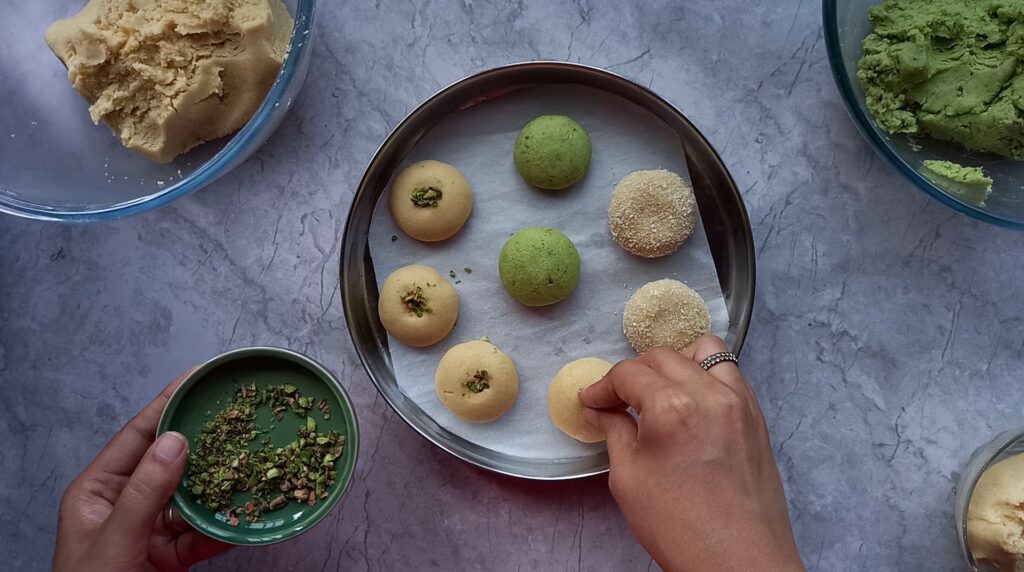 It is ready to bake.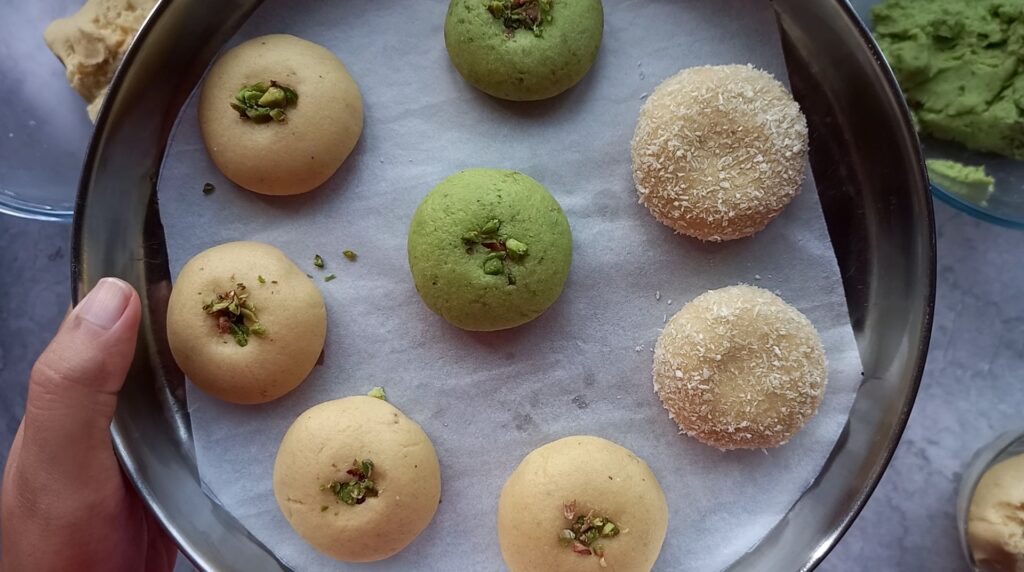 Now take a large pot to add sand/salt to the bottom of the pan. Preheat it for 10 minutes on medium flame.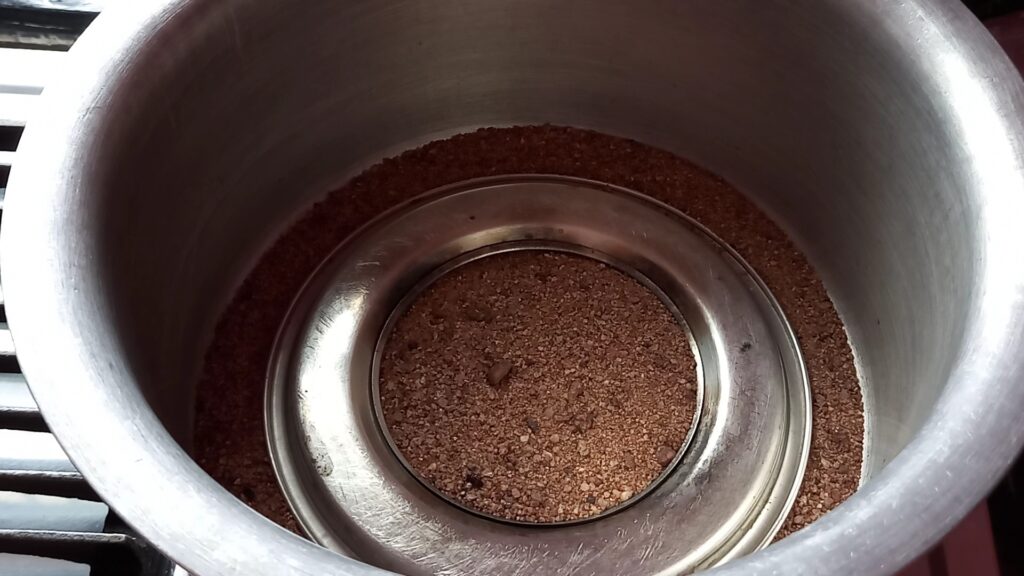 Then place the cookie tray. Turn the flame on low and cover it. Bake it for 30 to 35 minutes on low flame or until it turns dry on the top. You can bake this in the oven for 15 t 20 minutes at 170 degrees Celcius. Or, until it turns dry on the top.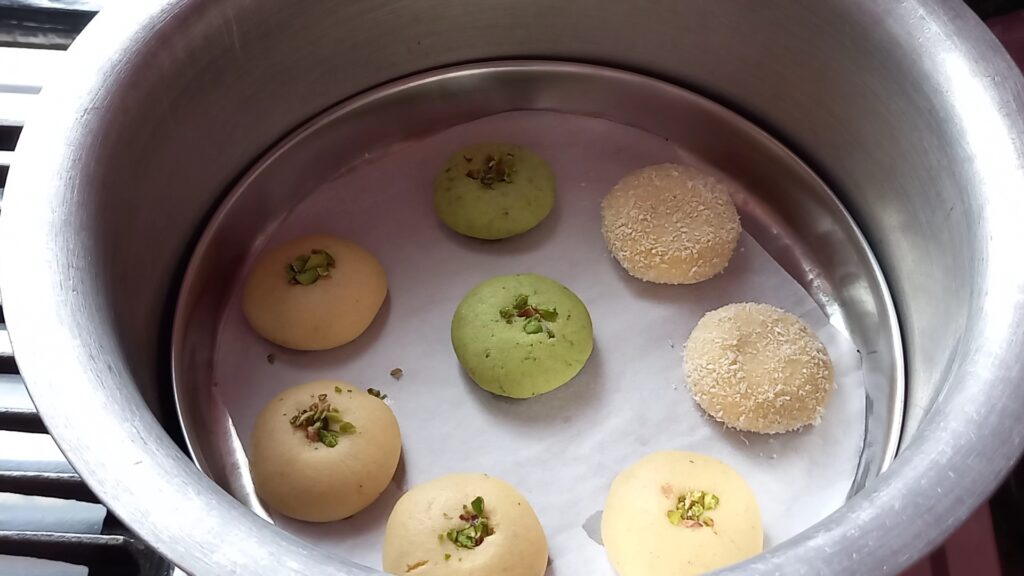 After that, remove it from the pot and bake all of them like this. when you see some cracks on the top, it means it is ready.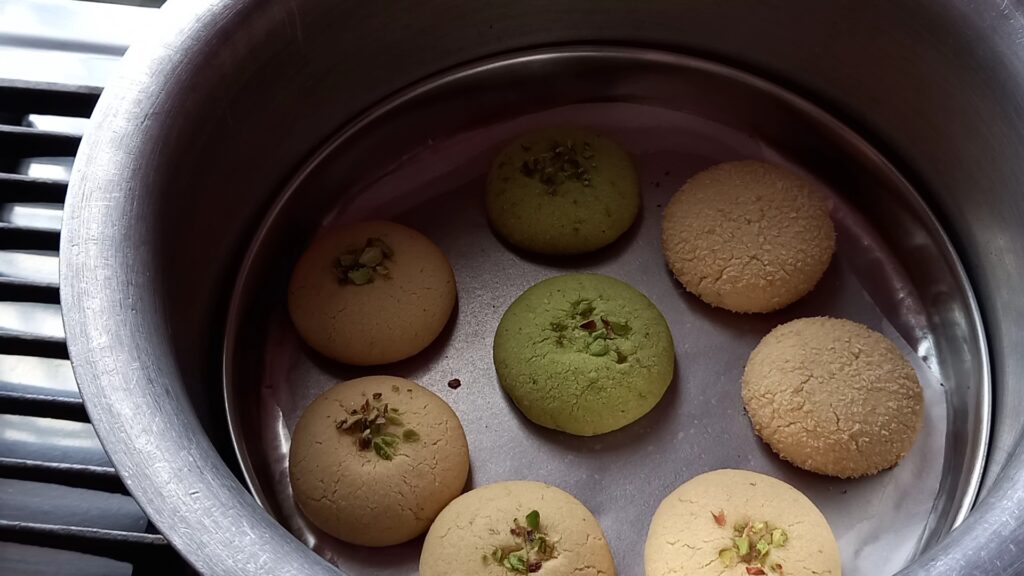 Leave it to cool down. Store this in an air-tight container for 2 to 3 weeks.