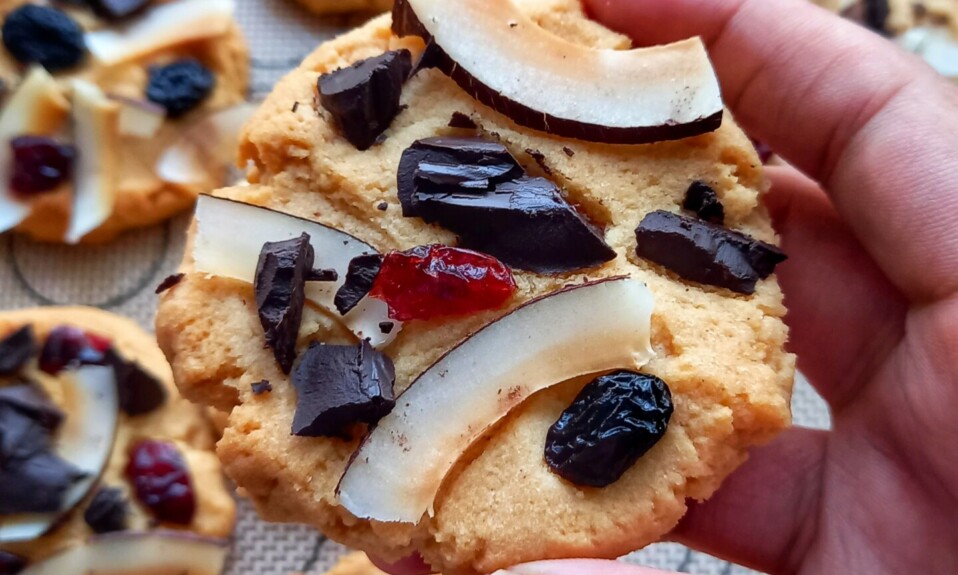 Gluten-free and eggless coconut cookies | Hello, everyone, and I am back with another eggless cookie recipe. If you are my old viewer, you know how much I love cookies. Yes, I love baking cookies and especially eggless cookies. Eggless cookies are my all-time favorite, and I love to mix match the flavors. You can also watch my videos on the YouTube channel with the same (Candid Treat) name.
Today, I come up with a very special cookie recipe. If you are looking for an eggless and gluten-free version of cookies. This is perfect for you. And trust me, It tastes heavenly (if you like coconut flavor).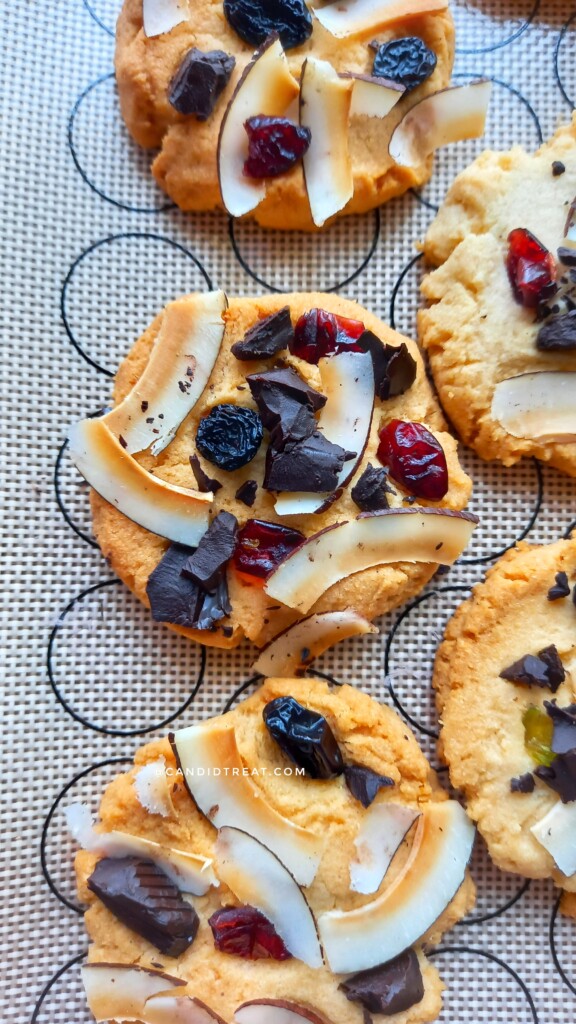 Yes, I am not using the almond flour, or oats, or any refined flour here. We made these cookies with coconut flour. You can easily buy the coconut flour from online or from the store. Let's make this…
Cookies Recipes
INGREDIENTS
100 to 120 grams of unsalted butter (5 to 6 tbsp)
7 to 8 tbsp superfine sugar (powdered sugar)
2 drops of vanilla
a pinch of salt
1 bowl coconut flour(7 to 9 tbsp coconut flour)
1 tsp baking powder
coconut flacks
dried berries
Chocolate chips/chunks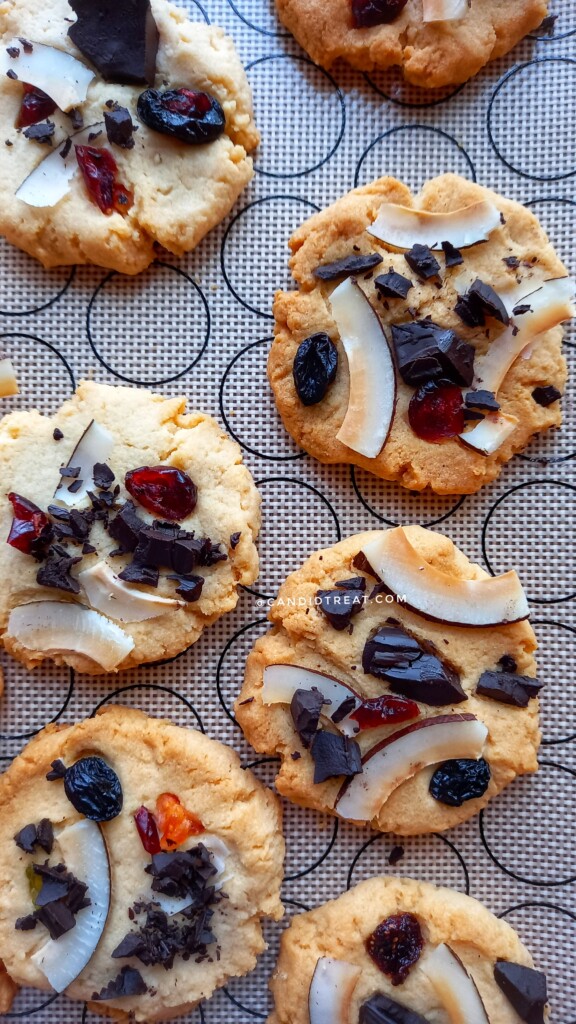 Coocnut cookies recipe
Take a bowl. Add unsalted butter. Use the butter at room temperature. Then, add sugar as per your taste. Add vanilla. Whisk it for 2 minutes. Here, I used superfine sugar; you can also use powdered or fine granulated sugar.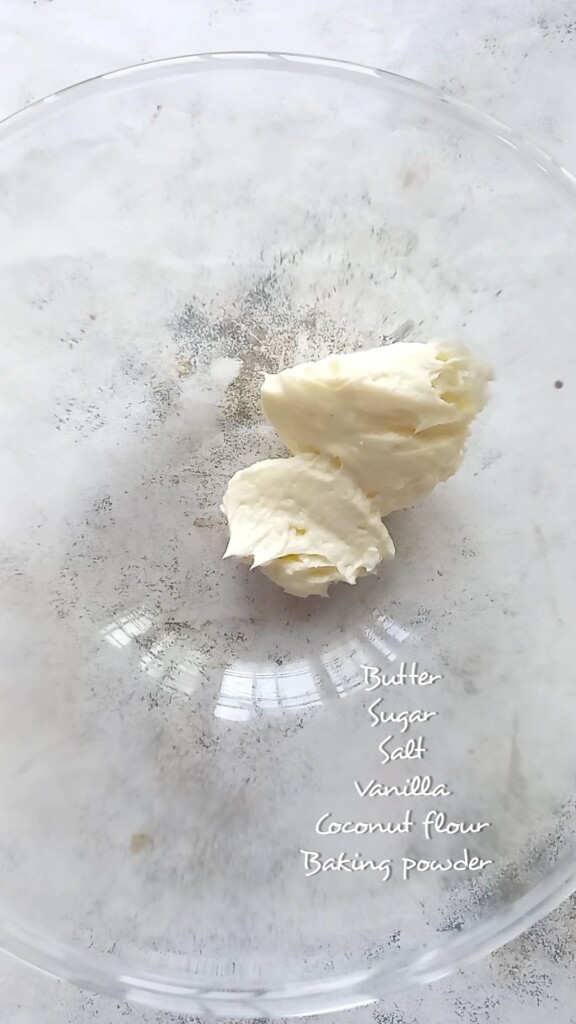 Then, add coconut flour in two batches. Add baking powder and a pinch of salt. Mix well. The cookis dough should not be too tight or too loose in consistency. Now, take a baking tray. Add a scoop of cookie dough.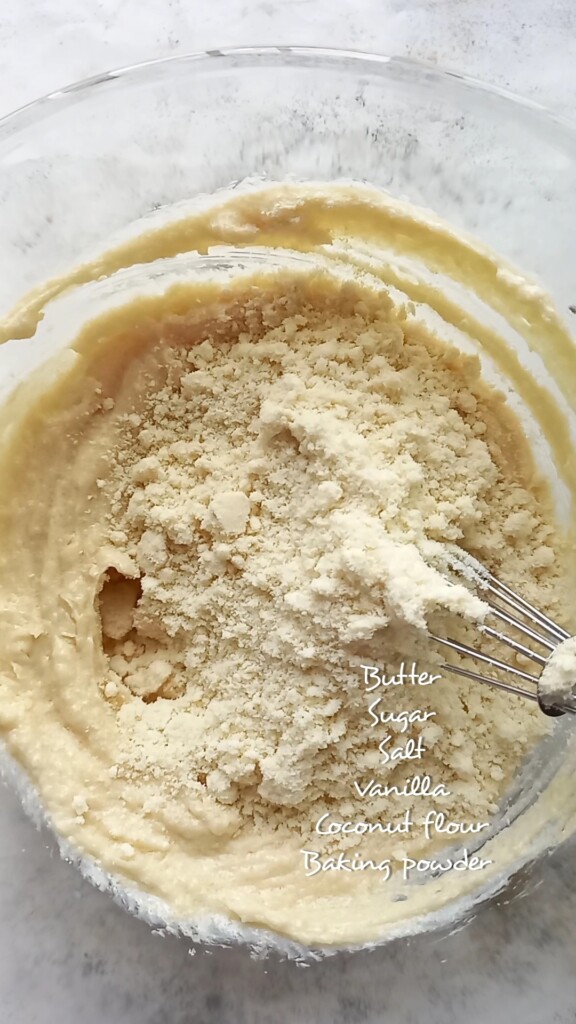 Flatten up from the top. Add some berries, coconut flacks, and chocolate chunks. Press them a bit. Now, bake these cookies in a preheated oven for 25 to 30 minutes at 180 to 190 degrees Celsius. Or until it turns golden in color. Remove it from the oven and leave it to cool down. Coconut cookies are ready. Store it in an airtight container.