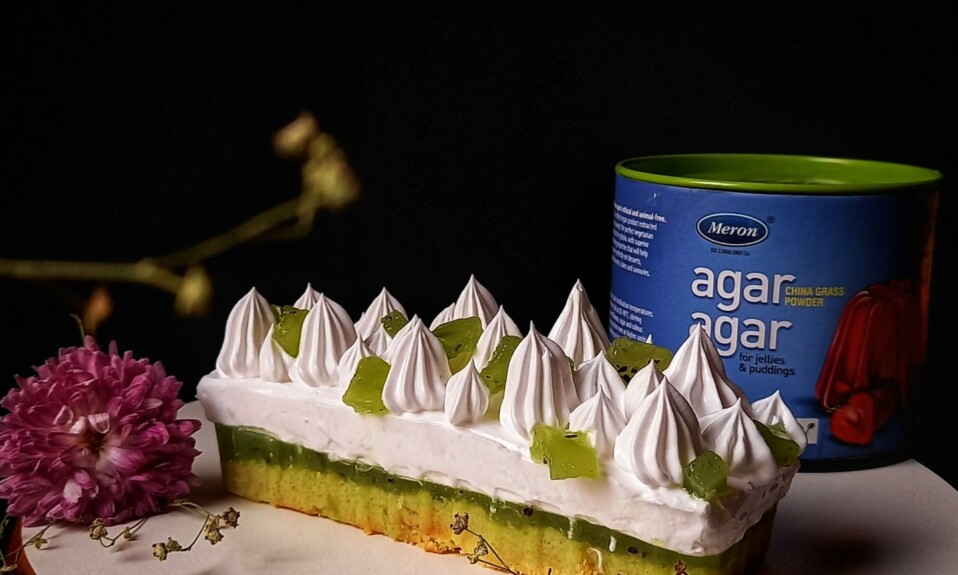 Creamy Kiwi dessert | Cake kiwi jelly slice| Learn how to make this easy kiwi dessert with step-by-step photos and video. Looking for something easy peasy dessert recipe. Or if you want to make something delicious and amazing dessert for your valentine. Then this is perfect for you because it is easy to make and requires only 4 to 5 ingredients.
Cake Kiwi Jelly Slice
This dessert has three layers.
The first one is the cake layer.
For this, you can use any readymade vanilla cake.
The second layer is kiwi jelly.
And the third layer is whipped cream.
Some other recipes fromt this blog…
INGREDIENTS
Vanilla sponge cake
1 kiwi
2 tbsp sugar
A pinch of green food colour
½ tsp agr agar powder
2 tbsp water
For cream layer( some whipped cream or whipped fresh cream )
1/3rd tsp agar agar powder
2 to 3 tbsp of water
Some cream for decoration
How to make kiwi dessert?
First, take a kiwi, chopped in cubes.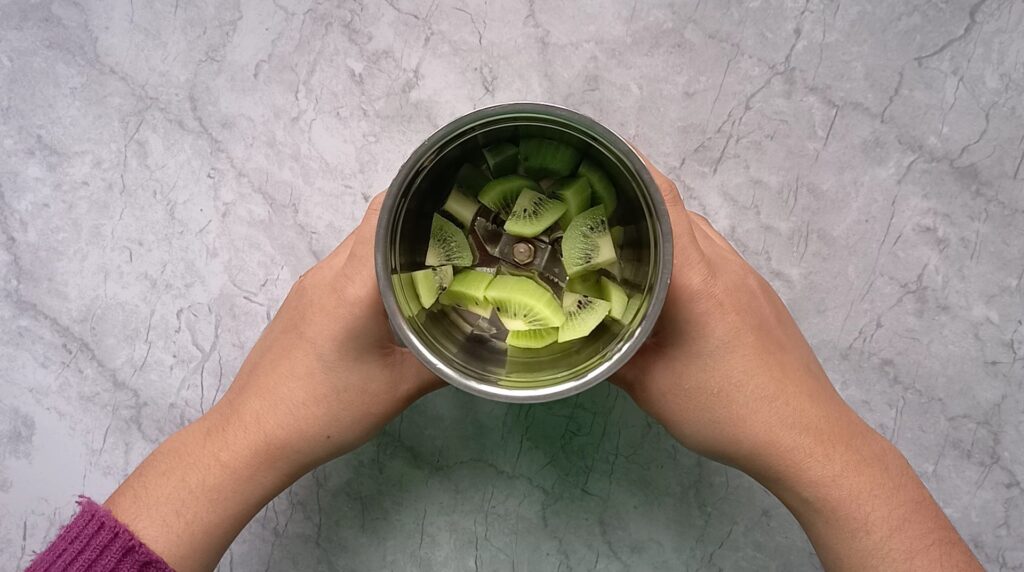 Grind them well. Then add sugar, water. Add food color.
Add agar-agar powder. Here I use meron brand agar-agar powder.
If you are new to this ingredient then read it for more information. Agar-agar is a vegetarian and healthier substitute for gelatin processed from seaweeds which is vegan, gluten-free, non-GMO. Zero calories, no carbs, no sugar, and full of fiber.
It is free from starch, soy, corn, yeast, wheat, milk, egg, and preservatives. It absorbs glucose in the stomach, passes through the digestive system quickly, and inhibits the body from retaining and storing excess fat. It is ideally good to have once a week. You can easily buy this meron brand agar-agar from Amazon or Flipkart.
Cook them on low to medium flame for 3 to 4 minutes. Then turn off the heat.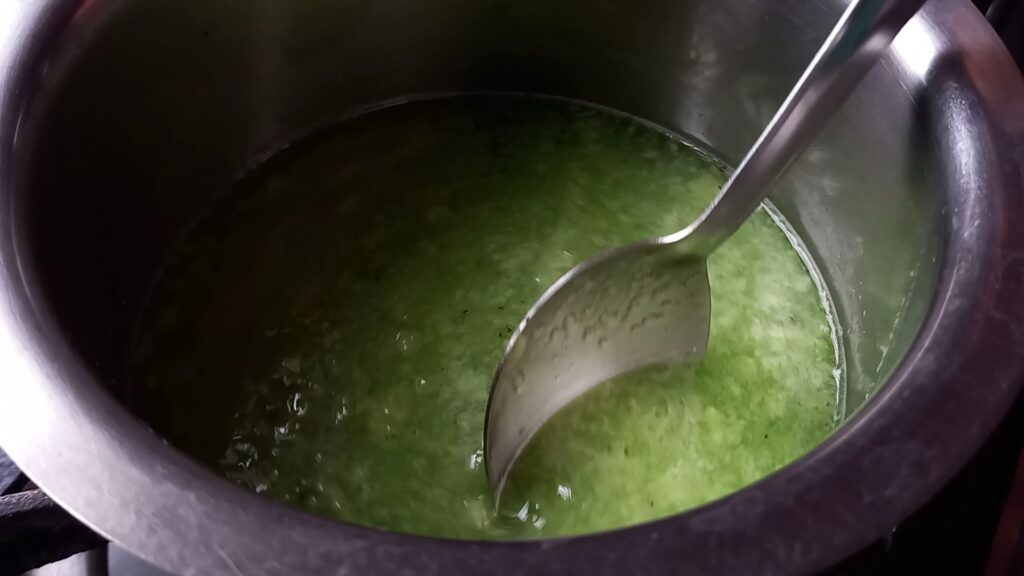 Stir the kiwi mix until it is cooled down a bit.
Now take a mold. Here I use a plastic mold of the same cake. Take some vanilla cake and cut them in half. Assemble the cake layers in the mold. And press them a bit.
Now pour the kiwi liquid. And leave it to set.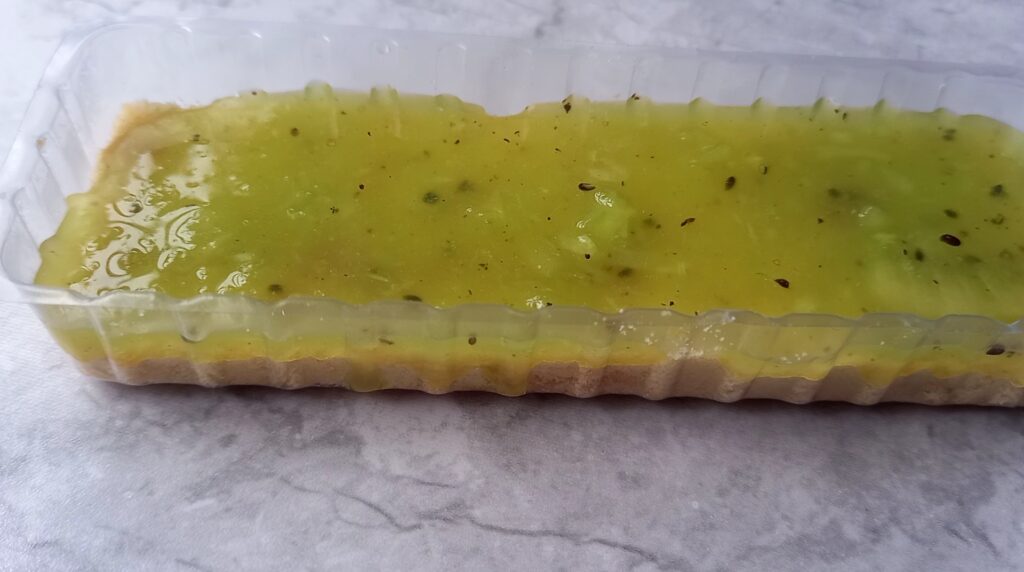 Now take some heavy cream. And whip them well. Then take a saucepan. Add 2 to 3 tbsp of water. Add agar-agar powder. Mix well and again cook them for 2 to 3 minutes on low flame. Then turn off the heat and allow it to cool down a bit. After that add 1 and a half tbsp agar-agar mix in 3 to 4 tbsp of whipped cream.
Mix well and immediately spread this cream over kiwi jelly. With the help of a knife spread it evenly. Now leave it for 5 to 10 minutes in the fridge.
After that, unmold the cake and kiwi layer. Decorate it with some whipped cream.
Top it with some kiwi jelly. Before serving cut them into small slices.
Cake kiwi jelly slice is ready to serve. You can store this dessert for 4 to 5 days in the fridge.