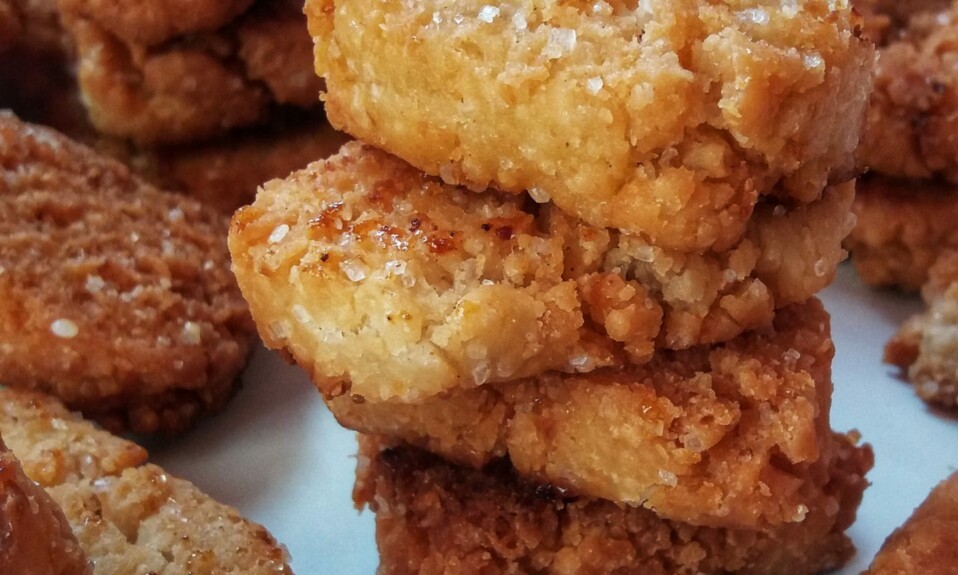 Khajoora is an Indian fried cookie which is a very popular sweet dish in Bihar and Jharkhand. These are fried cookies flavored with cardamom or coconut flack. Khajoora is also the favorite tea time treat. Khajoora are generally prepared during festivals like Diwali and chat puja. Try this easy khajoora or fried cookie with step by step guide.
What is khajoora or thekua?
Khajoora is the most popular and classic cookie in Indian cuisine. You can also say thekua or fried cookie. Khajoora is made with only 5 ingredients which are maida or refined flour/ wheat flour, sugar/jaggery, ghee, cardamom, and water. This is a very simple cookie dough that you can make this in a jiffy. Khajoora is mostly made as a Prasad for chhat puja. Traditionally, we use wheat flour and jaggery for making khajoora. Otherwise, go with this recipe.
We always believed that confectionaries bring togetherness and happiness in the family. For upcoming festivals try this sweet dish and you will love this recipe. You can store this in an airtight container for a month. All families have different recipes for this khajoora. This is my favorite one because this recipe belongs to my grandmom.
Ingredients and substitutes
Refined flour: Here we are using refined flour because it gives a good texture and color. But you can totally ignore this and add wheat flour instead of maida.
Ghee: Ghee is the soul of Indian cuisine. Gives the flavor and texture to cookies. Add a generous amount of ghee because we want a crumbly texture just like cookie dough.
Sugar: Here we are using sugar but you can add jaggery. The proportion of flour and sugar is 2:1. You can adjust the quantity of sugar. If you like your cookieless sweet then add less sugar.
Flavors: For flavoring add crushed cardamom and desiccated coconut. You can add other nuts too.
INGREDIENTS
1 kg refined flour
300 gram sugar
2 cradamom crushed
100 grams dessigrated coconut
40 to 50 ml hot ghee
20 to 30 ml water (as required)
1 teaspoon baking powder
Refined oil or ghee for deep frying
| | |
| --- | --- |
| Preparation time | 15 minutes |
| Total time | 45 minutes |
Preparation for cookie dough
Take a large bowl. Add flour.
Heat the ghee a bit and add into flour. Heating the ghee is important, not boiling hot.
Add baking powder. Mix well.
Add desiccated coconut.
Rub the mixture for 10 minutes or until it looks like crumbly.
Or combines at one place like this.
Add sugar and cardamom powder.
Then pour some water and mix the sugar. Leave it for 4 minutes. Do not add too much water at this time because sugar also release water.
Then combine the wet sugar with flour. Mix well with light hand.
Add water if required. Add a little amount of water at a time. When the dough combines and forms the texture then it is ready to cut into pieces. Or you can also check the dough's consistency by taking small pieces of dough and press them on any wooden mold, if it is not crumbled then it is ready. Or if it is still crumbly then add a bit of water and knead again with a light hand.
Frying the cookie dough
Take some dough and roll it on surface.
Cut into pieces.
Or you can also make this khajoora on any wooden block. Create your favourite design. Take a small piece of dough.
And press like this. Khajoora has to be little thick, not very thin.
Heat some oil on high flame. Add the khajoora into it and fry. First on medium flame for 2 to 3 minutes from both sides.
then fry on high flame until it turns into gloden in color. Remove it from oil. Allow it to cool down.
Then store these khajoora in airtight containers for a month. Enjoy it like a tea time snack or anytime you like to eat.
Some other sweets….