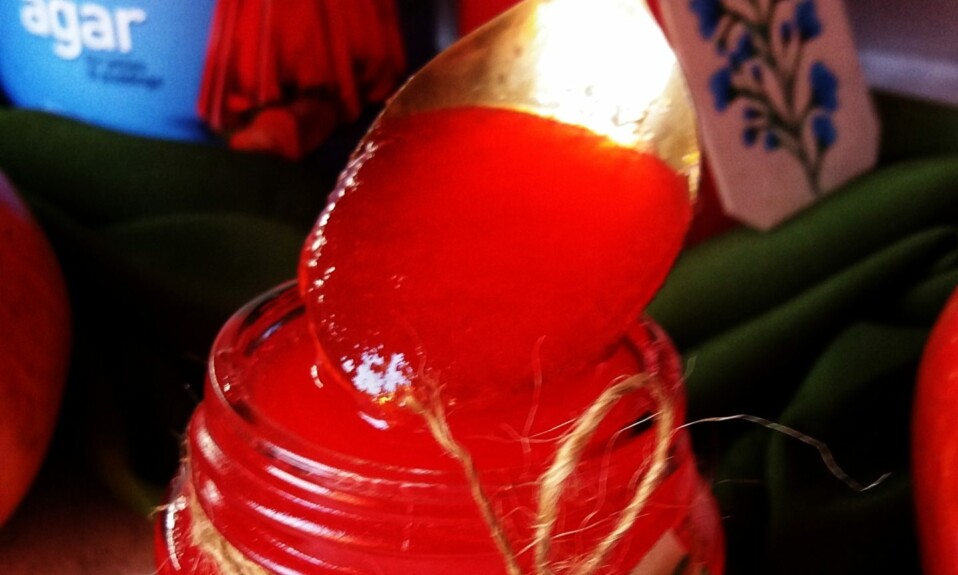 Apple jam recipe with step by step photos and detailed instructions. Apple jam is the most delicious and easy jam recipe which you can make without any difficulty. If you want to make your own homemade version of jam then try this easy Apple jam recipe. Or, if you are overrun with apples and don't know what to do then this is perfect for you. Apple jam is a favorite thing for children. You can give this in their lunch box or in breakfast.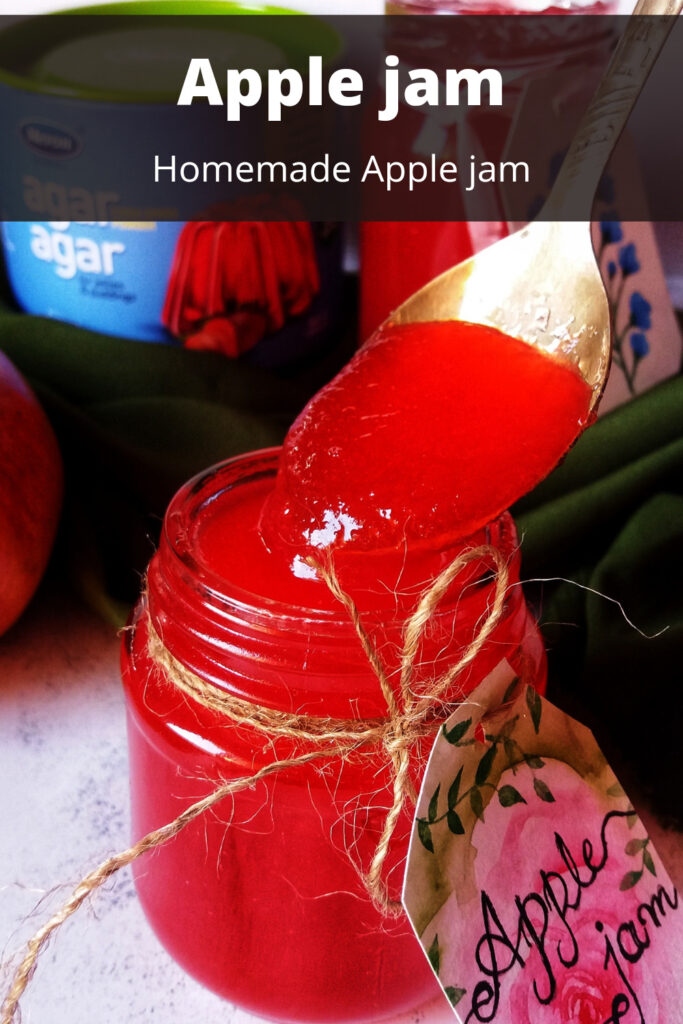 Apple Jam
This apple jam is a must-try for those who love jams and jellies on their toast. Made with fresh apples, sugar, salt, and a hint of lemon juice. If you don't want to buy jams or want to feed something healthy to your family. Then you have to give a try to this recipe. These are free from preservatives and any added flavors. Apples cook easily and have a great flavor. Here I used agar agar powder which is totally vegetarian and a healthier substitute for gelatin processed from seaweeds. Agar agar gives the texture to jam just like market one.
Some other homemade recipes…..
Ingredients for Apple jam
Apples: Use your favorite Apple for this jam. We use fresh, sweet, and a bit tangy apples for this recipe. You can use any type of apple.
Sugar and salt: Using a pinch of salt always enhance the flavor of sugar. You can adjust the sugar quantity.
Agar agar powder: we use agar agar powder for this recipe because I want the texture of a jam-like market one. Agar agar is a vegetarian and healthier substitute for gelatin processed from seaweeds. It gives a firm texture. But you can ignore it if you do not have it.
Lemon juice: I love the lemon flavor in my jam. It gives and balanced the sweet and tarty flavor.
INGREDIENTS
3 to 4 apples
1 and half cup sugar
1 teaspoon salt
1 lemon juice
50 to 60 ml water
2 teaspoon agar agar powder
Red food colour
How to make Apple jam?
Wash the apples and peel them.
Cut the apples in slices or cubes.
Take a saucepan add sliced apples and add water into it.
First, boil it on high flame for 3 minutes then cook on medium flame until apples cooked completely. It takes 10 to 15 minutes depends on the apple's texture. Then turn off the heat and set aside to cool down.
After that seive the apples with the help of straighter. Or you can also use grinder for puree them.
Then take a pan add Apple puree and cook on high flame for 4 to 5 minutes.
Now add sugar and cook on low to medium flame.
Add salt.
Add lemon juice. Taste the mixture, if you want more tangy flavor then add more lemon juice.
Cook for 25 minutes on medium flame. Stire it occasionally. When the water evaporates and the apple mixture turns thick, not too much just like pouring consistency.
Then take a small saucepan add 5 ml water or agar agar.
Stir continuously and cook on low flame for 4 minutes. Then pour it into the Apple mixture. Mix it well. You can avoid this step too.
Add red food color. Again mix it well and cook for more than 7 minutes on medium flame. Turn off the heat and allow it to come at room temperature.
Then pour into an air tight glass jar. And place it in the refrigerator. When Apple jam is set, it looks like this.
Storing suggestions
Store it in an airtight container in the refrigerator for a month and serve this on your toast. You can also make a jam sandwich.